Fridge Size Chart – Refrigerator dimensions and standard sizes
This post was last updated on March 17th, 2023 at 11:46 am
Standard refrigerator sizes range from 24 to 40 inches wide, 62 to 72 inches tall, and 29 to 36 inches deep. French door and side-by-side refrigerators are typically wider and taller, though counter-depth models are frequently available in these two configurations. This fridge size chart is your best bet when deciding which refrigerator sizes will provide enough storage for your family's needs.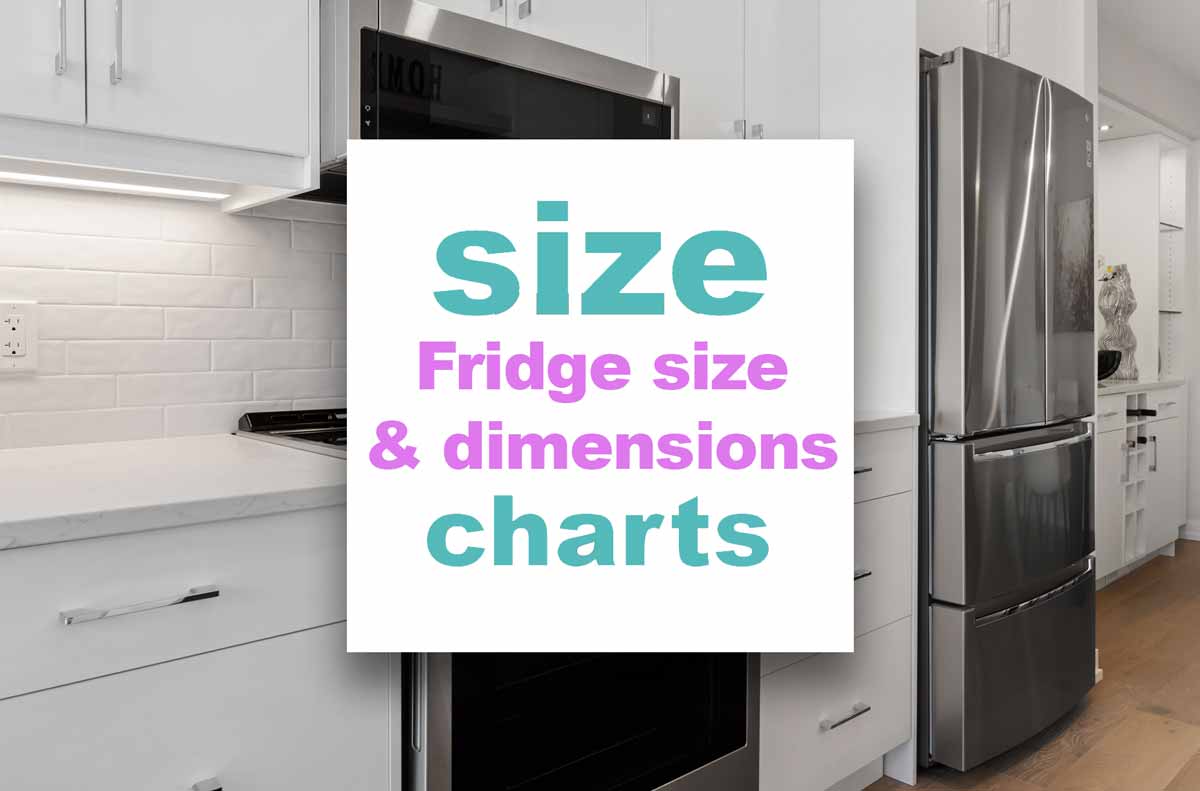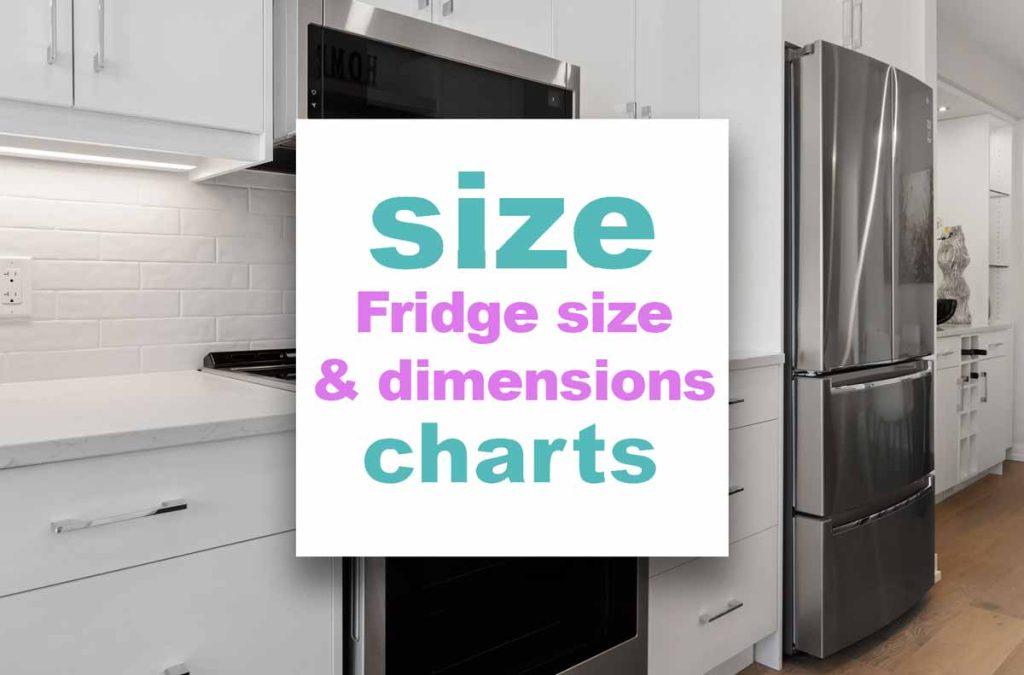 As a rule of thumb, you should consider 5 cubic feet (which equals 140 liters or 0.14 square meters) by adult in your household. Based on your family size, the available kitchen space, and the type of refrigerator, it's easy to determine the required fridge dimensions.
Average refrigerator sizes go hand in hand with kitchen cabinet sizes (click the link to learn more about those sizes) and even oven dimensions (click the link to learn more about stove sizes)
Jump immediately to the FAQ section of this page
Table of Content
What Refrigerator Size Is Right for You?
The simplest approach is determining the fridge size that best meets your requirements. A decent rule of thumb is to select a model with a capacity of around 5 cubic- feet for each adult in your home. A refrigerator's overall capacity includes both the fridge and freezer compartments. The different capabilities of each part are usually included in the specifications of most devices.
Next is to determine the size of the area where the refrigerator will be installed. Ensure there's enough area for ventilation and opening the door if it'll be positioned in a location enclosed by cabinets. It's also crucial to ensure the refrigerator you purchase will fit through your front door and any other entrances, corridors, or tight corners on the route to the kitchen. Choosing a fridge for a big villa or for a single-bedroom apartment makes a huge difference in fridge dimensions
Fridge Size: How to Take Measurements for a New Fridge
Are you unsure what refrigerator size would work best in your space? For refrigerator measures, remember that sizes vary depending on the design and capacity you pick. You have options ranging from conventional top-freezer style to modern French-door styling in various sizes.  
Whether you want it to fit in your kitchen or the larger family space where you can find plenty of storage space, you want to ensure that the size is right. Luckily there is a wide range of sizes (size range) or refrigerator capacity to choose from, and only by measuring can you tell the correct size.
Here is how to go about calculating the fridge size;
Step 1: Select your refrigerator style
Refrigerators come in a variety of types and styles to suit your needs. Find the specifications for your model online or in a shop. we explained all types of fridges down this page
Step 2: Measuring refrigerator depth
You'll need to determine which depth type you like when shopping for a refrigerator, and here is how to do it.
Standard-depth refrigerator
Measure from the wall, leaving enough space to extend past the cabinets.
The aim is to measure the depth of your fridge area from the rear wall to the front border of the cabinets on the opposite wall. Because ventilation requires at least one inch of space between the appliance's rear and wall, deduct one inch from your reported dimension.
Counter-depth
Measure from the wall to the counter's edge. Ensure there's enough room in front of the refrigerator for doors and drawers to open without slamming.
Step 3: Measuring refrigerator width
Measure from the wall to the counter, cabinet to cabinet, or wherever your refrigerator space is on each side.
Step 4: Measuring the height of the refrigerator cabinets
What is the height of the refrigerator cabinets above your cutout? Measure from the floor to the bottom of the cabinets. Measure the height of your refrigerator area from the floor to the lowest point under the top cabinets. In general, a fridge requires at least one inch of overhead headroom for ventilation. Therefore, deduct one inch from your reported measurement to accommodate this minimum clearance.
Step 5: Make some space for breathing
Allow for appropriate air on all sides so your refrigerator can chill things down without overheating. Check to see if any doors or drawers are obstructed and make sure you leave at least one between your refrigerator's back and the wall.
Step 6: Measure the width
Measure the width of your fridge area from the countertop to the base of the upper cabinets. If the base has molding, take measurements at the narrowest spots. Your refrigerator width options are unrestricted if placed against a wall with no cabinets surrounding it.
Refer to the specifications of the models you're interested in online or ask a sales assistant in store once you've taken measurements of your area. That way, you'll be able to tell if those refrigerator measurements will work for you.
Related: What size is a quart – easily explained by country in pints and cups , Jar Size Guide: How to Choose the Right Size?, Ziploc Bag size, a full guide with zipper storage bags for all sizes
How do i know the fridge size i need: taking measurements explained
Fridge Size Chart: What Are the Main Standard Fridge Sizes?
The main fridge sizes are based on the main fridge types, such as French- Door fridges, Side by Side fridges, Top-Freezer fridges, and Bottom Freezer fridges. Here is a sample chart;
| | | | | | | |
| --- | --- | --- | --- | --- | --- | --- |
| Fridge Type | Height | | Width | | Depth | |
| French Door | 67-70 | 170-178 | 30-36 | 76-91 | 29-34 | 74-86 |
| Side by Side | 65-71 | 165-180 | 33-40 | 84-102 | 29-30 | 74-76 |
| Top-Freezer | 62-66 | 157-167 | 29-33 | 74-84 | 34 | 86 |
| Bottom-Freezer | 67-70 | 170-178 | 30-33 | 76-84 | 33 | 84 |
What Are the Main Types of Fridges and their dimensions?
There is a wide range of fridge types (all with their specific fridge size) in the market today, including;
1. Top-Freezer Refrigerators
These refrigerators have some of the broadest shelves available in both the fridge and freezer areas. Because of this, they're ideal for keeping large or oddly shaped things like frozen pizzas and deli trays. The frozen food is kept at eye level in a top-freezer refrigerator, while the fresh food is kept below.
This fridge type has traditionally been the most prevalent refrigerator type. It's also the most cost-effective, making it an excellent choice for people who only need essential refrigeration. This sort of refrigerator does not have many unique characteristics. On the other hand, top-freezer refrigerators provide good value, with smaller models starting at under $400. Furthermore, they consume 10 to 25% less energy than bottom-freezer refrigerators, allowing you to save money year after year.
2. Bottom-Freezer Refrigerators
A bottom-freezer refrigerator is a beautiful choice for families who prefer eye-level fresh food. Bottom-freezer refrigerators, sometimes known as bottom-freezer refrigerators, are slightly more costly (beginning about $700) and less energy efficient than top-freezer ones. However, they give a better ergonomic design by keeping essential food items like beverages and fruit visible.
In these types, the freezer section is usually a drawer that comes out for quick access to your favorite frozen foods. Many bottom-freezer refrigerators come with wire baskets or storage bins to organize your frozen foods. As a result, they give less valuable space while also making things more straightforward to maintain.
3. Side-by-Side Refrigerators
The fresh and frozen portions of side-by-side freezers are next to each other. This allows for simple access to a wide variety of foods. This refrigerator style may struggle to handle more extensive products because neither portion spans the entire width of the unit. So pay attention to the interior's capacity and adaptability.
Choosing a model with movable shelves and storage bins will allow you to tailor the arrangement to your specific requirements. This level of adaptability frequently compensates for the short breadth. In addition, side-by-side refrigerators feature a lot of door storage space, ideal for condiments, beverages, and other small goods. Remember that if you want a model with an exterior ice and water dispenser, you'll probably have to give up a couple of door storage containers.
4. French Door Refrigerator
Bottom-freezer refrigerators with French doors are a trendy variation. Instead of a single door that opens to the left or right, this refrigerator has two doors that swing out from the middle. These versions can fit into narrower places because of their half-width doors.
If you have a kitchen island near your refrigerator, French doors can keep paths free even while the doors are open. Additionally, when only one of the two doors to the fresh portion is opened, the other helps keep cool air in, reducing the strain on the cooling system.
Like with bottom-freezer refrigerators, the freezer compartment is usually a drawer. However, 4-door French door refrigerators with double doors for fresh and frozen compartments are not uncommon.
5. Mini Fridge size
Mini refrigerators (mini – fridge), also known as compact refrigerators, are ideal for master bedrooms, dorm rooms, workplaces, and other places where a tiny quantity of refrigeration is required. Just because you're tight on room doesn't mean you can't have a refreshing beverage or a delectable snack within reach.
Most miniature models are around 18″ cubes. As a result, their capacity is limited to around 1.5 cubic feet. They offer plenty of capacity for cans and even 2-litre bottles if you only want to have a few beverages close. Plus, because of their modest size, they use very little electricity.
Compact refrigerators with a capacity of 6 cubic feet or more are available. They'll take up a larger footprint, as you might anticipate.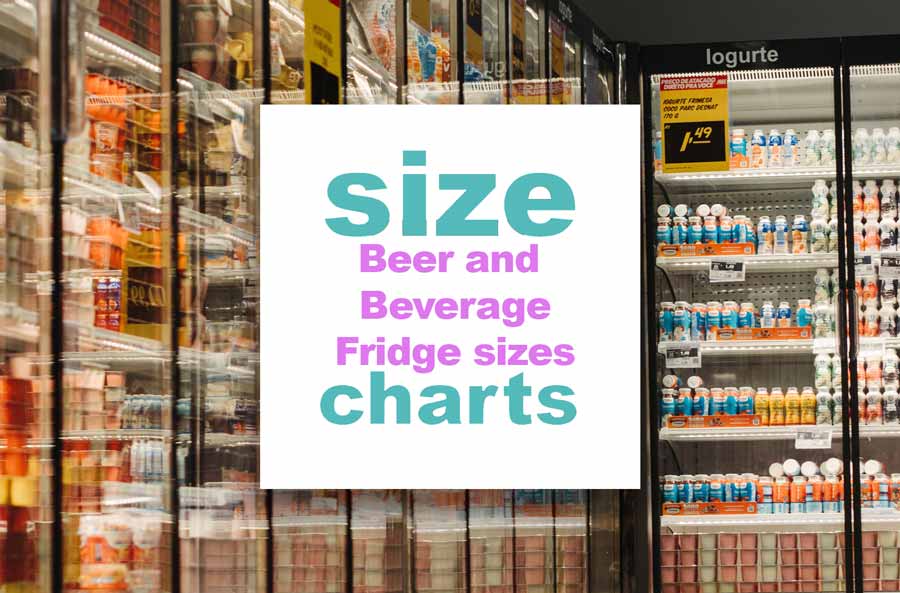 6. Beverage Centers and Wine Refrigerators
Wine refrigerators and beverage centers aim to keep your favorite beverages at the ideal temperature. These units may assist if you need to store your prized wine collection or add no-fuss storage to a famous space. Models with storage for fewer than 10 bottles to more than 100 bottles are available.
It's critical to keep your wine collection temperature-controlled to preserve its quality. Consider a unit with a movable shelf for easier viewing if you're storing an extensive collection. If you want to see your collection without opening the door, you might want to consider an interior light.
7. Freezer-less Refrigerators and Upright Freezers Refrigerator
A dedicated all-refrigerator or all-freezer will provide you with plenty of space to store everything you need if you want to keep a large inventory of perishable or frozen items. These machines can be used to enhance or replace your current kitchen refrigerator.
Like top- and bottom-freezer types, freezer-less refrigerators and upright freezers offer full-width storage. Although most versions are less than 36 inches wide, they have enough room for bulky or oddly shaped things.
Automatic defrosts and accurate temperature settings compliment the higher-end models' excellent build quality.
8. Built-In Refrigerators
A built-in refrigerator is a way to go if you want the best. These units are flush with your cabinets, giving them a genuinely elegant appearance. They provide more polished, elegant versions of functions found in freestanding refrigerators and more accurate temperature settings.
The construction quality of built-in refrigerators is one of their most significant benefits. They're usually constructed using commercial-grade materials. As a result, most come with a two-year part and labor warranty, which is twice as long as a regular refrigerator. Many companies also provide a 10-year or longer guarantee on certain equipment, such as refrigeration systems. Given the high cost of repair calls, this level of coverage reflects the makers' faith in these products.
9. Counter-Depth Refrigerator
A Counter – depth refrigerator has the appearance of built-in refrigerators at a fraction of the price. They're usually 24 to 25 inches deep instead of most refrigerators' regular 30- inch depth. Counter-depth refrigerators are intended to line up evenly with the cabinets around them. It keeps your kitchen light and airy, especially if you're tight on space.
A counter-depth refrigerator is available in almost every model of refrigerator. So, whatever your preference, there's a dish that you'll enjoy. Just keep in mind that their short depth restricts capacity. As a result, be sure to look for a model with adequate storage capacity to meet your family's demands.
Fridge dimensions by family size
Related: What size is a quart – easily explained by country in pints and cups , Jar Size Guide: How to Choose the Right Size?, Ziploc Bag size, a full guide with zipper storage bags for all sizes
| | | |
| --- | --- | --- |
| Family Size (Number of persons) | Minimum Capacity | Our Top Recommendations |
| 1-2 | 4–13 cu. ft. | Whirlpool (Bottom Freezer) |
| 3-4 | 14–24 cu. ft. | LG Smart Wi-Fi Enabled Counter Depth French Door ( 22.5 Cu. Ft.) |
| 5+ | 25+ cu. ft. | Samsung Side-by-Side (26.7 Cu. Ft.) |
Before Buying: Things You Must Do Before Buying a Fridge
Measure the height and breadth of your central doorway and any subsequent passageways to ensure that the fridge gets to its destination without becoming stuck in tight curves.
Calculate the size of your refrigerator – You should double-check your refrigerator measures!
Do your research–A well-informed purchase leads to a positive experience, so look at elements more than refrigerator dimensions and pricing. Examine product reviews and brand buying guidelines.
Consider energy efficiency: An ENERGY STAR refrigerator will save you at least $200 over the course of its 12-year lifespan.
Set a budget — Your desire for the better things might lead to financial irresponsibility, but mass-premium brands such as KitchenAid, Bosch, LG, and Samsung provide luxurious features at a reasonable price.
Consider the fridge capacity – Use our refrigerator sizes chart to determine which refrigerator sizes will contain enough goods for your family.
Consider the size and demands of your family–Aside from personal preference, the size of your kitchen and your family's demands should all go into your refrigerator selection. In terms of the latter, a top-freezer refrigerator might not be the best choice if a family member suffers from back problems.
Other factors to consider include warranty (e.g extended warranty, extra warranty), body position, freezer space, energy costs and any additional cost, average capacity, fridge doors quality, price range, precise temperature controls if any, ice dispenser, support for adequate airflow, anti-sweat heaters, upper cabinet, water supply, smart features, and any other advanced features,
Different sizes of fridges explained
Fridge Features
Related: What size is a quart – easily explained by country in pints and cups , Jar Size Guide: How to Choose the Right Size?, Ziploc Bag size, a full guide with zipper storage bags for all sizes
Prioritize the features that are vital to you once you've determined your capacity requirements and desired design. The features you require go hand in hand with the final fridge size.
It's much easier to store big products like 2-liter bottles on shelves that slide in and out or fold in half. Some refrigerators include movable bins that adjust to your requirements and shelves with spill-proof lips to keep spills from spreading.
Multiple temperature zones
The majority of refrigerators have two temperature zones. One is for the frozen. Some variants, on the other hand, include extra compartments. One example is chilling chambers. These usually lie between the refrigerator and the freezer and keep temperatures below freezing. Learn more about the ideal temperature for a refrigerator.
Filtered ice/water dispensers
The ice and water dispenser is one of the most popular features of any refrigerator. It makes filtered water and crushed or cubed ice readily available. Some dispensers can handle tall bottles or provide "rapid fill" options to get the exact amount of water you want. You can fill your cup without opening the door thanks to external dispensers. Water is frequently the only thing available from inside dispensers.
Door-in-door storage
Refrigerators featuring a door-in-door allow you to easily reach drinks or condiments kept on the door without opening the entire fridge. It reduces the amount of time the fridge is open, decreasing the demand for the cooling system and saving money on electricity.
Multiple cooling systems
A single cooling system pushes cold air into the freezer in standard refrigerators. As needed, this air is funneled into the refrigerator.
Ice maker
Never again will you have to wait for ice! Internal ice producers produce ice cubes throughout the day using filtered water. To keep beverages cool during gatherings, you may want to consider a fridge with an extra-large ice maker or perhaps multiple ice makers, depending on your demands.
Smart refrigerators (smart fridges)
Connecting your refrigerator to your home network may open up a new world of possibilities. Most Wi-Fi-enabled refrigerators allow you to monitor and modify temperature settings using your smartphone or even voice commands, ensuring to keep food fresh.
Energy efficiency
You'll save at least 9% on electricity by choosing an ENERGY STAR® rated refrigerator over other models. When purchasing ENERGY STAR-approved items, you may be eligible for municipal rebates from your community.
Frequently Asked Questions (FAQ)
Are all fridges the same size?
No, there are many fridges in many sizes. There are many different designs, capacities, and total sizes of refrigerators. The dimensions of a typical refrigerator are roughly 24 to 40 inches wide, 62 to 72 inches tall, and 29 to 36 inches deep. What size refrigerator is most typical?
24 to 32 inches wide, 66 to 70 inches tall, and 29 to 36 inches deep make up a medium, standard refrigerator size. For a family of four, a medium refrigerator with 20 cubic feet of space is ideal.
What size should a beer refrigerator be?
Beer fridge size is often expressed as several 12-ounce cans that can fit inside the interior or as cubic feet. A beer refrigerator can typically accommodate 80 cans at once. Models with can capacities of 70 or 90 cans exist that somewhat deviate from this average in either direction.
What size is a normal family fridge?
Standard refrigerator sizes for a normal family range from roughly 24 to 40 inches in width, 62 to 72 inches in height, and 29 to 36 inches in depth. Counter-depth versions are typically offered in french door and side-by-side refrigerator configurations, but generally speaking, these two refrigerators will be wider and taller.
How big of a refrigerator should a family of four have?
A good size fridge for a family of 4 should be around 500 liters or 17 cube feet of capacity. A fridge with a capacity of 100 to 350 liters will do for a single or two-person home. I advise a refrigerator with a capacity of 200-500L for a family of 2 to 4. Alternatively, a fridge with a size of about 500L is perfect for a family of 4. Families with more than 4 individuals will want a refrigerator with a higher capacity.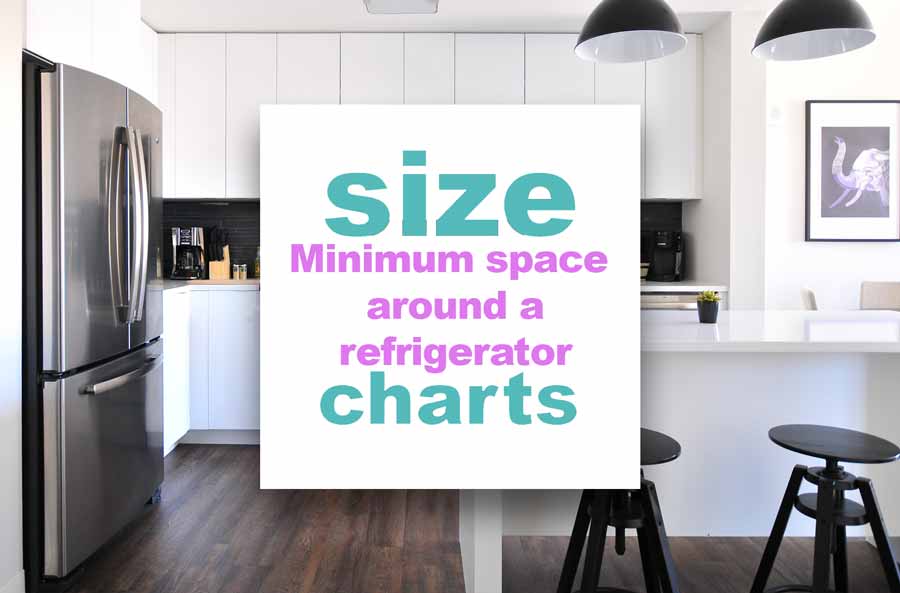 How much room should be left around a fridge?
Check the Ventilation Space Size, the side clearance and top clearance when measuring space around your fridge.
To operate well, prevent overheating, and ensure that the refrigerator lasts its whole lifespan, air must be able to flow about the box. Minimum clearances required for the refrigerator are 2 inches from the rear wall, 1 inch from the upper cabinet, and 1/8 inch on either side.
Plan for a half-inch and an inch of side clearance on each side of the unit.
Top Clearance: Ensure that the top of the unit has a minimum of one inch of clearance.
How close to a wall may a refrigerator be?
At least two inches should separate the refrigerator and the wall.
Conclusion on the fridge size chart
When buying a new refrigerator, you'll have many options. Most significantly, you must determine how much capacity you require. Select the design or kind of refrigerator that best suits your budget and preferences. For a more sophisticated aesthetic, consider counter-depth or built-in variations of any of these types. Finally, choose the qualities that are most important to you.
With all of this information, selecting your next refrigerator should be easy. If you have any inquiries, please put them at the end of this post. We want you to be satisfied with the type of fridge you take home.
Picture in this post by nrd on Unsplash
Related House Size Charts