Sofa Size and Dimension Guide for All Kind of Couches
This post was last updated on September 5th, 2023 at 07:48 am
The standard three-seat sofa size is about 84" (152cm) wide, 40" (102cm) deep, and about 33" (84cm) tall. Loveseats or 2-seat sofas are smaller, at 52" (130cm) wide and 33" (84cm) deep, with a height that's about equal at 33" (84cm). Sofas are classical furniture pieces. Sofas and beds are the biggest furniture purchases among contemporary furniture. Buying the wrong set of sofa is just horrible.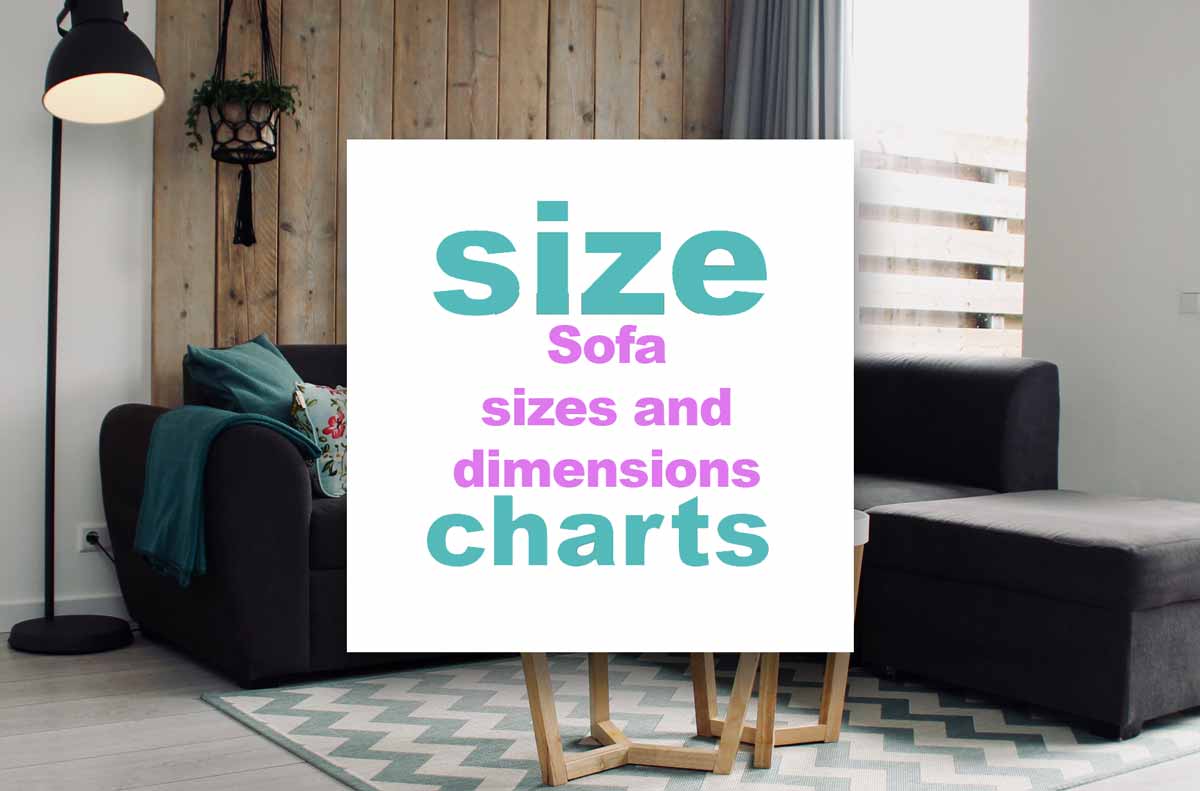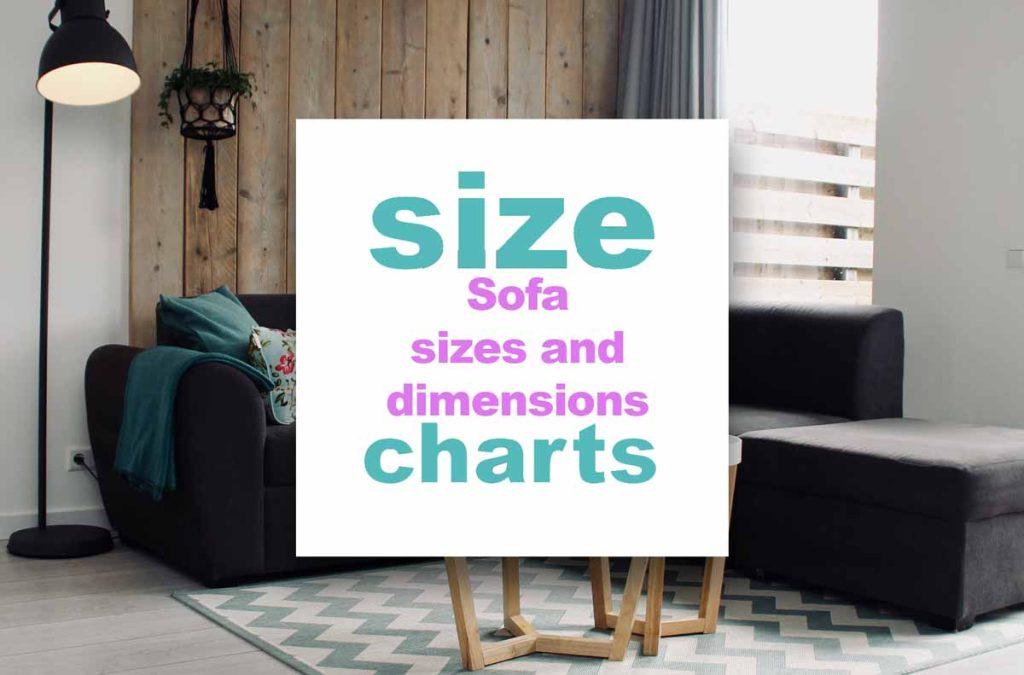 The standard dimensions of living room furniture is quite different to the typical dimensions of the average sofa that has been made to be used as bedroom furniture. This is partly due to the average dimensions of the floor plan and living space of the typical home. And also partly due to the ingenious designs of the different types of sofas.
Luckily for us, the traditional sofa has some basic standard measurements. You can choose from a common option of a variety of sizes of furniture pieces. If you so desire, you can as well have your own sofa built to detailed specs. Shorter people might need a "shorter sofa", but if you are of average height, then the average size of couches is good enough.
Rug size charts and coffee table sizes
You can finish your sofa with pillows and quilts, check their sizes in the links
Table of Content of Sofa Size Charts
Sofa Size Chart For Sofa Tiers
| | | | | |
| --- | --- | --- | --- | --- |
| Sofa Tier | Width (In) | Depth (In) | Width (Cm) | Depth (Cm) |
| Small | 70 | 20 | 177 | 50 |
| Standard | 80 | 24 | 203 | 60 |
| Grand | 96 | 28 | 245 |  71 |
Sofa Size Chart For Multiple Seaters
| | | | | |
| --- | --- | --- | --- | --- |
|   | Width (In) | Depth (In) | Width (Cm) | Depth (Cm) |
| 2-seater | 50 | 24 | 124 | 60 |
| 3-seater | 78 | 24 | 198 | 60 |
| 4-seater | 90 | 26 | 228 | 66 |
| 5-seater | 108 | 28 | 274 | 71 |
What are standard sofa sizes?
Standard sofa dimensions start from 3 to 8 feet long and 30 to 50 inches deep for a standard size sofa. Deep-seat sofas can 4 to 6 feet long with 28 to 30 inches of sofa depth. The three popular words used to refer to the tiers of sizes are "small", "standard", and "grand". The greatest contribution to the size of any sofa lies in the standard couch dimensions of that particular model of sofas. By the way, the couch is the part you sit on. 
What is the standard size of a 3 seater sofa?
The standard three-seat sofa is about 84" (152cm) wide, and 40" (102cm) deep. A typical 3-person sofa is the largest accent piece that qualify as a condo size sofa. Anything larger than the 3-person sofa is not ideal for small places. Oversized sofas are best broken down into smaller sectional sofas and this led to an ingenious design now known as L-shaped sectionals.
What size is a standard 2 seater sofa?
The typical two-seat sofa, tend to be smaller, at 52" (130cm) wide and a maximum of 33" (84cm) deep. The largest lengths of a 2 seat sofa ranges from 66″ – 88″ (168 cm – 224 cm.) Love seats also have two seats but are generally smaller than two seat sofas. Loveseat sizes are pretty much like a two-seater sofa with the two people sitting close to each other.
What is the standard size of 4 seater sofa?
A 4-seater sofa usually offers 90″ seating width (not including sofa arms ). The seats have a height of 18″ (this can vary but 18″ is a common height for any sofa seat), they have a depth of 24″ to 28″. Popular sleeper sofas are actually 4-seaters with a comfy design, great seat cushions and some throw pillows. Premium sleeper sofas can even double as a 5-person sofa. Queen sleeper sofas can be a deeper sofa and have a sofa seat depth of 50″ (130cm).
What is a 2-seater sofa called?
It is simply called a two-seater or, more fancily, a tête-à-tête or a vis-à-vis. An upholstered seat for two or more people can be called a settee. A loveseat can be one of two styles of two-seat chair. The other form – also known as " British two-seaters " – is essentially synonymous with "two-seat couch".
How To Measure A Sofa
1. Always start with width. Measure the distance from arm to arm because that is usually the widest part of the sofa. You need to make sure that you take the measurements at the widest point. Eg: if the couch you selected has curved arms (rolled edges), measure from the outside of the widest part of one arm to the other arm. For armless sofas just measure from the outer tip of one edge to the outer tip of another edge.
2. Measure the height—measure from the floor to the tip of the back at the highest point. Eg: a camel-back arched sofa will be highest in the center, measure from there to the floor. 
3. Measure the depth—measure from the outside edge of the seat all the way to the back. It is best to do it from by standing at one of the sides.
4. Measure the diagonal depth—measure a straight line from the top back of the frame to the bottom front. This is also best done by standing at the side of the sofa and measuring a diagonal line of the entire sideview of the sofa.
How do I know what size sofa to buy?
The sofa(s) when fully assembled should be about two-thirds the size of the entire room. This means that if you multiply the length and width of the sofa and then do the same for the room, the number you get for the sofa must be a maximum of 65% of the number you got for the room. If you decide to add in a coffee table , the table should now be two-thirds the size of the sofa(s). For maximum comfort get a contemporary sofa or a convertible sofa with a comfy couch and high-grade sofa cushions. 
Will a 36-inch couch fit through a 30-inch door?
Yes, it will. A sofa frame with couch dimensions of 38″ deep and 34″ high, max, will fit through a doorway that is 30 inches wide as long as it is a straight shot through the door.
How big is a small couch?
In general, the length of a small sofa is 72 inches or less and the width is 50 inches or less.
How do you know if a couch is too big for a room?
A couch is too big for a room if one or more of the following statements hold true for the sofa. If it takes up the full length of the wall it is placed on or It crowds the surrounding furniture. It does not leave enough space to properly distance the television or if it is difficult to get in and out of the sofa or use it comfortably.
How to measure your space for the right sofa size?
The Best Sofa For You
When picking out your sofa, you can try and remember the 5S.
Size is one of the most important considerations to make when choosing the right sofa. If the sofa doesn't fit your living room, we have a problem.
Style is another important consideration to make when sofa shopping, as style is often a reflection of your personality. consider what style you have and how that may be interpreted into your sofa choice.
Shade of your sofa is another important decision to make, as the colour of the sofa can evoke certain moods and feelings depending on the colour scheme. Ask yourself: how do you want the space to make you feel? What do you want people to think of you when they enter the space?
Softness and firmness is another important factor to consider for the right sofa. This depends on the purpose of the sofa. If you are using it for guests and only guests, a firm sofa is better. On the other hand, a softer sofa is ideal for everyday family use. When you sit on a softer sofa and sink in, it creates more of an informal and casual vibe.
Sense and practicality is the last essential to consider for the sofa. If you have any family pets, a leather sofa is ill-advised as their claws may accidentally rip through the material. On the other hand, if you opt for a sofa that uses fabric, ensure you have a spot cleaner on hand for any unexpected stains that shouldn't be vigorously wiped off with a cloth.
Conclusion
Once you understand sizes, you only have to worry about the upholstery choices and stock items of your favorite furniture outlet. Quick tip, pick durable upholstery and some gel memory foam for the cushions. Chair sleepers will appreciate the gel memory foam. There is a wide variety of fabrics out there and it is not compulsory that you have leather sofas .
Simply buy the best that you can comfortably afford. Before you go shopping, please leave a comment behind and let your friends know about the right chair size by sharing the article.
Related House size charts