Hair Clipper Size
Often mistaken for haircut trimmers, hair clippers are specialized tools that cut human hair. They are categorized into manual and electric. So, what is the difference between trimmers and hair clipper?
Hair clippers usually cut bulk hair on large areas, while trimmers are suitable for edging, dry shaving, and outlining on smaller areas. Typically, a trimmer cuts closer to the skin compared to a clipper.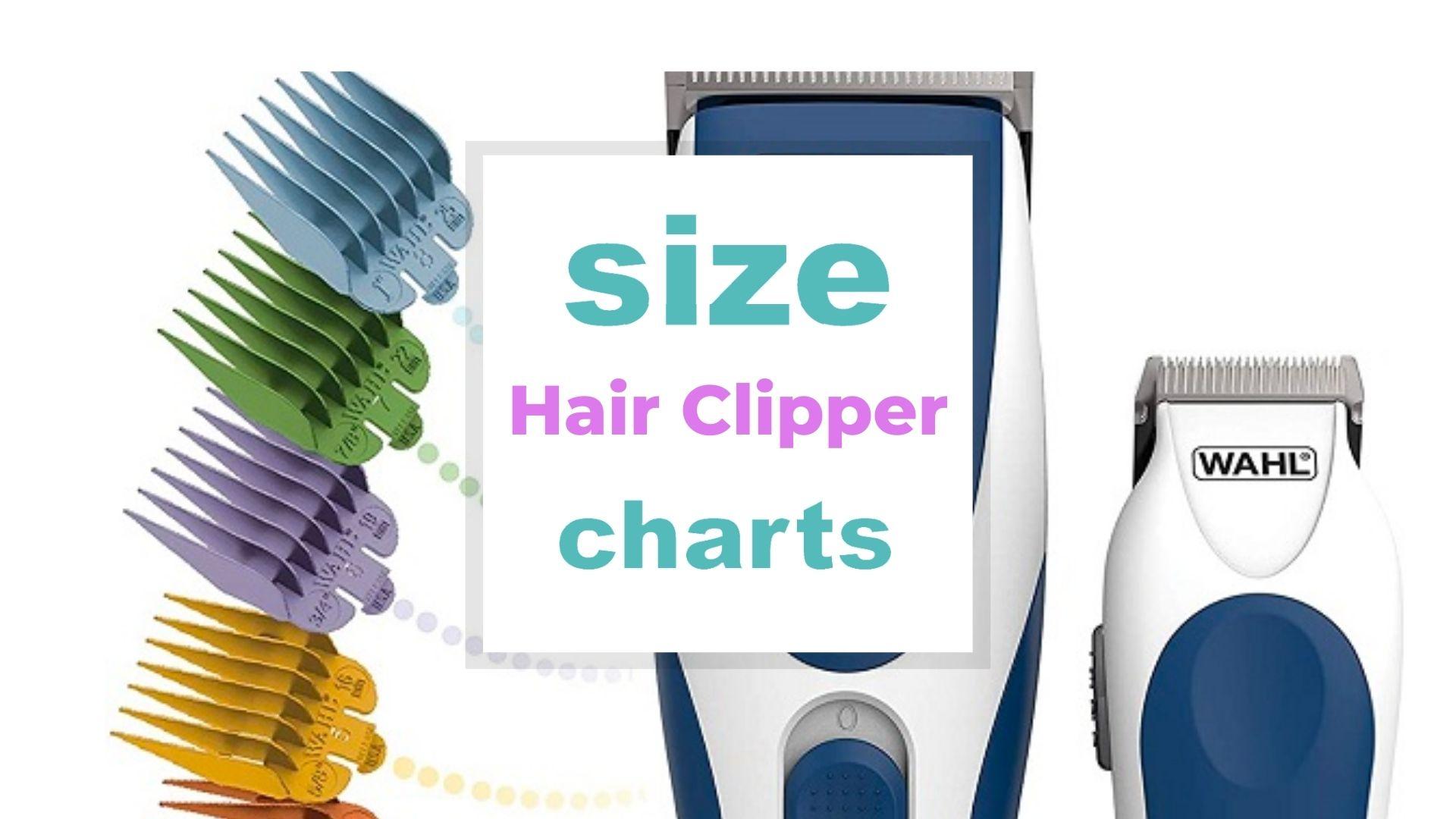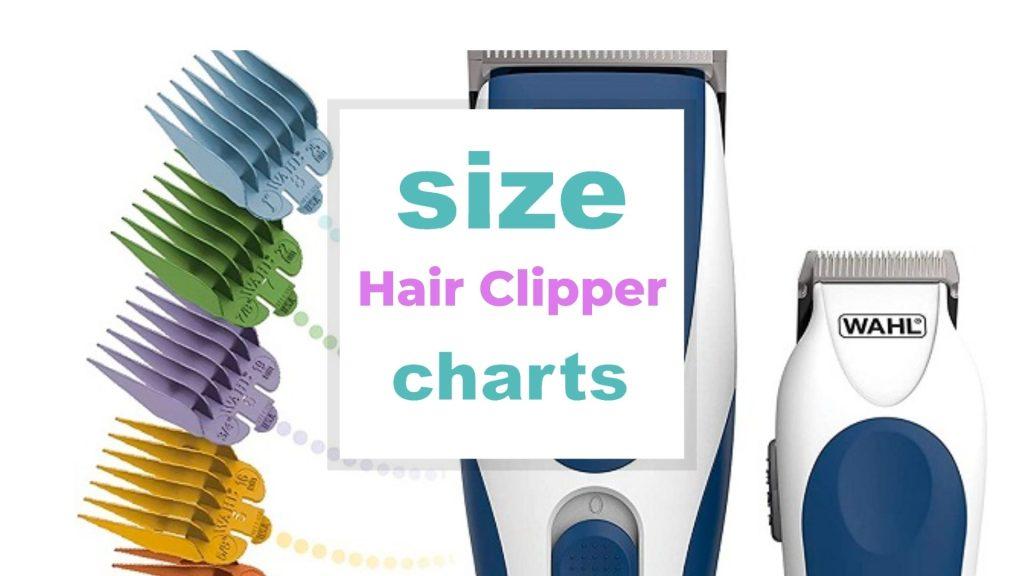 Why is a perfect clipper size important?
Different hair clippers produce distinct lengths of hair. For example, if you want to leave a 1/8 inch of hair, you should get hair clipper number 1. In contrast, hair clippers number 5 to 8 leave longer hair like Ryan Reynold's crew cut or Justin Bieber's messy top cut.
You should also consider your hair type when purchasing or choosing hair clippers in barber shops. Reason? Some hair types will respond to specific clippers. To avoid disappointments, ensure you consult an expert to help you choose the best hair clipper.
And if you find it challenging to choose a hair clipper, below is a size chart to help you explore the different sizes.
Jump right into the Frequently Asked Questions
Related: Deodorant and Antiperspirant Sizes
Hair Clipper Size Table of Contents
Hair Clipper Size Chart
Related: Perfume Bottles Sizes and Different Types
| | |
| --- | --- |
| Haircut Numbers | Hair Clipper Sizes |
| Number 0 | 0.06 in |
| Number 1 | 0.1 in 2.5 mm |
| Number 2 | 0.25 in 6.4 mm |
| Number 3 | 0.38 in 9.7 mm |
| Number 4 | 0.5 in 12.7 mm |
| Number 5 | 0.6 in 15.2 mm |
| Number 6 | 0.75 in 19.1 mm |
| Number 7 | 0.88 in 22.4 mm |
| Number 8 | 1 in 25.4 mm |
How to Choose the Right Hair Clipper Size
Related: Travel Size Toiletries for Airplane Bags
So, it's your first time purchasing a hair clipper, and you can't figure out the perfect detachable blade clipper for your hair type? Whether you like fine or buzz cuts, choosing the exact size clipper can be an uphill struggle, especially if it's your first encounter.
Thanks to detailed clipper size guides, they offer you clipper kit information, including clipper blades, guards sizes, and blade types. Here are some factors you should consider to obtain the perfect clipper size for your hair
1. Hair Clipper vs. Haircut Number
What's your favorite haircut number?
Depending on the hair lengths you want to have, you should get a matching hair clipper size. Here is how you can identify the clipper guards sizes you need for different hair lengths:
Clipper Size 0
Clipper size 0 produces the shortest cut possible on top of accomplishing a bald look. So, if you want the perfect buzz cut, clippers guard size 0 is the best.
Clipper Size 1
Do you like Zayn Malik's clean look? If yes, then getting a clipper size 1 will produce a 1/8 inch of hair length. While it's extremely short, this haircut number stands out from the buzz or bald cut.
Clipper Size 2
The clipper size 2 usually leaves 1/4 inch of hair. In addition, it offers you different styling options, for instance, the slitted hairline.
Clipper Size 3
If you don't like super short haircuts, clipper size 3 is the ideal cordless clipper number to purchase. This clipper produces 3/8 inch of hair; it gives a massive body to your hair. Moreover, you can notice a significant difference between the standard clipper blade numbers 2 and 3.
Clipper Size 4
Do you like a clean and crispy hairstyle? Manual clipper size 4 produces 1/2 inch of hair. Usually considered as the medium hair length, a thick haircut number is perfect for individuals with rounder faces. You can enjoy the Chris Evans clean-cut in your next event!
Clipper Size 5
So, what should we expect with the impressive home hair clipper number 5? This hair clipper typically leaves 5/8 inches of your hair. The great thing about this length is that you can enjoy a wide range of styling options, such as fade and parted styles.
This quality clippers size is ideal for thicker hair. It also allows you to experiment with different clipper guard sizes to attain longer tops and shorter sides.
Clipper Size 6
Clipper size 6 is suitable for people with naturally wavy or curly hair. This closed clipper size usually leaves 3/4 inch of hair which is easy to style. You can check out the Kellan Kutz short spikes haircut to get a glimpse of a size 6.
Clipper Size 7
Has your hair grown out a bit? If yes, you can leverage multiple manual hair clippers to maintain some of this volume. To enjoy this style, apply closed-blade clipper number 7 on the sides and leave the upper part.
Clipper Size 8
This refers to the highest of all the hair clipper length sizes. #8 leaves the longest hair, making it ideal if you prefer a voluminous hairstyle. Justin Bieber's hairstyle is a perfect example of what clipper size 8 can do.
2. Electric vs. Manual Hair Clippers
Manual hair clippers usually have a pair of handles that you squeeze whenever you want to cut your hair. This clipper type was invented between 1850 and 1890 by Nikola, a Serbian barber.
When using a manual clipper, you are required to pick up hair strands, place them between the comb teeth and squeeze the handles to eliminate the hair. This clipper type can work anytime, regardless of a power outage.
However, they require extreme precision when placing the hair in the comb's teeth. Reason? You may end up with longer hair on some parts if you are not carefully measuring the hair strands in every area.
Electric hair clippers operate more similarly to manual clippers, only that they are driven by electric power. Invented by Leo J. Wahl, this clipper type is easy to use as it offers a detachable blade clipper, allowing you to attain different hair lengths.
Whether you prefer short, medium, or long hair, electric clippers can help you achieve this without much difficulty. Nevertheless, they are more expensive compared to a manual beard trimmer.
So, buying an electric hair clipper is perfect if you are looking for a clipper that's easy to move. Moreover, they allow you to do your shaving at home comfortably. Remember the COVID-19 lockdown and how it affected most people? An electric taper lever can help you keep your hair short even without assistance from a second party.
3. Hair Type
What's your hair type? Knowing your hair type ensures you buy the right tool for a smooth haircut. Whether you have curly or wavy hair, Wahl and Oster offer high-quality and robust hair clipper comb sizes for every hair needs.
All you need to do is inform the salesperson of your concerns, and they will guide you on the different Clipper comb guards you can find in the market. This way, you will attain the perfect hair length and style for your event.
And suppose this does not work; you can always contact professionals at the end of this helpful article to guide you on the adjustable blade clipper that's suitable for your hair.
4. Ergonomics
Whether you prefer a (2-inch) clipper comb attachment or the biggest clipper guards, purchasing a superior hair clipper will ensure easy shaving time. Exploring different clipper blade charts will help you get a wider view of what the market offers.
As a result, you can compare different options, including:
Oster Fast Feed adjustable pivot motor clipper: This clipper is a pro-level classic tool that can produce a perfect buzz or fade. Moreover, it performs exceptionally even with prolonged use, offering barbers long-term service.
Philips hair clipper series: If you are looking for a dual-cut technology clipper that will produce exact hair length, the Philips hair clipper series is the standard blade to purchase. This clipper has a superior feature combination that makes it easy for you to shave your hair.
Some of the features you will enjoy when you grab a Philips series clipper size guard include multiple length options, cordless use, washable, and stainless steel blades. In addition, you can grab one with detachable blades for easy adjustments.
Wahl clipper: Being the founder of the first electric clipper, Wahl offers its clients premium hair trimmer and clipper options. The company creates clipper guide combs with ceramic blades for long-lasting service.
Wahl also offers self-sharpening blades to ensure all clipper users have a great experience operating the hair clipper. Whether you are an experienced barber or trying to shape your hair between the barber shop visits, you can grab the Wahl clipper of your choice.
5. Hair Clipper Brands
Every hair clipper brand boasts distinct clipper designs, ergonomics, clipper comb sizes, and quality. As a result, anytime you visit a nearby store or explore clipper options online, you should compare the clipper models from Wahl, Andis, Wahl, and other companies. This way, you will gain a deeper understanding of clippers and their unique features, choosing what suits your hair type and styling needs.
Besides offering unique hair clippers, different brand clipper blade sizes chart usually come with different warranty periods. So if you are planning to purchase a heavy-use clipper, you should ensure it's top-quality and has a prolonged warranty period for easy replacement.
Another key reason for comparing different brand clipper options is the pricing and offers. For instance, you may encounter an Oster clipper brands clipper with a discount while other brand clippers are selling at the usual price range. Hence, it saves you cash which you can spend on maintenance or other hair clippers accessories such as plastic combs, barbering products, or a trimmer kit.
6. Price
For every purchase you make, it's essential to consider the affordability of the product. Unfortunately, when the price is mentioned, the price tag comes to almost every client's mind.
While the initial capital is essential, people forget that there are additional costs such as shipping charges, fastest delivery service fees, exchange fees, and return shipping costs. That's why you should compute the total cost from the product's price to the delivery.
Moreover, once you receive the clipper and assemble it for use, you will need to perform maintenance services for different parts, including hair clipper guard combs, metal blades, and razor heads. All these maintenance services may require financing; hence they should be considered before making any clipper purchasing decision.
Again, before grabbing those 5 dual-magnetic clipper guards from Andis clipper guard selection, check different clipper options that come at a pocket-friendly price. You don't want to strain financially after grabbing an expensive hair clipper for men!
7. Use Images
Let's face it; an in-depth understanding of clippers comes with progressive interaction, which you may not have time to do. This may make it challenging for you to choose the right hair clipper grade for your preferred style.
Thanks to images, you don't have to struggle to learn all the hair clipper guard sizes and matching haircut numbers. You can show your barber a picture of your preferred haircut style, and they will choose the exact size clipper for your hair type.
Learn more about different hair clippers sizes
Frequently Asked Questions
How long is a number 3 haircut?
A number 3 haircut usually leaves 3/8 inches of hair strands. If you dislike the bald appearance and prefer medium-length hair, then haircut number #3 is the ideal style for you. Moreover, it suits almost any face and can be altered to produce different tones.
All you need to do is present your image to the barber, and they will help you attain the specific look!
How short is a number 8 haircut?
Haircut number 8 is the longest of all haircuts. It boasts a 1-inch hair length. This means your barber only trims short lengths to leave such voluminous hair. Some individuals prefer having haircut clipper guard sizes shaving this number, while others choose to shave more on the sides, leaving longer hair at the top.
Depending on the look you want to accomplish and your preferences, you can customize haircut number 8 using an original clipper kit with excellent blades. One of the best number #8 haircut styles is Justine Bieber's clean haircut.
How long is a number 4 haircut in MM?
Number 4 haircut is 1/2 inch or 12.7 mm hair length. If you are looking for a medium haircut that's not too short, #4 is the ideal hairstyle to shave. You can use a #4 hair clipper guard size to attain this hair length.
How long is a 2 guard haircut?
A 2 guard haircut is usually 1/4 inch long. This is among the shortest haircuts after the #1guard haircut.
What is a 0 guard?
A 0 guard is a clipper guard that cuts closest to your head. You can produce a traditional buzz cut if you are not using a clipper guard.
How long is a 1 guard?
1 guard is 0.06 inches and produces the second shortest haircuts without using a guard. If you don't want to go for the bald hairstyle but still need a short haircut, the #1 guard is the perfect clip quick clipper guard for you!
How much do hair clipper guards cost?
Hair clipper guards come at different prices, depending on the clipper models, brand, ergonomics, and clipper lengths. You can choose inexpensive or luxurious options that match your budget needs.
For instance, Oster offers from as low as $89.00 to as high as $370.00. Depending on your hair type and styling needs, you can grab any of the affordable, top-quality options.
Conclusion
Whether you like a buzz or a spiky haircut, you can get top-quality color-coded guards that suit your needs. All you need to do is explore the clipper blade conversion chart to compare the different guard clippers' features, prices, and haircut numbers.
Evaluating all these factors will ensure you grab an easy-to-operate clipper with exceptional quality that you can use dozens of times with minimal scalp exposure. You don't have to keep replacing weak plastic guard clippers!
And if it's your first time choosing hair clippers for home use, exploring the manufacturer-provided clipper guard sizes will help you make a great buy. Reason? These charts entail precise details of different electric trimmers and clippers, including their features, ergonomics, and hair clipper replacement combs.
Moreover, you can visit a nearby store to feel and test the different options in the market. And suppose you get stuck making your order, don't hesitate to contact our experts in the comments below. They will guide you step-by-step to ensure you purchase the most suitable hair clipper for your hair type and style!
Picture in this post is by Agustin Fernandez on Unsplash
Related to Hair Clipper Size