Perfume Bottles Sizes and Different Types
How long your perfume fragrance last determines the pleasure it brings. A lot of people buy a particular brand of perfume because of the love they've developed for its signature scent. But, loving a brand or scent could become short-lived if you don't have enough quantity to satisfy your cravings for your favorite perfume, especially when you're going to be away for quite some time (skip straight to the perfume bottles sizes).
One question that bothers the mind of first-time perfume buyers is the size of cologne to buy. they also often wonder how to figure out the possible duration of days the content would last. Many times you want to embark on a journey, but you don't know if your perfume would carry you throughout your stay.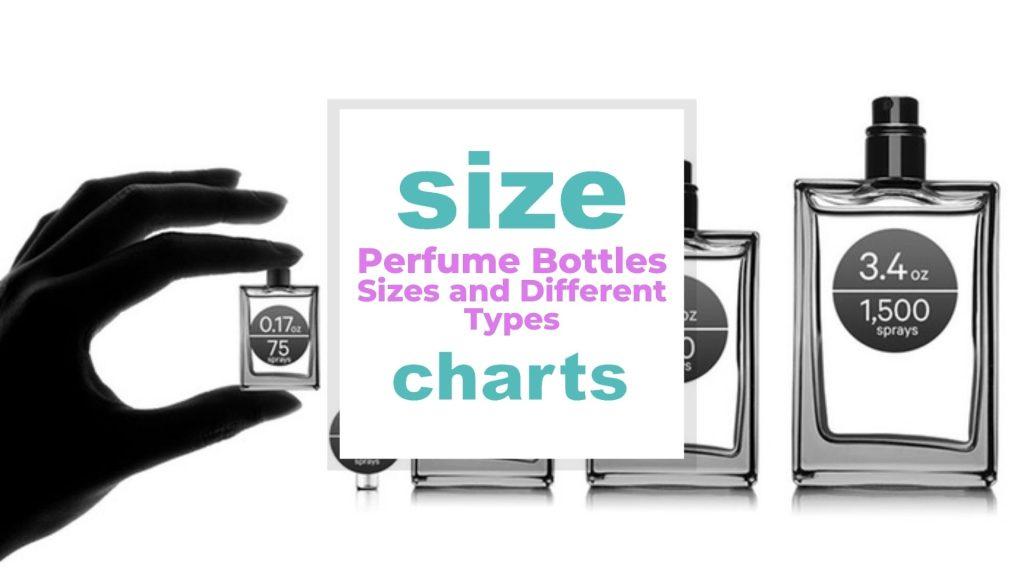 Some people make a habit of buying more than one. However, strict rules around cosmetic language prevent you from carrying them. As a rule of thumb, you're only allowed to carry 3.40oz size of cosmetics. 
The best way to overcome this limitation is to have an idea of the ideal perfume size for every situation. Perfume comes in sizes that allow you to take a quantity with you on your journey. If your brand doesn't provide smaller perfume bottle sizes, there are refillable perfume bottles that you can opt for.
This article covers everything you need to know about perfume bottle sizes. It also provides a quick answer to some of the most popular questions about perfume bottles.
Jump right into the Frequently Asked Questions
Related: Travel Size Toiletries for Airplane Bags, Jar Size Guide: How to Choose the Right Size?
Parfume Bottles Sizes Table of Contents
Perfume Bottles Size Chart
Related: Wine Bottle Sizes & Different Types by Name & amount of glasses
| | | | |
| --- | --- | --- | --- |
| Ounces | Milliliters | Number of Sprays | Number of days |
| 0.05 fl oz | 1.5 mL | 15 | 4 |
| 0.17 fl oz | 5.0 mL | 75 | 38 12 |
| 0.25 fl oz | 7.5 mL | 85 | 22 |
| 0.5 fl oz | 15 mL | 150 | 63 |
| 0.8 fl oz | 23 mL | 250 | 75 |
| 1 fl oz | 30 mL | 450 | 100 |
| 1.4 fl oz | 40 mL | 600 | 125 |
| 1.7 fl oz | 50 mL | 750 | 150 |
| 2 fl oz | 60 mL | 850 | 175 |
| 2.5 fl oz | 73 mL | 950 | 200 |
| 3 fl oz | 88 mL | 1100 | 225 |
| 3.4 fl oz | 100 mL | 1500 | 250 |
| 4.2 fl oz | 125 mL | 1750 | 300 |
| 6.7 fl oz | 200 mL | 2000+ | 500 |
| 10 fl oz | 300mL | 3600+ | 800 |
Perfume Dropper Bottle Size Chart
Related: Gatorade Bottle Sizes explained by type and flavor
| | | | |
| --- | --- | --- | --- |
| Size | Diameter | Height | Number of Drops |
| 5ml | 22mm | 73mm | 100 |
| 10ml | 25mm | 80mm | 200 |
| 15ml | 29mm | 88mm | 300 |
| 20ml | 29mm | 95mm | 400 |
| 30ml | 33mm | 102mm | 600 |
| 50ml | 37mm | 115mm | 1000 |
| 100ml | 44mm | 135mm | 2000 |
Refillable Perfume Bottles Size Chart
Related: Liquor bottle size by name, type and volume (with an easy size chart)
| | | |
| --- | --- | --- |
| Size | Diameter | Height |
| 5ml | 76.5mm | 22mm |
| 10ml | 83mm | 25.5mm |
| 15ml | 94mm | 29mm |
| 20ml | 102mm | 29mm |
| 30ml | 109mm | 33mm |
| 50ml | 120mm | 37mm |
| 100ml | 140mm | 45mm |
Frequently Asked Questions
What size are perfume bottles?
Perfume bottles come in various designs and sizes. Some are plastic bottles and others are glass bottles. it is also common to find Paper perfume bottles and jars for solid perfume.  The size you have depends on three things.
First the volume of the content in the bottle. Secondly the duration of use. And finally the state of the content. Perfumes are either in the solid state or the liquid state. This state determines the sizes of the bottles.
However, the common perfume bottles are 0.05 oz up to 6.7 oz. It doesn't mean you can't get a bottle that's smaller or bigger. There are custom-made and limited-edition perfumes that come with different bottle designs. However, if you are going by the standard common among bottle and jar manufacturers, these sizes are the ones you're likely to find.
Check out this video to learn more about different perfume bottle sizes
How big is a 7.5 mL bottle of perfume?
The 7.5 mL Perfume bottle is quite small often not bigger than 0.25 oz. It usually has a diameter of about 15 mm to 50mm depending on the manufacturer. And, it can only hold 60 to 90 sprays.
Ideally, you can expect the content of a 7.5 ml bottle to last for 20 to 25 days, depending on how frequently you use it, and the concentration of perfume oil in the bottle.
A 7.5 ml bottle is not always easily available because there are mini perfume bottles that could serve the same purpose.
How big is a 50 mL bottle of perfume?
A 50 mL bottle is quite sizeable but still quite small. It is often in the range of 1.7 – 1.8 oz. Although the size may vary according to the design and material used in fabricating the bottle. A 50 ml has the capacity to hold up to 500 spray rounds.
And you can expect that to last for a duration of 150 to 155 days. Also, the number of days it would last depends on the frequency of use and the concentration of the perfume it contains. You can see the size charts above for more detailed perfume size charts.
What is the biggest size perfume bottle?
Going by the general manufacturer's standard, the biggest size of perfume bottles on the market is in the range of 6 FL. OZ to 10 FL. OZ. However, according to the record available in the world (Guinness book), the biggest bottle of perfume in the world is 616.18 liters big.
It was created by Dejan Levacic in the year 2019. The dimension is 1.91 m in length and 0.46 m wide. Bottles of these sizes are rarely produced for everyday perfume. Generally, the standard size of any perfume bottle in the world falls within the ranges outlined in the charts above.
What is a standard perfume bottles size?
The standard perfume sizes range anywhere from 0.05 to 10ml. However, if you are going by the travel rule, the standard perfume bottle size would lie in the range of 3.40 fl oz.
This size corresponds with the 100ml volume. See the size charts outlined in this article for more details on perfume sizes.
What are the types of perfume bottles?
There are several kinds of perfume bottles depending on the nature of the content. The most popular state of perfume content is the solid and liquid perfume states. They often come in Glass Perfume bottles or plastic. The following are some of the popular perfume bottles available on the market.
Falcon, perfume atomizers, perfume decanters, perfume vials, Refillable Bottles, refillable perfume spray, portable mini refillable perfume, atomizer bottles, Perfume Spray Bottles, roller ball bottles, mist sprayers, and perfume jars for solid, wax-based perfume.
There are several other types of perfume that are specially made for specific purposes. An example is the UV perfume bottle, which is used to keep rays of light away from the active component of some perfumes to preserve the content.
Check out this video to learn more about different perfume bottles
What are small perfume bottles called?
Small-size bottles of perfume are often referred to as mini bottles or perfume minis, travel bottles, pen sprayers, perfume drop bottles, portable perfume bottles, travel refillable or mini jars.
There are several other names used to describe small perfume bottles. These are just some of the most popular names used. Sometimes, they are used to hold perfume samples and at other times, travelers use them to take some of their cologne along.
Some notable perfume bottle sizes are the 5ML perfume bottle, mini Refillable Atomizer, and the popular 7.5 mL oz sizes.
Conclusion 
While it may look like the size of a perfume bottle does not make a difference, you'll be surprised at how it works when you are away from home. Sometimes, you find yourself in a location where you can't find your perfume brand or fragrance. A situation like this requires you to know the details of perfume bottle sizes.
Also, if you are going across the country or outside, there is a limit to the luggage you can have with you. At this point too, your perfume size becomes critical. Online shoppers also come to that point when they realize the value of knowing the sizes of perfume bottles.
When you decide to shop online or switch from one brand of perfume to another, You may need to know how long they last. Most brand only give you the perfume size but not how many days they are likely to last The charts outlined above helps you with that. If you find yourself stuck on which size to opt for, simply scroll through the size charts and see the size that helps you reach your goal.
If you still have areas you don't understand about perfume bottle sizes, drop them in the comment. Also, leave your questions in the comment section, if you have any. Share the article so that other people would also have access to the information.
Picture in this post is by JC Media on Unsplash
Related to Parfume Bottles Sizes