Gatorade Bottle Sizes Explained by Type and Flavor
This post was last updated on March 24th, 2023 at 05:13 pm
Gatorade is an American-based company that sells sports-themed drinks and foods. This company offers some popular flavor sports drinks and water bottles. In fact, Gatorade had the highest sales of sports drinks in the US in 2021 (skip straight to the Gatorade bottle sizes chart).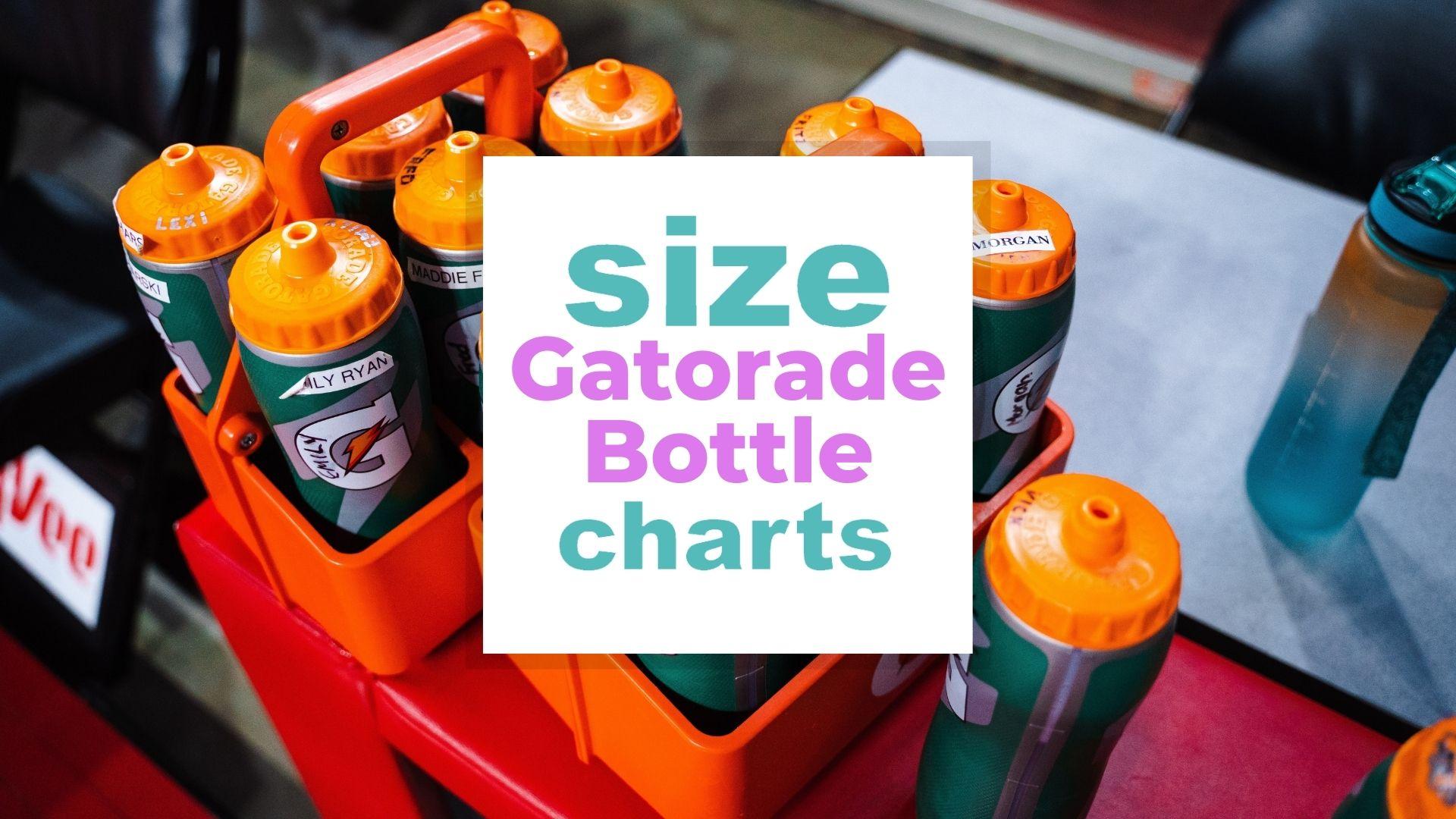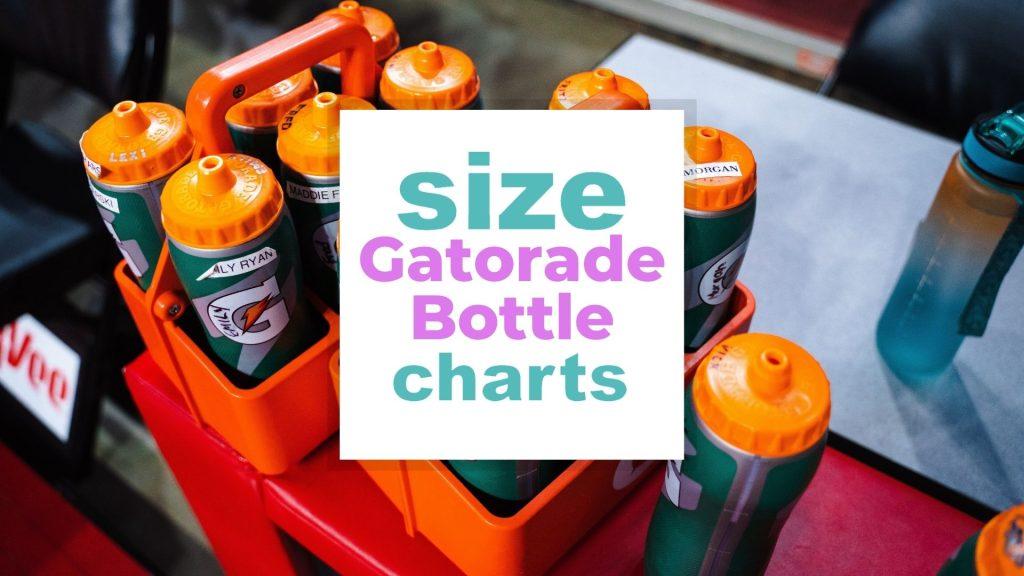 We all need water to survive and thrive. More so if you are an athlete or fitness enthusiast since you'll lose moisture through sweating much faster than an inactive individual. This means you'll have to regularly hydrate yourself throughout the day to ensure your stay is in prime condition. 
Gatorade bottles provide an easy way to supply the water you need when you go outdoors. However, choosing the best bottle means finding out the right size for your needs. This post will discuss Gatorade bottle sizes and how to make an ideal choice.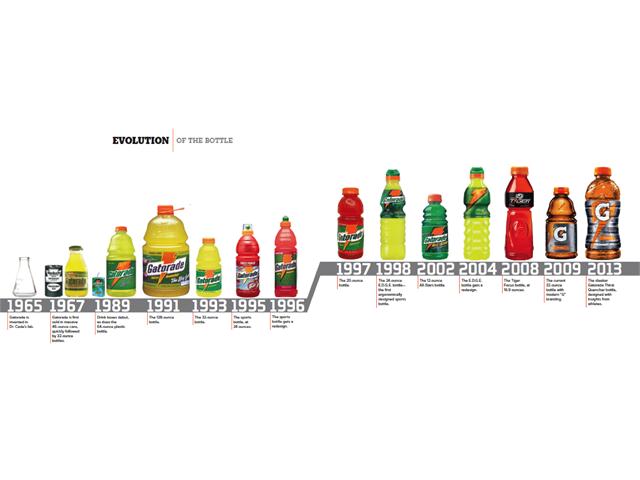 Let's get started!
Jump right into Frequently Asked Questions
Related: Liquor bottle size by name, type and volume (with an easy size chart), Hydro flask size chart by type, volume and usage, Ziploc Bag size, a full guide with zipper storage bags for all sizes
Gatorade Bottle Table of Content
Gatorade drink size chart according to flavor
Related: Hydro flask size chart by type, volume and usage
| | | |
| --- | --- | --- |
| Gatorade Thirst Quencher Flavor | Size in fluid ounces | Size in milliliters and liters |
| Gatorade Lemon Lime | 12 oz. 15.2 oz. 20 oz. 24 oz. 28 oz. 64 oz. 128 oz. | 355 ml 450 ml 591.5 ml 710 ml 828 ml 1.9 liters 3.8 liters |
| Gatorade Glacier Freeze | 12 oz. 16.9 oz. 20 oz. 28 oz. 64 oz. 128 oz. | 355 ml 500 ml 591.5 ml 828 ml 1.9 liters 3.8 liters |
| Gatorade Fruit Punch | 11.6 oz. 12 oz. 15.2 oz. 16.9 oz. 20 oz. 24 oz. 28 oz. 64 oz. 128 oz. | 343 ml 355 ml 450 ml 500 ml 591.5 ml 710 ml 828 ml 1.9 liters 3.8 liters |
| Gatorade Orange | 11.6 oz. 12 oz. 15.2 oz. 16.9 oz. 20 oz. 28 oz. 64 oz. 128 oz. | 343 ml 355 ml 450 ml 500 ml 591 ml 828 ml 1.9 liters 3.8 liters |
| Gatorade Cool Blue | 12 oz. 20 oz. 24 oz. 28 oz. | 355 ml 591 ml 710 ml 828 ml |
| Gatorade Glacier Cherry | 12 oz. 20 oz. 24 oz. 28 oz. | 355 ml 591 ml 710 ml 828 ml |
| Gatorade Strawberry | 12 oz. | 355 ml |
| Gatorade Ice Punch | 12 oz. |   355 ml |
| Gatorade Berry | 12 oz. |   355 ml |
Gatorade squeeze bottle size chart
Related: What size is a quart – easily explained by country in pints and cups
| | |
| --- | --- |
| Gatorade bottle sizes in ounces | Gatorade bottle sizes in milliliters |
| 20 oz. | 591 ml |
| 24 oz. | 710 ml |
| 26 oz. | 767 ml |
| 30 oz. | 887 ml |
| 32 oz. | 946 ml |
How to Choose the Right Gatorade Bottle Sizes
Choosing the right size of water bottles and sports drinks is crucial to maintaining proper hydration throughout the day. Fortunately, selecting the best fit doesn't have to be daunting because we'll discuss the considerations to make in this section. 
1. Capacity
The first thing to consider is the number of fluids you want to take. You'll have to choose between a small, medium, or large water bottle.
A 20-ounce bottle is light to carry and easy to clean, which is why many people will prefer one. You can comfortably take this bottle with you without weighing yourself down or limiting your performance. Since 20 ounces of water won't be enough for your daily intake, you'll have to refill the bottle three times to meet the recommended amount. 
If you want a medium-size option, a 24-ounce or 26-ounce bottle will do. These sizes are suitable for carrying to work, picnics, travels, and hikes. You can fill the entire bottle with your favorite sports drink or water and enjoy consistent hydration.
On the larger end, we have the 30-ounce and 32-ounce bottles. Each of these carries enough capacity to meet your water needs without refilling them more than once. If you want to carry enough water to share with your loved ones on a trip, these sizes will do. Unfortunately, this bottle size is quite bulky and won't be convenient to carry on your person as you work out or engage in intense activities. 
2. Color
There are several color options when it comes to Gatorade bottles. The main colors of the Gatorade brand include red, black, white, and red-orange. Don't worry if none of these colors meet your fancy since the bottles come in more colors. You can choose anything from silver and light blue to green. 
Thankfully, regardless of the color you choose, Gatorade bottles have a clear strip that allows you to monitor how much water you have left without a challenge. 
3. Design
The design of the plastic bottle will also determine how easy it is to handle. Ever had a hard time keeping a water bottle in your hand without fatigue? Well, it's all a matter of design. Gatorade bottles will differ in shape but there will always be a narrow section that allows you to place a full grip on the bottle. Nevertheless, the larger the bottle size, the harder it will be to hold depending on the size of your hands. 
4. Insulation
You should also go for Gatorade bottles with insulation capabilities. Such bottles are built to maintain water temperature regardless of temperature changes in the surroundings. This can ensure your cold or hot water remains the same right until you want to drink it. Fortunately, you don't have to worry about ingesting chemicals from Gatorade bottles since they are BPA-free. 
5. Wide-mouth vs. narrow mouth
The last thing to consider is whether you'd prefer a wide or narrow mouth. We recommend you go with a wide-mouth bottle since it'll allow you to fill water directly from your tap easily. Additionally, it has enough space for you to place ice cubes into the water if you want it to stay cold. 
It also makes it easier to wash the bottle since you can insert a cleaning brush and scrub the inside of the bottle without difficulty. 
Related: Dunkin' Donuts Cup Size: all Dunkin' cup sizes explained, Starbucks Size Chart – All Starbucks Coffee cups sizes explained
Review of Gatorade Gx Bottle (video)
Frequently Asked Questions
1. What bottle sizes does Gatorade come in?
Gatorade bottles come in the following sizes: 20 fl oz, 24 fl oz, 26 fl oz, 30 fl oz, and 32 fl oz. 
2. What is the biggest Gatorade bottle?
The 32-oz. bottle is the largest option among Gatorade bottles, while the biggest drink is the Gatorade Lemon Lime which can be as large as 128 oz. 
3. What are the colors of Gatorade?
The most common are orange, black, white, and red-orange. 
4. What are the Gatorade bottle cap dimensions?
The Gatorade bottle cap measures 38 mm.
5. What is the size of the Gatorade label?
The Gatorade label is 3.5 inches high and 4 inches wide, covering the front without affecting the contour bottle design. 
Conclusion
Gatorade offers your favorite flavor sports drink and common sports drink bottles in different sizes. With good size water bottle, you can say goodbye to dehydration and embrace a healthy lifestyle. These bottles are well built, durable, and easy to carry around allowing you to use them during workouts as well as on your day-to-day activities. 
If you have questions surrounding Gatorade bottle sizes, kindly post them in the section below!
Picture in this post is by John McArthur on Unsplash
Related to Gatorade Bottle Sizes