Pool Cue Length – Why it is Important?
A pool cue is a long, thin stick that is used to hit pool balls in the game of pool. The pool cue is also sometimes referred to as a pool stick or pool bat. The pool cue is usually made of wood, but can also be made of other materials such as fiberglass or carbon fiber. The pool cue is usually tapered so that it is thinner at the tip than at the butt (the thicker end) (skip straight to the pool cue length size chart).
The pool cue is used to strike the pool balls in order to send them into the pockets (holes) on the pool table. The pool cue has a leather tip which helps to increase the accuracy of the shot and also prevents the pool cue from slipping off of the pool ball. There are many different brands and styles of pool cues available on the market, so it is important to choose one that feels comfortable and fits your budget.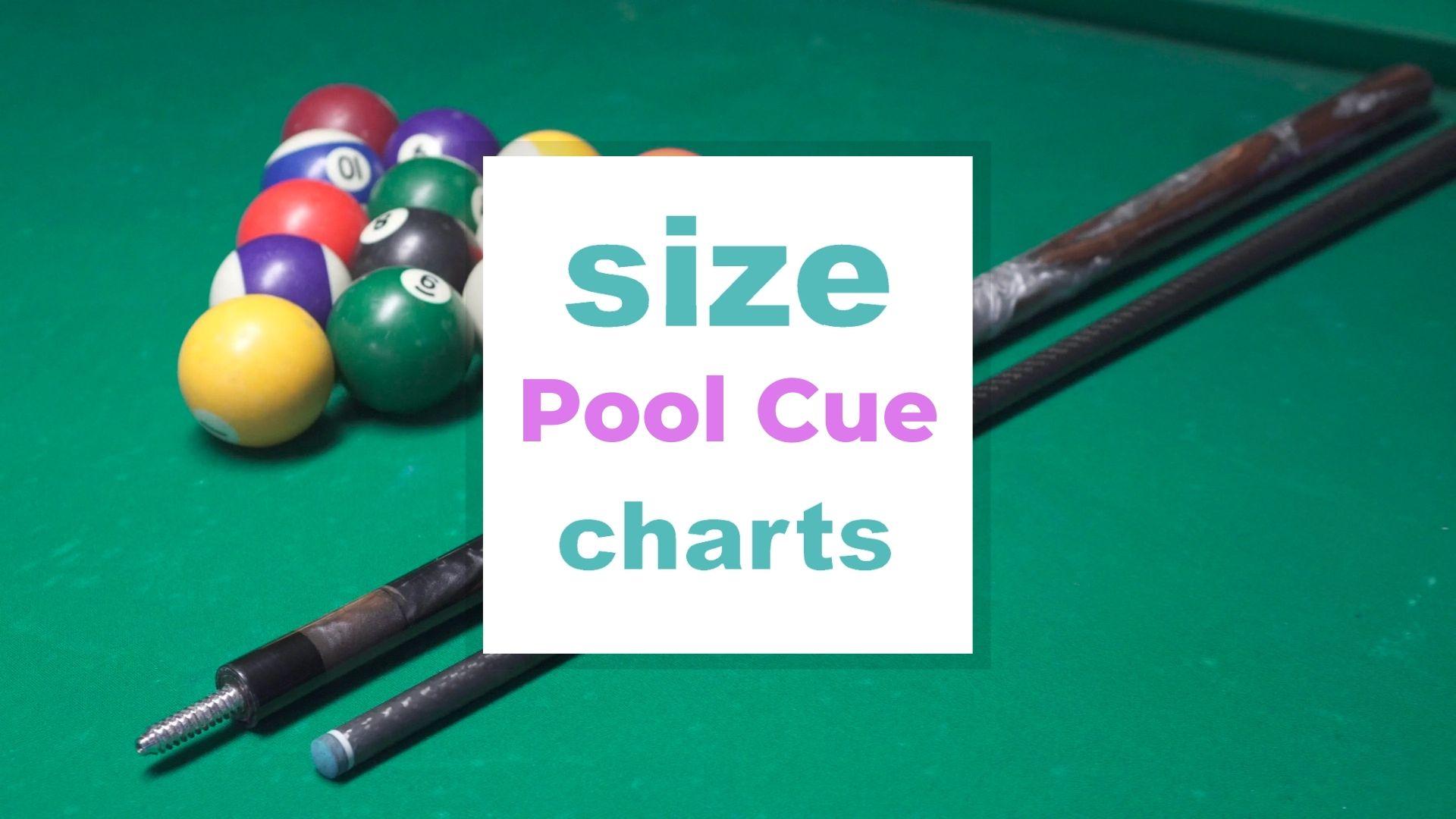 Pool cue length is something that is often overlooked by new players, but it is actually a very important aspect of the game. The length of your pool cue will determine how well you can control the cue ball, and it can also affect the power and accuracy of your shots. A pool cue that is too long or too short will be difficult to control, and may even cause you to miss your shot entirely.
The right pool cue length will also help you generate more power behind your shot, making it more likely to sink the pool ball. In addition, the right pool cue length can help prevent injury, as using a pool cue that is too long or too short can lead to muscle strain or other problems.
In this guide, we provide guidelines around some of the most pertinent concerns regarding pool cue length.
Jump right into the Frequently Asked Questions
Related: Paintball Gun size – guns, gear and caliber size chart, Kayak Paddle Size by type and height (size charts included), Peloton Bike Size and Dimensions guide, Cornhole Board Size and dimensions guide
Pool Cue Length Table of Contents
Pool cue length charts
Related: Pool Table Size Chart And Sizing Guide
Standard cue lengths
| | | | | |
| --- | --- | --- | --- | --- |
| Style | dimensions L x W x H (inches) | dimensions L x W x H (cm) | Weight (lbs) | Weight (grams) |
| 36″ | 36 x 1 x 1 | 91.4 x 2.54 x 2.54 | 0.75 | 340 |
| 42″ | 42 x 1 x 1 | 106.6 x 2.54 x 2.54 | 0.87 | 397 |
| 48″ | 48 x 1 x 1 | 121.9 x 2.54 x 2.54 | 0.93 | 425 |
| 58″ | 58 x 1 x 1 | 147.3 x 2.54 x 2.54 | 1.25 | 567 |
Cue Length by game
Related: Dart Board size – dimension and distance
| | | |
| --- | --- | --- |
| Game | Recommended cue length (inches) | Recommended cue length (cm) |
| 8-Ball | 55-57 | 139 – 144 |
| 9-Ball | 57 | 144 |
| Snooker | 57 – 59 | 144 – 149 |
Cue length by table & room sizes
Related: Ping Pong Table size and dimensions: a complete guide
Table Size (feet)
Table Size (metres)
Room Size (feet)
Room Size (metres)
Recommended
cue length (inches)
Recommended
cue length (cm)
7
2.1
11.3 x 14.5
3.39 x 4.35
48
121.9
7
2.1
11.9 x 15.1
3.57 x 4.53
52
132
7
2.1
12.9 x 16.1
3.87 x 4.83
58
147.3
8
2.4
11.7 x 15.3
3.51 x 4.59
48
121.9
8
2.4
12.3 x 16
3.69 x 4.8
52
132
8
2.4
13.3 x 17
3.99 x 5.1
58
147.3
8.5
2.55
12.5 x 16.3
3.75 x 4.89
52
132
8.5
2.55
13.5 x 17.3
4.05 x 5.19
58
147.3
9
2.7
12.2 x 16.3
3.66 x 4.89
48
121.9
9
2.7
12.8 x 17
3.84 x 5.1
52
132
9
2.7
13.8 x 18
4.14 x 5.4
58
147.3
Cue length by human height
Related: Snowboard Size Chart – Guide To Choosing A Snowboard
| | | | |
| --- | --- | --- | --- |
| Height (feet) | Height (cm) | Cue Length (inches) | Cue Length (cm) |
| 4.0 – 5.0 | 122 – 152.5 | 42 | 106.7 |
| 5.0 – 5.8 | 152.5 – 176.7 | 48 | 122 |
| 5.8 – 6.4 | 176.7 – 195 | 58 | 147.3 |
| 6.5 + | 195 + | 61 | 155 |
Learn more about the importance of the Pool Cue Length (video)
Frequently Asked Questions
What length pool cue should I use?
A good pool cue length falls between 52 and 59 inches. This length feels comfortable for older children and adult players. The exact length of the cue is determined by the weight and size of the shaft. However, you'd want to look at the purpose of buying it.
Are you a traveling player who moves from one tournament to another or just a thrilled player who wouldn't do without a pool table for family entertainment? Is your game British or American?
Once you establish the above, getting accurate length will become seamless. Most American games have a standard pool cue length of 57 inches while British ones are shorter. The length of the cue is also subjective to the height of the player.
Does pool cue length matter?
Yes! Cue length will influence the quality of your spins and the control and consistency of your shots. Getting a perfect cue length will inadvertently reduce the number of your miscues.
Since finesse shots are made with good hand control, you don't want to use a stick that feels too heavy to shoot with. You, instead, want a length that makes it feel so easy to control the spins without losing balance.
Get the wrong cue length and you'll end up with wrongly positioned bridges and strokes. If unsure of this whole thing, be sure to use a pool cue length for the height chart.
How long is a traditional pool cue?
A traditional standard pool stick length is 59 inches (150cm). Cue length is gradually increasing through the years since many players are taller than their predecessors. However, this doesn't rule out the fact that short players cover a significant percentage. Hence the reason why you'll still find short pool cues.
While many players love using the traditional pool cue length, you'd only want to use it when your arm length and height are in collaboration. In that way, you'll improve your gaming experience by getting a stick that feels so compatible.
How long is a short pool cue?
A short pool cue is about 42 to 52 inches long. This length saves the day especially when the pool table is small. However, this wouldn't make you want to swap all your pool sticks for shorter ones because if a normal pool cue length makes scoring easy, a shortie will make it hard for the ball to go through the hole.
For instance, using a standard cue stick length could feel so comfortable when using a 7-foot pool table, even when you're shooting from the widths. In this case, you'd need a room that's big enough, not only for the pool but also for using such a cue length.
What is a good pool cue for a beginner?
A beginner's pool cue is dependent on the player's height, preference, and the stick's weight. Since you're building your skills, you want to get it right with the length and other features such as material, the tip, and the tip size.
Getting a personal cue would build your skills faster because you'll get used to the weight and balance of the cue such that you don't focus on the grip every time you hold the stick. You want to go for a maple stick with a hard leather tip, and a nylon wrap that facilitates a tight grip. Worried about weight? A cue weighing 20 ounces would be ideal for a start before you proceed to a 21-ounce one as a pro.
What is the best shaft size for a pool cue?
The good shaft size is between 12mm and 13mm. Since the shaft is the longest part of the pool stick, you want to get a shaft diameter that fits your hands without feeling a little too big or small. Shaft diameters differ by ¼ mm, meaning that such a small difference would affect the quality of your shots. Moreover, the type of shaft taper greatly determines the size of the shaft.
For instance, a standard shaft taper is thick at the butt and gradually decreases in thickness toward the tip. Smaller hands would require small shaft diameters that make it comfortable for your hands to slide down the shaft. To get a personalized shaft size, be sure to work with a pool stick size chart.
Are heavier pool cues better?
Yes, but under certain circumstances. Heavy cues are only good when they feel comfortable to grip. You'd also go for a heavy cue if a lighter one doesn't give your ball some good roll. The heavier the cue, the bigger the rolling impact but you'd want to be careful about its balance and how much weight you're comfortable with.
The weight of the cue comes into play when you're hanging around the pool table for hours so that at the end of the game, you've not only made scores but your hand is also in a good state.
Conclusion
So far, we hope you understand that it's not about getting an average pool cue length simply because everyone is using it. Always remember that the secret lies in getting one that perfectly fits your hand size and one whose length is friendly. Alternatively, using a pool size and length chart will save the day.
Any clarifications? Is something not very clear? No problem, please ask in the comments and we'll be more than willing to help.
Picture is from quedos.com.au
Related to Hobby Size Charts