Martial Arts Ring Sizes
Martial arts rings are pretty famous among practitioners of this amazing discipline. These rings are distinct from other forms of ornamental rings. But why do martial artists employ these rings? The martial Arts ring is typically used by martial artists who want to practice and improve their mobility, strength, and their skills. This is also used for martial arts competitions giving martial arts a comfortable place to showcase their skills.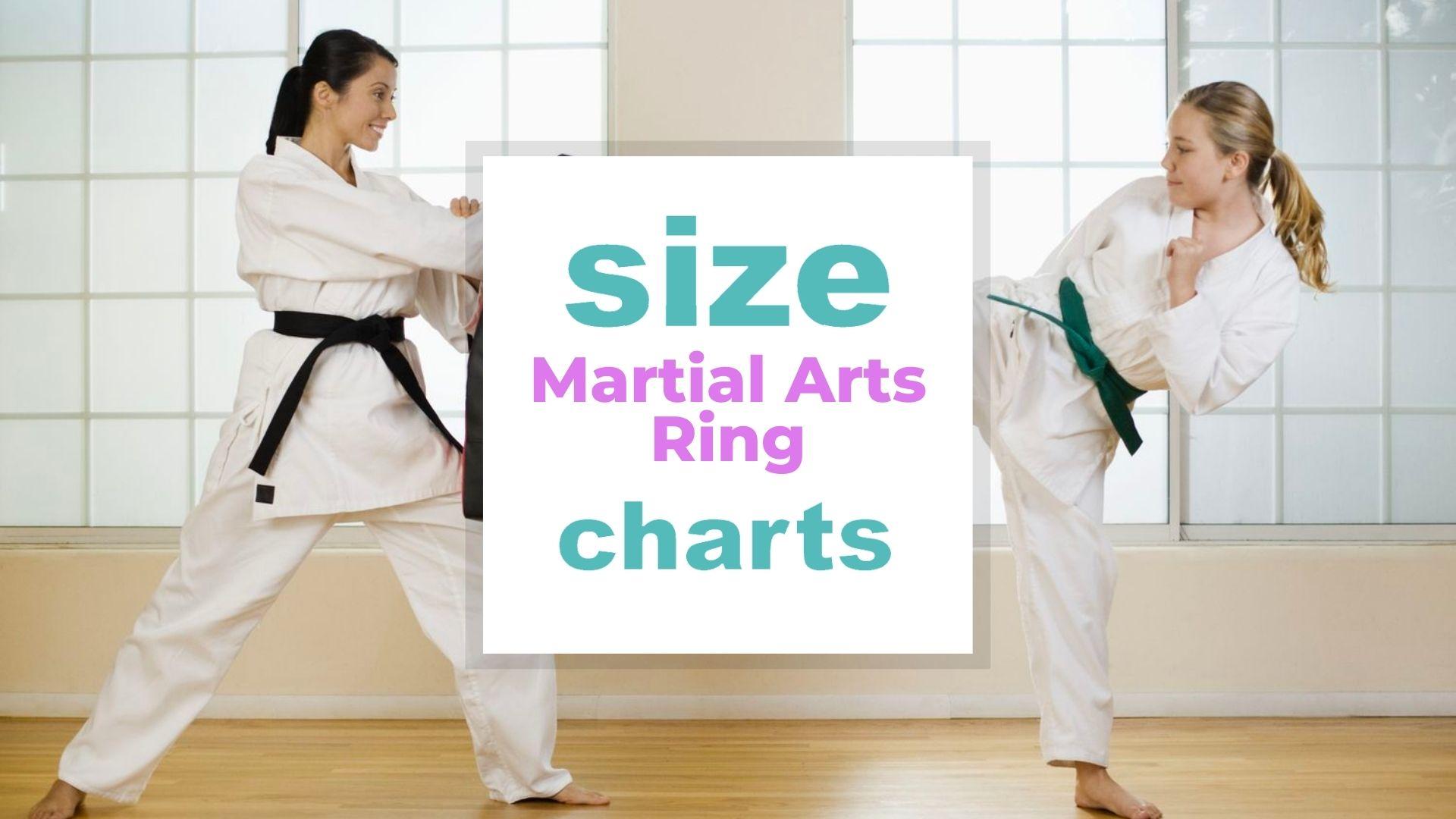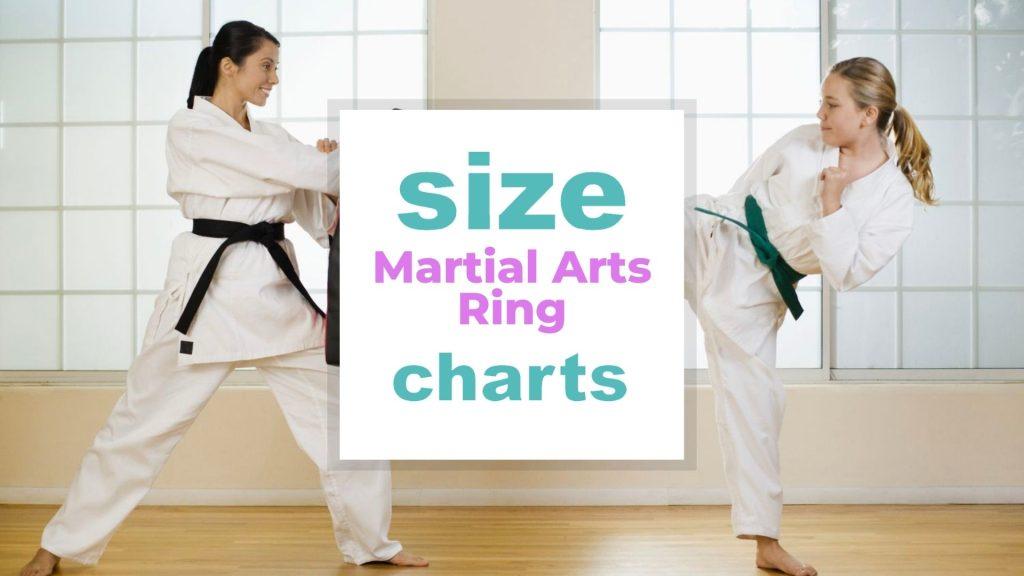 If you want to purchase or make your competition rings, ensure you get the proper size. Furthermore, since martial arts encompasses a variety of rings, you must be aware of what you require and how you want to utilize them. Check out this post on martial arts ring sizes to help you get the best fit for you.
Jump right into the Frequently Asked Questions
Related: What Kite Size do I need for Kitesurfing?, Roller Skates Size: Find The Perfect Fit, Skateboard helmet size chart and fitting guide, Yoga Ball Size chart for exercising or for your office, Roller Skate Size Chart for Adults and Children, Printable Shoe Size Chart – How do i measure my foot size?
Martial Arts Ring Sizes Table of Contents
Martial Arts Ring Sizes For Competition Area
Related: Ski pole size advice with easy to use size charts
Dozens of distinct martial arts styles have evolved and are taught throughout the globe. Here are some martial arts ring sizes for you to consider.
| | | | |
| --- | --- | --- | --- |
| Martial Arts | Competition Ring Area | Each Square Size | Mat Choice |
| Karate | 8mx8m | 800cmx800cm | 1mx1m | 100cmx100cm | 20mm Karate Jigsaw Mats |
| Kickboxing | 7mx7m | 700cmx700cm | 1mx1m | 100cmx100cm | 30MM BJJ JIGSAW MATS |
| Types of Brazilian Jiu Jitsu  |   |   |   |
| Regulation Matches | 8mx8m | 800cmx800cm | 1mx1m | 100cmx100cm | 20mm Karate Jigsaw Mats |
| Championship Matches | 10mx10m | 1000cmx1000cm | 1mx1m | 100cmx100cm | 20mm Karate Jigsaw Mats |
Muay Thai Ring And Olympic Boxing Ring
| | | | | |
| --- | --- | --- | --- | --- |
| Sizes | Inner Dimensions | Outer Dimensions | Elevated Padded Floor | Floor Boards |
| Muay Thai Ring | 6.1m x 6.1m | 610cm x 610cm | 7m x 7m | 700cmx700cm | 1m | 100cm |   2.50 cm |
| Olympic Boxing Ring | 6.1mx6.1m | 610cm x 610cm | 7.8m x 7.8m | 780cmx780cm | _ | _ |
Competition MMA Rage Ring
| | | |
| --- | --- | --- |
| Dimensions | Feet | Meters |
| Outer Dimensions | 22,9 x 22,9 ft. | 7 x 7 m |
| Between Ropes | 19.8 x 19.8 ft | 6 x 6 m |
| Elevated Padded Floor | 3.2 ft. | 1 m |
| Padded Floors | 0.081666666 ft. | 0.024892 m |
The Octagonal Sparring Ring Sizes
| | | | |
| --- | --- | --- | --- |
| Size Of Octagon | Perimeter | Markings Along Perimeter | Cross Diagonal |
| 8m Regulation Octagon | 26.510m | 2651cm | Every 3.314m | 331.4cm | 8.659m | 865.9cm |
| 9m | 29.832m | 2983.2cm | Every 3.728m | 372.8cm | 9.742m | 974.2cm |
| 7m | 23.196m | 2319.6 m | Every 2.899m | 289.9 cm | 7.577m | 757.7cm |
| 6m | 19.882m | 1988.2cm | Every 2.485m | 248.5 cm | 6.494m | 649.4 cm |
UFC Octagon Size Chart
The UFC Octagon is a competition facility utilized by the Ultimate Fighting Championship, a mixed martial arts organization. Athletes compete in the octagon by grappling and punching each other while lying down or standing. This may be done outdoors or inside, with two gates that every athlete and his team stand behind.
For the athletes' security, the chain link walls are made of fences with cushioning coverings on all edges and corners.
| | | |
| --- | --- | --- |
| Sizes and Dimensions | Meter | Feet |
| Whole UFC Octagon | 11.5 m | 38 ft |
| Interior of the Octagon | 9.1 m | 30 ft |
| Walkway | 1.2 m wide x 1.2 m high | 4 ft wide x 4 ft high |
| Gate | 0.9 m wide x 1.5 m high | 3 ft wide x 5 ft high |
| Height from the ground to the canvas | 1.2 m | 4 ft |
| Height from the canvas to the top of the fence | 1.8 m | 5 ft and 9 inches |
Taekwondo Competition Area
The competition arena is a leveled, nonslip mat. The competition area may be built on a platform 0.6m­1m above the ground. The color palette of the mat's surface should prevent producing a strong reflection or weary the vision of the participant or viewer.
The color scheme also suits the contestant's equipment, outfit, and the competition area's surfaces.
| | | | |
| --- | --- | --- | --- |
| Types of Taekwondo's Competition Area   | Competition Area | Safety Area | Overall Ring Size |
| Square Shape | 8m x 8m | 800 x 800 cm square  | 2m to 4m | 200cm to 400cm | 10m x 10m-12m x 12m | 1000cm x 1000cm- 1200cm x 1200cm |
| Octagonal Shape | 8m x 8m | 800cm x 800cm | 3m to 3m | 300cm x 300cm | 10m x 10m- 12mx12m | 1000cm x 1000cm- 1200cm x 1200cm |
How To Make An Octagonal Sparring Martial Arts Ring?
Related: Padel Court size – a full guide in padel court dimensions
A sparring ring 8 meters in diameter must have corners of 3.314 meters long. The edges and corners would be too short when you attempt to set out an octagon utilizing square mats. A more precise technique is to employ a rope to make a pattern for a standard 8-meter ring.
The diagonals traverse the middle of a standard 8-meter ring and must be 8.659 meters long. To build the template's diagonals, you'll require four 8.659-meter-long ropes.
The ring's circumference is 26.510 meters long. To make the template, measure a perimeter rope 26.510 m in length with marks at every 3.314 m along the perimeter. This will result in a perimeter with eight corners.
Join the opposing perimeter edges with the central ropes. Pulling all the ropes tight will now make a perfect octagonal sparring ring.
How To Purchase The Right Octagon Trampoline Components
Whenever it refers to Octagon trampolines, you must take many measurements to guarantee that you acquire the suitable size components.
Jumping Surface or the Octagon Mats
To acquire the right mat, you'll have to understand the following:
1.) Frame size is determined from the outer corner of the metallic frame's far corner to the opposing outer corner edge.
2.) The Spring Count
3.) Check the spring length off the trampoline, un-stretched, hooked end to hooked end.
Octagon Spring Covers and Safety Covers:
To acquire the right pad, you'll have to learn the following:
1) Frame diameter is determined from the outer corner of the metallic frame's farthest corner right through to the opposing outer corner.
2) Measure the breadth of your previous pad as well.
Trampoline Corner Configuration
Normal- The springs butt up on both sides of the corner. This is the most typical corner arrangement.
Normal with Diagonal-There is an additional spring positioned diagonally in addition to the springs on either side of the edge. These additional corner springs are often longer in length than regular springs.
Diagonal– Every corner features just one diagonal spring, with no extra springs on every side of the corner. Corner springs are often longer in length than conventional springs.
Taekwondo Competition Ring Positions And lines
Related: Badminton Court Size and dimensions guide
The border line is the exterior line of the competition area, and the outside lines are the outer sides of the competition area. Moreover, outside line 1 is the external front line closest to the recorder's desk. The remaining lines are termed outer lines 2, 3, and 4. The borderline closest to exterior line 1 is known as border 1, while the other lines are known as borderline 2, 3, and 4.
In addition, the borderline closest to exterior line 1 is termed boundary line 1 in the octagonal form competition area, while the remaining lines are designated boundary lines 2, 3, 4, 5, 6, 7, and 8.
At the start of the competition, the participants are 1m from the competition area's center point, parallel to outside line 1. The referee is placed 1.5m from the game area's center, near outside line 3.
The first judge is 0.5m from the intersection of outside lines 1 and 2. The location of the second judge is 0.5m from the center of outside line 3. On the other hand, the third judge is 0.5 distance from the intersection of external lines 1 and 4. The recorder and immediate video replay jury are situated 2 meters from the outside line 1.
How To Put Up A Karate Ring?
Related: Volleyball Court Size and dimensions guide
These mats are meant to be simple to install if you wish to set up a competition area or a karate ring. The handy karate mat size of 40 x 40 is readily moveable, and 36 karate mats may be used to make a 6×6 m competition arena. You may also include a 1-meter protected area to ensure you have all you require for competition and training.
Moreover, the safety zone and your ring will need around 64 mats. These double-sided mats have distinct colors on every side, allowing you to turn them over to produce detailed patterns and boundaries. For simple identification, choose one color for your ring and a different color for your safe area.
The mats are simple to install because of the interconnecting jigsaw construction, which makes the carpets connect to form a solid platform. You may dry and also arrange them on a flat surface without using adhesives. Begin by covering one area of the room and working your way out, installing tiles as you go. The seams provide full closures that will not pull up as martial practitioners compete or practice.
Learn more about Martial Arts ring sizes and different types (video)
Selecting The Right Size Facility For Your Martial Arts Ring for Competition 
Related: Ping Pong Table size and dimensions: a complete guide
When you've decided where the Martial Arts facility is located, it's essential to select the right property to rent, buy, or construct from scratch when you have the funds. Measuring your martial arts or martial arts gym is an essential element in effectively improving talents and abilities.
If you select anything too tiny, you will drastically restrict the sorts of lessons you may provide. You will almost be paying for unnecessary space if you pick anything too huge.
Remember that not every martial arts styles demand the exact size of space. Small aikido or jiu-jitsu facility requires just enough room for a mat layout with one middle ring, based on class size. Large racks and bags, cages and rings, and an extra weight training space are all likely to be included in Muay Thai and MMA facilities.
Choosing The Right Mat That Suits The Martial Arts Ring
Related: Basketball Court Size and dimensions guide
Among the most essential choices you could consider for your company are the flooring and mats you use. The platform on which learners train is critical to their security, comfort, and impression of your company.
In addition, good students will go to areas where they will experience security and comfort while intensively practicing, and parents will take their kids to areas in which they can be certain that the odds of them being injured are low.
Mats appropriate for training in martial arts come in three basic thicknesses:
1 in mats- These offer a firm base for stand-up martial arts training. It's excellent for martial arts such as kickboxing, taekwondo, and karate.
1.5 in mats– These offer a firm foundation for strikes while also providing cushioning for mild knockdowns. Perfect for Aikido, Muay Thai, Brazilian Jiu-Jitsu, and other martial arts.
2 in mats– These are rigid enough for stand-up martial arts yet require little, if any, subflooring. There is sufficient padding for tosses and heavy knockdowns. suitable for Jiu-Jitsu, combat sports, Judo, MMA, and police training facilities.
Frequently Asked Questions
1. How big is a Jiu-Jitsu ring?
The size of a Jiu-Jitsu ring depends on the style and design of your ring. Most rings are available in standard sizes, such as 9, 10, 12, 12.5, 13, 14, and so on.
2. What do Kung Fu Rings do?
Place them on your forearms and gradually increase the Kung Fu Iron Rings on every arm. This increases strength and prepares you for weight and endurance training. Performing your techniques and exercises improves relaxation, footwork, mobility, and arm strength.
3. What's the difference between Taekwondo and karate ring?
Karate emphasizes strength, power, and firm stances, while Taekwondo emphasizes mobility, quickness, and flexibility. Karate also emphasizes foot and hand movements, while Taekwondo emphasizes just kicks.
4. What are Wing Chun rings used for?
Wing Chun rings with inner diameters of 8, 10, and 12 inches are the most widely utilized in Wing Chun practice and are appropriate for most training techniques.
5. How big should a BJJ mat be?
Roll-out mats are 6 feet wide and 2 inches thick. They are suitable for BJJ martial arts and are offered in roll lengths exceeding 18 linear feet. These mats are popular in classrooms since they are accessible with tatami or smooth surface textures.
6. How thick should martial arts ring mats be?
Many martial arts mats with more than one-inch thickness are sufficient for throws and slams; however, at least 1.5-inch thick mats are suggested.
7. How many square feet is a wrestling mat?
The permitted diameter of a wrestling mat is 29.53 inches (9 m), and the tournament area is 684 ft2 (63.5 m2). A central circle of 39.37 inches is located in the middle of the competition mat (1 m).
8. What karate belt size should I get?
To determine the proper size for a double wrap belt, drape a measuring tape across your waist where you intend to wear the belt. Increase this measurement by three, then choose the belt length closest to this figure.
9. What size is a karate ring?
According to the North American Sport Karate Association, adult black belt rings must be around 20 by 20 feet in size. Beginning lines in the center of every ring must be roughly six feet apart. Moreover, youth and ring sizes for levels below the black belt may vary from 16 to 20 feet.
10. What is not permitted in karate?
Any clutching or striking on the neck is not permitted, as well as hitting on the back of the spine or the skull. Flinging, leaping, stomping, or kicking oneself on a helpless opponent is prohibited, and any groin assault.
Conclusion on Martial Arts Ring Sizes
Knowing the proper size of the competition ring is critical to ensuring that you practice martial arts efficiently and productively. Furthermore, your training must be paired with metal rings around the ankles and wrists to increase weight throughout form performance, enhance the body, and reap the benefits of form training.
Ankle and wrist weights may also aid in muscular growth and endurance. To avoid joint damage, trainers must avoid making motions too rapidly. Training outside in diverse situations and at changing, speeds are two more strategies to increase the effectiveness of forms training.

Furthermore, having the proper size while training martial arts is associated with a balanced and effective development of skills and learning. Please leave a comment if you have questions!
Picture in this post is by Vladislav BychkovHire on Unsplash
Related to Martial Arts Ring Sizes