What is my Cycling Gloves Size?
Unlike other equipment, cycling gloves are so important that their price aspect would come last. We understand that it's never easy to get the best pair that's compatible with your hands, a pair that's padded perfectly to keep your hands protected even on rocky terrain (skip straight to the cycling gloves size charts).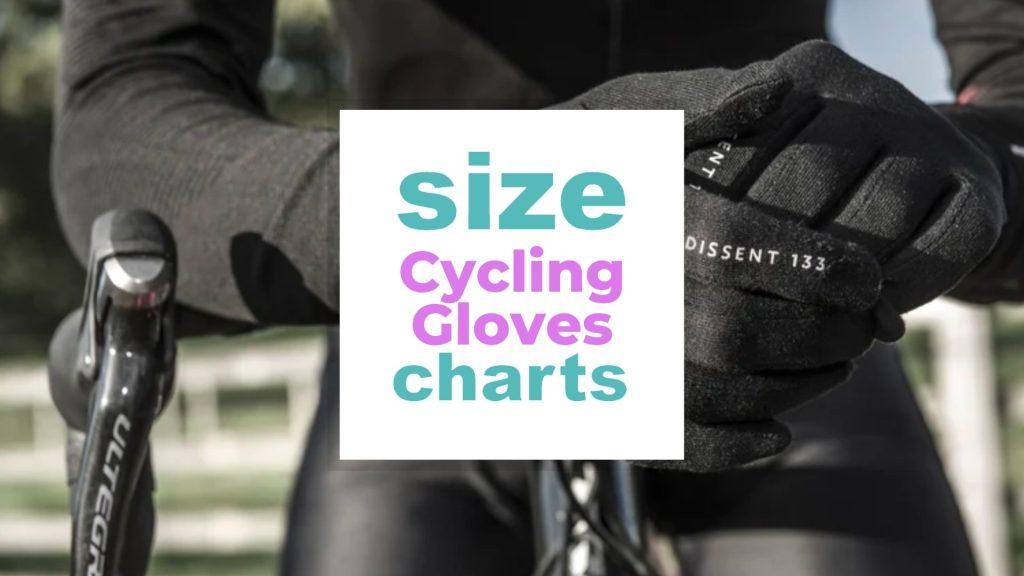 Most cyclists will either get a pair that protects their hands from nerve damage and miss the size aspect or vice versa. Hence the question, is it so hard to get an all-inclusive pair of gloves that allows you to get a good grip, forgetting about the irritation on your hands when you're on a bumpy road?
With this article, you have an easy, fast, do-it-yourself bike glove-size guide. Scroll down!
Jump right into the Frequently Asked Questions
Related: Men's Bike Clothes Size for All, Women's road bike size chart – all dimensions and tips for the perfect ride, Race bike tire size and width for road and racing bikes, Women's Bike Clothes Size Chart – All Cycling clothes sizing, Kids Bike Clothes Size Chart for all ages and heights
Cycling Gloves Size Table of Contents
Cycling gloves size charts
Since different brands seem to have different sizes, please check out these cycling gloves size charts for some of the leading brands in the market.
Pearl izumi gloves size chart
Related: What is my Weightlifting and Gym Gloves Size?
Men's cycling gloves chart
| | | | |
| --- | --- | --- | --- |
| Glove Size | Inch | CM | EUR Size |
| S | 7.25 – 8″ | 18.5 – 20.3 | 7.5 – 8 |
| M | 8 – 8.75″ | 20.3 – 22.2 | 8.5 – 9 |
| L | 8.75 – 9.5″ | 22.2 – 24 | 9.5 – 10 |
| XL | 9.5 – 10.25″ | 24 – 26 | 10 – 10.5 |
| XXL | 10.25 – 11″ | 26 – 28 | 11 |
Women's cycling gloves chart
| | | | |
| --- | --- | --- | --- |
| Glove Size | Inch | CM | EUR Size |
| S | 6.5 – 7.25″ | 16.5 – 18.4 | 6.5 – 7 |
| M | 7.25 – 8″ | 18.4 – 20.3 | 7.5 – 8 |
| L | 8 – 8.75″ | 20.3 – 22.9 | 8.5 – 9 |
| XL | 8.75 – 9.5″ | 22.2 – 24 | 9.5 – 10 |
Castelli gloves sizing
Related: Gloves Size chart and fitting guide
Men's cycling gloves chart
Size
Hand – Circumference
CM
Hand – Circumference
inches
XS
< 18.4cm
< 7.36 inch
S
18.4 – 20.3cm
7.36 – 8.12 inch
M
20.3 – 22.2cm
8.12 – 8.8 inch
L
22.2 – 24.1cm
8.8 – 9.6 inch
XL
24.1 – 26cm
9.6 – 10.4 inch
2XL
> 26cm
> 10.4 inch
Women's cycling gloves chart
Size
Hand – Circumference
CM
Hand – Circumference
inches
XS
< 16.6cm
< 6.64 inch
S
16.6 – 18.4cm
6.64 – 7.36 inch
M
18.4 – 20.2cm
7.36 – 8 inch
L
20.2 – 22cm
8 – 8.8 inch
XL
> 22cm
> 8.8 inch
Louis Garneau glove size chart
Related: Boxing Glove Size Chart: How do I know my Boxing Gloves Size
Men cycling size charts
| | | |
| --- | --- | --- |
| Size | Palm Circumference (inches) | Palm Circumference (cm) |
| XS | 6-7 | 15.24 – 17.78 |
| S | 7-8 | 17.78 – 20.32 |
| Men | 8-9 | 20.32 – 22.86 |
| L | 9-10 | 22.86 – 25.4 |
| XL | 10-11 | 25.4 – 27.94 |
| XXL | 11-12 | 27.94 – 30.48 |
| 3XL | 12-13 | 30.48 – 33.02 |
Women's cycling size charts
| | | |
| --- | --- | --- |
| Size | Palm Circumference (inches) | Palm Circumference (cm) |
| S | 6-7 | 15.24 – 17.78 |
| M | 7-8 | 17.78 – 20.32 |
| L | 8-9 | 20.32 – 22.86 |
Kids cycling size charts
Size
Child
Age
Palm Circumference (inches)
Palm Circumference (cm)
2
1 – 2
4.5 – 4.75
11.43 – 12
4
3 – 4
4.75 – 5
12 – 12.7
6
5 – 6
5 – 5.25
12.7 – 13.3
Juniorcycling size charts
Related: Teen And Kids Gloves Size Chart – How To Find the best Glove Size
Size
Child
Age
Palm Circumference (inches)
Palm Circumference (cm)
JRS
6 – 7
5.25 – 5.5
13.33 – 13.97
JRM
8 – 9
5.5 – 5.75
13.97 – 14.6
JRL
10 – 11
5.75 – 6
14.6 – 15.24
JRXL
12 – 13
6 – 6.25
15.24 – 15.87
How do I know what size cycling gloves to buy?
Want to learn more about gloves sizes in general? Check it here
A good cycling glove size will provide ultimate comfort and allow a good level of hand mobility. That's why it will be important to get a pair that feels like it was made just for you instead of getting an average size simply because every cyclist is going with it. The process of getting a perfect fit takes a few steps:
Get a fabric tape measure and a notebook where you'll record the measurement. Press your hands against a flat table to relax and stretch out your knuckles. Then take your tape measure and wrap it around your palm at its widest part. This is most probably just below the knuckles, excluding the thumb. Get the circumference of both hands and compare them to get the bigger circumference.
Depending on the type of gloves, you might need to measure the length of the gloves. For instance, if getting mountain gloves, you'll need to get the measurement whereas summer gloves will not need the length since they are mostly fingerless.
To get the length, simply take the measurement of the middle finger from the tip down to the wrist and record it. There are a plethora of cycling glove size charts on the internet that could be of help. For instance, mtb glove size charts would be ideal for mountain cyclists while the Rapha gloves size guide includes charts needed by summer cyclists who take out fingerless gloves.
However, be sure to get the gloves from the brand whose charts you use as sizing parameters could vary from one brand to another.
Learn more about cycling gloves size and more in this video
Frequently Asked Questions
How snug should cycling gloves fit?
Good cycling gloves feel so comfortable on your hands that they are not so scrunchy or too tight to give your handlebars a good grip. Gloves that are too tight will make it hard for you to freely make a fist. One thing to note, gloves don't stretch like other types of clothes, which is the more reason why you want to get the perfect size from the word go.
If using sizing charts, always seek to know how the manufacturer's gloves come. If they come small, you may want to go half a size up. For instance, XXL mtb gloves might not fit all people under that category. If that's your case, be sure to get XXXL cycling gloves. You'll get a good size when the gloves feel like a second skin when you almost forget that you're wearing them.
What size is 16 in gloves?
A size 16 in cycling gloves sizing is for example in Louis Garneau's glove size chart, is an XXXL. The size is mostly taken out by big men. Most gloves coming in this size are meant for mountain cycling because they come thick and hence full-fingered. Most gloves coming in this size are meant for mountain biking because they come thick and full-fingered. This helps to protect the hands from the elements, as well as from injuries that can occur when mountain biking.
Gloves that are this size are also typically very durable, which is important for mountain biking where the terrain can be tough on equipment. If you are a big man who loves to mountain bike, then a size 16 glove from Louis Garneau is likely the perfect size for you.
Other brand charts such as Santini gloves size guide also classify size 16 as 3XL, with the same specifications. The glove is made of sturdy fabric that provides enough water resistance and can withstand wear and tear during the rides. The gloves also come with good-quality leather that allows a good grip on the handles, reducing the chances of sliding off.
The good thing with this glove, it is designed to stretch out a little bit during the rides and later go back to its initial size and shape. This allows enough room for the expansion of your hands.
Are cycling gloves the same size as regular gloves?
No! This means that you'd not use regular gloves for cycling. Cycling gloves have very unique specifications meant to serve a particular purpose. Regular gloves are curated to only reduce heat loss while cycling gloves serve more than just one purpose.
Without cycling gloves, for instance, you are exposed to the risk of developing ulnar nerve damage, among other conditions. While some gloves are padded and full-fingered, others are fingerless and meshy to reduce sweating.
They can help to prevent ulnar nerve damage, and fingerless and meshy varieties can help to reduce sweating. In addition, cycling gloves often have padded palm sections to improve grip and provide protection in the event of a fall. As you can see, cycling gloves serve an important purpose and are an essential piece of gear for any cyclist.
Is a size 10 glove a large one?
Yes. If we take the example of Pearl Izumi bike gloves size chart among other manufacturers, size large ranges from 10" to 11". So if you fall into that category, then this is your size. The gloves are taken out by riders who can't fit into the average glove sizing and would need a little more space to stretch their knuckles.
But remember that a good glove will provide comfort from the moment you put it on to when things are hot and your hands are a little bigger.
However, it's always a good idea to try on a few pairs of gloves before you make your final purchase, as different brands can vary slightly in size. But with the Pearl Izumi size guide as your starting point, you'll be sure to find the perfect pair of gloves for your next ride
What is the average men's cycling glove size?
Average cycling gloves are between sizes 9 and 10. The size sells the most as the biggest percentage of riders have this hand size. However, some riders, for their failure to know their perfect size, opt for this size.
However, some riders may choose this size range even if it is not their perfect size, simply because it is the most popular option. While average-sized gloves may be more widely available, it is important to take the time to find a pair that fits well in order to enjoy the best possible ride.

Gloves that are too small can be uncomfortable and constrictive, while those that are too large can be bulky and impede dexterity.
Determining your cycling gloves size
In order to find out what size you need, you would measure your hand. To do so, you would wrap a measuring tape around your hand at the widest part, typically the knuckles.
Once you have done that, you would then compare that measurement to a bike glove size chart. If your measurement falls under 7 inches, you would need a size extra small. If it is between 7 and 8 inches, you would need a small size.
For measurements between 8 and 9 inches, you need a medium. Those between 9 and 10-11 inches need a large, and anything above this range needs an extra large.
Conclusion
For avid cyclists, having the right gear is essential. In addition to a comfortable bike and a helmet that fits properly, cyclists also need to choose the right gloves. While some riders prefer to go glove-free, others find that gloves can help to improve their grip on the handlebars and absorb shock from bumps in the road. When choosing cycling gloves, it's important to consider both fit and function.
For example, gloves that are too tight may restrict blood flow, while gloves that are too loose may cause fingers to slip. In terms of material, many cyclists prefer gloves that are made from breathable fabrics such as mesh or lycra. And finally, cyclists should choose a glove size that matches their hand size. Fortunately, there is a wide range of sizes available, from XS to XXL. With so many options on the market, finding the perfect pair of cycling gloves is easier than ever.
Please raise any clarifications about cycling gloves sizes and we'll be more than glad to help you.
Picture in this post is from Cyclingnews.com
Related to Cycling Gloves Size