Gloves Size chart and fitting guide
This post was last updated on October 11th, 2022 at 08:26 am
Introduction on glove sizing
Gloves are used for many reasons, including protection from the cold, safety, and improved grip, particularly in sports and driving. Browse through the gloves size chart and types of Gloves to find your correct size. Gloves are increasingly seen as a crucial fashion and casual apparel, in addition to their relevance for safety and their capacity to keep the hands of the user warm in the cold.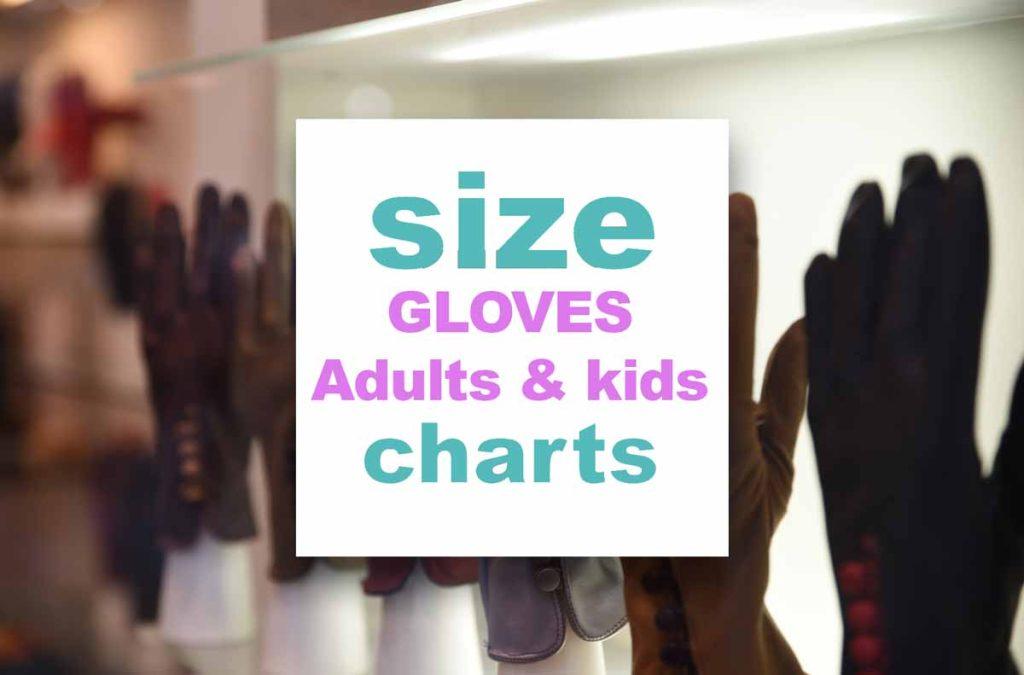 Learn all about average hand size here
Due to the monotony of wearing gloves today, one aspect of gloving is sometimes overlooked, despite being the most vital – the correct glove size. Gloves size guide and chart can help to determine your gloving size.
Glove Size Guide and Chart
The ideal gloves should be snug, not too loose but also not too tight. At times, the inseam of the glove may be too tight. However, establishing your glove size can be difficult when you cannot try on the gloves before purchase, such as when ordering online. It's also worth noting that men's and women's gloves differ in a few ways just as the body measurement often differs.
The palms of men's gloves are larger, and the fingers are shorter and broader, and women's fingers are thin and have a longer length. Men's gloves are typical of larger size than women's fitting size. A man's size for men is similar to medium size for women in terms of measurements.
General Sizing for Gloves in Inches and Centimeters
To find your glove size, measure around your hand with a tape measure across your palm. You should use your dominant hand, the right if you are right-handed, and the left if you are left-handed.
Men's Sizing  
XS
S
M
L
XL
XXL
In Inches
6.5 – 7.5
7.5 – 8.5
8.5 – 9.5
9.5 – 10.5
10.5 – 11.5
11.5 – 12.5
In Centimeters
18



20



23



25



28



30



Women's Sizing  
XS
S
M
L
XL
XXL
In Inches
6 – 6.5
6.5 – 7
7 – 7.5
7.5 – 8
8 – 8.5
–
In Centimeters
15.25



16.5



17.75



19



20.25



–



Get the best-priced Gloves on Amazon
GLOVE SIZE CHART FOR MEN AND WOMEN USING PALM CIRCUMFERENCE
Adult Size Circumference
Men's sizing
Women's sizing
Inches ")
Centimeters (cm)
5.5 to 6.5
14 to 16.5
–
S
6.5 to 7.5
16.5 to 19
S
M
7.5 to 8.5
19 to 21
M
L
8.5 to 9.5
21.5 to 24
L
XL
9.5 to 10.5
24 to 27
XL
–
Get the best-priced Gloves on Amazon
Adult Glove Sizing  Charts Using the Width and Length of the Palm
| | | | |
| --- | --- | --- | --- |
| Length (cm) | Width (cm) | Men's sizing | Women's sizing |
| 17 to 18 | 17.5 to 20 | XS | S |
| 18 to 19 | 18.5 to 21 | S | M |
| 19 to 20 | 19.5 to 22 | M | L |
| 20 to 21 | 20.5 to 23 | L | XL |
Get the best-priced Gloves on Amazon
Glove Sizing Chart for Kids
Toddler gloves
Youth Gloves
Age (years)
Size
Age (years)
Size
1 to 2
S
6 to 7
XS
3 to 4
M
7 to 8
S
5 to 6
L
9 to 10
M
 
 
11 to 12
L
 
 
13 to 14
XL
How to Measure the Hands for Gloves
Since it is important to shop by size, your glove size can be determined in one of two ways: by measuring the length and width of your palm or the circumference of your palm. The palm's length is measured directly below the wrist to the middle finger's tip.
On the other hand, the width is measured from one end of the palm to the other, below the knuckles. The circumference is calculated by measuring around the palm just below the knuckles using a fabric tape measure.
The charts above shows the fitting sizes available, which can be determined by measuring the length and width of the palm, or the circumference of the palm.
NUMERIC SIZES
These are the same as your measurement in inches. Round up or down to the nearest size.
LETTER SIZES
Use the chart above to convert inches to letters. Round up or down to the nearest size.
HALF SIZES (if available)
Round up to the nearest half size.
Step-By-Step Glove Sizing Process
Comfort should be a priority when shopping for gloves. Gloves will only fit well and feel comfortable if you have the right size.
Measure around the hand at the
fullest part (exclude thumb). 
Measure from the tip of the middle
finger to the base of the hand.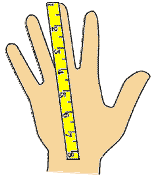 When determining glove size, you want to find a specific inch number. Here's how to find your glove sizing inch number:
Measure around. Wrap a fabric tape measure around the widest part of your hand. When measuring for glove size, you should always use your dominant hand — your right hand if you're right-handed and left if left-handed. The tape measure should wrap over the top of your hand and across your palm at its widest point. Record the size of your hand at this point in inches.
Measure lengthwise. Once you've measured around, it's time to measure lengthwise. Spread your hand and fingers and place the tape measure at the tip of your middle finger. Then stretch the tape measure down to the base of your hand, holding it taut where your wrist begins. Again, record the length of your hand at this point in inches.
Choose the larger number and round up. Now you have two figures in inches. It's time to choose the larger figure and round up. For example, the measurement around your hand may be 5½ inches, and the lengthwise measurement of your hand may be 6¾ inches. In this case, you would take the 6¾ figure and round up to 7. That means your glove size is a 7.
Convert as needed. Many manufacturers size gloves by extra small, small, medium, large and extra-large instead of by numbers. If this is the case for the gloves you need to purchase, you'll need to convert your measurement using a glove size chart.
Gloves sizing explained
Glove Size Chart for Conversions
If you need to convert your glove size, use the following general information:
Men's Sizes:
Extra Small: 7½ inches and smaller
Small: 7½ – 8½ inches
Medium: 8½ – 9½ inches
Large: 9½ – 10½ inches
Extra Large: 10½ – 11½ inches 
XXL: 11½ inches and larger
Women's Sizes:
Extra Small: 6½ inches and smaller
Small: 6½ – 7 inches
Medium: 7 – 7½ inches
Large: 7½ – 8 inches
Extra Large: 8 inches and larger
XXL: N/A
Why Does Correct Glove Sizing Matter?
Gloves are useless if they aren't correctly fitted. They still provide protection but reduce hand efficiency, particularly in motor actions. Accurate sizing is important to allow for comfortable finger and wrist movement.
Gloves that fit correctly are vital not only for convenience but also for protection. Because the muscles have to work more to compensate for the loose or tight glove, poor-fitting gloves increase the muscles' effort. Tight gloves strain your hands, reduce flexibility, and increase sweat, all of which can lead to tiredness and injury.
On the other hand, loose gloves limit grip, precision, and efficiency and pose other safety risks, such as slipping off your hands while you're working. Gloves are not "one-size-fits-all," despite what most people believe.
How Should Gloves Fit?
Your gloves must fit precisely for efficiency, proper protection, and dexterity; they shouldn't be too loose or tight. As a result, you should try on gloves before purchasing them to confirm that you have chosen a suitable size.
When choosing the correct glove, the first thing to look for is the webbing that runs between your pointer finger and your thumb. This webbing will help you determine whether the gloves suit you. In the webbing, there should be enough space.
Second, when you've tried on the new gloves, create a fist with them. A correct-fitting glove would allow you to make a fist without putting too much strain on the glove webs. Gloves that are the most suitable should be snug but not too tight.
Types of Gloves
The function of the glove has a significant role in determining the style of the glove to use. Following are some questions to consider before deciding on a glove kind.
What do I need the glove for?
Is a pair of gloves required for a specific activity, such as skiing, riding, or working out? Or are they only to keep you warm in the winter? When choosing a glove, it's critical first to determine why you're buying one.
What hazards will I face while wearing the glove?
Factors such as chemicals, temperature and the state of materials must be considered. Considering these will help to determine if the glove will require a cuff and its overall resistance.
What degree of dexterity will be required while wearing the glove?
Gloves needed to move heavy materials and require dexterity must be much more flexible.
What kind of surface will I have to operate with?
If you operate with slippery surfaces, the suitable glove material must be textured to maintain a good grip.
Without further ado, here are some types of gloves to choose from the next time you want to get a pair of gloves.
Touch Screen Gloves
Wind-resistant touch screen gloves or touch-capable gloves are designed for optimal efficiency and agility. During the cold season, a pair of touch screen gloves will allow you to text as much as you want; you will also be able to use your phone even if it is raining heavily.
Touch screen gloves have silicone grips on the inside to maintain a good grip of the phone. The gloves make it simple to use the knuckles, palms, and fingers.
Skiing gloves are constructed of premium cotton, making them ideal for maximum insulation. These gloves come with a thick fabric lining that absorbs sweat while keeping your hands toasty warm.
 Skiing gloves are windproof and usually come with an elastic wrist band to keep them in place on your wrists. They are one of the most durable and most formidable gloves available, making them ideal for fishing in the winter and other activities done in the snow.
Cycling Gloves
Cycling gloves are available in full-finger and half-finger styles, with equivalent cushioning. However, if you're looking for road cycling gloves, half-finger gloves are the ideal option.
These gloves, unlike full finger gloves, give you a better grip on the handlebar. Off-road cycling gloves with full fingers are ideal since they provide more safety in the event of a crash.
Weightlifting and Gym Gloves
If you work out frequently, these gloves are great. They help you gain a firm grasp on objects, protect your hands from injury, and build muscle mass. Lifting heavy weights without a pair of cotton-padded gym gloves might result in palm injuries and calluses. Weightlifting gloves also aid in maintaining proper lifting positions.
Modern boxing gloves are foam padding gloves or cushioned gloves used in boxing matches. Velcro and lace-up gloves are the two styles of modern boxing gloves. Both types of gloves protect the players' hands from harm during boxing contests. The Velcro gloves also give the players a sense of security. Modern boxing gloves are made of synthetic materials and manufactured using innovative machinery to ensure durability.
Driving Gloves
Although, back when steering wheels were constructed of wood, driving gloves were more fashionable. On the other hand, professional drivers continue to use it because it aids in maintaining a firmer grip on the steering wheel.
Driving gloves are also beneficial to people who drive for lengthy periods, such as commercial drivers. It aids in the prevention of injuries and calluses on the palms. Others use driving gloves to protect the leather on their car's steering wheels.
Other common types of gloves include gloves for pitchers, disposable gloves, basket web gloves, and horsehair gloves.
Conclusion
Choosing the right glove can be difficult, especially when ordering one online. Using a glove sizing guide and chart can help you identify your exact glove size, ensuring you get the best fit. Remember that, while the sizing is vital, choosing a pair of gloves best suited to the task at hand is also critical.
We'd love to hear from you, so please leave a remark and share it with others in the space below.
Picture by Tom Austin on Unsplash
Specialized Gloves Size Charts