Women's Road Bike Size Chart – All Dimensions and Tips for the Perfect Ride
This post was last updated on May 30th, 2023 at 12:52 pm
We will hold your hand along in this article for everything you need to know about women's road bikes with our women's road bike size chart!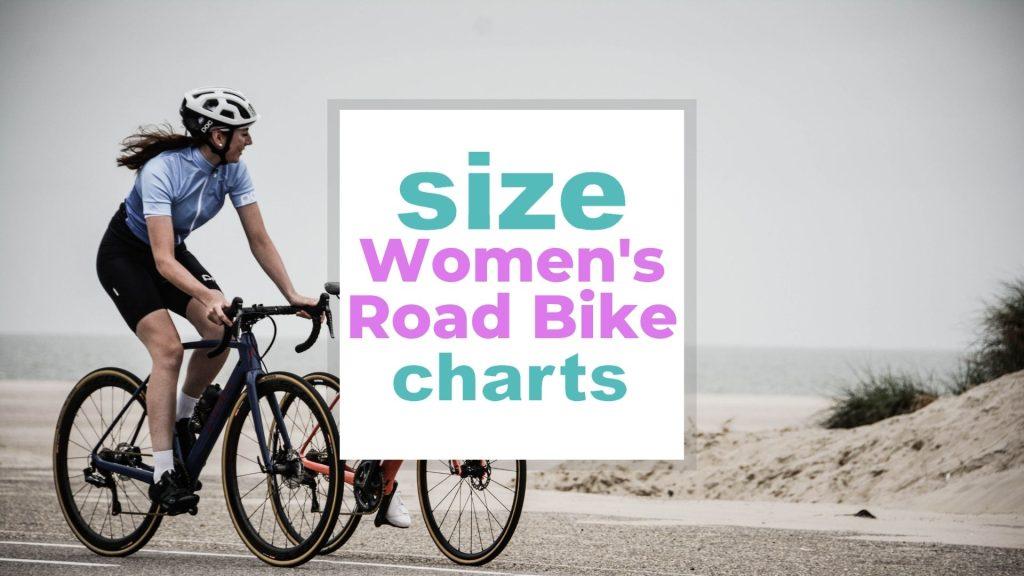 When the term 'women's road bikes' is mentioned, it represents women who want to ride bikes at a high speed on smooth pavement or tarmacked surfaces. As opposed to mountain bikes, road bikes are built for speed and convenience, they can sometimes double up as touring bikes too. A women's road bike size chart will always help you get the best size. In case you look for Women's Mountain Bike Size Chart – A Complete Guide click the link.
All Bike size charts you can find here. The perfect bike helmet size is accessible here
Table of Content of Women's Road Bike Size Charts
Women's Road Bike Size Chart: Understanding Road Bike Geometries
Before the modification of specific road bikes(also known as city bikes) for women, they used to hop on any general unisex bike which would sometimes be high and taller for most women. Nowadays some men especially shorter ones prefer women's road bikes as they deem them more comfortable amidst all kinds of bikes for smooth terrain.
As we mentioned earlier a Women's Road Bike Size Chart is essential as this is the kind of resource that helps you to find the correct size bike across all types of bikes including adult bikes, children's bikes, and of course women's road bikes which are our focus. Please check the chart below as a guide and a great place to get you started.  
Sizes



Rider Height
 
Recommended Frame Size
INCHES
CM
INCHES
CM
XS
 
63-65
160-165
18.5-19
47 – 49
S
5ft 3in – 5ft 5in
65-68
165-172
19.6-20.5
50 – 52
M
5ft 5in – 5ft 8in
68-70
172-178
20.9-21.7
53 – 55

L

5ft 8in – 5ft 10in
70-72
178-183
22-22.8
56 – 58
XL
 
72-74
183-188
23-24
59-61
XXL
 
74-76
188-193
24.4-25.5
62-65
Before you embark on the women's road bike shopping journey though, you must first understand different measurements and what they mean. It is advisable to use road bike sizing guides to get you started
Important elements of a women's road bike and their sizes
Here is a couple of important items worth understanding regarding the basic Geometry of road bikes in general. 
1. Bike wheel sizes vs bike frame sizes: What is the difference?
The road bike frame size is the determinant of how big or small the bike will be. Women road bikes come in a wheel size of 622 mm (700C) diameter which is the standard size for commuter bikes. However, shorter and petite women may prefer 571mm (650C). Note that the wheel size is determined by the frame size.
The frame size of a road bike is measured in centimeters, unlike a balance bike which is measured in inches. They come in sizes S, M, and L. Once you get the right frame measurement then the wheel sizing becomes easy. If stranded, use the manufacturer's wheel sizing chart for more professional guidance.
2. How are women's road bike frames sized?
Depending on the bike design, most road bikes manufacturers record measurements in centimeters, unlike hybrid bikes which are measured in inches. To get the correct frame size, use a tape measure and use it to measure from the center of the crank axle to the top of the bike seat tube. If your hands feel sore, or you feel cranked up after a ride then your frame size is the wrong size (small) and you need to consider it changed.
3. Sizing up or down your road bike
Some riders find themselves in between bike sizes and are not sure whether to take a size above or lower. Here are some factors to guide you on whether you should size up or down your women's road bike.
Reach for your toes
If you are able to touch your toes without difficulties then you require a smaller size with about two inches of clearance. If you are not close to touching your toes, size up for an ideal standover height.
Compare the ape index
If the span of your arm is longer than your height range, you need to size up and vice versa.
Road test
If you have done the above two and you are still not sure, the best thing would be to go for a road test. This will guide you on the correct size of bike.
What do you get for sizing up your road bike?
Sizing up or down mostly depends on rider heights and riding style. When you size up your road bike, it will guarantee you stability especially when you are at higher speeds. However, note that your back position may be slightly bent which means more fatigue when you go for longer distances without breaks.
What do you get for sizing down your mountain bike?
If you feel like the frame size is too high for you, then you should consider sizing down. However, speed is compromised when you size down as stability is reduced. Sizing down is ideal for slow riders especially beginners for a perfect ride.
Women's Road Bike size and Measurements (Geometry)
The following are the key measurements to take in order to determine the right size for your women's road bike.
1. Reach
Road bike reach is simply the distance from the bottom bracket's center to the central point at the head tube, horizontally. It is mostly recorded in millimeters.
2. Stack
Stack is the same as reach only that this time around it is measured vertically. Still from the central point at the top of the head tube to the center of the bottom bracket.
3. Head (Tube) Angle
Often shortened to head angle, these measurements are taken in a horizontal line running down the center of the fork steerer tube. Depending on the type of bike, road bikes' head tube angles are usually higher than modern mountain bikes and range from 70° to 74°.
4. Chainstay length
The Chainstay length in a road bike is taken from the side view, from the center of the bottom bracket to the center of the back wheel axle. Usually, it ranges between 40.5 cm and 41.5 cm. That should be less than 16 ½ inches.
5. Bottom bracket height
Commonly known as bb height, bottom bracket height is the vertical distance from the center of the bottom bracket to the ground. Typically, a road bike has a bottom bracket drop of approximately 70-75 millimeters.
6. The wheelbase
The wheelbase is defined as the distance in between where the two wheels touch the ground.27-inch wheels are the standard wheel size for all road bikes, and sometimes you will find that size even on a BMX bike and cruiser bikes.
How To Get Started Road Biking as a Woman
Kudos for the interest to embark on this road biking journey. For road bikes beginners or even for experienced riders, here are a few tips to get you started:
Avoid busy roads and highways
As much as road biking entails riding along the highway, for a start, it is good to begin on less busy pavements to minimize the possible risk of accidents. You can always get on the highways as you gain more and get better on the road with professional mastery plus confidence.
Always consult
It is always a good idea to consult other experienced riders or even bike shops attendants for tips on riding. This is especially helpful whenever you encounter any form of abnormalities and difficulties during your first rides.
Wear the appropriate gear
Always put on the right type of clothing and gear while on the road. This will protect you from major injuries in the case of accidents. Most bike manufacturers sell biking gear along with the bikes.
Be aware of the road signs
For road bikers, all the biking time is spent on main roads and the good news is that they are mostly calibrated. But you have to learn different road signs and what they mean. Always keep on the specified cycler's track when on the road and maintain an upright body position.
Women's Road bike size explained
Conclusion
There is a great need to use road bike sizing charts before you shop for a bike as it is a handy guide on everything you require. This will smooth your shopping journey and ensure you land at the correct size. When interpreting bike size charts, you can filter by keyword to make searching easier.
Watch out for exciting bike deals depending on the bike type especially on festive seasons for great discounts on your favorite road bike.
Did you enjoy reading this size guide on women's road bikes? We would love to hear your comments or questions you might have down in the comments section.  Otherwise now is your turn to get the correct size bicycle, gear up, and all the best in your riding!
Picture in this post by Coen van de Broek on Unsplash
Related Bike size charts