The Complete Stove Size Chart with Tips to Get the Best Out of Your Kitchen
This post was last updated on August 31st, 2023 at 10:51 pm
The perfect kitchen countertop is not complete without storage space and quality stove space. Standard stove size and dimensions vary widely, but the rule of thumb for apartment stoves and gas ranges is to fit into the cutout space of kitchen ranges regardless of range dimensions.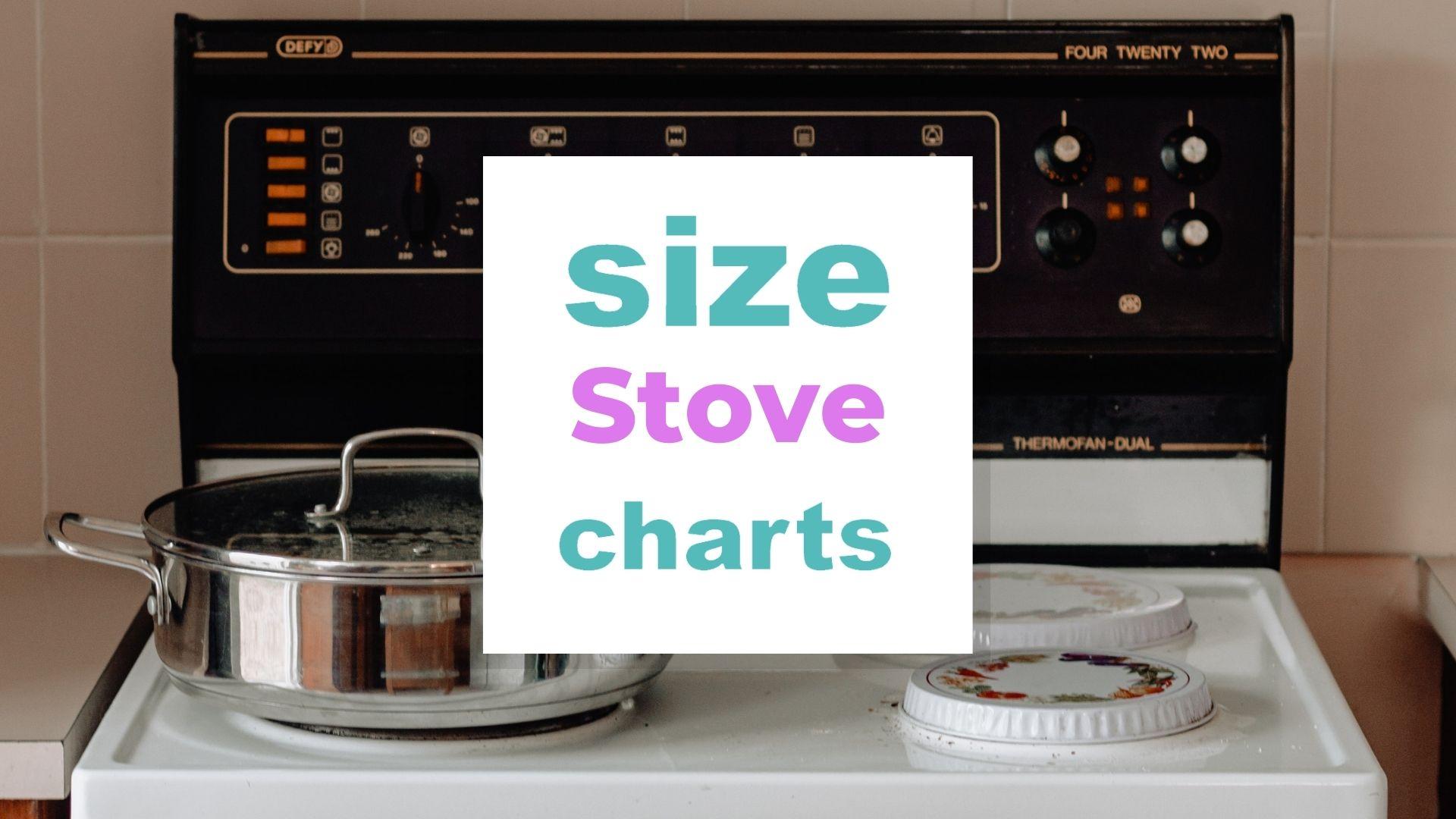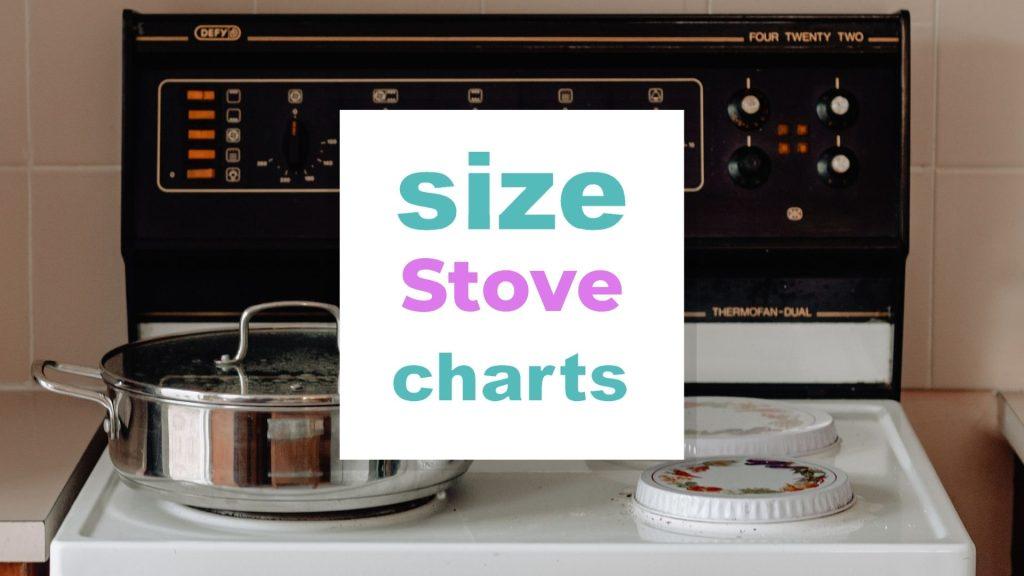 Table of Content of Stove Sizes
What Exactly Is A Stove?
It is funny how easy it is to get mixed up with appliances. Product guides and the typical service center do not necessarily help. The typical household kitchen stove and apartment stoves are stainless steel appliances with extra burners and a few additional cooking features to complement different cooking style and allow cooking flexibility. Any appliance that helps you cook is a stove. Sometimes referred interchangeably as ranges, are common kitchen appliances consisting of an oven and cooktop used for cooking food.
Next to stove sizes, it's important to figure out other appliances and their dimensions like Fridge sizes, boiler size, kitchen base cabinets sizing and much more
Why Is A Good Stove Size Important?
The stove size is determined by your house and kitchen size, your family size and your love for cooking. as an example, a Proper apartment-sized single-oven commercial-style ranges complement any accurate cooking style. Majority of these types of stoves are designed as a freestanding ranges.
What are the different sizes of stoves?
Standard stove sizes run from compact to standard to extra-wide sizes. Stove widths run from 20–24 inch wide (50–61 cm) for compact, 30–36 inches (76–101 cm) for standard and 48–60 inches (122–152 cm) for extra-wide models. Depths are constant around 25–27 inches (64-69 cm) and average height is around 36–41 inches (91–104 cm).
What is the standard size for a stove?
Most standard-sized stoves are 30 inches wide (76 cm), excluding handles and knobs they are around 25–27 inches deep (64–69 cm) and 36 inches tall (91 cm, excluding control panels).
Are all 30 inch ranges the same size?
Yes, every 30-inch range is almost identical with the next 30-inch wide range. Since there isn't a standard range size, most styles are 30 inches wide (76 cm). Some ranges can be as little as 20 inches wide (50 cm) so as to save space.
The Types Of Stoves
Based on sizes there are only four types of stove sizes
Compact sized stoves are small and meant for little spaces.
Freestanding ranges are fairly large and meant to be stove plus little space of "table".
Slide-in ranges are made to fit a certain cabinet modifications.
Commercial ranges are custom built and are flat out large in dimensions.
Based on functional characters, there are about one dozen types of stoves. Let us just breeze through the main ones.
1. Gas stoves can turn out to be quite expensive, featuring their own unique burners to accommodate a range of temperatures and thereby, cooking techniques, such as searing and boiling to simmering. However the fuel is more efficient than electricity, so it works out to be financially viable in the long run. Gas stoves are great because they heat up incredibly fast, providing nearly instant heat with their powerful flames. Gas and propane size you can find here
2. An induction stove is built such that the heat remains restricted to one area and gets transferred directly to the vessel on the stove. If you think gas stoves are fast in heating up something, wait till you use an induction stove.
3. Electric stoves are eco-friendly and convenient. The lack of an open flame makes them a better range for safety. However the heating time is much slower than a gas stove and adjusting the temperature is harder as these stoves are slower to respond. If you are looking to just simmer something for a long time without risking burning the food, an electric stove is your best bet.
Electric stoves are popular, easily available and also quite inexpensive, making them a great option for those on a budget. They're also quite easy to clean. Lastly these stoves require electricity, so in the case of a blackout, you should have other alternatives planned.
Stove Size Chart
| | | | |
| --- | --- | --- | --- |
| | Compact | Freestanding | Slide-in |
| Width (In) | 20-24 | 30-36 | 30-60 |
| Depth (In) | 25-27 | 25-27 | 25-27 |
| Height (In) | 36-41 | 36-46 | 36 |
| Width (Cm) | 50-60 | 76-91 | 76-150 |
| Depth (Cm) | 63-70 | 63-70 | 63-70 |
| Height (Cm) | 90-105 | 90-115 | 90 |
How do you measure what size stove you need?
To get the height of kitchen stoves, go to the space you wish to keep it, and measure from the bottom to the top of the cooking surface. For width and depth, measure from the left edge to right edge and front to back edge respectively. Always make sure to measure to the most narrow parts of the cutout dimensions.
How much space do you need for a 30 inch stove?
At least 31 inches of space (79 cm) is enough for a 30 inches wide stove. Any kitchen sized stove size needs an additional clearance space of at least half an inch of space on both sides, for safety reasons.
How To Measure For A Proper Stove Size
Step 1: Disconnect your current range if any and carefully remove the entire appliance.
Step 2: Measure the cutout width.
Use a measuring tape to measure the distance from left to right (side to side) of the cutout from cabinet. If your countertops extend past the cabinets into the cutout, measure that width as well since it could affect installation. Take a measurement near the back of the kitchen cabinets and the front to make sure they match. If not, go with the smaller dimension.
Step 3: Measure the cutout depth.
Use a measuring tape to measure the distance from the beginning to the end of the cutout from the wall to the front of the cabinet (front to back), excluding the door. A typical wall cabinet is 24 inches deep (61 cm) to work with standard range depths of around 25 to 27 inches (64 to 69 cm). This means your stove will stick out slightly beyond your cabinets, which is typical. Most of this extra depth will be the handle of the closed door.
Step 4: Measure the cutout height.
Use a measuring tape to measure the floor to top of the cutout of countertops (top to bottom). Take one measurement toward the back of the opening and one toward the front to account for an unlevel floor. If you find that it is unlevel, most stoves have adjustable legs to level the range.
Step 5: Map out the stove's path
Figure out the best entry to your desired installation location, beginning at your home entrance and taking into account each type of space. Consider each hall and doorway, kitchen design, and additional cabinets. Then measure the width of those spaces to ensure the unit will make it through.
How To Choose The Right Stove
To make sure you choose the right size, it's efficient if you check out this tips.
1. Follow the steps above and measure properly, especially for freestanding ranges and a slide-in range
2. Consider your cooking style. Griddle cooking, delicate foods, extra burners, food soil, oval burner, wall oven capacity and a lot more factors come into play. Pick the most important feature to you and base your shopping on these feature.
3. Fuel type: Electric oven, electric stove, gas range, fuel range (kerosene), charcoal, and firewood are all available on the market, pick the fuel type that is most common in your locality and easy to get.
4. Hygiene: Clean grates affects your functional range center. A cleaning operation can range from dry wipes to hot water and steam cleaning. The typical electric range requires a different treatment when compared to maybe a self-cleaning oven. Once again, choose your preference.
How much space in front of a kitchen stove?
A minimum clearance 'work zone' of 40" (102 cm) must be respected in front of a kitchen stove, with a larger 48"-60" (122-152 cm) clearance between other kitchen appliances.
How much space above the cooking surface of a kitchen stove?
A minimum clearance of 24" (61 cm) must be maintained between the cooktop surface of a stove and the ventilation hood above.
How to measure your stove size for instalment
Conclusion
The cooktop surface of the entire appliance affects heat circulation and therefore efficiency of any household kitchen stove. Now that you know the right size to buy, let your friends know by sharing the article and leaving a comment or two behind.https://worstroom.com/types-of-stoves/
Picture in this post by Erik Mclean on Unsplash
Related house and kitchen size charts