Sink Base Cabinet Size Chart – Your Guide to the Standard Sizes
This post was last updated on November 6th, 2022 at 11:33 pm
Did you know that sink base cabinets have different standard sizes? But the standard sink base cabinet size is 34.5 inches tall except the countertop and 36 inches when the countertop is fitted There are semi-custom and custom cabinets available for installation in your kitchen. In fact, cabinetmakers have different design practices and it is upon homeowners to decide their unique design. You can ask the cabinetmaker for a cabinet installation cost guide or cabinet refacing cost guide to help you out in case of cabinet replacement. 
In this sink base cabinet size chart guide, we have outlined the standard kitchen cabinet dimensions as follows (inches tall, inches wide, and inches deep). Looking for specific questions, jump to the faq section of this page
Are you looking for refrigerator sizes , or stove dimensions, Dishwasher Size Chart, dimensions & Measurement Guide, Ventilation Hood Size Guide and dimensions for your kitchen for your kitchen?
Sink Base Cabinets Explained. 
We need to start by looking at the sizes of base cabinets. The cabinets need to be extra firm to ensure they form the base of the countertops. A base cabinet can have double doors, doors, a combination of some drawers, a single door, or a series of some drawers. The standard base cabinet width base is 34.5 inches tall except the countertop and 36 inches when the countertop is fitted. 
 In case the base cabinet has a drawer the recommended size is 6 inches tall, and the door height should be 24 inches or below. In the scenario where the cabinet has a full-height base cabinet with a door that is 30 inches tall. 
 The standard cabinet has a depth of 24 inches. In case your kitchen has a smaller space it is advisable to have the depth of base cabinets reduced by up to three inches. The base cabinets which are 12 inches deep are the shallowest and the width of the cabinet ranges from 9 inches to 36 inches. 
Sink Base Cabinet Size Chart. 
Homeowners need to understand the diverse sink base cabinet sizes especially when fitting or refacing their old base cabinets. Below are size charts with the recommended standard height, width, and depth of the sink base cabinets. 
Base Cabinet Width, Depth, and Height in Inches and CM.  
| | | |
| --- | --- | --- |
| Dimensions  | Measurement in Inches | Measurement in CM. |
| Standard Width  | 12,18,24,30,33,36,48 inches | 30, 45, 60, 75, 84, 90, 120 cm |
| Depth, with Counter Top  | 25 to 26 inches | 63.5 to 66 cm |
| Depth without Counter Top | 24 inches | 61 cm |
| Height with Counter Top | 35 to 36 inches | 89 to 91 cm |
| Height without Counter Top | 34 1/2 inches | 88 cm  |
Sink Base Width and Kitchen Sink Width in Inches and CM. 
| | |
| --- | --- |
| Base cabinet Width in Inches and CM | Kitchen Sink Width Inches and CM |
| 18 inches 45 cm | 15 inches 38 cm |
| 24 inches 60 cm | 21 inches 53 cm |
| 30 inches 76 cm | 27 inches 68 cm |
| 33 inches 84 cm | 30 inches 76 cm |
| 36 inches 90 cm | 33 inches 84 cm |
| 48 inches 120 cm | 45 inches 114 cm |
| 60 inches 150 cm | 57 inches 145 cm |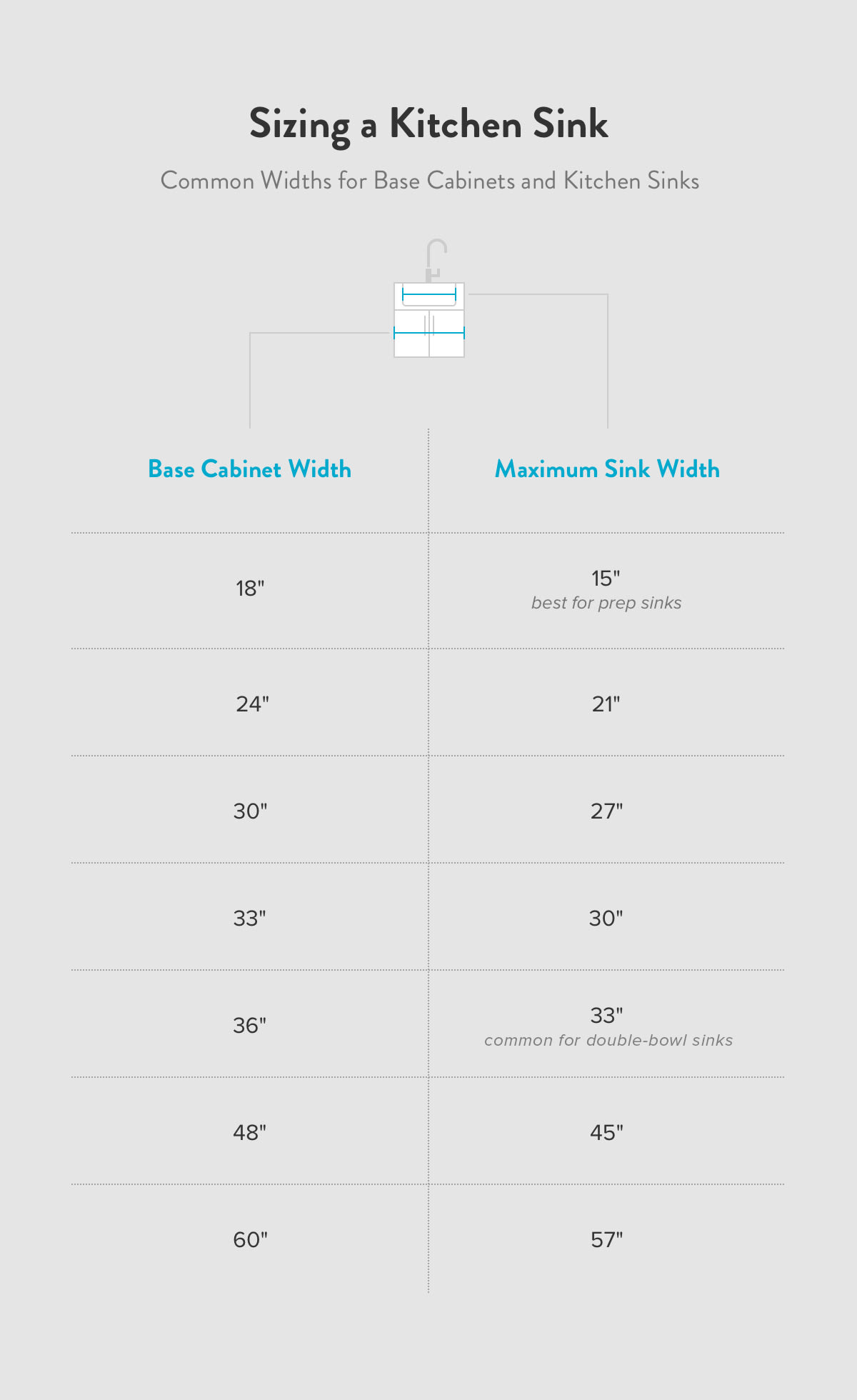 Sink Base Cabinet Height and Depth
The size chart below shows the sink base cabinet height in inches and cm and the sink base cabinet depth in inches and cm. Have a look. 
| | |
| --- | --- |
| Sink Base Cabinet Height in Inches and CM | Sink Base Cabinet Depth in Inches and CM |
| 34.5 inches 87.63cm | 21 inches 53.34 cm |
| 36 inches 91.44 cm   | 24 inches 60.96 cm |
How to Measure Kitchen Cabinets
A homeowner may decide to conduct kitchen renovation just in case the base kitchen cabinets are dilapidated or the lifespan which is about 10 to 15 years has expired. A cabinetmaker will measure the current cabinet dimensions by taking the exterior dimensions to get the correct cabinet sizes. 
However, for homeowners who are planning to do complete kitchen remodeling and kitchen design, it is significant to have a concrete blueprint as you have to consider the gas lines, door placement, floor level measurements, and plumbing among others. A cabinetmaker will help you with the new kitchen cabinet dimensions (How many inches wide, inches deep, and inches tall). 
What to Consider When Choosing Sink Base Cabinet Size and Dimensions
Apart from the use of the sink base cabinet size chart we have above, there are other aspects that will condition the dimensions and measurements of your common base cabinet. Here are a few aspects which will influence the sink base cabinet's size and dimensions. 
Location and Size.
If you are planning to fit standard base cabinets in your kitchen, it is important you consider the location and size of base cabinets in relation to the kitchen size. If for example, the refrigerator, ovens, and cooktops are in the kitchen ensure they are properly arranged so that you can have accessible kitchen cabinetry. Having the design of the base cabinetry in mind ensures that the cabinetmaker will not compromise between storage space. 
Indeed, consider comparing the base custom cabinetry measurements with the manufacturer's dimensions for the common kitchen appliances. If you move forward fitting the base cabinets without considering the specifications you will find that some current appliance won't fit your kitchen. 
What are the base cabinets meant for? 
In fact, any common renovation projects need to have a purpose. Adding base cabinets to your kitchen is a common project undertaken for kitchen improvement. If for example, you require personally customized base cabinets with enough cabinet space you need to liaise with the manufacturer to ensure the kitchen cabinet sizes are what you need. The purpose of the cabinet will dictate the standard measurements to be used and you can have different standard heights, widths, and depths from the standard kitchen cabinet dimensions we have outlined above in our sink base cabinet size chart based on your requirements. 
Personal Preference of Base Kitchen Cabinets.
Which base cabinet type and standard kitchen cabinet sizes do you prefer? Is open shelving your preference? What type of sink is fitted in your kitchen? or do you just want basic cabinets? These are the questions to answer before deciding on fitting a base cabinet. 
The basic kitchen cabinet dimensions and the base cabinet width base will also influence your preferences. 
Sink Base Cabinet sizing FAQs 
How do I know the sink base cabinets to get? 
Choices for kitchen cabinets purely depend on your taste, but consulting a professional cabinetmaker will help you get the popular styles available in the market. 
Who can help me with kitchen cabinet measurement? 
For professional installation of custom cabinets in your kitchen with standard dimensions you need to consult an expert cabinetmaker. 
How do I measure my kitchen size? 
To determine the base cabinet dimensions you need for your kitchen you need to use a tape measure and start by measuring your kitchen base cabinets size. The size of the kitchen is the determinant of the kitchen cabinetry to fit in your kitchen. There is a range of sizes for standard cabinet available for installation in your kitchen but the correct measurement of the kitchen size is vital. 
What do I do if I want to modify the standard cabinet depth?
It is easy to modify your cabinet hardware by calling a cabinetmaker to evaluate your proposed modification. The cabinet depth, sides, shelves, bottom, and top can be reduced to accommodate the new dimensions. 
Sink base cabinet size explained
Our Conclusion on sink cabinet size chart
In this sink base cabinet size chart guide, you have learned all the standard base cabinet sizes which you can use when fitting your kitchen with a base cabinet depending on the measurements of your kitchen. You need to start by consulting a cabinetmaker to help you understand the required dimensions of the base cabinetry. 
Just in case you are planning to reface your kitchen base cabinet follow the size charts we have in the guide above. 
If you enjoyed reading the sink base cabinet size chart guide, don't forget to leave a comment below!
Picture in this post by Sanibell BV on Unsplash
Related house size charts