Women's Mountain Bike Size Chart – A Complete Guide
Women's mountain bike size chart helps you to know the correct size. Women's mountain biking is slowly gaining popularity in this era. Initially, women would purchase any mountain bike they'd come across, but thanks to bike engineers who structured one purposely for them. Compared to men's bikes, women's mountain bikes are structured in such a way that they have a shorter stack height. 60% of women prefer getting women's mountain bikes. 
Mountain biking is healthy as it offers a great way to keep in shape, get fit, have fun, make new friends, and better off, get away from the urban hustle and bustle setup!
Discover expert road bike sizes, bike sizes or helmet size
Bike Design
There are several women mountain bikes designs including ebikes that are rechargeables such as the Lezyne micro drive 600XL and normal pedaling bikes.
In this article, we will give you a complete guide on women's mountain bikes including women's mountain bike size chart. All you need as a beginner or even an experienced biker. Come with me!
Women's Mountain Bike Size Chart 
To start, use the size chart below as a guide.
Your Height
Frame Size
Universal Size Guide
 
INCHES
CM
4'10'' – 5'2"
13-14
33-36
XS
5'2"-5;6"
15-16
38 – 41
S
5;6"- 5'10"
17-18
43-46
M
5'10" – 6'1"
19-20
48-51
L
6'1" – 6'4"
21-22
53-56
XL
Women's MTB sizing
Women's MTBs tend to be shorter in length, have narrower handlebars and smaller frame sizes. There's no reason why you shouldn't try a unisex MTB.
Rider Height
Suggested Women's Mountain Frame Size
Feet & Inches
Centimetres
Frame Size (inches)
Frame Size (cm)
Frame Size
4'10" – 5'2″
148cm – 158cm
13″ – 14″
33 – 37
X-Small Bikes
5'2″ – 5'6″
158cm – 168cm
15″ – 16″
38 – 42
Small Bikes
5'7″ – 5'9″
168cm – 178cm
17″ – 18″
43 – 47
Medium Bikes
5'10" – 6'1″
178cm – 185cm
19″+
48 +
Large Bikes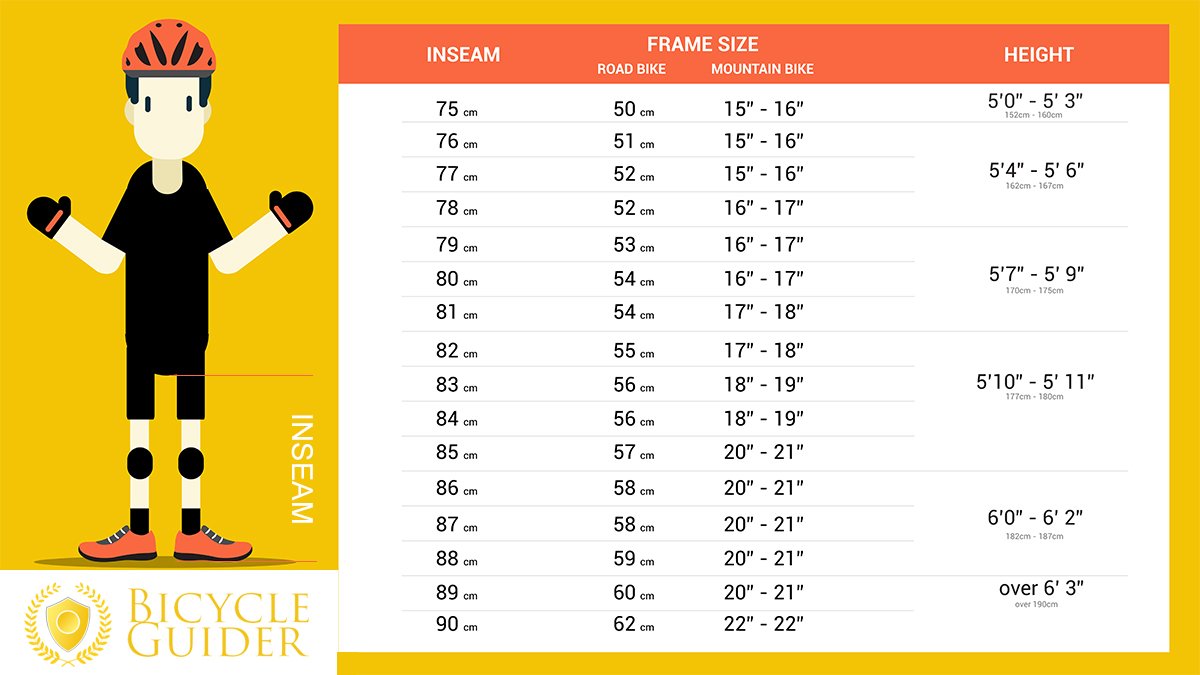 Understanding women's Mountain Bike Size 
Taking the correct measurements is one of the key requirements to getting a perfect size bike (correct size bike). Let's help you interpret different women's bikes' measurements and get the correct size of bike to meet your preferences.
Wheel sizes vs frame sizes: What is the difference?
The wheel size is generally the diameter of the wheel when mounted on a tire while the bike frame size is the length of the bike's seat tube. The angle in relation to the ground from the middle of the seat tube is known as the seat tube angle. These two are not to be confused. The frame design and size basically determine the size of the bike.
How are women's mountain bike frames sized?
Women's mountain bikes are usually measured in inches, unlike road bike types which are measured in centimeters. They tend to be smaller in size as compared to normal mountain bikes. The correct frame size is measured from the center point of the top part of the tube down to the center of the spindle that goes through the frame. You can use a tape measure or a calibrated meter rule for best results.
Sizing up or down your mountain bike
All women mountain bikes come in specific standard sizes e.g. from S to XXL. However, it is not always possible that you find your size precisely among the standard sizes. Sometimes you can find that your fitting size tends to fall in between the main sizes. For example, between S and M, M and L, etc. So don't worry if it ever happens that you compare all available sizes and shapes only to discover that you are in between the sizes. There is a way to navigate through such, and that is by sizing up or down. This is very important because the wrong size of a mountain bike or indeed any bike for that matter can be such a menace as it will always be an uncomfortable ride all through. And this is not what you want really. 
Sizing a mountain bike whether up or down depends on the length of your torso. The torso is the distance from your head to waist.
What do you get for sizing up your mountain bike?
If you size up your bike, you will get a more natural reach especially if you are tall. You will be able to achieve a more comfortable flexibility level in regard to your hips hence being able to maintain an aggressive riding position.
A higher frame will give you a longer wheelbase, thus creating the perfect environment which makes you feel like you are trucking instead of riding. Sounds exciting, right? If you are an adrenaline fanatic and value speed then go ahead and size up your frame. You will achieve that and more!
What you achieve by sizing down your mountain bike
Sometimes you want to ride your bike slowly and smoothly without using too much energy. This will be achieved by sizing down your frame. Sizing down essentially enables you to stay in an upright position as well as maintain a slow pedal stroke.
Sizing down makes your bike literally smaller! You might be forced to extend your bike seat behind so that you are able to reach the pedals comfortably. If you are not so flexible naturally, you might want to consider sizing down for a more comfy seat position. You will achieve a shorter wheelbase after sizing down as compared to the default sizing. This is most ideal for short people or anyone looking for an ideal casual riding position.
Women Mountain Bikes Measurements (Geometry)
Generally, women's mountain bikes are measured in inches. The two most common basic measurements are the inseam measurement and the frame size.
When checking measurements, depending on the type of bike, be keen to pick the right fit. A small size mountain bike, for example, is uncomfortable and tiring to ride. A larger size mountain bike on the other hand is difficult to control especially on uneven terrain making it dangerous and unsafe. A cyclocross bike is the most ideal for extra muddy terrain as it can be detached easily.
Most women's mountain bike frame sizes are always smaller as compared to a city bike. This is basically to make their handling easier. Other types of bikes like road bikes have a big frame to facilitate speed.
Basic women's mountain bike size and measurements
The following are the key measurements to take for a perfect bike.
1. Reach
Also known as bracket height, Reach is basically the horizontal distance that runs through the center of the bottom bracket shell from the center of the head tube of the wheel. This measurement determines how the mountain bike fits when you stand on the pedals in readiness for a ride in a slanted or descending manner. Reach is the most common metric used when comparing different mountain and balance bikes varieties.
2. Stack
You will achieve the stack height by measuring the vertical distance from the bottom bracket to the head tube's top edge. Does it sound confusing? It's quite simple. Most bike manufacturers provide the stack measurements done prior and recorded on different bike brands.
3. Head (Tube) Angle
For you to achieve the head angle,  you must first measure the head tube length. The Head Tube length is measured by the horizontal distance from the top of the tube to the bottom. Then the head tube angle is taken in relation to the ground. A longer head tube means a more upright position as it raises the front end while a shorter head tube means a short head tube angle which gives the biker a better performance by improving the aerodynamics. For women's mountain bikes, the head tube angle ranges from 60° to 73°.
4. Chainstay Length
The chainstay length is the total distance from the bottom bracket center to the rear axle center. This length is measured in a plane that runs through the bike's center. Chainstay lengths depend on the purpose of the bike. It has a great influence on the bike's performance.
5. Bottom Bracket Height
The bottom bracket height is measured from the ground to the middle of the bottom bracket. This measurement varies depending on the bike tire. Bike experts always recommend a low bottom bracket height in order to increase the bike's center of gravity which in turn improves the stability of the bike.
6. The Wheelbase
The wheelbase of a bike is the distance in between the front axle center and rear axle center. This distance is measured from the center of the rear axle to the center of the front axle using a tape measure.
The wheelbase is one of the key measurements in the mountain bike's geometry. It provides a nice way to measure the bike's stability and speed. The average women mountain bikes wheelbase is 1211 mm. Anything above 1250 is termed as a long wheelbase in mountain bikes. Longer wheelbase mountain bikes require more input from the peddler during lower speeds. 
Women's MTB sizes explained (video)
Conclusion
Mountain biking is one of those activities that are not only fun but also healthy. If you live in an area full of women bikers, then you are already in good company as you can always consult and tap into their experience as you scale your skills. Don't forget to use our very own women's mountain bike size chart or that of your bike manufacturer, before you get a new bike or customize your old one. Equally important to remember that you can size up or down your mountain bike to adjust to your preferred size.
Always ensure that you put on your correct size safety gear when riding your mountain bike to avoid accidents and reduce the impact of injuries. Wishing you a happy and successful riding!
Picture in this post by Rick Gebhardt on Unsplash
Related Bike Size Charts