What is my Weightlifting and Gym Gloves Size?
If you're a workout freak or just someone who's trying to get a little intense with your workout regimen, there's one important tool must never miss on your bucket list. Gym gloves are extremely important in keeping your palms safe as you lift those pounds up your shoulders. You'll realize that failure to do so will greatly affect your performance and the general well-being of your hands (skip straight to the weightlifting and gym gloves size charts).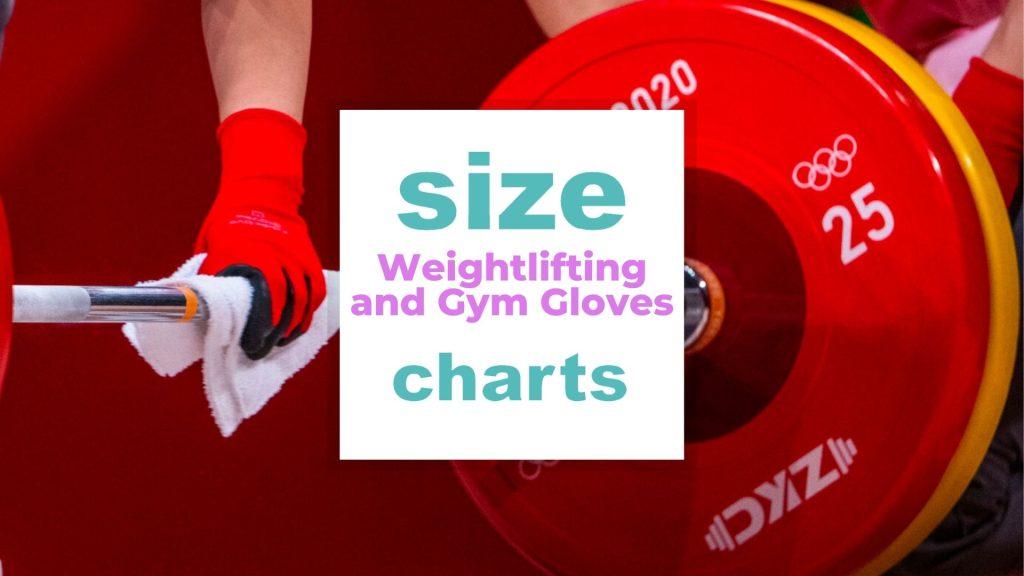 However, it's not all about getting any gloves and saying that you're all set. The secret lies in getting a good weight lifting and gym gloves size. Get a small pair and they'll only last for a moment. Getting a big pair is more dangerous as they could slide, causing all the pounds to fall on you. While getting a good size has been considered hard, it's going to be easy with the following guidelines.
Jump right into the Frequently Asked Questions
Related: Gloves Size chart and fitting guide
Weightlifting and Gym Gloves Size Table of Contents
Weightlifting and Gym Gloves size charts
Men's weightlifting and gym gloves size chart
Related: Boxing Glove Size Chart: How do I know my Boxing Gloves Size
| | | | | |
| --- | --- | --- | --- | --- |
| Size | S | M | L | XL |
| Hand Circumference (in) | 7 – 8 | 8 – 8.5 | 8.5 – 9 | 9 – 10 |
| Hand Circumference (cm) | 16.5 – 20.3 | 20.3 – 21.6 | 21.6 – 22.9 | 22.9 – 25.4 |
Women's weightlifting and gym gloves size chart
Related: Baseball Glove Size Charts & Guide
| | | | | |
| --- | --- | --- | --- | --- |
| Size | S | M | L | XL |
| Hand Circumference (in) | 6 – 7 | 7 – 7.5 | 7.5 – 8 | 8 – 9 |
| Hand Circumference (cm) | 15.2 – 16.5 | 16.5 – 19.1 | 19.1 – 20.3 | 20.3 – 22.9 |
Unisex weightlifting and gym gloves size chart
Related: Teen And Kids Gloves Size Chart – How To Find the best Glove Size
| | | | | | |
| --- | --- | --- | --- | --- | --- |
| Size | XS / S | S / M | M / L | L / XL | XL / XXL |
| Hand Circumference (in) | 8.5 – 9 | 9 – 9.5 | 9.5 – 10 | 10 – 10.5 | 10.5 – 11 |
| Hand Circumference (cm) | 21.6 – 22.9 | 22.9 – 24.1 | 24.1 – 25.4 | 25.4 – 26.7 | 26.7 – 27.9 |
Learn more about weightlifting and gym gloves size and more (video)
Frequently Asked Questions
Do gym gloves have sizes?
Yes! Gym gloves are used by different people with different hand sizes. For instance, women generally have smaller, slimmer hands than men, hence, glove sizes will always come in different sizes, designs, colors, and shapes among other features.
For gloves that come with wrist wraps, their sizes vary too according to the different wrist sizes. Things might get a little easy when getting a fingerless pair of gym gloves, but you would have to ensure that the rest of the glove fits snugly in the palm.
Brands may either use numbers or letters to categorize their sizes. Letters include extra small (XS), small (S), medium (M), large (L), extra large (XL), and so forth. Numbers in sizing refer to the number of inches, according to hand circumference. For instance, a glove size 7 requires a hand circumference of 7 inches. Some manufacturers produce unisex gym gloves with XXS as 6.5, XS – 7, S – 7.5, through to plus sizes: 3XL – 11.
While men's XS is size 7, women's XS is size 6 in most gym or fitness gloves stores.
How should weightlifting gloves fit?
Weight-lifting gloves should fit snugly without being too loose or too tight. You already know the danger of getting an oversized gym glove but the same danger could occur when the glove is overly tight as you wouldn't be able to comfortably wrap your hand around the bar. This would drain your strength so quickly as you struggle to grip the bar and lift the weight at the same time.
On the same note, ensure that your wrist wrap is in a perfect size. If you start feeling numb or notice a paleness of your hands, consider loosening the wrist wrap. Depending on the make of gloves you're taking out, their size will come into question.
Since your hands tend to heat up after lifting so much weight, getting gloves with meshy material on the back will help let out the heat and keep you performing. Alternatively, you can go for fingerless gloves or look for both features.
How do I know my weightlifting glove size?
Getting a good gym glove size takes only a few steps at home.
Get a fabric tape measure or a string and ensure that your hands are bare without gloves or anything. Stretch your hands out and press them against a wall. Let the dominant hand rest on a piece of paper on a flat surface.
Wrap the measuring tape around your larger hand (which is always the dominant hand) excluding the thumb. Place the tape measure where the hand is widest, just near your knuckles or around them. Record the measurement and go ahead to measure the length.
Place the measuring tape at the tip of your longest finger (index) as you move it straight down to your wrist. To get your wrist measurement, wrap the fabric measuring tape around your wrist and record the measurements in inches.
Compare the measurements with sizing charts to get a good size. Many workout websites have sizing charts on their websites. However, use a brand's sizing charts when you're ready to get the gloves from it.
Should workout gloves be tight or loose?
No! Workout gloves are required to be in a perfect size, not overly loose or tight. One drawback of getting an overly tight pair of gloves is sweating during the strength train which is caused by overheating and lack of a good grip which will eventually reduce the durability of the gloves.
Moreover, you'll not go so far with very tight gloves because your hands might not get enough blood supply or you may start experiencing uncalled-for muscle pulls.
Too tight gloves during workouts were not too tight when bought. However, because there is a great level of heat emission through your hands, they get to swell and fill up the space that you thought was too much. Hence, as you buy your next pair, get one that leaves out enough expansion room but doesn't go too loose.
Are gym gloves the same size as regular ones?
No! Not only do they differ in size but also in features. One big difference between these two types of gloves is their purpose. While regular gloves are designed to reduce heat escape, gym gloves are meant for offering support when handling heavy weights and protect your hands from calluses.
Since your hands increase in size during workouts, you'll find yourself taking out bigger gym gloves than regular ones.
Conclusion
As someone who lifts weights regularly, you know that finding the right gloves is essential. Not only do they need to be comfortable, but they also need to provide the right level of support and protection. With so many options on the market, it can be hard to know where to start. However, size is one area where you can't afford to compromise. If your gloves are too big, they will slip and slide, making it difficult to maintain a firm grip on the bar.
On the other hand, if they're too small, they'll be constricting and uncomfortable. That's why it's so important to take the time to find gloves that fit well. Thankfully, our size guide has taken all the guesswork out of the equation and now you should be able to find gloves that are both comfortable and secure.
Got questions? Please ask in the comments. It's our pleasure to help you find the kind of gloves that you will always be happy to show off in the gym.
Picture in this post is by Victor Freitas on Unsplash
Related to Weightlifting and Gym Gloves Size