Soccerball Size Guide and Dimensions
A soccer ball is a large ball made of leather or plastic and filled with air, used in games of soccer: Many now use a far more refined version of the normal football ball, which conforms to FIFA regulations. It represents an indicator of how far science has come. Whence comes this change? The solution is straightforward; it's about making the game run better (skip straight to the soccerball size guide).
Better football balls mean better flights, which means more efficient play, which means more pleasure for everyone. While the football's design and use have changed throughout the years—from a wrapped bundle of animal sinew to a modern ball made of synthetic rubber—its "Sizes" have stayed consistent.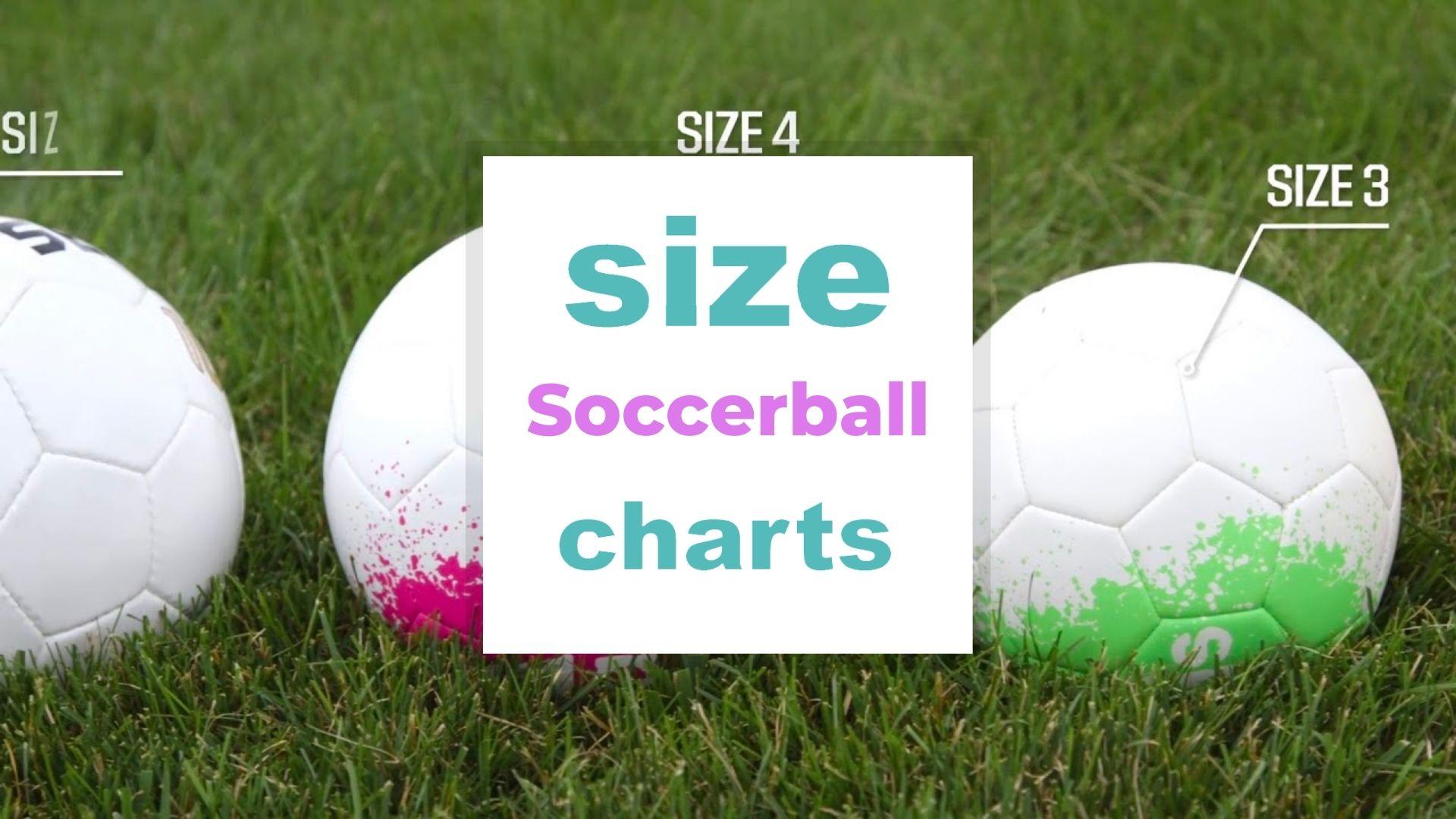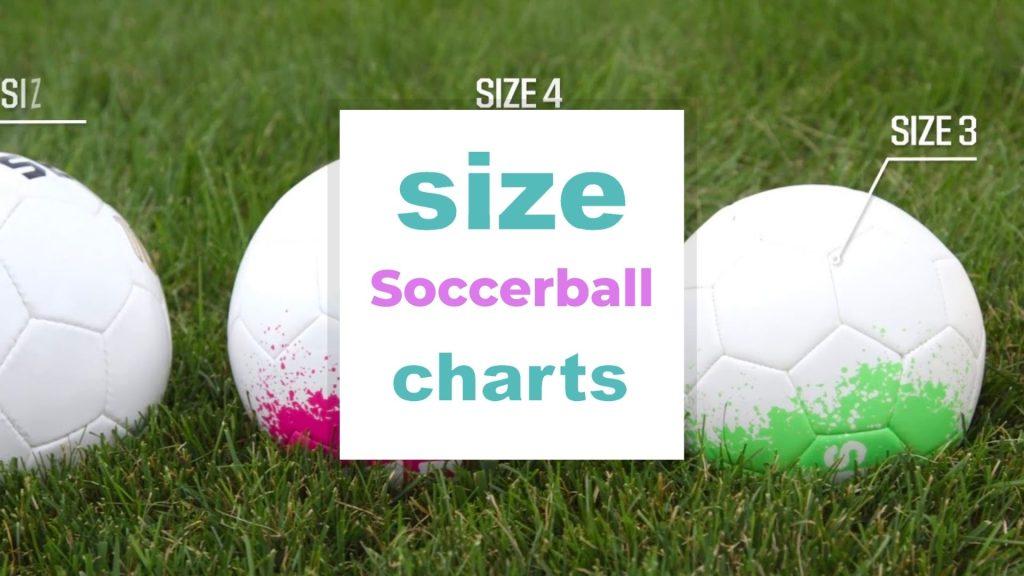 During your search for a replacement, you may have been aware of the numerous variations in soccer ball sizes and weights that are available. I have prepared an exhaustive catalog of soccer ball sizes, weights, and intended functions.
It's crucial to pick a football that's the proper size for your game. The specifics of football dimensions are laid out here for your perusal. We'll talk about how to adjust footballs for players of different ages. If you're looking for guidance on selecting the correct football for your next game or practice, this article should help.
Jump right into the Frequently Asked Questions
Related: Football jersey size chart – find the right soccer jersey shirt size, Football field size and soccer field dimensions, Football Size Chart – Guide To Standard Football Ball Sizes
Soccerball Size Guide Table of Contents
Detailed Soccerball size chart
Related: Volleyball Size Chart
| | | | |
| --- | --- | --- | --- |
| Soccer Ball | Size: | Weight: | Ages: |
| Size 1 | 18 – 20 inches 45.72 – 50.8 cm | ​195 – 205 grams 0.43 – 0.45 lbs | 3 and under |
| Size 2 | 20 – 22 inches 50.8 – 55.88 cm | ​ 250 – 280 grams 0.55 – 0.62 lbs | 3 – 5 years old |
| Size 3 | 23 – 24 inches 58.42 – 60.96 cm | 300 – 320 grams 0.66 – 0.71 lbs | 5 – 8 years old |
| Size 4 | 25 – 26 inches 63.5 – 66.04 cm | 350 – 390 grams 0.77 – 0.86 lbs | 8 – 12 years old |
| Size 5​ | 27 – 28 inches 68.58 – 71.12 cm | 410 – 450 grams 0.9 – 0.99 lbs | 12+ years old |
Recommended soccerball size and pressure guide
Related: Ping-Pong Ball Size Chart
| | | | |
| --- | --- | --- | --- |
| SIZE BALL | CIRCUMFERENCE (cm) – FIFA | PRESSURE | AGE |
| Size 5 (Adult) | 68 – 70 (cm) | 0.7 – 0.76 bar / 10 – 11psi | Ages 14+ |
| Size 4 (Youth) | 63.5 – 66 (cm) | 0.62 – 0.7 bar / 9 – 10psi | Under 10's – 13's |
| Size 3 (Junior) | 58.5 – 61 (cm) | 0.55 – 0.7 bar / 8 – 10psi | Under 6's – 9's |
| Size 2 | 55 – 56 (cm) | 0.2 – 0.4 bar / 3-6psi | All |
| Size 1 | 45 – 50 (cm) | 0.2 – 0.4 bar / 3-6psi | All |
| Futsal 4 | 62 – 64 (cm) | 0.62 – 0.7 bar / 9 – 10psi | All |
| Futsal 3 | 58 – 60 (cm) | 0.55 – 0.7 bar / 8 – 10 psi | All |
Soccerball Air Pressure Guide
Related: Ball Size chart for exercising or for your office
FIFA rules stipulate that a size 5 soccer ball must have an inflation pressure of 8.5-15.6 psi. Every ball used in a game must pass a referee's inspection to ensure it meets FIFA standards.
The suggested psi for a soccer ball is often printed on the box that the ball comes in by the manufacturer. It is recommended that a size 5 soccer ball have an air pressure of around 8.7 pounds per square inch. There are no official standards for air pressure in the other sizes of soccer balls, so I prepared a chart to show you what I've discovered to be optimal.
| | |
| --- | --- |
| Soccer ball | PSI |
| Size 1 | 4 psi |
| Size 2 | 7 psi |
| Size 3 | 8.7 psi |
| Size 4 | 8.7 psi |
| Size 5 | 8.7 psi |
How to choose the right Soccerball sizes
Related: Basketball Size Guide
The sizes of footballs on the market are typically viewed sequentially. It's for the young players' own good that footballs get progressively smaller as they get older and more experienced. For a softer landing on a player's body, it's important to choose a ball that corresponds with their age. This will reduce the risk of ligament and tendon damage associated with kicking a larger ball before a player's physique is fully developed.
The international football federations have established guidelines stating that using a football with a lower size for younger players decreases the likelihood that the ball would damage them during play.
There is a wide range of football sizes, each optimized for a certain task. Regardless of one's age, the different football sizes make the game enjoyable and exciting for everyone. Only when the football ball is appropriately sized for the player's age and skill level will the game be enjoyable.

An Overview of the Five Standard Football Sizes
Related: Sports Ball by Size
Here, we've covered all the bases for football's dimensions. Now, let's check out the dimensions in more depth. Here is a sizing guide for footballs that should help you select the proper one for your game.
‍Soccer ball Size 1
Age: Any age can use this ball as a skills trainer or collectible
Dimensions: 18 to 20 in / 45.72 to 50.8 cm circumference
Minis or Mini-Balls are the common names for footballs that are size 1. The size 1 ball, which measures 18 to 20 inches (46 to 51 cm) in circumference, is often made using a dodecahedron with twelve panels. Under the football size guideline, these balls are no bigger than 20 "in diameter from the object in question. Size 1 games are mostly used for developing amateur players' skills.
These footballs are extremely light, which is a huge benefit to the players. Training with a size 1 football is the best way to master the art of ball control with your legs before moving on to larger balls. Many do not use a football of size 1 in official games.
Size 1 is perfect for players of all ages to hone their abilities and perfect their game. Size 1 footballs are also the finest memento to keep from your games if you're having trouble deciding what to bring home as a souvenir. Most players and coaches keep them as mementos.
Soccer ball Size 2
Age: Any age can use this ball as a skills trainer
Dimensions: 20 to 22 in / 50.8 to 55.88 cm circumference
Size Two soccer balls, each measuring 21.25-23.25 inches in circumference and weighing 9 ounces, are considered a set. Never in a million years would you see them employed in an actual match. Players of all ages use these balls for training, perfecting their footwork, first touches, and ball control.
When you convert from a size 2 ball to a size 5 ball, you'll feel the difference in your control and accuracy.
A baseball player warming up with a doughnut would practice with a smaller ball. When switching back to a size 5 ball, it can feel like kicking around a beach ball for older, stronger players because of the difficulty of controlling a smaller size ball.
Young children (ages three to five) can use this as their first baseball. If your child is just starting out in the game, this is the perfect size to help them learn the fundamentals. Of course, it's ultimately up to you as a parent to decide whether your child is ready for a size 3, but some kids that age can thrive in that shoe size.
Soccer ball Size 3
Age: Ages 5 through 8
Dimensions: 23 to 24 in / 58.42 to 60.96 cm circumference
Weight: 300 to 320 g / 0.66 to 0.71 lbs
The diameter of a size 3 football is 24 inches, and its weight is 11 to 12 ounces. These miniature footballs are the smallest allowed for competitive play. It has been determined that the Size 3 Football Ball is the universally appropriate size for football, beginning with the youngest players and continuing through the highest levels of competition.
The Size 3 ball is perfect for kids aged 6 to 9. These balls are more expensive than the average practice ball since they were designed to mimic the flight characteristics of a real ball and provide consistent results and maximum control. Their outstanding excellence can be seen in how well they adhere to and exceed established norms.
Soccer ball Size 4
Age: Ages 8 through 12
Dimensions: 25 to 26 in / 63.5 to 66.04 cm circumference
Weight: 350 to 390 g / 0.77 to 0.86 lbs
Size 4 soccer balls, sometimes known as "child size," are one size down from the regulation ball. The size 4 fits children aged 8 to 12, has a circumference of 25 to 26 inches, and weighs 11 to 13 ounces. It may look quite similar to a size 5, but the difference between a size 5 and a size 4 will be noticeable once you put them on your foot. Because of this, it's the ideal ball for kids who are getting close to being ready for the full-size ball but aren't there yet.
It's light enough to work on technique, but it's still only one size down from a size 5, making it an ideal progression ball for kids of that age. The progression from a size 4 to a size 5 ball shouldn't need too much of a learning curve as children gain strength and skill.
Soccer ball Size 5
Age: 12+ years old
Dimensions: 27 to 28 in / 68.58 to 71.12 cm circumference
Weight: 410 to 450 g / 0.9 to 0.99 lbs
Let's begin by discussing the soccer ball that sees the most action around the globe. All players above the age of 13 are advised to use a size 5 soccer ball, as this is the standard size used in standard matches around the world.
This is the ball used in all international tournaments for players aged 13 and up, including the English Premier League, the Champions League, the World Cup, and all others.
Learn more about soccerball size and more in this video
Frequently asked questions
1. What size is a standard soccer ball?
The standard soccer ball has a 27-28-inch circumference (68-70 cm) and weighs 410-450 grams (g) (14–16 oz). The ball should be inflated to 0.6 to 1.1 bars at sea level. That's why we call it "Size 5." The sizes 1, 3, and 4 balls are also manufactured.
The age cutoff for using a size 5 soccer ball is 12 years old, however, to the highest levels of professional play use this size. If you want to play with the same ball as the pros, pick up an Adidas size 5 pro ball. This is the official soccer ball size of the MLS.
2. Is a size 5 soccer ball full size?
The professional and adult leagues use size 5 soccer balls. Practice using a size 4 soccer ball if you're between the ages of 8 and 12. Youths aged 5 to 8 should use a size 3 soccer ball. A soccer ball of size 2 is appropriate for kids aged 3 to 5.
3. What size soccer ball do 7-year-olds use?
Soccer players under the age of seven should use size 3 balls. If your child is just learning the ropes of team sports, this is the size used for junior games.
4. Are there size 6 soccer balls?
The size 5 ball is universally recognized as the standard for official FIFA play. It's common knowledge that there are smaller balls available (size 3 and size 4 balls) for use by children of that age. But now the world must know that there are larger balls available for older children; so, I give you the brand-new Size 6 soccer ball.
5. What's the biggest soccerball size?
Size 5. A ball of this size would measure between 27 and 28 inches around. In most cases, athletes can begin handling this ball at the age of 12. This is the biggest size used in varsity and collegiate competition as well as in the pros.
6. What soccerball size do 11-year-olds use?
The size 4 soccer ball is designed for children between the ages of 8 and 11. To make them more manageable on a hard court, fatuous balls are similarly this size and weight.
7. What age uses a 4 soccerball size?
Many designs size 4 soccer balls for children between the ages of 8 and 11. Futsal balls, which are played on hardcourts, are similarly this size and weight.
Conclusion
Standard football size charts are the starting point for selecting the right size football. The weight of a football varies depending on its size, and footballs come in a wide range of sizes. You should think about your age, your ability level, and the reason for playing football when deciding what size ball to buy. Always start with the smallest ball size appropriate for your age, then work your way up to the current ball size, and finally, upgrade to the next level as your skills improve.
Thank you for reading our soccerball size guide. For questions, we would gladly like to respond to you. Leave any queries in the comment sections.
Picture in this post is by Peter Glaser on Unsplash
Related to Soccerball Size Guide