Nordica Ski Sizes for Adults and Kids
Nordica is an Italian manufacturer of ski-related winter sports equipment. Nordica, a subsidiary of Tecnica Group with headquarters in Giavera del Montello, was purchased from Benetton in 2003. The current product line comprises skis, boots, poles, and accessories like backpacks, gloves, and athletic clothing (skip straight to the Nordica Ski Sizes).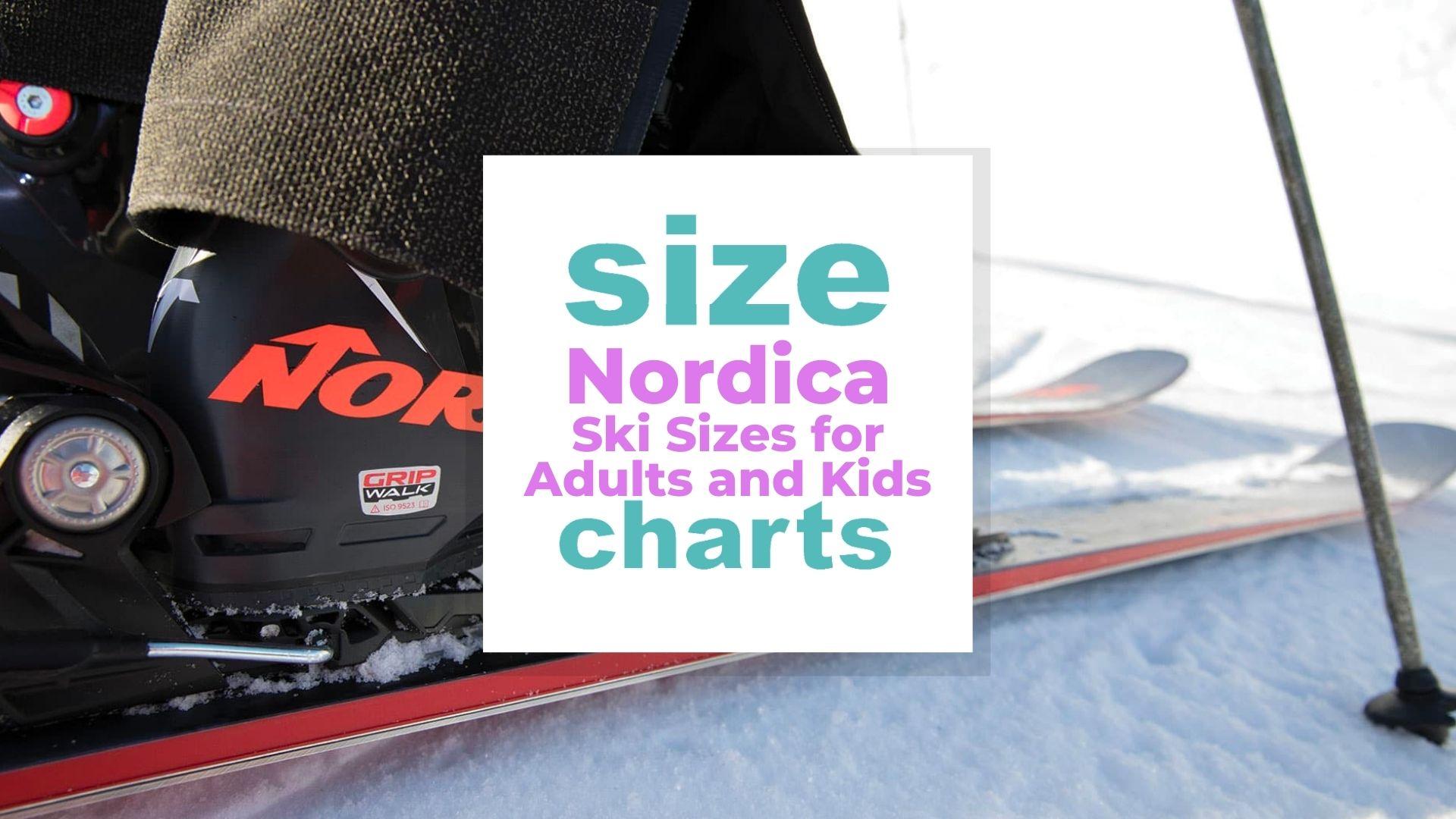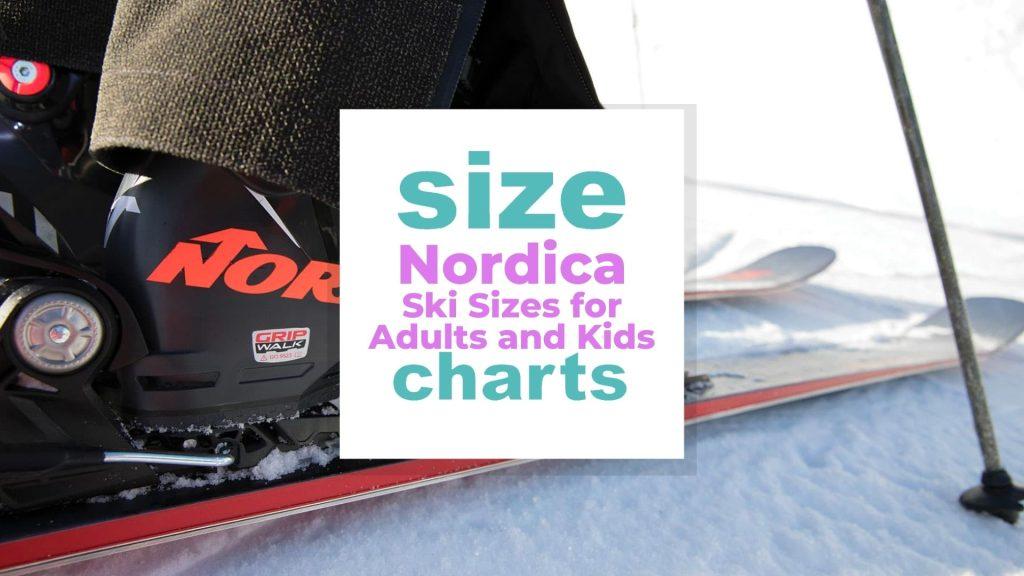 Thus, a Nordica Ski is one of a pair of thin, upward-curving strips of wood, metal, or plastic explicitly used for gliding over snow.
Jump right into the Frequently Asked Questions
Related: Rossignol Ski Boots Sizes for Adults and Kids, Rossignol Clothing Sizes for Adults and Kids, Rossignol Nordic Ski Sizes
Nordica Ski Sizes Table of Contents
Why is a good Nordica Ski size Important
Related: Rossignol Alpine Ski Sizes
Your height, weight, skiing technique, and ability level all affect how long your skis will be. Although there isn't a precise formula, the ideal ski length should be between your chin and the top of your head. For instance, a skier 6′ tall should seek skis between 170 and 190 cm long.
Your skiing skill level and style will determine the best size for you. The ski category, terrain, and the type of snow you'll be skiing are other factors to consider. For better turn initiation and stability, beginner and average skiers often prefer a shorter ski, whereas advanced and expert skiers prefer longer skis.
After determining your suggested ski length range, you must choose whether you prefer a longer or a shorter ski. Longer skis will be more stable, while shorter skis will be simpler to handle.
While wider all-mountain and Freeski skis with tail rockers can be skied longer, narrower carving skis with smaller turn radiuses and full camber can. However, we advise sizing up skis with many rockers to preserve stability. Rockered skis have a shorter contact length with the snow, making it easier to pivot and steer.
Nordica ski size chart
Related: Ski helmet size chart, Skiing Socks Size Guide for men, women and kids (with size charts)
| | | |
| --- | --- | --- |
| Height ( in ) | Height ( cm ) | Ski Length |
| 48 in | 122 cm | 100 – 110 cm 39.4 – 43.3 in |
| 50 in | 127 cm | 110 – 120 cm 43.3 – 47.2 in |
| 52 in | 132 cm | 120 – 130 cm 47.2 – 51.2 in |
| 54 in | 137 cm | 125 – 135 cm 49.2 – 53.1 in |
| 56 in | 142 cm | 130 – 140 cm 51.2 – 55.1 in |
| 58 in | 147 cm | 135 – 145 cm 53.1 – 57.1 cm |
| 60 in | 152 cm | 140 – 155 cm 55.1 – 61 cm |
| 62 in | 158 cm | 145 – 165 cm 57.1 – 65 in |
| 64 in | 163 cm | 150 – 170 cm 59.1 – 67 in |
| 66 in | 168 cm | 155 – 175 cm 61 – 69 in |
| 68 in | 173 cm | 160 – 180 cm 63 – 71 in |
| 70 in | 178 cm | 165 – 185 cm 65 – 73 in |
| 72 in | 183 cm | 170 – 182 cm 67 – 72 in |
| 74 in | 188 cm | 175 – 193 cm 69 – 76 in |
Kids Nordica Ski size chart
Related: Kids Shoe Size Chart, Youth shoe size chart – US – UK – EU sizing
Age
Height (in)
Height (cm)
Weight (lbs)
Weight (kg)
Ski Length
3
37 in
94 cm
31 lbs
14 kg
70 – 80 cm 28 – 31 in
4
40 in
102 cm
35 lbs
16 kg
80 – 90 cm 31 – 35 in
5
43 in
109 cm
40 lbs
18 kg
90 – 100 in 35 – 39.4 in
6
45 in
114 cm
46 lbs
21 kg
100 – 110 cm
39.4 – 43.3 in
7
48 in
122 cm
50 lbs
23 kg
8
50 in
127 cm
57 lbs
26 kg
110 – 120 cm 43.3 – 47.2 in
9
53 in
135 cm
63 lbs
29 kg
120 – 130 cm
47.2 – 51.2 in
10
55 in
140 cm
70 lbs
32 kg
11
57 in
145 cm
79 lbs
36 kg
130 – 140 cm 51.2 – 55.1 in
12
59 in
149 cm
89 lbs
40 kg
140 – 150 cm
55.1 – 59.1 in
13
61 in
156 cm
100 lbs
45 kg
14
64 in
163 cm
110 lbs
50 kg
150 – 160 cm 59.1 – 63 in
How to choose the right Nordica ski size
Related: Ski Boots Size Chart – Measurements And Fitting, Danner Boots Size for Men and Women, 5.11 Boots Size Charts for Men and Women
It used to be simple to select the ideal ski length. Simply raise your arm over your head while standing up, and if the ski tip touches the palm of your elevated hand, you are ready to go.
Of course, most skis were made of wood and ABS plastic back then. Constructions made of metal and fiberglass were unusual and unique. Ski edges were typically screwed in or nonexistent. Yes, skiing has advanced significantly.
Because of the advancements in ski design and construction, picking the proper ski length can be just as important as choosing the right brand and model. If you get overly long skis, your dream Ferraris may feel more like 18-wheelers. Overly short skis may give you the impression that you are stomping around on banana peels.
The type of ski you intend to use is one of several elements that determine ski length nowadays. For instance, carving skis are frequently shorter, whereas huge mountain powder skis are long and wide on purpose.
As Ethan noted, ability largely influenced ski length, but there are other factors. Significant factors include your age, height, weight, and weight-to-height ratio. On the powder day, the ski performed best when there was a firm base underfoot, and I could still lay into the ski in spots with only light to moderate amounts of fresh snow (about 6 to 10 inches).
Nordica Skis by Ability Level
Related: Skiing Gloves Size Guide – Determine Your Glove Size, Helly Hansen Shoes Size: Men, Women, Kids, Oakley Boots Size Charts: Men, Women
Ski technology has made it possible for a beginner to ski a much larger variety of skis; therefore, ability level is considerably less critical when picking skis. Elements undoubtedly distinguish skis and make them more suitable for skiers of various skill levels.
Beginner skiers
This ability level corresponds to a beginner skier or a skier who is working on linking smoother turns. Softer flex, shorter widths, composite, foam, softer wood cores, and capped constructions are typical characteristics of beginning skis.
A ski that is simple to turn and very forgiving when you make a mistake is intended. A ski becomes less "hooky" and is easier to start turns with a rocker added to the tip and tail. They are cautious skiers as compared to mountain powder skiers.
Advanced skiers/ intermediate Skiers
Whether you prefer to carve on groomed slopes or explore the powder, most skiers and skis fall into this category. These skis have a stronger wood core and sandwich sidewall construction and are often a little broader than beginner-intermediate lever skier skis.
Intermediate-advanced level skis may have full camber, rocker, or a combination of the two, depending on the style of the ski.
Advanced-Expert Level Skiers
Whether there is terrain, more aggressive skiers should use advanced to expert-level skis. Layers of titanium, carbon, flax or other materials are designed to perform better under pressure or at high speeds.
Skis for the advanced-expert level might challenge at slower speeds since they are often stiffer longitudinally and torsionally than intermediate-level skis. For experts, skis with various rocker layouts are available in carving, park, all-mountain, and powder categories. These mountain skiers are also known as Aggressive All-Mountain skiers.
Check out this video to learn more about Nordica ski
Choosing the right kid's Nordica ski size
Related: How To Measure Your Foot Size & Width, Easy EU to US shoe size conversion with size tables (foot length, IN, Cm)
It's crucial to get the right length skis for kids so they may learn and develop their technique while having the most fun possible on the mountain.
Choose the right size skis for youngsters based on height and weight. Youth skis should come up about halfway between the child's chest and nose. Need a place to start? Your child's height and weight are the best indicators of which skis they should use.
According to basic guidelines, junior skis should measure roughly between the child's chest and nose.
To choose wisely, adhere to these easy steps:
1. Find out the height and weight of your child.
2. Locate your child's height on the Nordica kid's size chart.
3. Determine your child's weight and follow these steps if their height falls between two of the stated measurements: Use the shorter height if your child is small for their height. Use the taller height if your child is large for their size.
4. After determining the correct height, move down that row to the recommended ski length column.
5. Many reasons to size up or down within the recommended ski length range.
Frequently asked questions
1. How do I know my Nordica ski size?
Your height, ability level, and other factors will determine your Nordica ski size. When choosing a ski size, be careful to take your weight into account. Your weight influences your balance and stability on skis. Therefore, size up if your weight class is higher than your height.
2. Are 180 cm Nordica skis for what height?
6'4″ or 193.04 cm
3. Are longer or shorter skis better?
Beginner skiers should ride skis that end just above the top of their chests. Skis with a shorter and softer flex are simpler to manage, making turning and speeding less scary.
Your ski's length and waist width determine how much snow your ski is contacting.
4. What happens if skis are too short?
If your skis are too short of supporting your weight, they won't respond or rebound, control won't be reasonable, and they won't be able to absorb vibration at incredible speeds.
5. What is the difference between Nordica Enforcer 94 and 100?
The 6 mm width is the only distinction. This is not a significant difference or error. According to Blister, the Enforcer 94 feels similar to the new Enforcer 100, with the 94's tail finishing just a little stronger.
6. Can you ride On piste Nordica skis everywhere?
Almost all on-piste conditions, as well as some off-piste conditions, can be handled by all-mountain skis.
7. What kind of skis are Nordica?
It received the best ratings in the men's All-Mountain category for Crud Performance, Versatility, Hard-Snow Integrity, and Overall Impression.
Conclusion
Nordica Enforcer 104 Free has a variety of speeds though the price ability is high. Expert riders, especially mountain riders, go for this type because of its initial impressions. The ideal choice of your ski should have a versatile size, wider dimensions, light power, or moderate powder.
Also, it is essential to balance the weight and what your ski can hold. This aims to reduce challenges with skiing and enhance comfortable skiing on challenging terrain or advanced terrain. Other additional factors when considering your Nordica ski are an attractive design, carbon fiber, Boot sole length, beech wood core, and blended wood core.
We hope our handy article was helpful when choosing your Nordica Ski size. If you have questions, leave them in the comment section.
Picture in this post is by Matthieu Petiard on Unsplash
Related to Nordica Ski Sizes