Rossignol Nordic Ski Sizes
Skis Rossignol S.A., also known as Rossignol, is a company that produces alpine, snowboard, and Nordic equipment and related apparel and accessories. One of the first businesses to make plastic skis was Rossignol. The business controls the labels DNASTAR and LOOK (skip straight to the Rossignol Nordic Ski Size Charts).

Rossignol also uses Fischer's Ukrainian production facility. However, Rossignol skis are still produced in Saint-Étienne-de-Crossey, while DNASTAR's racing skis are still made in Sallanches, France.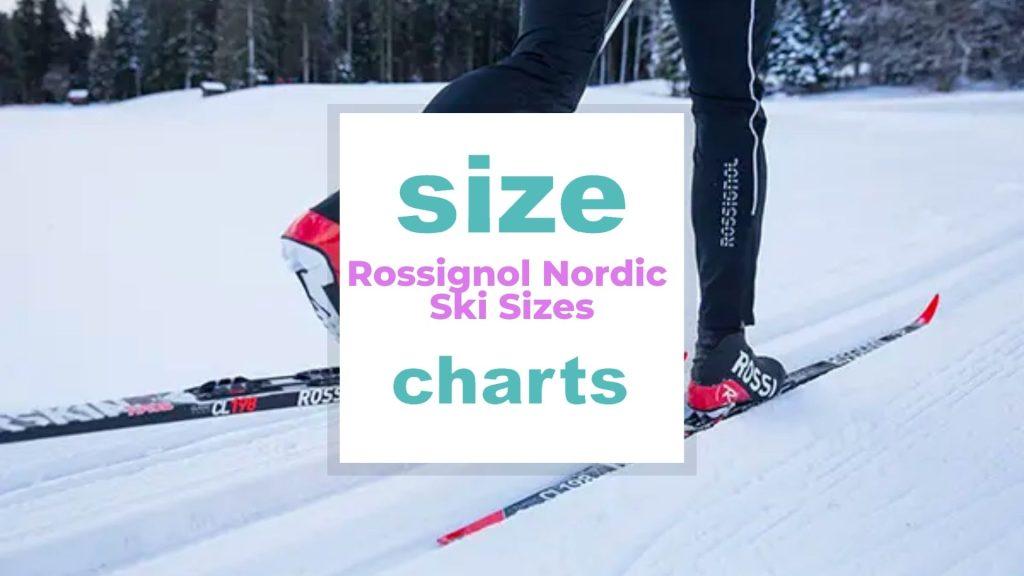 One of the most renowned and reputable sports brands, Rossignol, has been around for over a century. In the French Alps, carpenter Abel Rossignol made the first pair that bears his name. And the Allais design contributed to the Winter Olympics winning gold in 1960.
Jump right into the Frequently Asked Questions
Related: Rossignol Clothing Sizes for Adults and Kids, What Kite Size do I need for Kitesurfing?, Roller Skates Size: Find The Perfect Fit, Skateboard helmet size chart and fitting guide, Yoga Ball Size chart for exercising or for your office, Roller Skate Size Chart for Adults and Children, Printable Shoe Size Chart – How do i measure my foot size?
Rossignol Nordic Ski Sizes Table of Contents
Rossignol Nordic Ski Size Chart
Related: Ski helmet size chart, Skiing Socks Size Guide for men, women and kids (with size charts)
RACE CLASSIC
DELTA SPORT R-SKIN
Skier Weight
SKI Length CM
SKI Length IN
79 – 106 lbs 35.9 – 48.1 kg
176 cm
69 in
99 – 126 lbs 44.9 – 57.2 kg
186 cm
73 in
119 – 146 lbs 54 – 66.3 kg
196 cm
77 in
139 – 170 lbs 63.1 – 77.2 kg
201 cm
79 in
170+ lbs 77.2+ kg
206 cm
81 in
COMPACT TOURING
EVO OT 65 POSITRACK
Skier Weight
SKI Length CM
SKI Length IN
90 – 120 lbs 54.5 – 54 kg
165 cm
65 in
120 – 150 lbs 54.5 – 68.1 kg
175cm
69 in
150 – 180 lbs 68.1 – 81.72 kg
185 cm
73 in
180+ lbs 81.72+ kg
195 cm
77 in
EVO XC 60 CLASSIC
90 – 120 lbs 54.5 – 54 kg
166 cm
65 in
120 -150 lbs 54.5 – 68.1 kg
176 cm
69 in
150 -180 lbs 68.1 – 81.72 kg
186 cm
73 in
180+ lbs 81.72+ kg
196 cm
77 in
BACKCOUNTRY
BC 80 POSITRACK
Skier Weight
SKI Length (cm)
SKI Length (inches)
90 – 119 lbs 40.8 – 54 kg
166 cm
65 in
120 – 150 lbs 54.5 – 68.1 kg
176 cm
69 in
150 – 180 lbs 68.1 – 81.72 kg
186 cm
73 in
180+ lbs 81.72+ kg
196 cm
77 in
JUNIOR TOURING
EVO XC 55 JR
Skier Weight
SKI Length CM
SKI Length IN
35 – 59 lbs 15.9 – 26.8 kg
110 cm
43 in
59 – 84 lbs 26.8 – 38.1 kg
130 cm
51 in
84 – 110 lbs 38.1 – 50 kg
150 cm
59 in
The Best Rossignol Nordic Ski for You
Related: Ski pole size advice with easy to use size charts, Ski length size chart by height for adults and kids (+ size guide included)
Determine your level

It would help if you had minimal technical work to enjoy the sport, other than the ability to move around with skis on and slide as much as possible from one ski to the next. Depending on their physical capabilities, level of endurance, and experience, each person must determine their own pace.

Determine your physical health

Classic skiing is an all-encompassing exercise that combines the advantages of endurance, full-body muscle training (arms, legs, and torso), and the psychological benefits of being outside. You will change direction and begin a "slow glide" toward the other ski.

Choose a ski according to your body

The ideal size is determined by the skier's size, strength, and skiing technique. The classic ski should typically be 15 cm taller than the skier.
Check out this Rossignol Nordic Ski Review
How to choose the right Rossignol Nordic Ski Size
Related: Ski Boots Size Chart – Measurements And Fitting
To determine the length of your traditional cross-country skis, multiply your height by 15 to 20 centimeters. We should note your weight and skiing prowess as they are vital points.
You should first review focus the manufacturer's guidelines. Your weight will influence the number of options you have, leaving you with 3–4 pairs of various lengths for soft snow, according to customer reviews.
If you are choosing between two different ski lengths and are new to cross-country skiing, or perhaps you are not yet comfortable with the traditional method, choose the shorter ones. We recommend making a confident decision to select the more extended exercise if you want to progress more quickly.
The exact size premium and racing skis come in various designs that can be utilized on multiple types of snow. They advised more aggressive skiers to use these cross-country skis. Steel edges, activ cap.
When selecting a model for classic cross-country skis, length is not the only thing to consider. You can decide based on the length, camber, and flex appropriately for your weight and skill level.
Learn more about Rossignol Nordic Ski Brand (video)
Camber and flex of a classic cross-country ski
You'll notice that just the tip and the tail of your skis contact the surface when you set them down. Camber is the arch that remains in the middle of the ski above the surface of the snow.
To state that ski is more technical and has a higher camber is to generalize; it's more intricate than that. Depending on the skier's weight or the type of snow encountered, the camber might change from one pair of skis to the next.
When you push the kick zone down to grab the snow, you can feel the flex, which is the rigidity of the ski. The camber eases the strain on the kick zone as you shift your weight off the ski, which encourages gliding. This ought to produce a bouncing effect. Your weight and the snow you are skiing on will affect the classic ski flex.
In classic cross-country skiing, torsional rigidity—which keeps the ski from twisting—is less significant because the ski remains flat on the surface. In skate skiing, rigidity is crucial since it enables the skier to use the edges of the skis.
Ski sidecut
The term "Sidecut" refers to the width of the ski, which is measurable at the tip, waist, and tail. Manufacturers customize the width and Sidecut of skis for each level of skill.
While a racing ski is thinner and encourages gliding, a beginner's ski is broader and more stable.
How to choose the right bindings for classic skiing
Classic and skate skiing using entirely different bindings. The firmness of the flexor, a rubber bumper on the front of the binding, which varies between classic and skate models, is one of the key distinctions.
Make sure you select the compatible binding and boot with ski bindings for your skiing technique.
The Best Types of Kick Zone for your skis
Related: Skiing Gloves Size Guide – Determine Your Glove Size
The base of a traditional cross-country ski is divided into two zones: the glide zone is at the tip and tail of the ski, and the kick zone (or grip zone) is in the middle, under your foot, in connection with boots.
Conversely, a skate ski has a single glide zone that extends from tip to tail. The fundamental of the traditional technique is to press down on this kick zone and advance. We refer to this as a "diagonal stride."
Three different kick zones that you can use with cross-country skis:

Fish-scale cross-country skis; with no wax are suitable for a leisurely ride or if you're a beginner.
Fish-scale skis provide excellent grip, but the glide may suffer. They are ideal if you use the classic ski-groomed tracks and are just learning Nordic skiing.
Because of the latest generation of skins created for backcountry skiing, skin skis are coming back. These skis offer an outstanding balance between glide and grip.
You can use them in long-distance competitions and are more durable than waxable skis. We can adjust the skins depending on whether you want to grip or glide more.
Waxable skis;
Cross-country skis with waxable surfaces provide excellent glide. Different wax can apply to the kick zone to alter the grip. It takes practice to master the art of selecting the proper kick wax (or grip wax) by considering the temperature of the snow on the route.
For your skis to perform at their peak, you must learn this. Therefore, it's better to leave waxable skis to the professionals.
Waxless skin cross-country skis;
Those are simple to operate and let you move around swiftly.
Frequently Asked Questions
1. What size Rossignol nordic skis do I need?
Use our size chart to determine your ideal ski by checking your height and length the cross-checking the right ski.
2. How do you size yourself for Rossignol cross-country skis?
Use the following formula: Your Height (Inches) X 2.6 + 15 = Length of Ski (cm). Or, if you're not into math, measure your height in centimeters and add 5 to 10 centimeters.
3. How many Rossignol nordic skis are there?
Three categories of Classic skis are available from Rossignol: The X-IUM Classic line results from close cooperation between our top athletes, engineering, development, and production teams. They designed it for individuals who want the most significant levels of performance.
4. Can a downhill skier use cross-country skis for downhill skiing?
Cross-country skis can run downhill in some circumstances. If you want to ski downhill, buying skis is better to have the finest skiing ability.
5. How do you stop on Nordic skis?
Expand the plow to stop. After which, you will stop, as seen here, so take care not to keep your hands in your pockets.
6. What qualities should I check when buying cross-country skis?
The two primary elements to consider while determining the length of a cross-country ski are your weight and level of expertise. The camber stiffness gets stiffer as you go up in size for any ski. Your ski won't grip or flex appropriately if it is too stiff for you. It will drag if it is overly soft. Skier height is also significant to note for aggressive skiing.
7. Are shorter cross-country skis easier?
Longer skis are best for seasoned or recreational skiers since they produce longer glide, while shorter skis are more adaptable and easier to control.
Conclusion
With more than a century of invention and expertise, Rossignol is the iconic standard brand in the winter sports industry. Rossignol offers goods to all users, from the casual to the experienced skier, despite having the advantage of close collaboration with top-level champions in development.
All Rossignol's users can share a rich and intense experience with snow thanks to the company's technically sophisticated and user-friendly products.
Rossignol equipment for cross-country and downhill skiing, including skis, bindings, comfortable ski boots, poles, and more, is available through Skirack. For an excellent skiing ex[erince it's good to consider comfortable boots, classic boots, and country ski boots are the best. The Boot soles, boot systems, boot fitter, and boot design are essential to consider on boots for touring.
We hope our article will be a helpful guide when considering the suitable Rossignol Nordic Ski for you. Leave a comment on where you would wish us to help. All the best!
Picture in this post is from Rossignol
Related to Rossignol Nordic Ski Sizes