Youth Shoe Size Chart – US – UK – EU Sizing
This post was last updated on September 4th, 2023 at 06:10 am
When talking about youth shoe size, we must consider some key factors. First of all, we need to understand that size is different if we are trying to measure a kid, grown man or woman. One of the most common problems shoe shops face every day is this one.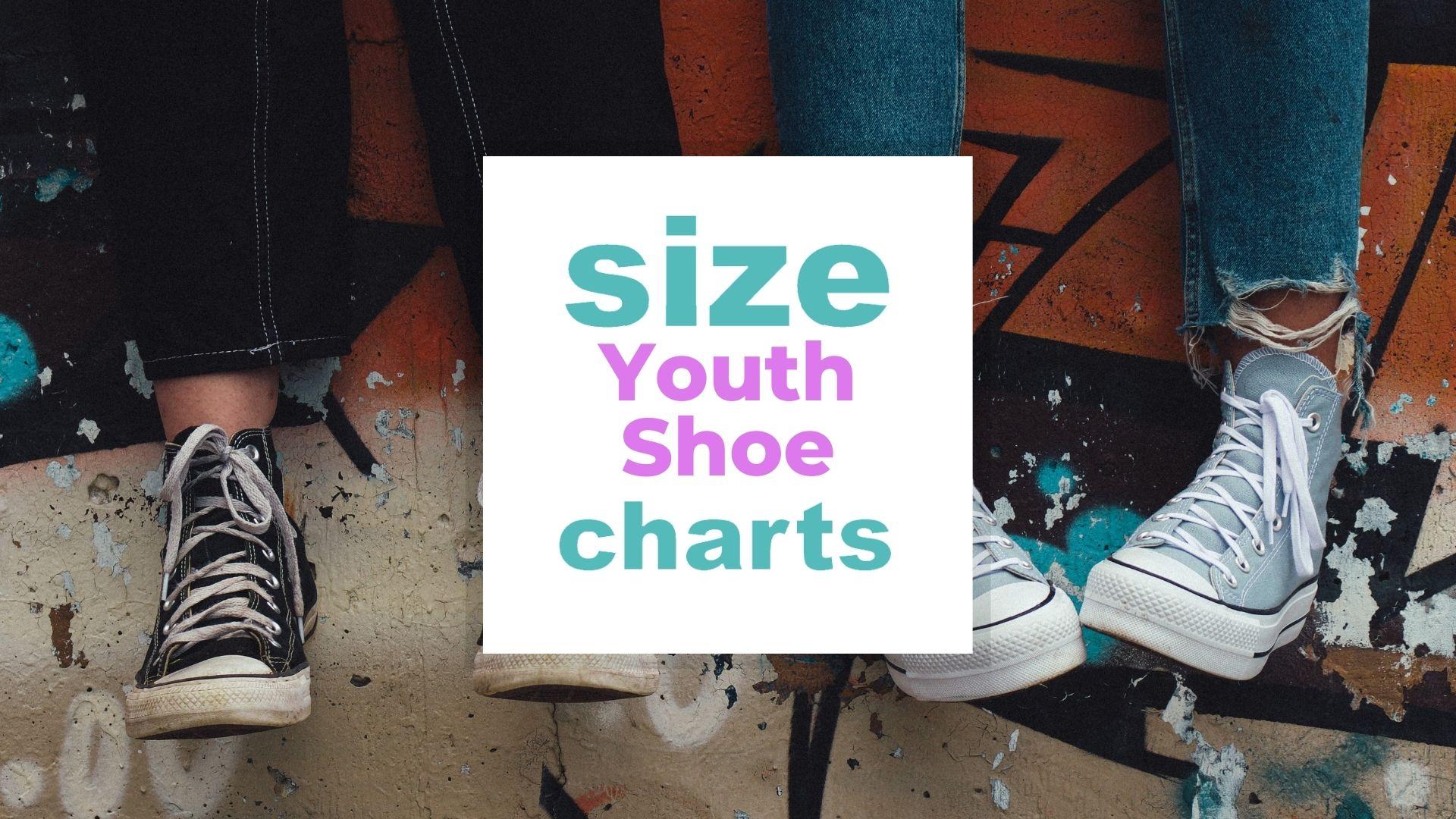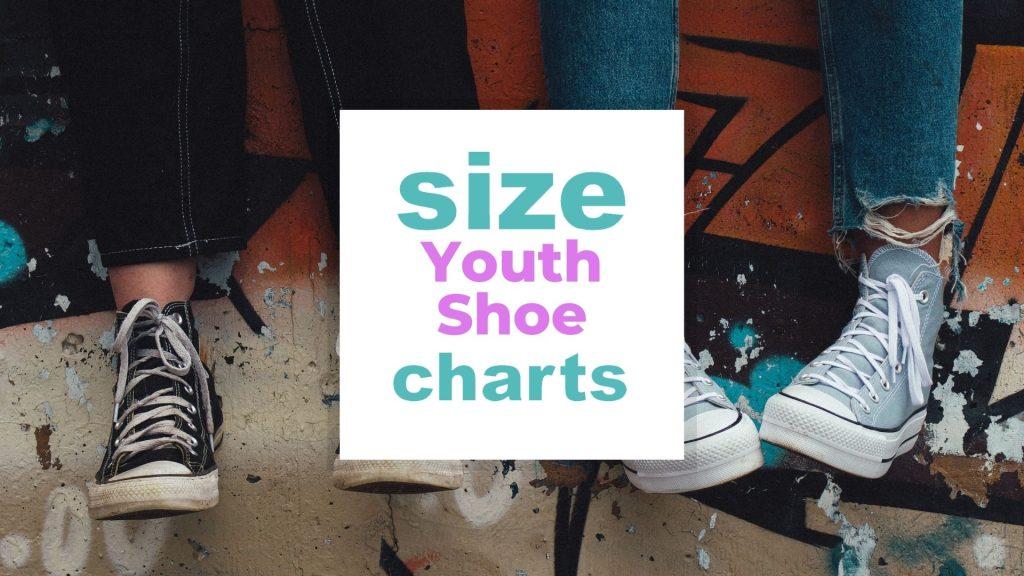 It is also extremely important to point out that not all brands have the same youth shoe sizing, strictly because there is no standardization between brands and there is not even in the different models' brands offer. This adds an extra challenge when shopping and here we will try to understand how to choose the correct size. All Frequently asked questions are answered here
The shoe size has been changing over the years, growing fast in the past fifty years and according to many experts will continue this way due to human nutrition based on vitamins and minerals.
Table of Content of Youth Shoe Size Chart
Youth shoe size chart
Please note that the United Nations defines age generally the age bracket from between 7 and 15 years.
USA
EUROPE
UK
JAPAN
HEEL -TOE MEASUREMENT
INCHES
CM
10.5
28
10
175
6 9/16 "
16.6
11
28.5
10.5
6 11/16 "
17
11.5
29
11
180
6 7/8 "
17.4
12
30
11.5
185
7 "
17.8
12.5
30.5
12
7 3/16 "
18.3
13
31
12.5
190
7 3/8 "
18.7
13.5
31.5
13
195
7 1/2 "
19.1
1
32
13.5
7 11/16 "
19.5
1.5
33
1
7 7/8 "
20
2
33.5
1.5
8 1/16 "
20.4
2.5
34
2
8 3/16 "
20.8
3
35
2.5
8 3/8 "
21.2
3.5
35.5
3
8 1/2 "
21.6
4
36
3.5
200
8 11/16 "
22.1
4.5
36.7
4
225
8 7/8 "
22.5
5
37.5
4.5
9 1/16 "
22.9
5.5
38
5
9 3/16 "
23.3
6
38.5
5.5
9 3/8 "
23.8
6.5
39.5
6
9 9/16 "
24.2
7
40
6.5
9 11/16 "
24.6
7.5
40.5
7
9 7/8 "
25
Easily convert US into Mexico sizes here
How to measure your feet for youth shoe size?
How do i know my youth shoes size?
How to understand shoe width with more parameters can be found here.
Find out How to measure your shoe size correctly here.
10 easy steps to measure your feet correctly:
Measure your feet in the afternoon.
Your feet swell during the day. It's best to measure your feet at their fullest
Stand When Measuring
When in a wheelchair there's no pressure on the feet, so it's unnecessary to stand up.
Wear socks
In many shoes you most probably wear socks. Make sure you wear socks when you measure your feet.
Be precise
Measure both feet
Measure your left and right foot separately as they're not the same length. Take the biggest measurement to determine your shoe Size
Stand on your piece of paper
Keeping your body weight over your foot, trace a thin line around the outside of your entire foot.
Start drawing
When drawing the line, hold the pen perpendicular to the ground.
Measure the length of your feet
Measure vertically down the length of your foot tracing. This is your foot length.
Find your width fitting by drawing or with measuring tape
Measure horizontally across the widest part of your foot tracing. This is your foot width.
Determine your shoe size in the conversion charts
Start from the measurement in inches or centimeters and define your size in the charts for men or women
FAQ on youth shoe sizes
Is 7Y the same as 7 women's?
The biggest size we can expect to see when looking at youth shoe size chart in cm or inches for example will be 7Y, which will be 8.5 in women's.
What size is 6 in youth shoes?
According to our youth size chart, 6Y is the same as 23.8 cm foot length.
What is a 5Y in women's?
These measurements can be extrapolated to women's shoe size. In this case, a 5Y equals a 6.5 in women's, great variation and one factor to consider when shopping online.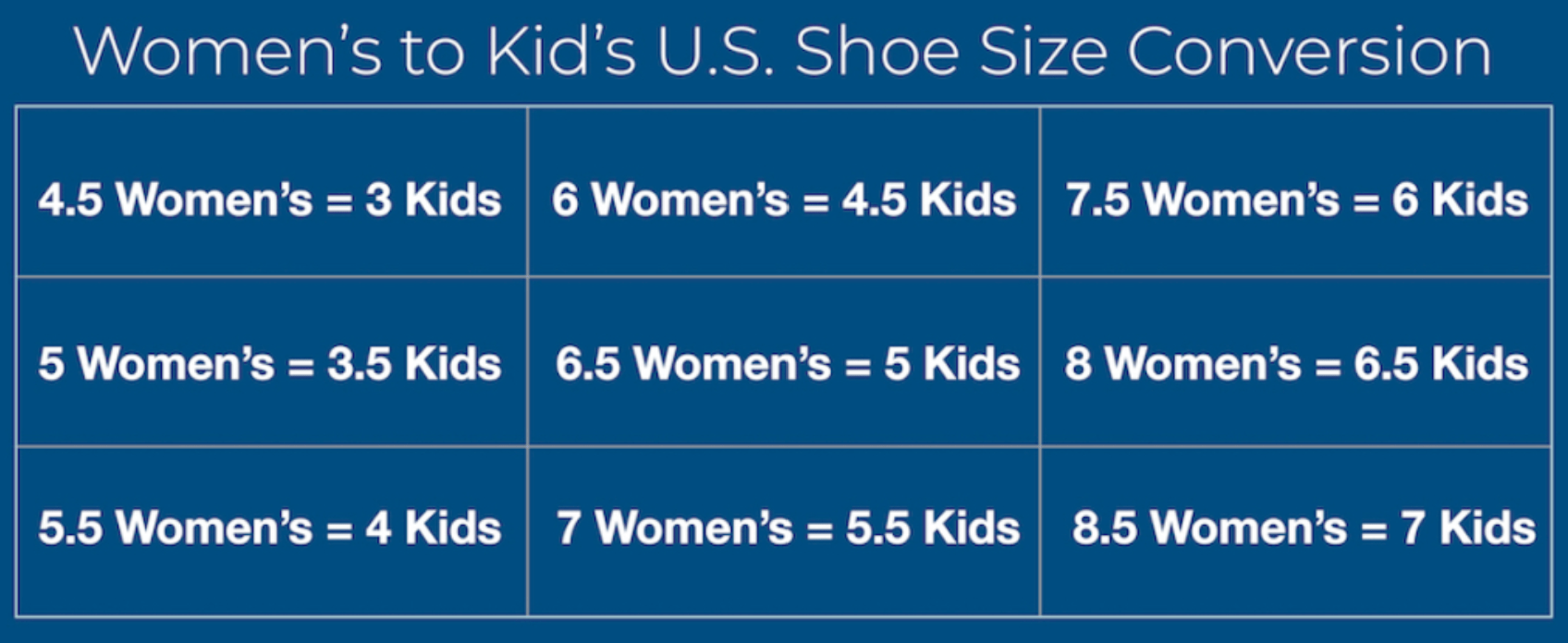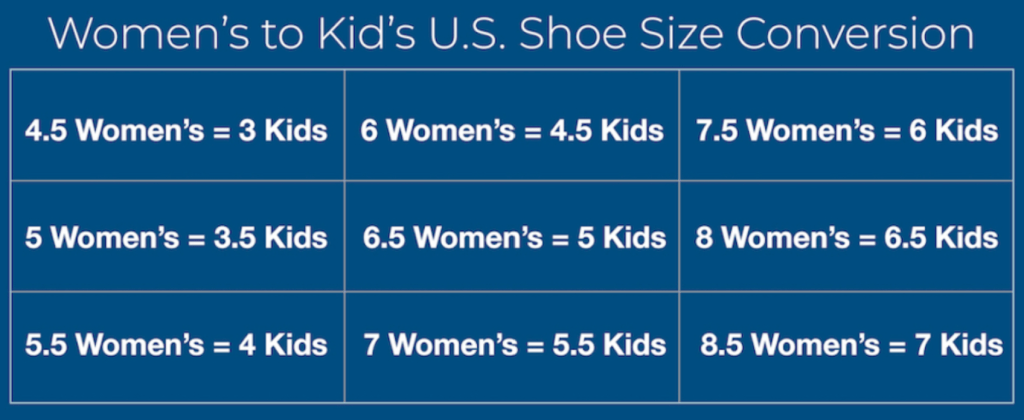 US youth shoe size charts vs men's
Following the same line as in women's case, if we look at youth shoe size and compare it to men's size we won't see any chances so it is easier for men in this case.
What's my shoe size in youth?
Some may think numbers are a little tough to understand but there is a simple formula everyone can use to get an accurate estimation if you are trying to find the size that fits you best in youth size. Simply take your US shoe size and subtract two to get your approximate youth size.
US shoes size charts vs UK shoe size charts
Another common problem you could find is when ordering shoes abroad. In the UK a similar system is used but with notable differences compared to the US. For instance, a 7Y or 8.5 in women's size will be a 6.5 in the UK and a 6Y or 7.5 in women's size will be a 5.5. The way to correctly calculate this for good measurement is by subtracting .5 for youth or men's shoe size.
A different method is used in the EU and many Latin American countries. Shoe size charts will start around 34.5 and finish in 48, being 38 to 42 most common numbers used. Here is a little more difficult to compare but to get a fair average a 7Y or 8.5 in women's size is a 39 EU.
Shoe width sizes, the unseen issue
When talking about shoe sizing, width measurement is often forgotten. Interestingly, width problems are equally as important as length. The easiest way to understand how width work is by dividing sizes into categories:
A, considered narrow for women and extra narrow for men. Extra A's can be added, as the shoe will get narrower and narrower.
B, commonly used by women and considered narrow for men.
D, commonly used by men and considered wide for women.
E, commonly used for people with wide feet. As for A, E's can be added, in some cases up to ten.
Width can grow with age, weight and some other common life circumstances. Cramping and other problems such as the ones associated with length are related to the use of incorrect shoes.
Problems with wrong sizes
Although not a serious problem at first, tight shoes are one of the most common cases of:
Corns, hardened layers of skin that form to quickly protect your feet for severe damage.
Bunions, enlargements of tissue that usually forms around your joints.
Knee or ankle pain that grows in intensity with constant use. Also some nail problems can be associated with wrongly chosen shoes.
Severe postural issues such as hammer toes, deformities that occur due to some problems in muscles, tendons or ligaments that hold the toe straight.
Plus size youth shoes sizes
Plus size youth shoe sizes can be hard to come by. Often, stores only carry a limited selection of plus size shoes for kids, and the styles can be frumpy and outdated. This can be frustrating for plus size kids who just want to find shoes that are cool and stylish. However, there are some great sources for plus size youth shoes. Online retailers like Justice and Lands' End offer a wide range of plus size shoes in trendy styles. Moreover, these companies also offer extended sizes, so you're sure to find a perfect fit. With a little bit of searching, you can easily find plus size youth shoes that are both fashionable and comfortable.
Petite youth shoes sizes
When it comes to petite youth shoes sizes, there are a few things to keep in mind. First, petite shoes generally run smaller than regular sizes, so it's important to measure your child's foot before making a purchase. Second, petite sizes are often narrower than regular sizes, so be sure to try on shoes before buying to ensure a good fit. Finally, petite shoes may not be available in all styles, so it's important to shop around to find the perfect pair. With these tips in mind, you're sure to find the perfect petite youth shoes size for your child.
What if my child's feet are growing quickly?
If your child's feet are growing rapidly, it's important to measure their feet regularly and update their shoe size chart accordingly. Most youth shoes are designed to grow with the child, so you should be able to find shoes in a larger size without too much trouble. However, it's always best to measure first and avoid any sizing headaches down the road.
What size is 6 in youth shoes?
Well, that depends on the brand. To get a general idea, most youth shoe sizes range from 5 to 8, with 6 usually corresponding to a medium width and size.
Is size 7 and 7Y the same?
The answer is no, they are not. Youth size 7 shoes are meant for children who have feet that are 7 inches long. On the other hand, size 7Y shoes are meant for youth or teens with feet that are 7.5 inches long. So, if you're looking for a shoe that will fit a child with a foot that is 7 inches long, you'll want to purchase a youth size 7 shoe. And if you're looking for a shoe that will fit a teen with a foot that is 7.5 inches long, you'll want to purchase a size 7Y shoe.
Youth shoe sizes explained
Conclusion
The Internet is an enormous place to shop, the perfect environment for the youth to find the very best. But unfortunately, we see so many youths wearing the wrong shoe size, which can be very unhealthy. Please avoid this by making use of this youth shoes size charts.
We would love to hear from you including any questions you might have. Please put them in the comments section.
Picture in this post by Aedrian on Unsplash
Shoes in the picture are by Converse, all size info can be found here
Related shoes size charts