Sootheez Size Chart
This post was last updated on August 29th, 2023 at 04:11 pm
Sootheez boots and Sootheez slippers are gaining traction as fan favorites owing to their comfy feel, sleek outlook, and simple style. If you are a sandal lover, you may wonder how Sootheez sandals fit. The Sootheez size chart covers Sootheez size reviews and explains how they are supposed to fit each size.
According to the Sootheez brand, the perfect size in footwear goes a long way in keeping you comfortable, and their slides, shoes, and sandals are all about cushioning and comfortably supporting your feet.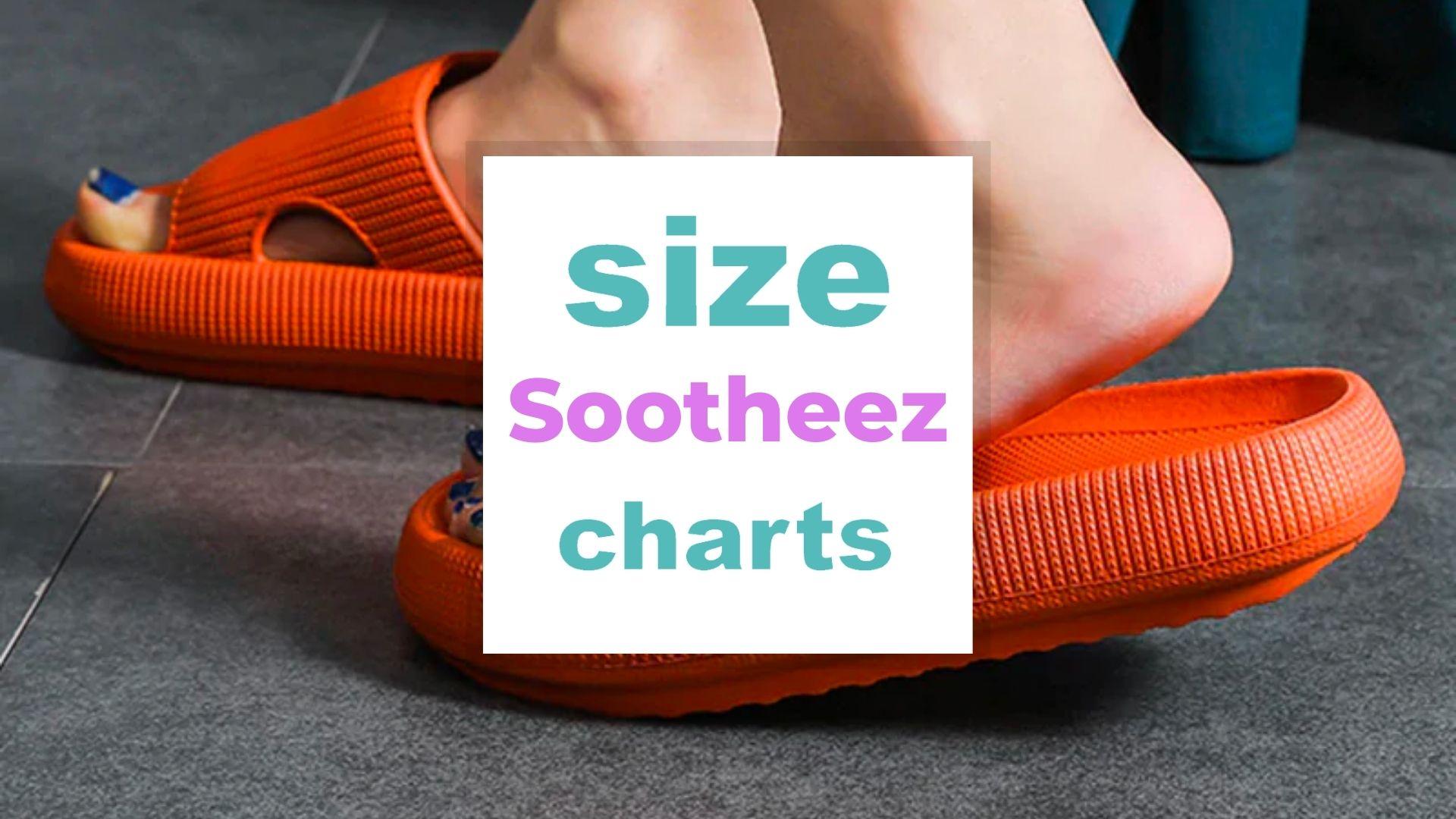 Statistics also indicate that a poor choice of size may affect your footwear experience. That's why it's necessary to know how to pick the right size so that you can gain the most out of your Sootheez. Without further ado, let's discuss different aspects of Sootheez sizes including size charts, Sootheez slides reviews, and everything you should know about Sootheez shopping.
Jump right into the Frequently Asked Questions
We reviewed Tommy Hilfiger Size, Sizing of Fashion Nova, Land's End sizes, Old Navy size charts, American Eagle sizing, Levi's Jeans size, Chico's Sizes, J Crew sizes, Zara Women's sizes, Forever 21 sizes, express sizing, shein Sizing, asos sizing, Ralph Lauren sizes, Lacoste , Aeropostale, and much more here.
Sootheez Size Chart Table of Contents
Sootheez size chart
Related: Foot Size Charts for Adults and Kids: What's my shoe size?, Size Charts and Brands For Wide Women's shoes
| | | | | |
| --- | --- | --- | --- | --- |
| US Size (Women) | US Size (Men) | EU Size | Foot Length (inch) | Foot Length (cm) |
| 5.5 – 6.5 | 5-6 | 36-37 | 9.45 | 24 |
| 7 – 8 | 6-7 | 38-39 | 9.84 | 25 |
| 8.5 – 9 | 7-8 | 40-41 | 10.24 | 26 |
| 9.5 – 10 | 8-9 | 42-43 | 10.62 | 27 |
| 10.5 – 11 | 9-10 | 44-45 | 11 | 28 |
Sootheez sizes
Related: Gucci Slides Size Chart and Fitting, Adidas Adilette Size chart for men's and women's slides
Sootheez produces shoes and sandals in different sizes, the smallest being US size 5.5 and the largest being US size 12. The Sootheez size chart indicates common sizes in between and accounts for specific half sizes. The Sootheez size chart caters to sizes 5 to 12. In European size, this is between sizes 35 to 47.
Sootheez sizes for women
Sootheez shoes for women are available in the US in sizes 5.5 to 7, size 7.5 to 8.5, size 9 to 10, size 10.5 to 11, and sizes 11.5 to 12.
Sootheez sizes for men
Sootheez sandals and slides for men are available in US sizes 7 to 8, 8.5 to 9.5, 10.5 to 11, and 12.
The most common Sootheez designs on the size chart are the plain-colored pink, olive-green, black, grey, yellow, orange, blue, and Sootheez khaki shoes. Sootheez also offers customers a variety of 3d Sootheez slippers and Sootheez boots with stripes. Sootheez allows you to pick your size and match it with the color of your choice on the size chart before checking out their online stores.
According to Sootheez sandals, reviews on Amazon and Sootheez Reddit reviews on Reddit, Sootheez shoes are comfortable and correspond to size expectations. Some customers found that the Sootheez shoes were a little too tight for their exact sizes while others appreciated the snug and support that comes with walking in them.
Quick note – Your choice of Sootheez sandal boils down to your personal preferences. If you like your shoe snug and tight, go for your exact size. On the other hand, make sure to order an extra size up if you prefer more wiggle room and a little stretch for your feet.
Learn more about Sootheez size charts and comfort (video)
Frequently Asked Questions
Do Sootheez slides provide arch support?
Sootheez sandals aren't designed with an arch support mold. However, they are designed using Ethylene Vinyl Acetate, which is a strong but soft material that not only guarantees durability but also relieves extra pressure and soothes feet.
Quick note – Sootheez are usually stiff when delivered and worn for the first time because of the rigidity of the EVA components. They require more time to break in for comfortable wear. We thus advise buyers to soak the slides in warm water, for a quarter of an hour before wearing them. This will save you from the breaking-in process to guarantee immediate comfort.
Does Sootheez run true to size?
Sootheez shoes run true to size. Sootheez sandals are available in a range of sizes in each size category to allow extra comfort and space for everyone in all sizes.
Should your size up in Sootheez?
You should size up in Sootheez if you have wider feet or plan to wear Sootheez shoes or sandals with socks. Sootheez advises buyers who plan to size up to go for the next shoe size on the size chart but not by more than a 0.5 to 1 margin.
How long does Sootheez take to ship?
Sootheez takes one to two weeks for free delivery and five to twelve (business) days for express delivery. The delivery time also differs and this depends on the customer's location. Overall, most customers report receiving Sootheez products between one to four weeks after ordering from their shops.
How is Sootheez supposed to fit?
Sootheez shoes and sandals are supposed to fit perfectly if ordered in the right size.
How do you wash Sootheez?
You can clean Sootheez shoes by hand washing them with soap and water, rinse them in clean water, and hanging them to dry. Sootheez dries quickly, so they'll be ready to wear in no time.
How thick are Sootheez?
Sootheez is about two inches thick. The sandals and shoes are a little dense but comfortable because of the thick EVA.
What size is 8.5 in Sootheez?
A size 8.5 on the Sootheez size chart for women is the equivalent of a European size 40. Size 8.5 on the Sootheez size chart for men is the same as the European size 42.
Are the man and woman models of Sootheez the same?
Men's and women's Sootheez shoes are the same models but available in different sizes in their respective categories. This means that everyone can get the same design of 3d Sootheeze slippers or Sootheez khaki, but the size 9.5 for men will be different than the size 9.5 for women.
Conclusion
Any footwear expert will insist on comfort as a basic requirement for purchases. This buying guide follows the same narrative by emphasizing the need for using the Sootheez size charts here or on their website. There's no denying the impressive outlook and feel of Sootheez, but it won't count if the shoe doesn't fit.
This size chart guides you on how to pick the fitting Sootheez, whether you want to put on your slides with socks or wonder what size to pick if you have wide feet. You can't go wrong with the right Sootheez size chart because it's all you need to get the best Sootheez that also fits you correctly.
Don't hesitate to ask questions in the comments. It's always satisfying to be able to help you find a perfect fitting Sootheez size.
Picture in this post is from sootheez.com
Related to Sootheez Size Chart