Hudson London Size Charts
This post was last updated on September 5th, 2023 at 07:02 am
Hudson London Shoes are a stylish and affordable footwear brand. They offer a wide range of classic and contemporary styles for both men and women. Their shoes are made with high-quality materials and craftsmanship, offering comfort, style, and durability. Hudson London Shoes are perfect for all occasions, from casual everyday looks to formal events. With a great selection of colors and styles, there is something for everyone at Hudson London Shoes (skip straight to the Hudson London Size Charts).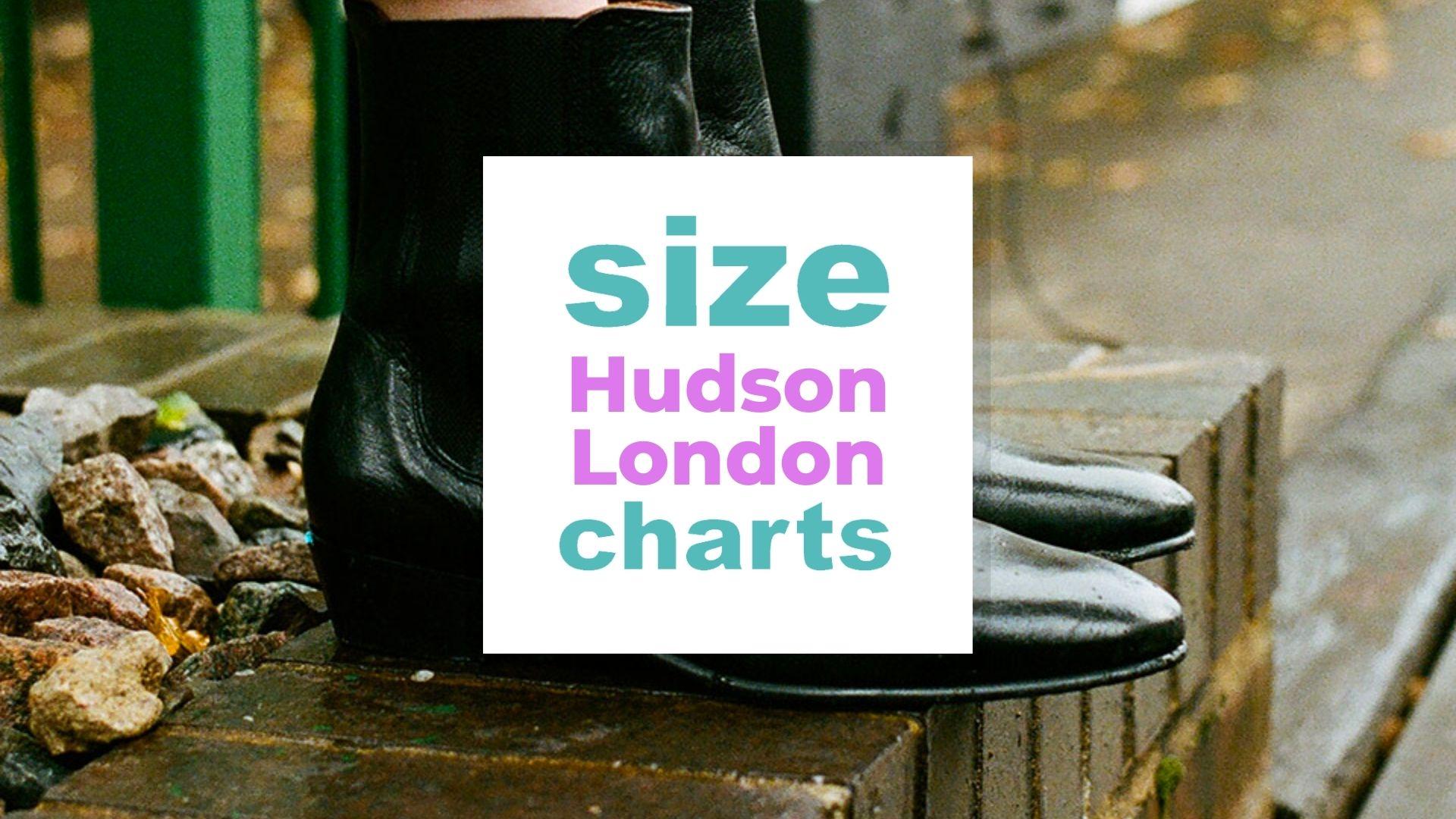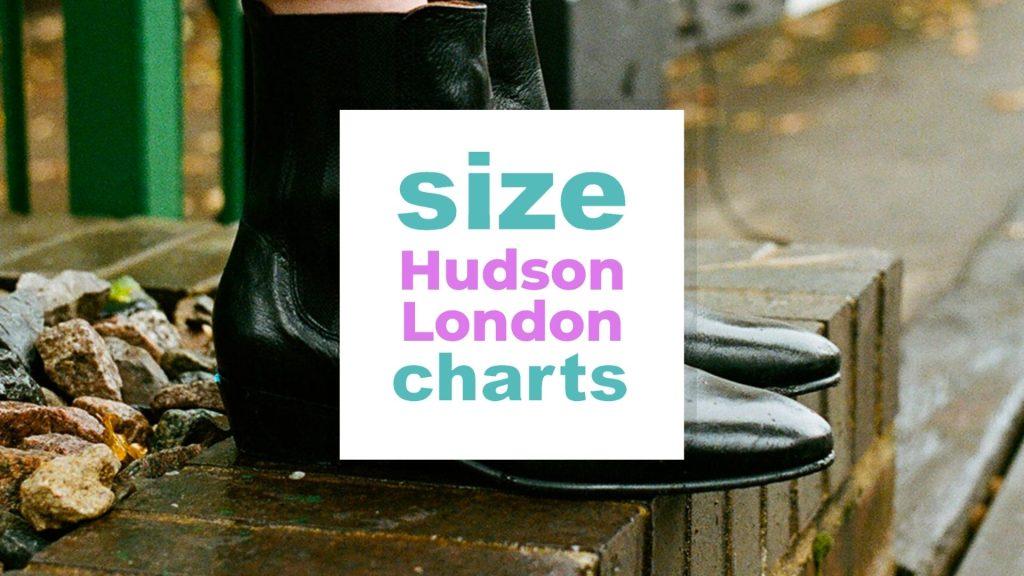 Jump right into the Frequently Asked Questions
We reviewed Tommy Hilfiger Size, Sizing of Fashion Nova, Land's End sizes, Old Navy size charts, American Eagle sizing, Levi's Jeans size, Chico's Sizes, J Crew sizes, Zara Women's sizes, Forever 21 sizes, express sizing, shein Sizing, asos sizing, Ralph Lauren sizes, Lacoste , Aeropostale, and much more here.
Hudson London Size Charts Table of Contents
Hudson London size charts
Related: How To Measure Your Foot Size & Width, Easy EU to US shoe size conversion with size tables (foot length, IN, Cm)
| | | | | |
| --- | --- | --- | --- | --- |
| Women |   |   |   |   |
| UK Size | Euro Size | USA Size | Foot Length (cm) | Foot Length (in) |
| 2 | 35 | 4 | 22.4 | 8.96 |
| 3 | 36 | 5 | 23 | 9.2 |
| 4 | 37 | 6 | 23.7 | 9.48 |
| 5 | 38 | 7 | 24.4 | 9.76 |
| 6 | 39 | 8 | 25 | 10 |
| 7 | 40 | 9 | 25.7 | 10.28 |
| 8 | 41 | 10 | 26.4 | 10.56 |
Related: Shoe width Size Conversion: The importance of width!, Size Charts and Brands For Wide Women's shoes
| | | | | |
| --- | --- | --- | --- | --- |
| Men |   |   |   |   |
| UK Size | Euro Size | USA Size | Foot Length (cm) | Foot Length (in) |
| 6 | 40 | 7 | 25.7 | 10.28 |
| 7 | 41 | 8 | 26.4 | 10.56 |
| 8 | 42 | 9 | 27 | 10.8 |
| 9 | 43 | 10 | 27.7 | 11.08 |
| 10 | 44 | 11 | 28.4 | 11.36 |
| 11 | 45 | 12 | 29 | 11.6 |
| 12 | 46 | 13 | 29.7 | 11.88 |
Learn more about Hudson London Sizes and more (video)
Frequently Asked Questions
Are Hudson shoes true to size?
Yes! Hudson London shoe sizes are undoubtedly accurate. To help its clients, the London-based shoe company has posted sizing charts on its website that help clients to determine their sizes in the comfort of their homes. The many designs that Hudson London makes are sensitive to a wide variety of feet sizes. The different types of booties from Azi boots, and Aspie booties, to Horrigan booties, come with all the comfort and ankle support that your feet need. Moreover, they have different widths, addressing clients with the widest feet.
Women with wide feet know that it's not easy to get perfect-fit sandals and gladiator slides. Hudson London seeks to address this crisis by curating shoe sizes to fit all types of sizes. Besides its very accurate shoe sizes, Hudson London is going against all odds to define fashion by coming up with crazy footwear designs. A visit to the nearest Hudson store might help you get the newest product at friendly rates.
The ramifications of getting the wrong sizes (an inch smaller or bigger shoes) are mostly unspoken yet very dire. In the short term, you'll develop bunions or hammertoes. At the end of a long day with tight shoes, your feet will complain, affecting your unwinding time. Why all the hassle of treating feet problems when you can avoid them by getting Hudson's true-to-size shoes?
How should Hudson's shoes fit?
Many questions come in when you're about to take out shoes, especially virtually. You may not be sure of whether to go a size up, down, or get them as they are labeled. To be safe, start by knowing your feet sizes and the type of shoes that you want. For instance, if you're looking for Hudson London loafers, the process of getting your feet measured should be easy in light of a few things.
First off, you need to know what time of the day your feet are the biggest. In this case, you have the leeway of getting the measurement in the afternoon or evening, when your feet have expanded the most. Get the measurements with your socks in and be sure to measure the bigger foot. Hudson loafers come in different endings at the front. To avoid getting bunions and hammertoes, wide feet need wider endings and vice versa.
Hudson London Martell is a famous shoe that can be pulled out for a variety of activities, school, work, etc. The shoe being leather needs to give your feet a comfortable feel all day long. They would not be advisable for whole-day, engaging activities because the more you're in them the more wear and tear caused by gravity.
What's size 40 in Hudson shoes?
A Hudson size 40 is a medium men's shoe size that's UK size 6 and USA size 7 with a length of 25.7 cm. The shoe tends to fit people with regular feet sizes, who cover a bigger percentage in the world than other sizes. For women, size 40 is USA size 9, Uk size 7, and 26.4cm long.
If you're used to taking this size, don't assume that your feet might still be in the same size and shape. This is explained by the fact that your body size is influenced by a number of life events like stress or depression that may suddenly or subtly result in an increase in weight. Some think that their feet size remains constant even after weight increases until they realize otherwise. Besides, considering the lack of standardization for shoe sizes, it only pays to be sure of your feet size every time you shop for a new pair.
The last thing you want to do is get it wrong with such leather shoes as a Hudson London palmer or a Hudson London Battle. Get such a classic shoe that's half an inch tighter and you'll regret it after leaving it too soon. This shoe can serve you for many years especially if your feet size doesn't frequently fluctuate.
This explains why you want to do all it takes to have everything right. You may have to visit the store to try out different sizes or work with customer service personnel who'll help you get your perfect fit.
What's the smallest shoe size in Hudson?
Hudson footwear can be as small as UK size 5 for men. This is Europe size 39 and USA size 6 and 9.6 inches (24.5 cm) long. The shoe is mostly taken out by younger men and boys in their early teenage hood. The size comes in an eclectic mix of designs, each offering its unique vibe.
The same is the case for women's footwear where the smallest size is UK size 3.5, Europe size 36, and USA size 5.5 with a length of 8.9 inches (22.5 cm). Hudson women's shoes are generally smaller than men's because most men have big wide feet. While there are very few adult men who could take out Hudson's smallest size, there are quite a number of women who go with the size 3.5 shoes. This is why they will be spoilt for design choices even with such small sizes.
For instance, finding H by Hudson Calverston Brogues in this size is more difficult than finding a Hudson London Yew. Calverton Brogues are preferred for older men, whose sizes are bigger. However, things might be a little better for women because a good number of adults still take out size 3.5.
What's the biggest shoe size in Hudson?
UK size 11. This is the same as Europe size 46.5 and the USA size 11 that's 29.5cm long for men. Women's Hudson shoes are UK size 8, Europe size 42, and USA size 10 with a length of 26.5cm. For men, this is where shoes preferred for older folks like H by Hudson London thrive. However, the company also brings in other designs to address youngsters with this shoe size.
Another plus is that shoes under this size are made to last long so that they can endure the wear and tear that might be caused by the great weight of the wearer.
Conclusion
We hope that so far, you have all your questions about London Hudson shoes and their sizes answered. The bottom line is getting a shoe that not only feels comfortable but also leaves your feet without issues at the end of the day. Getting to know what your feet need goes a long way in improving your shopping experience.
Please don't hesitate to ask any further questions you might have regarding Hudson London sizes. We're always excited to assist.
Picture in this post is from barkers.co.uk
Related to Hudson London Size Charts