Oofos Size Chart for Women and Men
This post was last updated on August 29th, 2023 at 07:25 am
OOFOS is the original active recovery footwear brand, created to support your feet while also making you feel better. Depending on the shoe's design and the current inventory, they may manufacture it in Vietnam, South Korea, Taiwan, or Indonesia. (skip straight to the Oofos size chart).
A team of footwear experts created OOFOS from the largest performance brands in response to a demand not being met by the footwear industry. They designed OOFOS to help your body repair daily by reducing burden and stress. OOFOS are powered by our patented OOfoam, a new, innovative substance that absorbs 37% more impact than traditional foams, allowing you to recover faster without slowing down.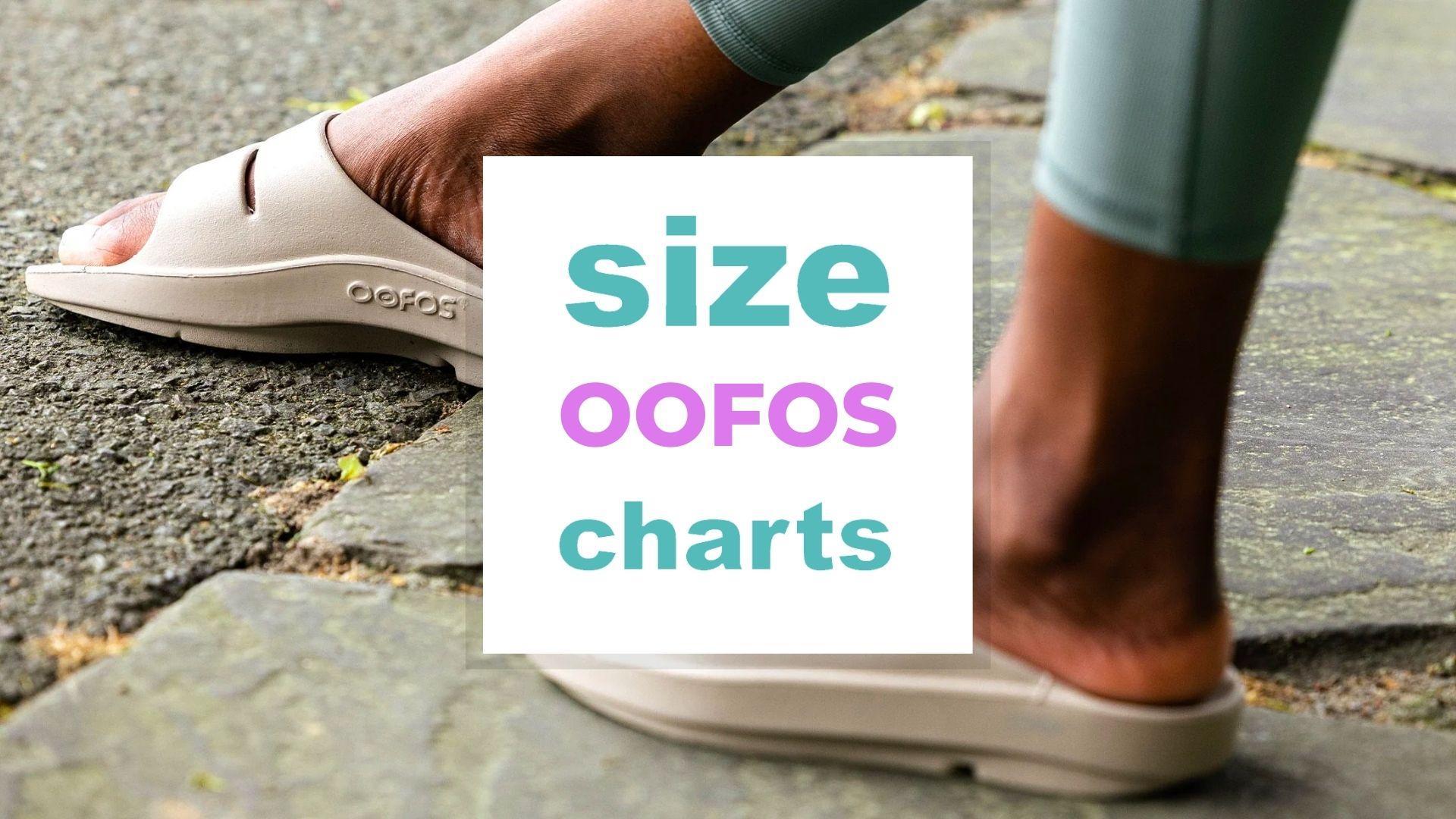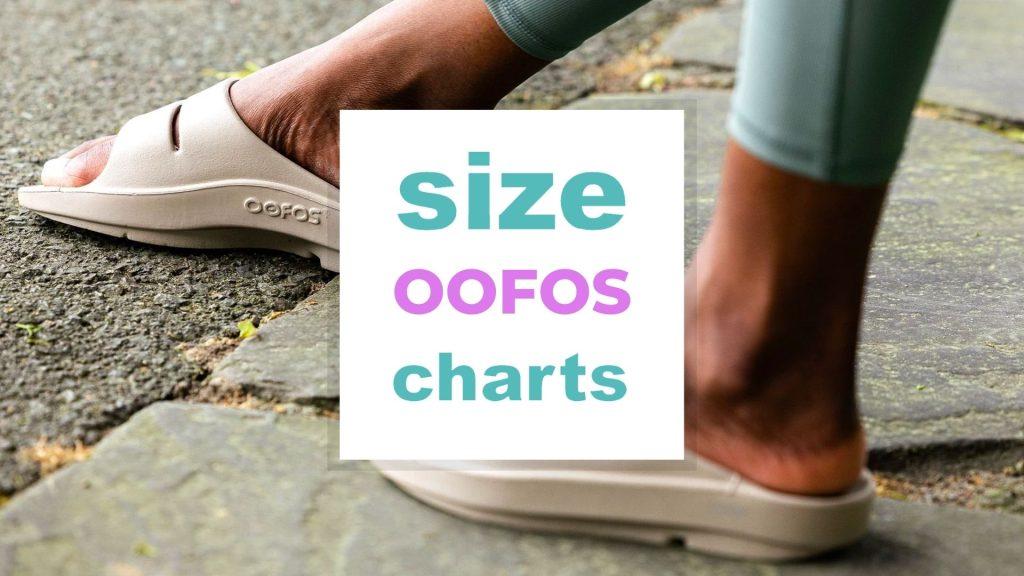 OOFOS supports your arches, relieves stress on weary feet, knees, and back, allows for a more natural walking motion, and minimizes energy requirements at major walking joints.
They want to be your go-to shoe for any situation, which is why OOFOS footwear goes beyond the conventional sandals and slides used after exercise. OOFOS is here to support you and help you feel better, whether you need to refresh and recharge after a workout or need a comfortable, supportive shoe to get you through your day energized.
Jump right into the Frequently Asked Questions
We reviewed Tommy Hilfiger Size, Sizing of Fashion Nova, Land's End sizes, Old Navy size charts, American Eagle sizing, Levi's Jeans size, Chico's Sizes, J Crew sizes, Zara Women's sizes, Forever 21 sizes, express sizing, shein Sizing, asos sizing, Ralph Lauren sizes, Lacoste , Aeropostale, and much more here.
Oofos Size Chart Table of Contents
Oofos sandals size chart
Related: Sootheez Size Chart
| | | | | | |
| --- | --- | --- | --- | --- | --- |
| Foot Length | US M | UK M | US W | UK W | EU |
| 222 mm 8.7 in | 2 | 1 | 4 | 2 | 35 |
| 228 mm 9 in | 3 | 2 | 5 | 3 | 36 |
| 235 mm 9.3 in | 4 | 3 | 6 | 4 | 37 |
| 241 mm 9.4 in | 5 | 4 | 7 | 5 | 38 |
| 248 mm 9.5 in | 6 | 5 | 8 | 6 | 39 |
| 254 mm 10 in | 7 | 6 | 9 | 7 | 40 |
| 260 mm 10.2 in | 8 | 7 | 10 | 8 | 41 |
| 267 mm 10.5 in | 9 | 8 | 11 | 9 | 42 |
| 273 mm 10.7 in | 10 | 9 | 12 | 10 | 43 |
| 279 mm 11 in | 11 | 10 | 13 | 11 | 44 |
| 286 mm 11.3 in | 12 | 11 | 14 | 12 | 45 |
| 292 mm 11.5 in | 13 | 12 | 15 | 13 | 46 |
| 302 mm 11.9 in | 14 | 13 | 16 | 14 | 47 |
Oofos Adult's shoes sizing chart
Related: Foot Size Charts for Adults and Kids: What's my shoe size?, Size Charts and Brands For Wide Women's shoes
| | | | |
| --- | --- | --- | --- |
| US Women's size | US Men's size | Foot Length (in) | Foot Length (cm) |
| 5 | 3 | 9 in | 22.86 cm |
| 6 | 4 | 9.25 in | 23.495 cm |
| 7 | 5 | 9.5 in | 24.13 cm |
| 8 | 6 | 9.75 in | 24.765 cm |
| 9 | 7 | 10 in | 25.4 cm |
| 10 | 8 | 10.25 in | 26.035 cm |
| 11 | 9 | 10.5 in | 26.67 cm |
| 12 | 10 | 10.75 in | 27.305 cm |
| 13 | 11 | 11 in | 27.94 cm |
| 14 | 12 | 11.25 in | 28.575 cm |
| 15 | 13 | 11.5 in | 29.21 cm |
| 16 | 14 | 11.89 in | 30.2006 cm |
| — | 15 | 12.25 in | 31.115 cm |
| — | 16 | 12.5 in | 31.75 cm |
| — | 17 | 12.9 in | 32.766 cm |
| — | 18 | 13 in | 33.02 cm |
How to choose the right Oofos sizes
Related: Gucci Slides Size Chart and Fitting, Adidas Adilette Size chart for men's and women's slides
To ensure a comfortable and healthy foot environment, most of us take our time when trying on new pairs of shoes. That same level of consideration ought to be given to choosing your OOFOS recovery shoes. Following these guidelines will help you find the perfect footwear for your feet.
What matters most is how something makes you feel. Different people walk in different ways. When you have an injury, your body may try to compensate by changing the way you walk. If you suffer from plantar fasciitis in just one foot, for instance, you could start shifting your weight to the other foot to ease the pain. This can lead to gait irregularities and postural distortions. This might cause uneven stress on the body and lead to compensatory aches and pains elsewhere.
Use arch support to its full potential. Be sure the arch of the footbed fits snugly under the arch of your foot when trying on OOFOS of any size. Give your foot some time to adjust to the arches support if it seems very high. Nowadays, several footwear styles are constructed from more rigid materials that keep the foot in a fixed posture. This can lead to a loss of strength and laziness in the foot's deep (intrinsic) muscles. The OOFOS helps patients get up and move while also supporting their feet's various structures.
It won't work if you try to push it. The OOfoam does not stretch much and provides firm support. Never try to jam your foot into a shoe that's too small. Don't be afraid to try on a larger size!
OOFOS styles:
Ooriginal collection: The journey to health and happiness began with the creation of these OOFOS, which they now refer to as our "original" design. Neither the OOriginal nor the OOriginal Sport deviates from its original form in terms of fit.
Thong-style sandals feature an internal toe post to help keep the foot in a neutral position over the arch and reduce the risk of rolling an ankle.
Good for medium to wide feet, can be worn by either sex.
OOahh Collection: From the OOahh Collection comes the sport slide, a favorite among athletes and those who want a more traditional thong without a toe post. Both the OOahh and OOahh Sport have the same fit.
Slides are easy to put on and take off and can be worn with or without socks.
Standard width (male/female) last. Do this with a thick sock if your feet are narrow.
OOlala: A more fashionable shoe for ladies was a common request, therefore OOlala created this thong design to satisfy that need.
These thongs have a toe post for further support.
Fits the average or slender female foot best. Straps on this design are narrower than the OOriginal's, giving the foot additional freedom of motion.
The OOriginal range offers the highest levels of comfort and support.
The OOcloog: is a type of clog that was developed to offer greater protection.
Easily slip on, open-back design
Fits narrow to wide feet equally well.
A size higher may be preferable if you have a broad feet or intend to wear your clogs with thick socks.
OOmg: This was the first pair of shoes we've had that completely encased our feet from toe to heel.
The Upper and heel counters are elastic for a slip-on fit.
There are men's and women's specific lasts, and they're wondering if you have a wide or narrow foot.
Try a larger size if your toes are squishing together in the front of your shoe.
It may be more comfortable to order a size up if your wide foot causes the upper material to spread out over the footbed.
Again, if you take the time to feel the fit, your feet will tell you. Feel your fit to ensure you are getting the right amount of support in any of our shoe types; our OOfoam material lets the foot move in all planes of motion across the footbed, and the uppers of our shoes have varying degrees of flexibility.
Once you find the look that works best for you, you'll start "feeling the OO" in no time. Keep in mind that if you have any issues with the sizing, we're here to help you out so that you may have the most satisfying OOfeel.
Men
A whole size should be ordered if that is your usual clothing size. OOFOS. If you are in between sizes, order the smaller size.
Women
If you are between sizes, order the next size up. OOFOS. If you are in between sizes, we recommend ordering the larger size.
The shoe's arch should be in a straight line with your own. It's time to move on to the next step, which is ensuring the heel is properly positioned on the footbed. That way, everything will fit just right.
Why do Oofos have sport, luxe, and limited designs?
The titles given to these categories reflect the variety of paint, treatment, and pattern options available for each design. No matter the colorway, they equip every pair of OOFOS with the same innovative footbed, support, and exclusive OOfoam technology.
Look for the same style name, like OOriginal or OOlala, across the Sport, Luxe, and Limited collections to get the same fit in fashionable designs suited to a wide range of restorative purposes.
What's the distinction between the OOMG Mesh, OOMG Fiber, and OOMG Eazy?
With the revolutionary OOfoam footbed design as the base of every OOmg model, you can count on a unified aesthetic and ergonomic experience throughout all collections. The uppers offer a custom fit and feel that will last you all year long.
Mesh: The lightweight, breathable, 4-way stretch mesh fabric will provide a whole new level of ease and convenience to your daily life.
Fiber: Crafted using the Fibreflex fabric, they are long-lasting and comfortable while still being breathable. EeZee is a modern update on a classic; they're crafted from a 4-way stretch woven canvas-like technology that shapes the foot in all the right places.
What sizes are OOFOs available in?
All the other OOFOS styles except for the OOlala are available in a standard unisex width. However, we recommend certain styles for those with broader or narrower feet.
The OOahh Sport Flex slide sandals and OOahh Original and OOahh Original Sport thongs are great options for those with broader feet. The OOahh Sport Flex is an adjustable Velcro upper that may be loosened or tightened to fit anyone with wide or narrow feet, high insteps, and high arches.
There are two different sizes available for OOFOS, while the vast majority of styles come in standard medium width that is appropriate for either sex.
The OOahh/OOahh Sport, OOCloog, and OOriginal/OOriginal Sport are all medium-width unisex sneakers.
The OOlala series by OOFOS is a medium-width design specifically for women. We recommend the OOlala for those who have small feet due to the shoe's narrower footbed.
In order to avoid discomfort, the shoe's arch should be positioned directly under the foot's natural arch. The next thing to do is to check that your heel is sitting comfortably on the footbed. That way, everything will fit just right.
All OOFOS shoes feature the same revolutionary footbed design and are crafted from an exclusive, closed-cell latex-free foam. OOfoam
If you are a whole size, then you should order an OOFOS in the same size. Although the footbeds of OOFOS shoes are medium in width, it is important to remember that not everyone's feet are the same size.
Learn more about Oofos Size chart and more (video)
Frequently asked questions
1. What size should I get in OOFOS?
If your shoe size is a whole number, get a pair of OOFOS in the same size. If you are in between sizes, order the smaller of the two. The correct size for you will ensure no foot pain or any foot issues brought about by the wrong sizes.
2. Do OOFOS slides run true to size?
Given that every pair of OOFOS shoes has the same footbed, the OOCloog should be able to be worn comfortably. Given that the OOCloog is closed-toe, several customers report feeling the need to order a size higher.
3. How are OOFOS supposed to fit?
Be sure the arch of the footbed fits snugly under the arch of your foot when trying on OOFOS of any size. Give your foot some time to adjust to the arches support if it seems very high. Nowadays, several footwear styles are constructed from more rigid materials that keep the foot in a fixed posture.
4. Are OOFOS half sizes?
You can get several of our OOmg styles (such as the OOmg Low or the OOmg eeZee low) in half sizes. All other designs (OOahh, OOcloog, ) are only available in complete sizes.
I advised customers who are on the cusp of a size recommendation to round up to the nearest whole regular size if they are a woman or down if they are a man to ensure a proper fit. Although this broad guideline is effective for many and follows a typical pattern, it is possible that each person will need to make adjustments to ensure a comfortable fit for their own feet.
We're merely making a broad recommendation based on what seems to work for the vast majority of customers who buy our shoes.
5. How are OOFOS shoe sizes compared to crocs?
They are quite similar in terms of size. Also the sore feet and tired feet to.
6. Do my oofos risk expanding?
OOFOS aren't like other shoes, which require breaking in before they feel comfortable to wear. Although a brand new pair of OOFoam shoes may feel less cushioned than your current pair at first, they will eventually soften up to provide the same support and comfort. We recommend trying an alternative design or sizing up by half a size or a full size if the garment feels too hard or tight when you first put it on.
7. May I work out in my OOFOs?
OOFOS are wonderful for lounging around and recouping in after a workout. To be clear, OOFOS shoes are not something we endorse for any kind of physical exercise.
Conclusion
Maintaining a pristine condition for your OOFOS is simple. Both washing machine and hand washing with a soft brush and mild soap will work fine. Both methods will effectively clean them. To dry them after washing, just use a towel, or hang them up in the shade.
Please never dry your OOFOS. Don't put them in the scorching sun or anywhere else where the temperature will rise too quickly. Do NOT put them in contact with any chemicals, since this may alter their appearance i.e. bug and sunscreen sprays.
Keep your OOFOS in good condition while you're not using them by keeping them out from under other pairs of shoes. This is because the patented foam used in the construction of your OOFOS makes them exceptionally comfy. This could cause them to become crushed and creased, which won't affect their usefulness but will make them seem less than ideal.
Thank you for reading our article. Leave questions in the comment section.
Picture in this post is from Insider.com
Related to Oofos Size Chart