Beckett Simonon Shoes Size Chart
Do you need a new pair of dress shoes? Perhaps a pair of zonkey boot shoes or sneakers? Then Beckett Simonon is the site for you. Beckett Simonon shoes are high-quality and affordable. The company is famously known for producing long-lasting leather shoes that ensure the artisans, the producers, the planet as well as the consumers are not exploited. Beckett Simonon was born after its founders, who previously distributed leather goods to retail stores, realized how heavily the retail stores inflated the prices of their products.
This inflation of prices and the need for high-profit margins led to waste and exploitation of factory workers and consumers. To address this, the founders, Andreas Nino and Nicholas Hurtado decided to produce and sell affordable leather shoes at prices dignifying to artisans and consumers, ensuring the minimization of waste.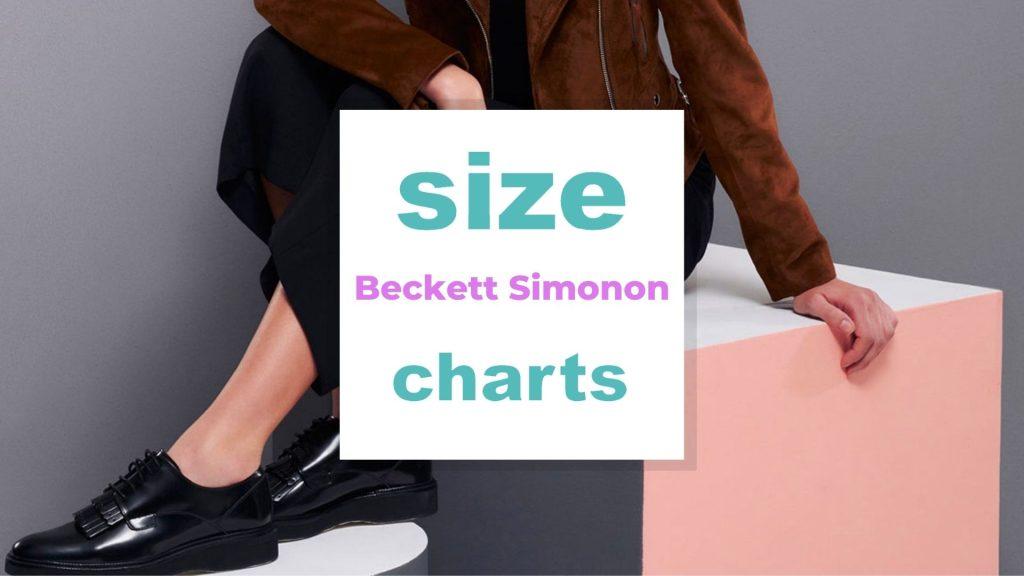 A quick scan of the  Beckett Simonon website reveals that the company offers an array of shoes for different occasions including leather sneakers, leather boots, and leather shoes. In addition, customers are allowed to choose from the different kinds of exotic leather offered by the company some of which include pull-up leather, pebbled leather, water-resistant suede, and waxed suede. There also offer various colors including brown shoes, black shoes, blue shoes, and more.
Coping a pair of the Beckett Simonon shoes will grant you access to some of the most stylish men's shoes on the market, however, you must know your correct Beckett Simonon size. This article will serve as a guide to the Beckett Simonon shoe sizes as it contains the various Beckett Simonon size charts as well as answers to some of the most frequently asked questions about the company on the internet.
Jump right into the Frequently Asked Questions
We reviewed Tommy Hilfiger Size, Sizing of Fashion Nova, Land's End sizes, Old Navy size charts, American Eagle sizing, Levi's Jeans size, Chico's Sizes, J Crew sizes, Zara Women's sizes, Forever 21 sizes, express sizing, shein Sizing, asos sizing, Ralph Lauren sizes, Lacoste , Aeropostale, and much more here.
Beckett Simonon Shoes Table of Contents
Beckett Simonon Size Chart
Related: How To Measure Your Foot Size & Width, Easy EU to US shoe size conversion with size tables (foot length, IN, Cm)
| | | |
| --- | --- | --- |
| Labelled Size | Foot Length (In) | Foot Length (Cm) |
| 7D | 9⅔ | 24.55 |
| 8D | 10 | 25.50 |
| 8.5D | 10⅙ | 25.82 |
| 9D | 10⅓ | 26.25 |
| 9.5D | 10½ | 26.67 |
| 10D | 10⅔ | 27.09 |
| 10.5D | 10⅚ | 27.52 |
| 11D | 11 | 27.94 |
| 11.5D | 11⅙ | 28.36 |
| 12 | 11⅓ | 28.79 |
| 13 | 11⅔ | 29.63 |
| 14 | 12 | 30.48 |
Size Comparison Chart For Beckett Simonon Shoes
Related: Shoe width Size Conversion: The importance of width!, Foot Size Charts for Adults and Kids: What's my shoe size?
| | | | | |
| --- | --- | --- | --- | --- |
| Beckett | Alden Edmonds | Cole Haan | Alden (Barrie) | Nike & Adidas (Sneakers) |
| 7 D | 7 D | 7 D | 6.5 D | 7.5 D |
| 8 D | 8 D | 8 D | 7.5 D | 8.5 D |
| 8.5 D | 8.5 D | 8.5 D | 8 D | 9 D |
| 9 D | 9 D | 9 D | 8.5 D | 9.5 D |
| 9.5 D | 9.5 D | 9.5 D | 9 D | 10 D |
| 10 D | 10 D | 10 D | 9.5 D | 10.5 D |
| 10.5 D | 10.5 D | 10.5 D | 10 D | 11 D |
| 11 D | 11 D | 11 D | 10.5 D | 11.5 D |
| 11.5 D | 11.5 D | 11.5 D | 11 D | 12 D |
| 12 D | 12 D | 12 D | 11.5 D | 12.5 D |
| 13 D | 13 D | 13 D | 12.5 D | 13.5 D |
| 14 D | 14 D | 14 D | 13.5 D | 14.5 D |
Learn more about Beckett Simonon Shoes Sizes (video)
Frequently Asked Questions
How Are the Beckett Simonon Shoes Sized?
The Beckett Simonon sizes are based on measurements by the Brannock device. The device is set to a width of size "D". This width is the average width of most people, therefore people with much wider feet might need to have their feet measured for proper fitting.
Since the Beckett Simonon shoes are unique from other shoes, they also tend to fit differently. It is thus important to use the specific shoe sizing scheme for the brand while purchasing a pair.
Does Beckett Simonon fit true to size?
Yes, they do. Although they fit differently from white leather sneakers, Beckett does fit true to size. If you set a Brannock device to the standard D width, then you will realize that Beckett makes its shoes to be very true to size.
What Kinds of Shoes Does Beckett Simonon Offer?
Beckett makes formal and business casual pairs of shoes.  This includes sneakers, boots, and dress shoes all made from pure leather. In each category, there are different styles of shoes available; for instance, within the Beckett Siminon's dress shoe category, you will find the Beckett Simonon Durant, Beckett Simonon Elliot, and Beckett Simonon Oxfords.
Also, a scan of their sneakers catalog will offer you several kinds of sneakers one of which is the Beckett Simonon Reid. While the Durants are known for offering leather soles, the Reids are the famous leather upper sneakers with white soles.
Can you resize a Beckett Simonon shoe?
No, you can not. Thus, it is important to know your accurate Beckett Simonon size before placing an order for a pair. It is suggested that the threads of a Blake stitched shoe can be loosened and pulled out if you find that your shoes are too small for you; this is however impossible for shoes with rubber soles or gum soles.
What should I do to a wrong-size Beckett?
The best thing to do may be to gift it to someone else whom it might fit better, the other option is to return the shoes. There is no better way to say it, but you may have to take it back to the outlet and exchange it for the proper size. If the shoes are made of something similar to Argentinian leather, then you must return them before the grain leather lining begins to show signs of wear.
It is thus best to always know your dress shoe size and sneaker size before placing an order from the website to avoid the stress of having to return them for a better sizing pair.
What size is a 42 pair of shoes in Beckett Simonon?
A Blake stitched Beckett Simonon Oxfords that is 8.5D is the normal size for a European size 42. Wide feet that are 42 will be size 9D. The Beckett Simonons do not come in conventional sizing letters and figures, thus, you must understand and use the size charts above before placing an order.
How wide are Beckett Simonon's shoes?
The classic designs of Simonon shoes are based on the average foot width. This width is identified by the letter D on the  Brannock device. Simonon does offer a wide variety of welted boots for customers with wide feet. However, they might have to specifically have their feet measured.
Should your size up in Beckett Simonon?
No, you should not size up. Since Beckett Simmon's are often true to size, sizing up will make the shoes fit too loosely.
It is however recommended that if you have narrow feet, you should buy the same size as you would buy if you were buying a pair of sneakers. If you have typical feet, then add 0.5 to the size that you would normally buy if you were buying a pair of sneakers.
And if you have wide feet, then measure your feet with a Brannock device or pay a visit to a proper Beckett outlet and have your feet measured by an expert.
How do Beckett shoes compare to Nike?
Compared to major casual/sport sneakers manufacturers like Nike, Beckett counts as an alternative style. Both manufacturers have a plethora of models with a wide range of retail prices. Manufacturing costs can be a bit higher for Beckett because of the price of the average leather processing procedures.
The fair price for any high-quality Beckett is about 500 dollars, but some pairs have a $700-900 USD cost. A $1300-$1600 price point is the highest that is readily available for Beckett. It may sound and look more expensive than a Nike, but you must remember that these are not shoes that you change regularly. Besides, there are Nike shoes that are also as high as $1500.
If we are talking size-wise, there is a close semblance between the two brands. This close semblance is easier to notice if one considers Nike sizes on the US sizing scheme. We have included a size comparison chart to help you get familiar with the two brands when it comes to size.
How do I know my shoe size?
You can measure the length of your feet and use the chart above to pick your fit. If your exact length is not on the chart, just choose the first size that is larger than your length. If you plan to have something more trimmed down, then use a Brannock device to measure your feet.
Take these measurements with you when you go shopping. Better yet, you can have your Beckett measurement taken by an actual shoe fitting expert such as a shoemaker or a cordwainer. We must warn though, this method might slow down your shoe-shopping process. However, a proper shoe size is better than a speedy purchase that ends up not fitting.
How Do I Ensure My Beckett Shoes Last Long?
Beckett has an artistic style. They have classic models and several modern designs. The downside is that many of their products are leather-based and leather can change as it is stored.

We strongly recommend that you get quality controllers such as a pair of shoe trees for your Beckets. Keep the Beckett in top shape and you will not have to worry about the shoes changing over time.
Does Beckett Simonon Offer Discounts for New Customers?
Yes. If you sign up for an email account at Beckett Simonon or become a new customer, you can receive a discount of 15%. Simply click on a Beckett Simonon coupon to apply it at the checkout.
Does Beckett Simonon Offer Special Sales?
Yes, in addition to the many special sales sections Beckett Simonon offers, you can take advantage of the 20 percent off and free shipping offers in September. This and other promotions are some of the ways the business makes sure its clients can afford to buy its items.
How Long Does it Take to Receive your Shoes After Placing an Order for Beckett Simonon Shoes?
Because Beckett Simonon makes all of its shoes by hand, the labor-intensive process can take up to 50 hours per pair. They collaborate with a group of shoe-constructing experts rather than just one to guarantee your shoes are of the high caliber you desire.
Traditionally, handcrafted shoes could take months to arrive, but nowadays, it usually only takes 4-6 weeks. However, you can expedite its delivery for a charge.
How Does Shipping of B. Simonon Work?
The initial step is to order your shoes from the website. You will receive a confirmation email from the company with all the delivery information as soon as you have completed your order. Every item you order from Beckett Simonon is handcrafted especially for you according to their made-to-order (MTO) business model.
Email updates on the status of your order will be sent to you as manufacturing proceeds. You'll be able to meet the people who produce your item, get a behind-the-scenes peek at the production procedures employed, and know exactly when they'll ship to you this way.
The Beckett Simonon website offers live chat Monday through Friday from 9:00 am to 5:30 pm CT if you want to speak with a customer service representative for thorough order status.
You will get an automated email from them with the tracking number after your order is fulfilled (sent out). If you want a more precise shipping date, you can get in touch with customer service. Your choice of goods and the date of purchase will determine the precise delivery date for your transaction.
What Is the B. Simonon Return Policy like?
The return policies of Beckett Simonon are among the easiest. All you need to do to begin the return process is complete this form. The next step is to arrange a UPS pickup or deliver the package to a UPS location.
When they receive it, their quality control team will inspect it to make sure it is undamaged and in excellent shape. Afterward, depending on what you request, they will either send you the new item or initiate a refund.
Which B. Simonon Shoes Should I Order for a Blacktie Wedding?
Men's footwear is available in a variety of styles at Beckett Simonon, so choosing the right pair for certain events can be challenging. Any shoes in their Oxford category are appropriate if you're going to a very formal wedding. You may choose to wear a pair of loafers or sneakers to a less formal occasion and still look fashionable.
Does Beckett Simonon Ship Internationally?
No, Beckett Simonon doesn't ship internationally at the moment. The reason for this is that, even though it is crucial that they offer exchanges, and returns, they can only do so inside the US's contiguous states since, at their scale, international shipping is too expensive.
Additionally, the rules controlling taxes and duties while purchasing internationally vary in each country. The business is unable to cover these expenses.
Conclusion
Obtaining a pair of Beckett Simonon shoes will provide you access to some of the most fashionable men's footwear available, but you must be aware of the proper Beckett Simonon size. The article above served as a guide to the Beckett Simonon shoe sizes as it contained the various Beckett Simonon size charts as well as answers to some of the most frequently asked questions about the company on the internet.
Remember that the Beckett Simonon shoes fit true to size, thus, you do not need to size up or down when making a purchase. Also, it is advisable to take accurate measurements of your feet and compare them with the size charts before making a purchase as the shoes cannot be resized and wrongly sized shoes will need to be returned. Furthermore, although the shoes tend to last longer which is great for the environment in the long term, they must be stored properly.
We love to hear from you so please leave a message for us in the section below and we will reply to you as soon as we can.
Picture in this post is from TheNextGentleman.com
Related to Shoes Size Charts