Geox Size Charts for Adults and Kids
This post was last updated on September 5th, 2023 at 06:44 am
Geox is an Italian brand of shoes, founded in 1995 by Mario Moretti Polegato in Treviso, Italy. Geox is known for its footwear that combines modern style with technology to create a unique, comfortable, and stylish product. The company's patented "breathable" sole allows air to circulate inside the shoe, keeping feet cool and dry (skip straight to the Geox Size Charts).
Geox has become one of the most successful shoe brands in the world. The company's success lies in its commitment to innovation, quality, and comfort. Geox shoes are perfect for those who want to look good and feel good at the same time.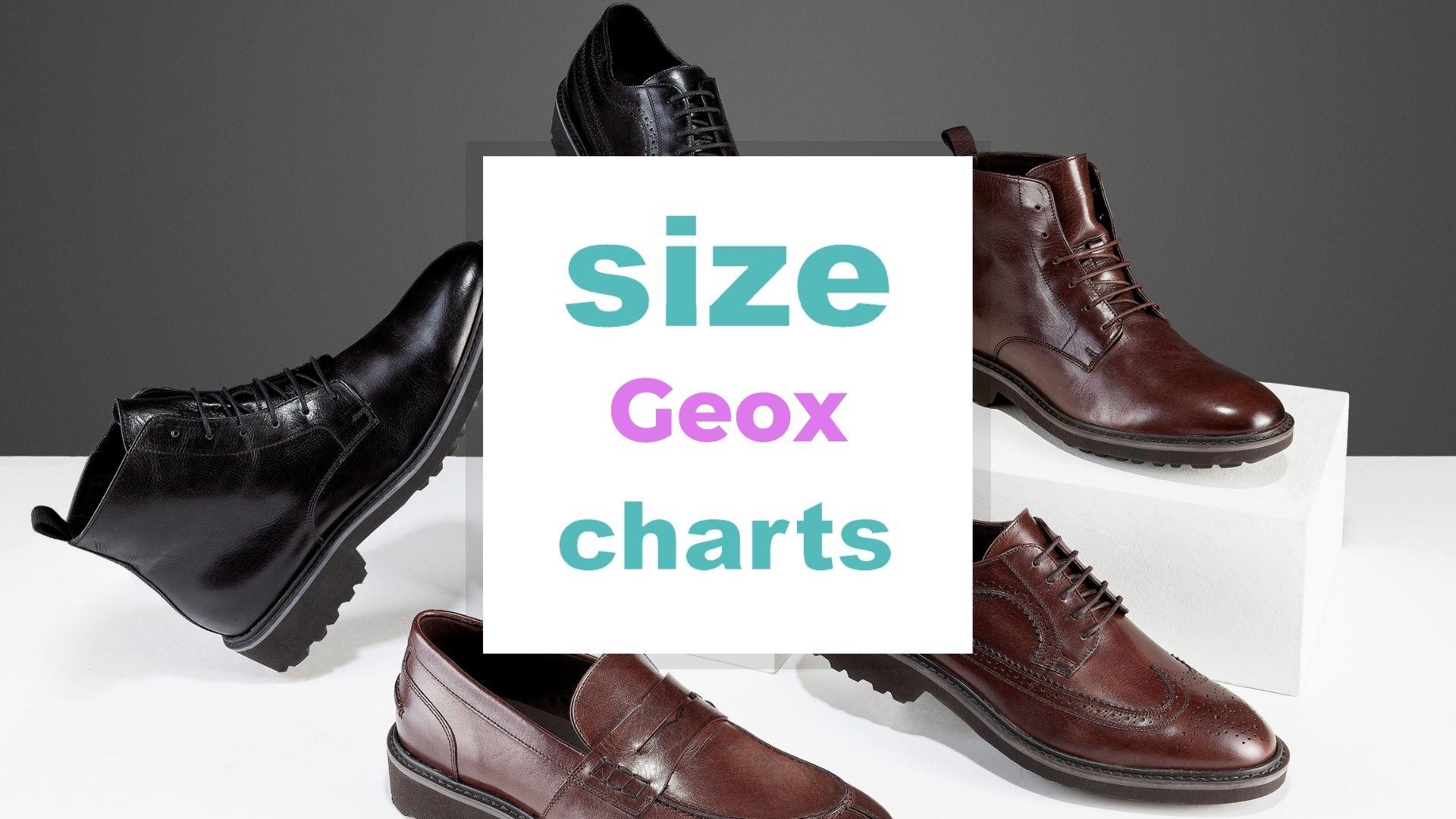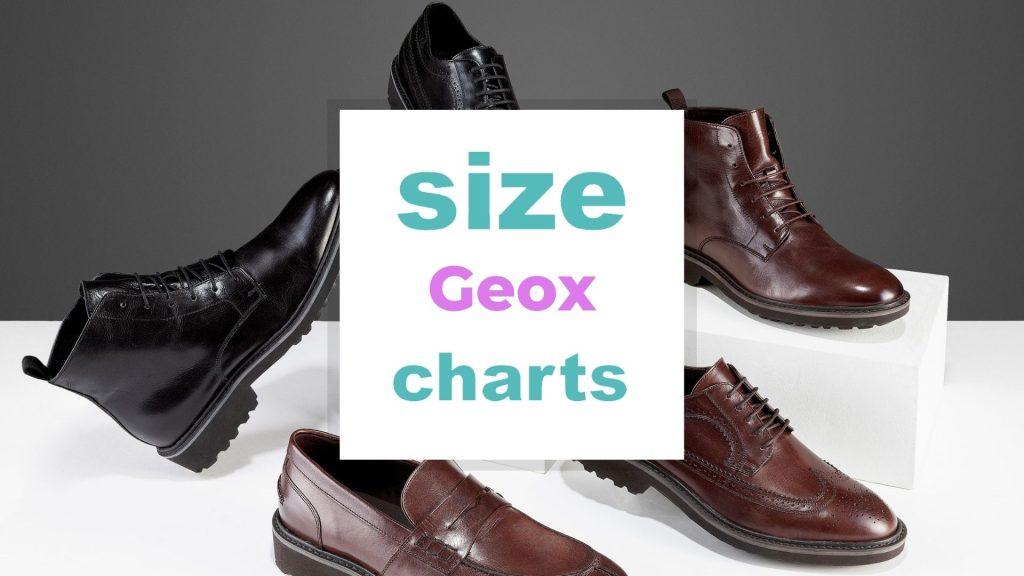 Like any other brand, many people shopping for Geox may often be unsure what size to purchase. But with this guide's help, you can determine the best size for your needs!
Jump right into the Frequently Asked Questions
Related: Foot Size Charts for Adults and Kids: What's my shoe size?, How To Measure Your Foot Size & Width, Easy EU to US shoe size conversion with size tables (foot length, IN, Cm)
Geox Size Charts Table of Contents
Geox size charts
Women Geox shoes size conversion
Related: Size Charts and Brands For Wide Women's shoes
FOOT LENGTH (cm)
FOOT LENGTH (in)
EU
SIZE
US
SIZE
UK
SIZE
22
8.8
34
4
1.5
22.4
8.96
34 ½
4.5
2
22.7
9.08
35
5
2.5
23
9.2
35 ½
5.5
2.75
23.4
9.36
36
6
3
23.7
9.48
36 ½
6.5
3.5
24
9.6
37
7
4
24.4
9.76
37 ½
7.5
4.5
24.7
9.88
38
8
5
25
10
38 ½
8.5
5.5
25.4
10.16
39
9
6
25.7
10.28
39 ½
9.5
6.5
26
10.4
40
10
7
26.4
10.56
40 ½
10.3
7.3
26.7
10.68
41
10.5
7.5
27.3
10.92
42
11
8
28
11.2
43
12.5
10
Men Geox shoe size chart
Related: Women's to Men's Shoe Size: Charts and Converter
FOOT LENGTH (cm)
FOOT LENGTH (in)
EU
SIZE
US
SIZE
UK
SIZE
25.1
10.04
39
6
6
25.7
10.28
40
7
6.5
26.3
10.52
41
8
7
26.6
10.64
41 ½
8.5
7.5
27
10.8
42
9
8
27.3
10.92
42 ½
9.5
8.5
27.7
11.08
43
10
9
28
11.2
43 ½
10.5
9.5
28.4
11.36
44
11
10
29.1
11.64
45
12
10.5
29.8
11.92
46
12.5
11
30.4
12.16
47
13
12
Youth Geox Shoe size
Related: Youth shoe size chart – US – UK – EU sizing, Kids Shoe Size Chart
FOOT LENGTH (cm)
FOOT LENGTH (in)
EU
SIZE
US
SIZE
UK
SIZE
15
6
24
8
7
15.7
6.28
25
8.5
7.5
16.4
6.56
26
9
8.5
17
6.8
27
10
9
17.7
7.08
28
10.5
10
18.4
7.36
29
11
11
19
7.6
30
12
11.5
19.7
7.88
31
13
12.5
20.4
8.16
32
1
13
21
8.4
33
2
1
21.7
8.68
34
3
1.5
22.4
8.96
35
3.5
2.5
23
9.2
36
4
3
23.7
9.48
37
5
4
24.4
9.76
38
5.5
5
25
10
39
6
6
25.7
10.28
40
6.5
6.5
26.4
10.56
41
7
7
Geox Baby shoe size chart
Related: Shoe size for Babies and Toddlers
FOOT LENGTH (cm)
FOOT LENGTH (in)
EU
SIZE
US
SIZE
UK
SIZE
9
3.6
15
1
0.5
9.7
3.88
16
1.5
1
10.4
4.16
17
2
1.5
11
4.4
18
3
2.5
11.7
4.68
19
4
3
12.4
4.96
20
4.5
3.5
13
5.2
21
5.5
4.5
13.7
5.48
22
6.5
5
14.4
5.76
23
7
6
15
6
24
8
7
15.7
6.28
25
8.5
7.5
16.4
6.56
26
9
8.5
17
6.8
27
10
9
17.7
7.08
28
10.5
10
Learn more about Geox Size and more (video)
Frequently Asked Questions
Does Geox fit true to size?
Purchasing shoes for the first time from the comfort of your home can be a very daunting process. You wonder whether the shoe will come up big or small. Luckily, Geox has always been true to size. Better still, this Italian brand has posted a detailed shoe size guide on its online website to help clients determine their ideal shoe sizes before purchase.
Geox incorporates breathable technology to create the best shoes and make their clients scientifically as comfortable as possible. Moreover, Geox has a diversified category of shoes. This means that you won't miss your pick whether you are a woman, man, girl, boy, or child.
For women with wide feet who find it hard to get a perfect fit, Geox makes the whole process a walk in the park by ensuring they produce classic shoes with a wide fit. So, large-foot women can confidently buy this without the fear that their toes will elongate the foot.
Besides, Geox footwear designs are unbeatable; a perforated rubber outsole equipped with a breathable membrane. This unique system makes Geox shoes waterproof and allows the feet to breathe. You must visit their website, check the shoe size conversion list, and order your perfect fit.
As the uniqueness created by fashion surges, each day marks the invention of crazy footwear designs and there is a great temptation to purchase and wear shoes that do not fit properly. Women especially are more likely to wear shoes that are not ideal for their foot shape and size putting them at risk of bunions, corns, and hammertoes. Why spend dollars treating feet deformities when you can avoid them by getting Geox's true-to-size shoes?
What is Geox Sizing like?
One of the most common questions when you are about to get Geox shoes virtually is how they compare in size. Generally, Geox shoes have a comfortable fit; when purchasing for the first time, it is wiser to go with half a size smaller than your customary size. Instead of width fittings, Geox gives the sole of a shoe a name for instance Magica and Joker. The specific name given dictates the fit and the width of the shoe.
To be on the safe side, however, it is good to measure your feet using the measuring guide on their website. Ensure that you are taking your measurement when your feet have expanded the most, preferably in the afternoon. This will help in getting the right shoe size for your feet and avoid putting the health of your feet in peril.
What size is Geox 41?
A Geox 41 is a medium men's shoe size and according to Geox shoe size conversion, that is US size 8 and UK size 7 with a foot length of 26.30 cm. The shoe is a perfect fit for a large percentage of people with regular feet sizes. On the other hand, a Geox 41 is US size 10.5 and UK size 7.5 with a foot length of 26.70 cm.
Whether it is your first-time purchase or you are used to taking this size, it is important to use the Geox measuring guide to be sure of your feet's size before making an order. You don't want to make the mistake of assuming that your feet are still the same size and shape as on your previous purchase. This is because the size of your foot is affected by various factors. For instance, research has it that as you grow older, your feet tend to lengthen and widen. Besides, an increase in weight also affects shoe size.
While it might not seem like a huge deal, getting a shoe that is an inch smaller or bigger can be devastating. In worse situations, wearing a smaller shoe can potentially lead to negative health effects. This explains why you have to get your fingers right when selecting your shoe size.
Is Geox good for narrow feet?
Believe it or not, finding properly fitting shoes for narrow feet can give you a bit of a challenge as compared to their wide-footed counterparts. Luckily for you, Geox has you covered; you've found the Holy Grail! With a list of shoes for narrow feet and especially for bigger kids, you won't miss your pick. From breathable sandals to school shoes for narrow feet, there are plenty of options.
To enhance comfortability, narrow feet need shoes that fit their size and shape. Better still, you'll get narrow footwear with amazing features, for example, the Keen Moxie sandal comes with an elastic bungee closure allowing you to tighten your child's sandal from the ankle to the toe.
The key to getting the best narrow feet option is going for a shoe that has a narrow ankle and incredible features to maximize its hold. Rest assured, with this detailed Geox size guide, you won't get it wrong.
Is Geox sizes the same as Clarks?
Geox and Clarks are two renowned names in the footwear industry when it comes to producing comfortable and quality shoes. Many questions come in when you're about to get a new pair. You may not be sure whether Geox sizes are the same as Clarks.
The sizing of Geox and Clarks are very different. Clarks shoes are true to size which means when purchasing, you go for the size that you normally wear. On the other hand, Geox shoes have a comfortable fit which tends to run big on most feet. As such, you'll have to size down.
Therefore, if you are size 10, you can buy size 10 of Clarks shoes and it will be a great fit. However, with Geox, you'll have to get half a size smaller than your custom size 10 – this means you'll have to go with size 9.5 to get a perfect fit and comfort.
What does fit g mean Clarks?
To help you discover the perfect fit, Clarks has a detailed shoe size guide on its website. The letter g means fitting wide. Precisely, letters are a great way for shoe brands to denote shoe widths. E is for a narrow fit, F is for a standard fit, G is for broader than average feet, and h is for extra wide feet.
Conclusion
In a nutshell, the goal is to get a shoe that fits and does not compromise the health of your feet. Knowing what your feet need is the best assurance to fulfilling your super–stylish aesthetic while keeping your feet as comfortable as possible. The last thing you want is costly surgery to solve your toe deformities after wearing tight shoes or worse, packing your shoe in the closet for years after ordering one that is slightly bigger.
Hopefully, this guide has shed some light on all the questions you had about Geox shoes. In case you have any more queries about this shoe brand, please don't hesitate to reach out, we're always ready to help.
Picture in this post is from SourcingJournal.com
Related to Geox Size Charts