Foreo Sizes and Different Types
This post was last updated on February 12th, 2023 at 11:03 pm
The goal of FOREO is to make self-care activities less complicated and more pleasurable for everyone. They have shown their products to be successful in clinical trials and deliver on their promises. They speed up your progress toward your ideal level of attractiveness and give you the tools you need to maintain it (skip straight to the Foreo sizes).
Although Foreo began in Sweden, the company's products can now be found in nearly every country. Professionals, and celebrities, adore them and (most likely) you, so let us tell you what it's all about.
The founder, Filip Sedi, was moved to action by the message of Freddie Mercury's iconic song "Heaven For Everyone," and he set about incorporating it into the company's mission. The company's name, FOREO, is an acronym for "FOR EveryOne," which exemplifies its goal of encouraging people to reject stereotypes and be authentically themselves.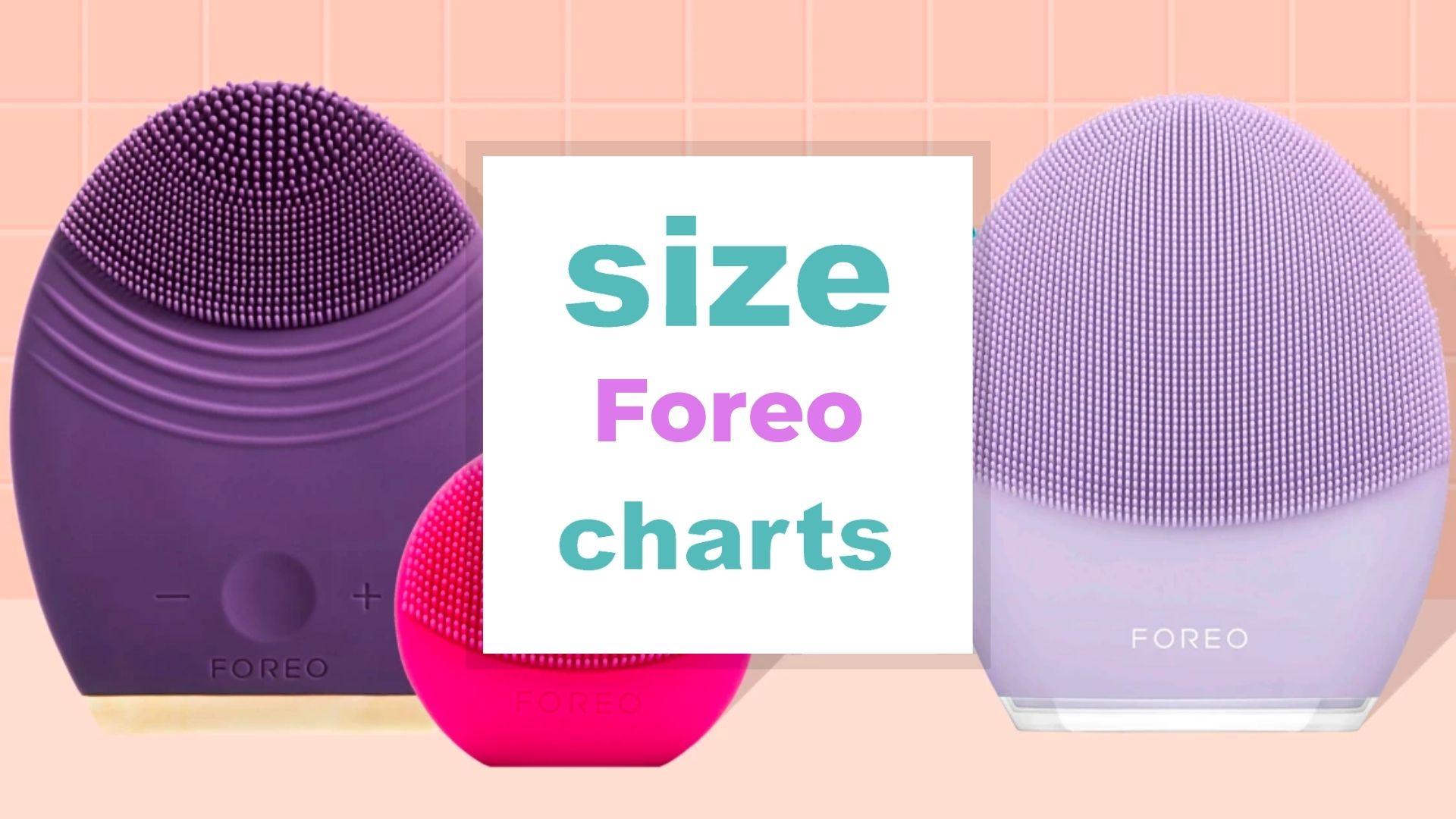 With the help of people, they hope to realize their ambition of redefining beauty through innovative science and technology so that the globe can be united and its splendor highlighted. Their dedication to the Foreo ideals ensured they remained creative, enthusiastic, and unafraid of new ideas. So, they influenced the cosmetics technology sector, which made self-care easier to access and more pleasurable for more people.
These high-tech Foreo tools provide a thorough cleansing thanks to their rotating bristles, removing even the most stubborn traces of makeup, pore-clogging sunscreen, and everyday dirt and dust. These brushes are great for giving your skin a deep clean and leaving it feeling fresh. They exfoliate and cleanse the skin like nothing else. Not only do they increase blood flow, but they also assist your items to sink in deeper.
Jump right into the Frequently Asked Questions
Related: Pimple Patches Size Guide
Foreo Sizes Table of Contents
Foreo Sizes: LUNA Comparison Chart
Related: Fingernails Size Chart: What's My Nail's Size?
LUNA COMPARISON CHART
LUNA 2 Professional
LUNA mini 2
FOREO LUNA go
FOREO LUNA fofo
LUNA Play
Size
(L x W x H): 102 x 80.5 x 35 mm 4 x 3.2 x 1.4 in
76,2 x 80,5 x 22,2 mm 3 x 3.2 x 0.87 in
50 x 50 mm 1.96 x 1.96 in
70 x 66 x 38 mm 2.76 x 2.6 x 1.5 in
60 × 65 × 30 mm

2.36 x 2.56 x 1.2 in
Weight
160 g 0.35 lbs
93 g 0.2 lbs
42.7 g 0.1 lbs
70 g 0.15 lbs
70 g 0.15 lbs
BATTERY
CHARGING: 60 min
USER TIME: up to 450 uses on one full charge
STANDBY: 90 days
Li-Ion 420mA 3.7V
Standby: 180 days
User Time: 300 uses on one full charge
BATTERY: Li-ion 70 mAh
USAGE: up to 60 uses
STANDBY: 100 days
2 AAA batteries USAGE: Up to 400 uses per 2 AAA batteries
STANDBY: 180 days
USAGE: Up to 1000 uses
STANDBY: 180 days
-SONIC POWER
2x Dual T-sonic
2X Power
1X Power
1X Power
1X Power
CLEANSING MODE
Yes
Yes
Yes
Yes
Yes
OF INTENSITIES/ SPEEDS
12
8
–
Personalized Routine w/ App
1
BRUSH HEAD TYPE
All skin types
All skin types
Sensitive Normal Combination Oily
All skin types
All skin types
SKIN TYPE / COLORS
Pink Aquamarine Magenta
Aquamarine Fuchsia Midnight Pearl Pink Sunflower Yellow
Aquamarine Fuchsia Pearl Pink Purple
Aquamarine Fuchsia Midnight Mint Pearl Pink Purple Sunflower Yellow
Aquamarine Fuchsia Black Mint Pearl Pink Purple Sunflower Yellow
ANTI-AGING MODE
Yes
N/A
Yes
N/A
N/A
USB RECHARGABLE
Yes
Yes
Yes
2 AAA batteries
N/A
# OF USES PER FULL CHARGE
450 uses
300 uses
30 uses
400 uses
100 uses non-rechargable
100% WATERPROOF
Yes
Yes
Yes
Yes
Yes
TRAVEL LOCK
Yes
Yes
Yes
Yes
N/A
Related: Battery Size Chart : what are the sizes of batteries?
Disclaimer: Users of this device do so at their own risk. Neither FOREO nor its retailers assume any responsibility or liability for any injuries or damages, physical or otherwise, resulting, directly or indirectly, from the use of the device. Further, FOREO reserves the right to revise this publication and to make changes from time to time in the contents thereof without obligation to notify any person of such revision or changes.
Foreo sizes comparison chart
Related: Lips Size Chart – A Complete Guide
LUNA PLAY
LUNA MINI
LUNA MINI 2
LUNA
LUNA 2
LUNA PRO
LUNA PRO 2
Size
60 × 65 × 30 mm

2.36 x 2.56 x 1.2 in
80 x 78 x 38 mm 3.15 X 3.1 X 1.5 IN
76,2 x 80,5 x 22,2 mm 3 x 3.2 x 0.87 in
60 × 65 × 30 mm

2.36 x 2.56 x 1.2 in
102.3 x 82.3 x 36.7 mm 4.03 X 3.24 X 1.44 in
100 x 80 x 32 mm 4 x 3.15 x 1.26 in
102.3 x 82.3 x 36.7 mm 4.03 X 3.24 X 1.44 in
Weight
70 g 0.15 lbs
87g
93 g 0.2 lbs
70 g 0.15 lbs
135 g 0.3 lbs
100 g 0.22 lbs
135 g 0.3 lbs
2nd Generation Brush Head
Yes
No
Yes
No
Yes
No
Yes
Skincare Surface
Yes
Yes
Yes
Yes
Yes
Yes
Yes
Targeted skin type
All skin type
All skin type
All skin type
All skin type
All skin type
All skin type
All skin type
cleanse time
Yes
1 minute AM 1 minute PM
1 minute AM 1 minute PM
battery life
100 uses
300 uses
300 uses
450 uses
450 uses
450 uses
450 uses
adjustable speeds
2-Speed
2-Speed
2-Speed
8-Speed
12-Speed
8-Speed
12-Speed
Dual T-motors
No
No
No
No
No
Yes
Yes
Anti-aging mode
No
No
No
Yes
Yes
Yes
Yes
Safe to use aroud eyes
No
No
No
Yes
Yes
Yes
Yes
100% waterproof
Yes
Yes
Yes
Yes
Yes
Yes
Yes
warranty
Yes
Yes
Yes
Yes
Yes
Yes
Yes
replacable brush head needed
No
No
No
No
No
No
No
How to choose the right Foreo sizes
Looking for other body measurements like breast size, ..check the links
1. Foreo Luna
When it comes to Foreo's skincare tools, the Luna is the original. It uses 8,000 pulses of the company's exclusive T-Sonic technology to smoothly exfoliate dead skin and remove up to 99.99 percent of makeup. Luna's silicone bristles have rounded tips that help exfoliate the skin and massage away signs of aging.
After washing your face with your preferred cleanser, wet the Luna and use it to smoothly scrub your face in a circular motion for 60 seconds. Massage your face for an additional minute using the device's reverse side for anti-aging effects. The Luna line comes in three different colors, each of which is designed for a certain skin type: pink for normal/sensitive skin, blue for combination skin, and white for ultra-sensitive skin.
2. Luna 2
In the years since its release, Foreo has released Luna 2, which features a brush head that's 50 percent bigger and longer silicone bristles for enhanced massage and cleaning. T-Sonic technology, which created 8,000 pulsations per minute in the previous game, returns in Luna 2 with twice the power.
Compared to the first Luna device, which could only be used for one minute of every face wash, the Luna 2 may be utilized for two minutes during each cleansing session. If you use the Luna 2 for two minutes, your skin will benefit from a more thorough cleansing and massage. It's recommended that those with oily skin look at the Luna 2 instead.
3. Luna 2 for Men
Foreo claims that the Luna 2 for guys may assist men with the shaving process, and the device is identical to the standard Luna 2 in every way except for the color (the men's version is only available in black).
To sweeten the deal, Foreo asserts that purchasing a Luna 2 for men can double the amount of time your razors remain in good working order by lowering the risk of razor burn and other irritations that are associated with shaving. If the male in your life has indicated an interest in improving his skincare routine, give some thought to giving him this skin care equipment as a gift.
4. Luna 3
Luna 3 is the most recent addition to Foreo's Luna line. It works in just 60 seconds to give you the deepest clean in the line, washing away oil, filth, and sweat while preventing future breakouts. Foreo has asserted that the touch points on the Luna 3 are more comfortable and last longer than those on the Luna 2.
If you want to jolt your skin up in the morning or enjoy a variety of experiences, the Luna 3 gives 16 different intensities of pulsating light. The Luna 3 is available in three separate skin types – normal, combined, and oily – and a single charge may support up to 650 applications.
5. Luna Mini
How does Foreo Luna differ from Foreo Mini? As opposed to the Luna, which comes in four different versions, the Luna Mini is a universal device that may be used with any of the four most common skin types (normal, dry, combo, or oily). Luna sells for $129, but a Mini can be had for $99, saving you $30.
The Mini, like its namesake, refers to a reduced size of the original Luna gadget. Additionally, it is gentler on dry, sensitive skin because of its rounded silicone bristles. The Cool Grey option is also available.
6. Luna Fofo
The sensors in the Luna Fofo, which are coated in 24-karat gold, detect how much moisture is present in the skin. A companion app for Foreo connects to your smartphone and gives you a skin score. You may find out how old your skin is and get advice on the best skin care regimen for you.
You may get up to four hundred uses out of this battery-operated device that, much like the rest of the Luna range, cleans, and massages your face. One catch though: Fofo's 8,000 T-Sonic pulsations are equivalent to those of a full-size Luna device, however, it only offers a single massage mode.
7. Luna Go
Compact and convenient, the Luna Go is like having the original Luna in the palm of your hand. The wrinkles on your forehead and smile lines from smiling will be a thing of the past thanks to the anti-aging function.
The device's portability will come in handy when you're ready to get back on the road and want to do it with peace of mind and comfort. Foreo made four different Luna Go models, one each for people with dry, normal, oily, and sensitive skin.
8. Luna Luxe
The Luna Luxe is the most luxurious facial washing device that Foreo offers. The Luna Luxe facial brush for women will set you back a stunning $6,500, while the Luna Luxe facial brush for men will run you a more reasonable $8,800. What accounts for the high cost of the Foreo? Women's Luna Luxe devices start with 18-karat gold and men's with platinum.
Both have Luna's signature T-Sonic technology and all the other standard features found in the company's other products. Is it worthwhile to spend the extra money on the Foreo Luna Luxe given that it offers functionality that is comparable to that of the Luna? If you are interested in facial washing gadgets, then you should know that purchasing one for the first time is usually not a wise investment.
Learn more about Foreo Luna collection (video)
9. Foreo Espada
A variety of variables can severely impact acne-prone skin, including food, hormonal disorders, heredity, and the skincare and makeup products that apply to the affected area of the face. You can use the Foreo Espada to help you spot and treat those annoying acne bumps.
The low-level LED blue light of the Espada kills the bacteria that can lead to acne, and the T-Sonic pulsations assist to clear out your blocked pores. Both features work in tandem to get optimal results.
After cleansing, a person can use the gadget as a spot treatment for up to three 30-second sessions. The device is impervious to water and has a battery life of up to one hundred uses on a single charge. It comes in three different colors: cobalt blue, petal pink, and magenta.
10. Foreo Iris (BLUEMERCURY)
Iris is a gadget that may massage the delicate area beneath your eyes. According to Foreo, using this device will enhance the appearance of dark circles, puffiness, and crow's feet and promote the absorption of your beauty care products.
After applying eye cream or serum, use your ring finger, which has the lightest touch of the fingers, to gently massage your iris. The spa mode, which is a tapping and pulsating motion, is automatically activated when you turn it on.
After activating the button once, pushing it again will bring up the pure mode, which combines tapping and massaging actions. On a scale from one to eight, the purest mode's intensity can be adjusted to your liking, with eight being the most powerful sensation. For a duration of thirty seconds, move the gadget in a circular motion beginning at the inner corner of each eye and ending at the outer edge.
Learn more about Foreo facial device (video)
IMPORTANT FOR OPTIMUM SAFETY: The delicate silicone touch-points of the LUNATM 2 can be damaged by using clay-based, silicone-based, or gritty cleansers, exfoliators, or scrubs.
• Before using, see a dermatologist if you have a skin issue or any other health concerns.
• If you feel any pain or discomfort while using the LUNATM 2, stop using it immediately and talk to your doctor.
Avoid getting the gadget near your eyes or eyelids while you clean the area under your eyes.
• We do not advise it to lend or lend out your LUNATM 2 to anybody else for reasons of cleanliness.
• Never leave your LUNATM 2 in a hot car or on a stove and keep it out of boiling water.
Use of this device by, on, or near minors or individuals with diminished physical or mental skills requires close supervision.
Please only use the charger that FOREO includes with your device and discard any other chargers you may have.
• If this product shows signs of damage, do not use it. It's not possible to repair this item because it has no removable components.
• Only connect this device to a protected earthed supply main to prevent electric shock.
• Because the FOREO cleansing and anti-aging massage procedures are so effective, we advise against using the LUNATM 2's Cleansing or Anti-Aging Modes for longer than 3 minutes at a time.
Ensure that you are using the gadget under the instructions provided.
Frequently asked questions
1. What is the smallest of all Foreo sizes?
The LUNA play is FOREO's smallest deep-cleansing gadget and is the perfect entry point to the LUNA line of skin care products. The LUNA play's tiny shape conceals T-Sonic technology, which cleanses the face and helps it look smoother, brighter, and more even.
2. How big are Foreo sizes?
Over just a few years, FOREO has become the most well-recognized beauty technology brand in the world, winning more than 90 awards for innovations like the FOREO LUNA micro 2 facial cleansing brush and the brand new FOREO UFO. FOREO is thriving in the world's most competitive business because it combines innovative technology with stylish Swedish design.

The FOREO retail network now includes over 10,000 locations in over 70 countries.
3. What's the difference between Luna 2 and 3 Foreo sizes?
There are a few variations between the LUNA 2 and LUNA 3 by FOREO. So that you may make an informed decision, we looked at each one in further depth.
Notable differences
The LUNA 3 improves upon the LUNA 2 in that we can manage it via an app. With the LUNA 3 and the accompanying software, you can sync the facial cleansing device to your Bluetooth and then use your phone to adjust the pressure and duration of each cleansing session. If you misplace your cleaning equipment, the app can assist you to track it down.
Rhythmic pulsations for a relaxing massage
Both of my facial washing brushes have a pulsating rate of 8,000 beats per minute. For removing grime, oil, and sweat from the skin, they both perform equally well. The LUNA 3 massager excels compared to its predecessor because of the greater variety of intensity settings it provides. The LUNA 2 only has 12, but this one has 16.
Battery
As far as batteries go, the LUNA 3 wins out. The manufacturer claims 650 uses before needing to be recharged. The LUNA 2 has a maximum of 450 uses before it needs to be recharged. Just with the LUNA 3, the LUNA 3 comes with a USB charging cord right out of the box. The LUNA 2 can be charged in one hour. LUNA 3 takes 2 hours to complete.
4. What is the difference between Luna 3 and Luna 3 Mini?
Size
When compared to the LUNA mini 3, the LUNA 3 is noticeably bigger. The LUNA 3 is around the size of your palm, while the LUNA mini 3 is a bit smaller. The LUNA mini 3's circular design makes it more manageable, but it also requires more passes to completely cover the face because of its smaller size.

The larger LUNA 3 feels more at home in the hand and is easier to grip and handle than the mini 3. The LUNA 3's tapered tip at the top could come in handy for cleaning hard-to-reach places like the bridge of the nose and the area around the temples.
Duration of Use of a Battery
There are 650 uses for the LUNA 3, while only 400 for the LUNA mini 3. The Mini 3 has a smaller battery than its predecessors, but it still has enough juice for most excursions without requiring a charger.
Color
Pearl Pink (baby pink), Fuchsia, Mint, Sunflower Yellow, and Midnight Blue are the five available Mini 3 colors (black).
These vibrant colors will add a splash of personality to any room while also blending in with your existing electronics and furnishings. There are just three color options for the LUNA 3, and they each correspond to a different skin tone. Here, it's not about the color, but what's best for your skin type: normal (pale pink), combination (light blue), or sensitive (lavender).
Cleansing & Tech Differences:
While both brushes are completely waterproof and safe to use in the shower, the LUNA 3 has a few additional app-controlled options than the mini 3.
5. What's the biggest of all Foreo sizes?
UFO is wonderful for anyone's skin, particularly for those who enjoy spa treatments like facials and sheet masks. A modality of light therapy that may both heat and chill the body. In case you suffer from acne or are prone to breakouts, try using an Espada. The Luna Mini 2+3 is ideal for those who are new to sonic washing and have sensitive skin of any type.
6. How big is Foreo Luna going?
As its name suggests, LUNA go is a smaller version of your regular LUNA 2. Its diameter is less than 50 millimeters. It has the same Anti-Aging Mode as the full-size LUNA 2 and comes in four different versions to meet the needs of people with different skin types (sensitive, normal, combination, and oily skin).
It offers the same Anti-Aging Mode as the full-sized LUNA 2 and is available in four different variants to accommodate different skin types (sensitive, normal, combination, and oily skin).
7. Can I use Foreo in the shower?
Yes, the FOREO may be used in the shower or bath thanks to its waterproof design. For what use is the LUNA small intended and how do I clean it? Thoroughly clean the bristle surfaces with soap and water, then rinse with fresh water and dry with a lint-free towel.
Conclusion
All device from FOREO is absolutely risk-free. The bristles are made of soft, germ-free silicone that will blow your mind. However, that's not all. Using low-quality or counterfeit facial washing tools and products can hasten skin's aging process in the same way. The LUNA 4's ultra-sterile silicone design helps keep skin clear and healthy.
It also works as a mild exfoliant, eliminating dulling dead skin while leaving the underlying skin unharmed and radiant. The Luna Go can be carried in the palm of your hand and has an anti-aging mode to help reduce the appearance of fine lines and wrinkles on your forehead and around your mouth.
You can use any facial cleanser you like with your Foreo, but to keep it in the best shape possible, Foreo recommends you steer clear of cleansers that contain clay, silicone, or grains.
Foreo recommends utilizing the LUNA3 cleansing device, then the Foreo BEAR microcurrent therapy device, and finally the UFO2 smart mask device to enhance nutrients and hydration and seal in all the advantages. You can then proceed with your normal skincare and cosmetics routine. With Foreo, you can complete a full facial in just 6 minutes.
The soft silicone touchpoints on your device are resistant to most facial cleansers, but to maintain it in pristine condition, we recommend avoiding cleansers that contain clay, silicone, or grains.
If you enjoyed our article, leave a comment and share the article with others.
Picture in this post is from Foreo.com
Related to Foreo Sizes