Medium Size Chart for Women (in clothes, belt,…)
Let's face it: buying clothes online can be tricky. Sizes vary greatly between retailers and manufacturers, and returning the wrong size can be a significant issue (skip straight to the medium size chart for women).
Even if you dislike shopping online, you can't deny the incredible offers accessible. Because internet retailers may draw from a big central inventory, they frequently have better clearance sales and a larger assortment than traditional brick-and-mortar stores.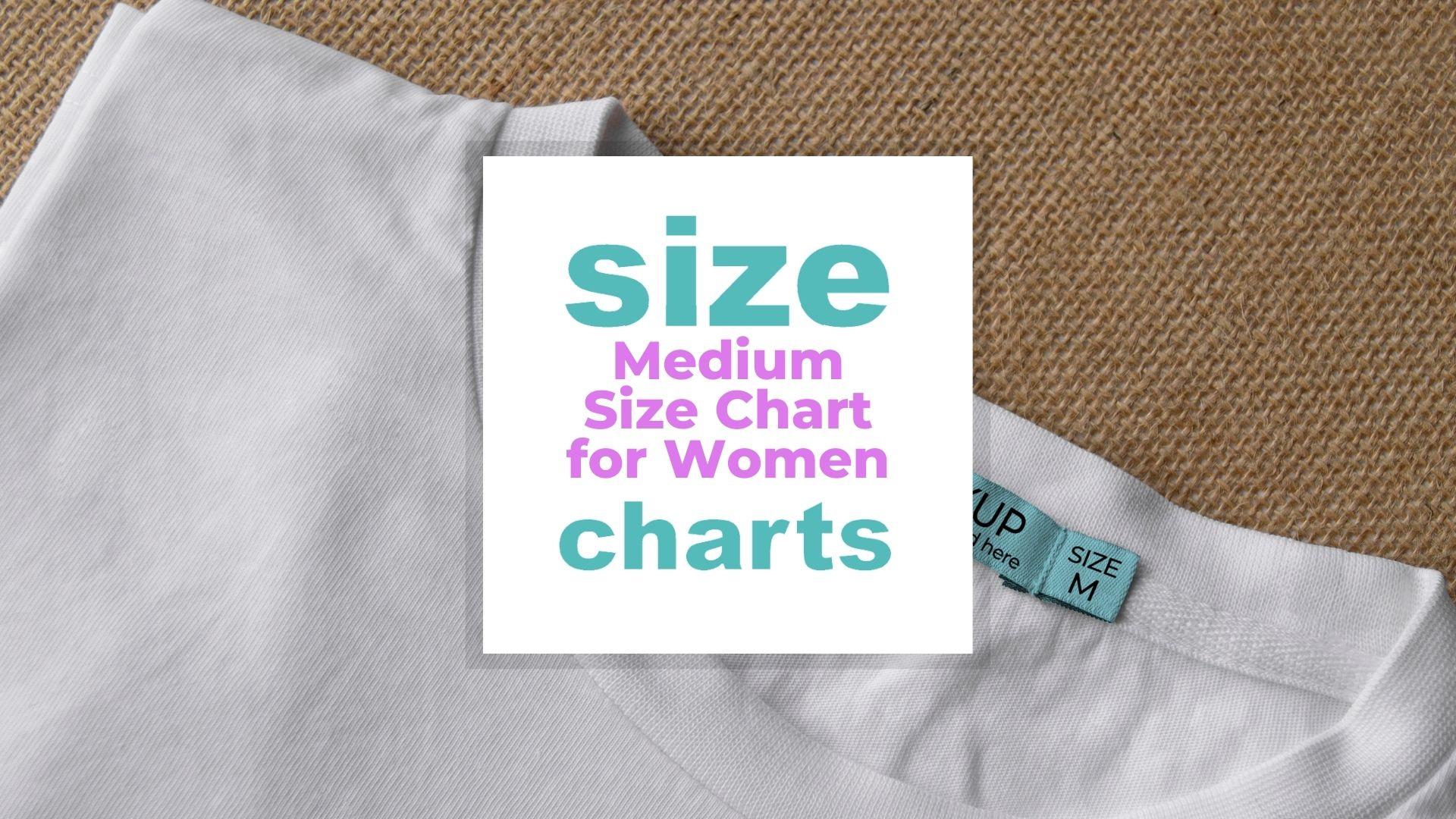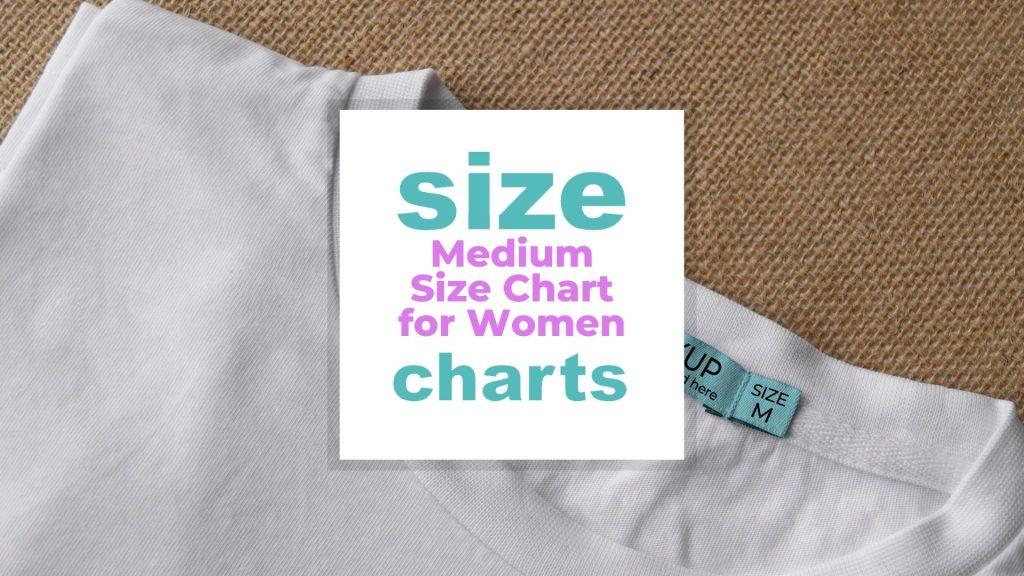 In addition to being inexpensive, it is also extremely convenient. Purchasing new clothes online saves you a trip to the store, where you may or may not find what you're looking for.
So, what should a shopper do when it comes to determining sizes and ensuring that everything fits? A few pointers will guide you in the correct way and help you find the right medium size chart for women's size.
Jump right into the Frequently Asked Questions
Related: Medium Size Chart for Men (in clothes, belt,…)
Medium Size Chart for Women Table of Contents
Medium Size Chart for Women
Related: Women's Clothing Size Chart and sizing conversion (US, UK, EU,…)
| | | | | |
| --- | --- | --- | --- | --- |
| Size |   | Chest | Waist | Hips |
| Medium | 8-10 | 36-37" / 91.44-93.98 cm | 27-28" / 68.6-71.12 cm | 37-38" / 93.4-96.52 cm |
Medium Size Chart for Women: T-Shirt
Related: Bolero Jacket Size Chart And Fit Guide for women, Female Blazer Jacket Size Chart And Fit Guide, Tops Plus Size Chart and Styling Ideas for curvy women
| | |
| --- | --- |
| Size | Chest |
| Medium | 38-40" / 96.52-101.6 cm |
Medium Size Chart for Women: Pants and Shorts
Related: US to EU Jeans Size for Women: What is EU in jeans size?
| | |
| --- | --- |
| Size | Waist |
| Medium | 32-34" / 81.3-86.4 cm |
Medium Size Chart for Women: Belts
Related: How to measure a belt
| | | | |
| --- | --- | --- | --- |
| Size |   | Waist (in/cm) | Length of Belt (in/cm) |
| Medium | 31-32 | 28-30 inch / 71.12-76.2 cm | 31-32 inch / 78.74-81.3 cm |
Medium Size Chart for Women: Underwear
Related: Women's Underwear Size Guide Chart And Sizing Guide
| | | |
| --- | --- | --- |
| Size | Hip (inches – cm) | Pant Size |
| M/6 | 38-39 / 96.52-99.06 cm | 8-10 |
Medium Size Chart for Women: Hats
Related: European Women's Clothing Size Conversion
| | | | |
| --- | --- | --- | --- |
| Head Circumference (inches) | (Centimeters) | Fitted | Easy Fit |
| 22 22 3/8 | 55.9 56.8 | 7 7-1/8 | Medium |
How To Choose The Right Medium (in Clothes, Belt) Women's Size
Related: Gender Neutral Size charts for clothing and shoes
Online shopping has to be one of life's greatest pleasures. It's like having a whole world of options at your fingertips, with the added excitement of waiting for a delivery.
Furthermore, with the coronavirus pandemic, many of us prefer to shop online rather than in our preferred brick-and-mortar establishments.
However, one disadvantage of shopping online for clothing is having to play the guessing game of finding the proper size. That stunning garment may have looked stunning on the model, but the proportions may be incorrect for your body type, or you may have pondered the fit for too long, and your size has sold out.
Fortunately, there are a few pointers to bear in mind when looking for the perfect fit online. Everything from the measurements to the fabric makes a difference in getting the appropriate size for your door. Following the nine guidelines below can significantly reduce the number of returns you receive in the future.
Measure Yourself Correctly
Obviously, taking your measurements, including your bust, waist, hips, and inseam, is one of the greatest ways to get a fantastic fit. Customers are also advised to use soft tape measures, similar to those found in tailor shops.
It is inexpensive and will significantly improve your online buying experience. It's also a good idea to consider what you're wearing when obtaining these measurements.
Consider The Model's Fit
Most of us aren't models, which is okay, but many stores feature their goods on models who may have an entirely different body type than you. Don't be fooled by this.
One of the most typical blunders is assuming that something would look the same on you as it does on a model. Instead, it proposes considering certain details that may indicate whether a garment would look good on your body type.
Use a Retailer's Sizing Chart
Even if you know your exact dimensions or have a reasonable notion of what size you are, don't neglect the size charts that many large shops provide—some of which are really useful.
Answering a few questions about your shape on the site can assist in determining a more precise fit.
Focus On The Feedback
Everyone loves a product with thousands of reviews, but instead of just glancing at the quantity, it's important to read at least a few of them. Take note of if customers think the item runs large, small, or true to size.
These candid reviews are priceless and might help you better grasp the fit. Additionally, if the site allows customers to upload images, this can be much more beneficial.
Examine pictures of customers with comparable body shapes to yours to see how the item will look on you. It's like having someone else try on your clothing for you.
Check out this video to learn how to use size charts
The Best Medium (in Clothes, Belt) Women Size For You
Related: Women's US Clothing Size: What are women's clothing sizes?
To avoid making mistakes when purchasing and wearing clothing, keep a few key points in mind. To be satisfied with your wardrobe choices, you must consider several factors.
When shopping for the latest fashion or putting together your outfit of the day, follow these steps to look your best while saving time, money, and valuable wardrobe space.
If you ask yourself the proper questions beforehand, you may buy economical, stylish, high-quality garments to preserve your confidence, feel your best, and be satisfied with your clothing selections.
You don't have to spend much money on expensive clothes to put together fashionable, sophisticated outfits. Looking fantastic is much easier than you think, not depending on your clothing budget or current fashion trends. You only need to assess whether you like it and whether it is appropriate for you.
How To Measure Medium (in Clothes, Belt) Women's Size
Related: How to Measure Your Body for Clothing Sizes
The most significant measures to take when measuring yourself for an item of women's apparel are:
Bust
Waist
Hip circumference
Inseam length for pants
When measuring for the bust, start at the widest portion of your bust and loop the tape around, going under your armpits and shoulder blades back to the front. Maintain a snug but not overly tight fit with the tape.
Wrap the tape measure around your natural waistline, which is about 2 inches (5 cm) above your belly button, when measuring for the waist. Bend to one side to examine; the crease that appears in your natural waistline.
Stand straight with your feet together and measure across the broadest area of your hips and buttocks, approximately 8 inches (20 cm) below your waist. Make use of a mirror to ensure that the tape is as level as possible.
You can also take thigh measurements by finding the fullest portion of your thigh and wrapping a tape measure around it from side seam to side seam.
Frequently Asked Questions
1. Is size 12 a medium?
This varies depending on the brand and the country. Some stores consider a medium to be a size 10, while others believe it to be a size 12-14.
A Medium will most likely be a size 12 on average.
2. Is the most frequent size medium?
While the medium is statistically more common than the extra large, it is recommended to size up to XL.
If you run out of mediums, someone who generally wears a medium can wear a big or extra large.
3. What is the size of M?
A medium has a chest measurement of 38-40 inches (96-102 cm). It also has a waist size of 30-32 inches (76-82 cm).
4. How do female sizes work?
Women's clothing sizes are represented by coded numbers that correlate to measurements of the breast, waist, hips, and height.
5. How do I decide the size of my belt?
Place the belt on a smooth, clean surface. Begin the tape measure at the hole you intend to use and measure all the way to the end of the belt, where it meets the buckle.
Belts are measured in inches, and the measurement should be rounded to the nearest inch.
6. What belt size should I choose for a 32 waist?
If you wear size 32 pants, you should get a size 34 belt. If your pants are made of elastic fabric, go ahead and order a size 36 belt.
7. What is the length of a size 34 belt?
You can select a 34 belt, which falls into the middle category and often spans 32 to 42 inches. Small sizes range from 26 to 30 inches, while large sizes range from 46 to 50 inches.
Belts for men who wear a 34 are 34 inches long from end to end.
8. Should a belt be tight?
The tightness of a lifting belt varies slightly depending on the exercise, but in general, you should have about a finger's width of space between the belt and your torso so it's tight enough that you feel it around your waist but can still breathe easily.
Conclusion
When purchasing online, the first thing to look for is a size chart. Clothing makers will provide dimensions for the bust, waist, and hips in inches or centimeters that correlate to sizes.
Each brand or designer employs a different scale. Therefore, it's best to double-check the measures used by that company.
Having your measurements ensures that you get the correct size for your garments. It is a simple approach to eliminate much of the risk associated with internet purchasing, and it can be useful if you plan on altering your clothes as well.
Picture in this post is by SocialCut on Unsplash
Related to Medium Size Chart for Women