Medium Size Chart for Men (in clothes, belt,…)
Most guys can honestly claim they are unhappy if they can squeeze into a smaller size than normal. But it does not imply that they would like to be offered garments in different sizes (skip straight to the Medium Size Chart for men).
Do you know where you fit in the men's clothes size charts, or are you buying for a guy who doesn't know his measurements?
Whether you are shopping for yourself or somebody else, purchasing a medium size for men will assure you that what you are getting will fit the user.
If you are having trouble deciding on a size, always go for the medium," as the common saying goes.
This does not imply that you will not gain some weight or ultimately fit into a smaller size, but the medium size is the smarter buy. Remember that taking something is simpler than taking something away.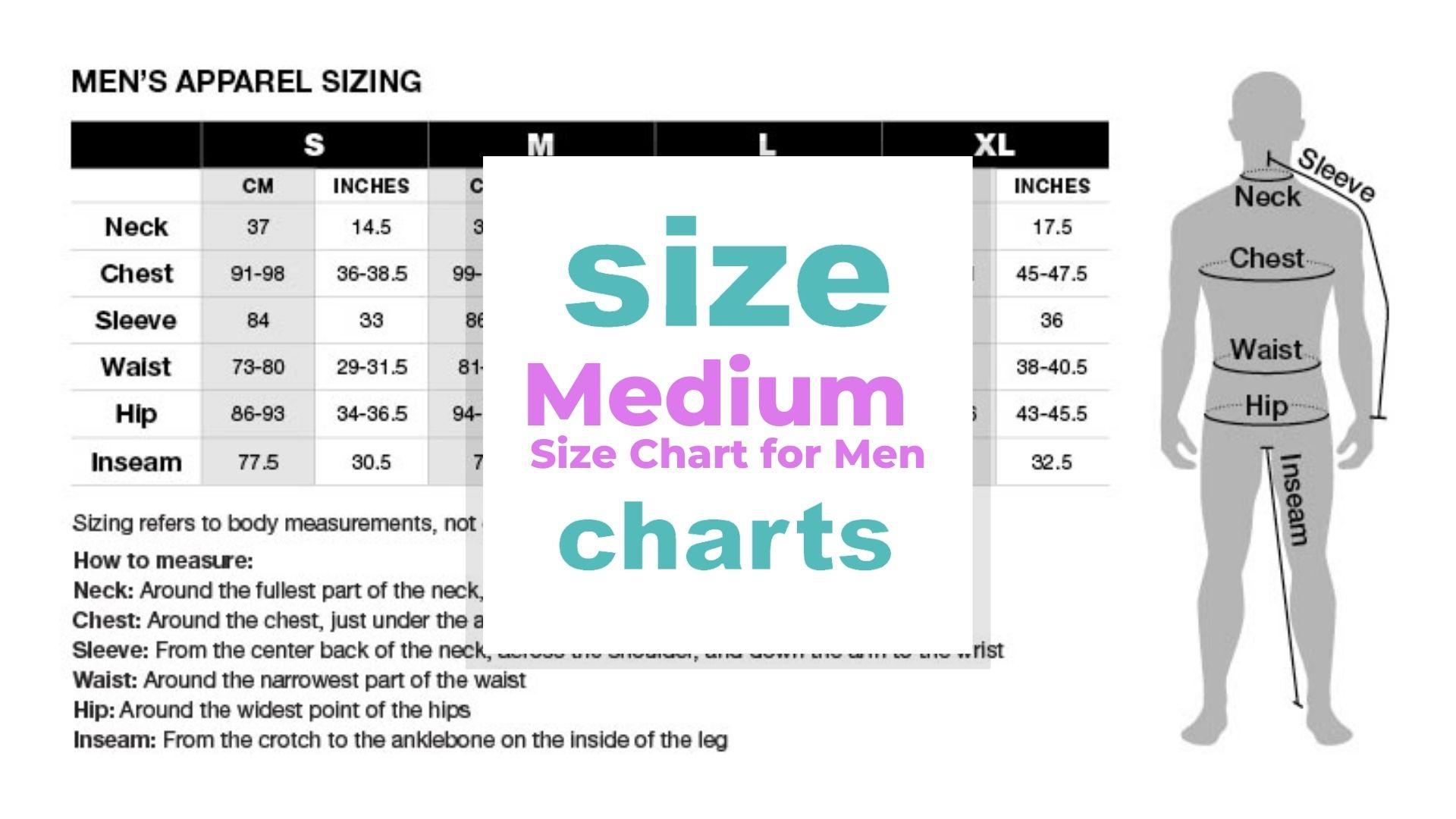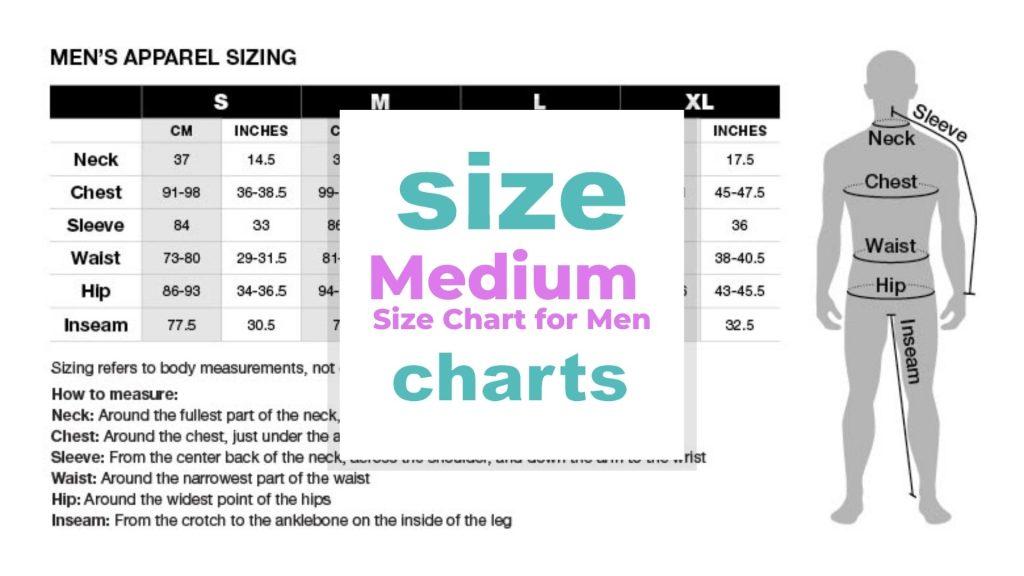 Furthermore, purchasing medium-sized clothing ensures that it will neither be too little nor too large for the user. Learn more about that in the medium size charts for men below.
Jump right into the Frequently Asked Questions
Related: Down Jacket size for men, Peacoat Size Chart And Sizing Guide, Cocoon Coat Size Chart, Patterns, And Fitting, Men's US Clothing Size conversion: pants, jeans, shirts, jackets… , US to EU Jeans Size for men – Size Conversion
Medium Size Chart for Men Table of Contents
Medium Size Chart For Men
Related: Men's US Clothing Size conversion: pants, jeans, shirts, jackets…,
| | | | | |
| --- | --- | --- | --- | --- |
| Clothing Apparel | Waist (in) | Waist (cm) | Inseam/Length (in) | Inseam/Length (cm) |
| Pants | 32 in-34 in | 81 cm-86 cm | 31 in  | 79 cm |
| Jeans | 32 in-34 in | 81 cm-86 cm | 31 in | 79 cm |
|   | Body height (in) | Body height (cm) | Chest width (in) | Chest width (cm) |
| Jacket | 67in – 68 in | 170.18 cm-172.72 cm | 38 in- 40 in | 96.52 cm-101.6 cm |
|   | Chest (In) | Chest (cm) | Waist (In)  | Waist (cm) |
| Suit | 38 in-40 in | 96.52 cm-101.6 cm | 32 in-34 in | 81.28 cm- 86.36 cm |
|   | Waist (in) | Waist (cm) | Length of Belt (in) | Length of Belt (cm) |
| Belt | 30.5 in-32 in | 77.47 cm- 81.28 cm | 33 in-34 in | 83.82 cm- 86.36 cm |
|   | 32.5 in-34 in | 82.55 cm- 86.36 cm | 35 in-36 in | 88.9 cm- 91.44 cm |
|   | US Size (in) | US & UK Size (cm) | European (in) | European & German Size (cm) |
| Underwear | 34 in | 86.36 cm | 5 | 12.7 cm |
| Shirt | 15.5 in | 39.37 cm | 39 in | 99.06 cm |
Measurement Guide For Men
Related: How to Measure Your Body for Clothing Sizes
Your clothing size is determined by your figure, posture, and size. Take your measurements and then utilize one of the sizing tables to determine the best fit for you. Make sure to measure naked and close to the physique.
How Do You Measure A Man's Waist?
Related: Waist Size Chart for men, women and kids
Straighten your back. Eliminate your outer clothes since you must measure on the skin to achieve the most precise measurements.
Find the top of the hip bone and the center of the rib cage.
Wrap the measuring tape around the waist and hips. One end overlapped the other, starting at the center point.
Breathe properly and take the necessary measures.
How Do You Measure A Man's Chest?
The chest is the crucial body section to evaluate for a suit, jacket, or shirt.
Stand upright with your arms straight.
Tell your friend, husband, and mother to place the measuring tape over your chest. Ensure the measuring tape has enough space to move but not more than an inch. You may add one inch based on the kind of jacket or shirt.
With a measuring tape, measure your body at the strongest portion of your chest.
How Do You Measure A Man's Hip Or Height?
Hip measurement: The hip is assessed in the same manner as the chest but around the hip. Take a horizontal measurement at the fullest part of your buttocks.
Height measurement: Kindly remove your shoes since height measures must be taken without footwear, from head to toe. The suggested measurement point is the door frame where you can stand upright.
The Easiest Way To Determine Your Shirt Size
Related: Men's Dress Shirt Size Charts, Shoe width Size Conversion: The importance of width!, What is the Average Foot Size for Men?, Foot Size Charts for Adults and Kids: What's my shoe size?
Although with the correct instruments and procedures, obtaining body measurements may be difficult without assistance.
If you have to find out what size shirt you use but are taking measures alone, there is a simpler method: rather than assessing your body, take your best-fitting shirt from the wardrobe and measure it. Body measurements are not the same as measuring a current shirt.
Here are some easy guidelines to assist you in receiving useful figures from this method.
Tips for measuring your shirt:
Before you measure a collar, make sure that it is extended flat. Then measure from the buttonhole's middle to the collar button's middle.
Button the shirt and put it on evenly to assess the chest. Then, measure from edge to edge right underneath the underarm and double it.
The shirt's waistline will be the narrowest place. Measure along the outer edge of the sleeve, across the sleeve seam. Begin at the top of the shoulders and work your way down to the cuff.
Learn more related to medium size chart for men and about how to measure for the men's shirt (video)
Frequently Asked Questions
1. How to measure a man's waist for pants?
The waist is measured at the base of the hipbone, over the shirt. The measuring tape must be placed snugly but not tightly.
Meanwhile, the inseam is measured from the bottom of the crotch to the tip of the boot or shoe.
2. What is the average weight and height for medium-sized men?
Your weight might represent your current level of health as well as the proportion of muscle mass and fat in your body, thus also reflecting how your body builds.
The average weight of a 20-year-old medium is 195.7 pounds, and the average height is 5 feet and 9.1 inches.
3. What is the standard medium size chart for menn?
For an average height of 5'8″ to 5'11", the medium size is 38-40, with a chest size of 38-40 and a waist measurement of 32-34.
4. Why do 6'2″ fashion models model most medium-sized clothes?
This is because medium size defines a broader and more attractive figure of 6'2″ models, which many people find appealing.
Furthermore, some brands have different measurements than others, so before purchasing, make sure you understand the brand measurement as well as the nation you are purchasing from.
5. What is the medium shoe size for a man?
The average male foot size varies from nation to nation. Several factors also determine the size. In the United States, men's shoe sizes vary from 9 to 12, but in Europe, they range from 32 to 50.
Conclusion
The problem of sizing and fitting has risen in relevance with the expansion of the wearable technology sector and advancements in high-tech clothing for more nice clothes and uniforms.
This is not only a style or aesthetic option; it is an essential aspect of providing practical solutions for all sorts of garments considering all genders, sizes, and shapes.
Furthermore, the problem of proper clothing size and fit is so significant that it has resulted in the invention of various sizing charts to resolve the wrong size and fit.
So, while shopping for men's clothing, consider the measurement that would best fit since different guys have varied body types and measurements.
However, if it is a surprise present for a guy whose size you do not know, it might be highly perplexing. A medium size should be chosen. This will assure you that the item you purchase will fit the wearer. If you come across this confusing issue, please leave a remark! We will assist you.
Picture in this post is by Sarah Dorweiler on Unsplash
Related to Medium size chart for men