Gucci Women's Sneakers Size Charts
This post was last updated on February 26th, 2023 at 07:08 am
Gucci is an Italian high-end luxury fashion house that is recognized all across the globe. They are all around in the clothing and shoes they manufacture (skip straight to the Gucci Women's Sneakers size charts).

We know Gucci for their designer sneakers for women, which have received a huge purchase. Thus Gucci women's sneakers are footwear designed by Gucci purposely for women.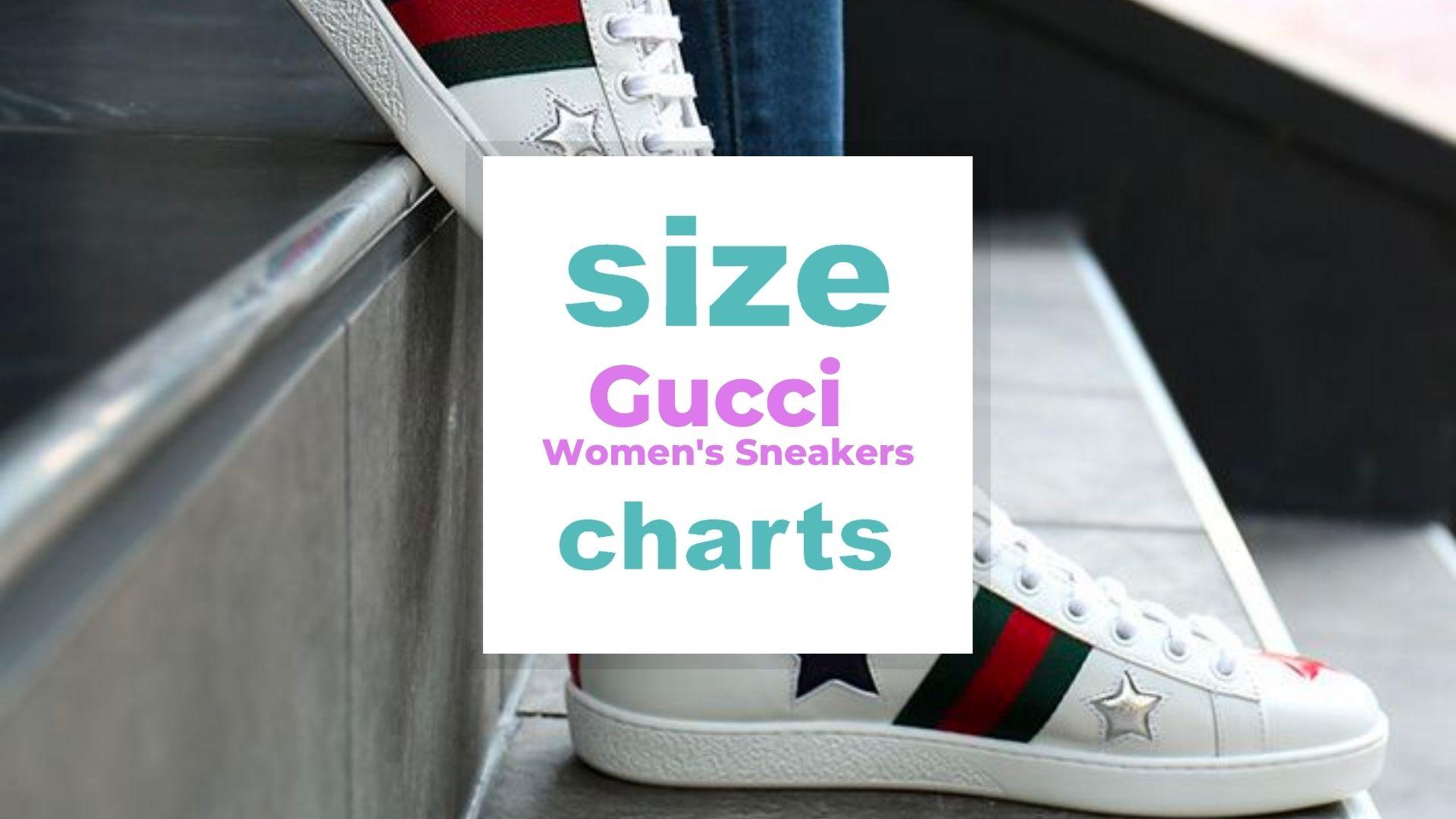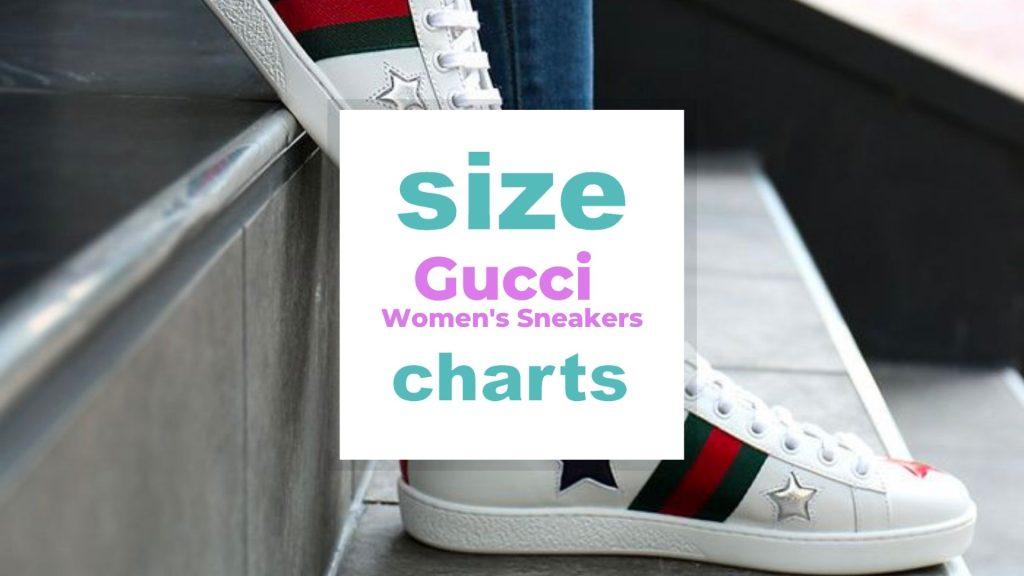 There is a variety of footwear worn by women. They include; Gucci sneakers, Gucci Loafers, Gucci Jordaan, Gucci Run, Gucci Rhyton, Gucci rhyton, Gucci Ace, Gucci Tennis, Gucci Basket High-Top, or Gucci GG. For a long now, many women's sneaker houses have tried to penetrate the market, creating tension among themselves.
Gucci women's sneaker remains firm in the market. Gucci sneakers continue to stand out in a market that increasingly looks to technology features and trend-driven aesthetics to strike the mark. Other brands yell for attention.
Jump right into the Frequently Asked Questions
Check the Size charts for Gucci Belts, Gucci Shoes, Gucci Slides, Sunglasses, Bracelets, hoodies, tights, socks, and Gucci rings, Gucci Bra sizes. Into a fancy luxury shopping mode, you can discover all luxury size charts here
Table of Contents
Why is a good Gucci women's sneaker size important?
Related: Foot Size Charts for Adults and Kids: What's my shoe size?, How To Measure Your Foot Size & Width
Getting a good women's sneaker size is important since it will boost your fashion and style and ensure there is no harm to your foot. Comfortable sneakers have a Collection of Features that we know as Gucci shoes. We know favorite brands such as Gucci are true to size, be it Italian sizes or any other size.
For the foreseeable future, every Gucci silhouette will be fashionable. Consider the Ace Sneakers, subtle leather tennis shoes that go with everything in the current outfit. Or the Gucci Screener, which revives vintage basketball fashions and is both fashionable and unfashionable.
Women have different feet, and thus the size of your sneaker will vary. Some have broader feet, narrow feet, normal feet, flat feet, or skinny feet, while others have cute feet. Use our size guide for the Gucci collection of shoes for women for a comprehensive review.
Gucci women's sneakers size charts
Related: What Size Gucci Tights am I?, Gucci Hoodies Size Charts
| | | | | |
| --- | --- | --- | --- | --- |
| CM | Inches | US | UK | EU |
| 21 cm | 8.27 in | 4 | 1 | 33½ |
| 21.5 cm | 8.46 in | 4½ | 1½ | 34 |
| 22 cm | 8.66 in | 5 | 2 | 34½ |
| 22.5 cm | 8.86 in | 5½ | 2½ | 35 |
| 23 cm | 9.06 in | 6 | 3 | 35½ |
| 23.5 cm | 9.25 im | 6½ | 3½ | 36 |
| 24 cm | 9.45 in | 7 | 4 | 36½ |
| 24.5 cm | 9.65 in | 7½ | 4½ | 37 |
| 25 cm | 9.84 in | 8 | 5 | 37½ |
| 25.5 cm | 10.04 in | 8½ | 5½ | 38 |
| 26 cm | 10.24 in | 9 | 6 | 38½ |
| 26.5 cm | 10.43 in | 9½ | 6½ | 39 |
| 27 cm | 10.63 in | 10 | 7 | 39½ |
| 27.5 cm | 10.83 in | 10½ | 7½ | 40 |
| 28 cm | 11.02 in | 11 | 8 | 40½ |
| 28.5 cm | 11.22 in | 11½ | 8½ | 41 |
How to choose the right Gucci women's sneakers size
Related: Gucci Jeans Size Chart, Gucci Cap Size Chart and Fitting, Gucci Double G Ring size charts
Shoe sizing is important when choosing the right Gucci sneakers for you. With the various regular-size classic Gucci loafers, Ace, or Rhyton, you always need the right size to have an outstanding full-blown Gucci outfit.
Our Gucci shoes aim to ensure you get the right size for your foot. Use our official size charts to get your shoe size if you have a normal foot size.
You can still get a comfortable sneaker using our size guide if you have narrow, flat, or skinny feet. Here are some Gucci sneakers suitable for your women.
The Gucci Ace
Gucci Ace is one of the best Gucci sneakers shoes. It is the most well-known pair of Gucci sneakers, mostly for women. Ace is the definition of luxury according to the Gucci brand.

The classic style details that attract the eye but don't shout for attention are what it inspired the vintage style. The Gucci Ace is adaptable and utterly ageless because it is lightweight and never overly flamboyant.
You can get the correct size for a GucciAce sneaker with your exact foot size. They are almost similar to Gucci Jordans.
Gucci Rhyton
Gucci Rhyton is the most comfortable women's sneakers to wear. When wearing a Gucci Rhyton, it feels like walking on a pillow because of how comfortable they are.
You can get a handful of Gucci Rhyton sneakers since they will never disappoint you.
Gucci screener
These are Italian high-fashion brands that hit the market in 2019. The Screener sneaker, so named because a basketball strategy inspires it, is most visibly modeled after popular hardwood trends.
This silhouette's typical rough finish feeds the retro aesthetic fire. If you have this pair of sneakers in your jam-packed wardrobe, your day wardrobe will get positive comments from people.
Gucci Basket High-Top
This sneaker was inspired by early basketball. It is a multicolored sneaker that blends well with any fashion style of clothing.
You can go for this shoe if you have the right measurement for your feet.
The Gucci Ace GG Supreme
Gucci Ace GG Supreme produces high-quality low-top shoes with the best materials. The high-end low-top sneaker is specially produced in Italy using eco-friendly materials.

Many of the most devoted fans of the premium brand have instantly purchased the Gucci Ace GG Supreme sneaker, which has a high retail price of 0, to add a touch of high-end style to their ensembles.
Are Gucci sneakers ideal for sporting?
Technical sportswear, such as track spikes, cycling shoes, and climbing equipment, have particular fit standards since they need to fit well in your body.

A shoe should be comfortable and feel perfect out of the box. Don't count on a break-in period to alter the fit.

A tailored lacing technique can help with some concerns, including heel sliding, discomfort from high arches, or a propensity for foot swelling.
Gucci Women's sneaker return policy
If your Gucci women's sneaker didn't please you or the sizing wasn't right, don't word since Gucci has a customer return policy. Returns can be sent or made in person. We can return online purchases within 30 days of the delivery date. Choose
Return this Item from your MY GUCCI account's order information via your delivery confirmation email. Your prepaid shipping label will be sent to you via email or made accessible for download in your Gucci account as soon as the request has the go-ahead.
Check out this Gucci Shoes Unboxing video for honest reviews
Frequently asked questions
1. Are women's Gucci shoes true to size?
It is recommendable to go for your true size whenever you order your Gucci sneakers online or physically. Though if you know you have a wide foot, size it's best if you size up to avoid disappointment.
2. What size is 39 in Gucci shoes?
Gucci size 39 is equivalent to US size 9.5 and EU size 6.5.
3. How do I know my Gucci shoe size?
To know your Gucci shoe size, you'll have to measure your foot using a measuring tape and then find an equivalent Gucci shoe size.
4. Do Gucci shoes run true to US size?
Yes. Gucci shoes in the US run true sizes in the US for Women Gucci sneakers.
5. Should your size up in Gucci sneakers?
Gucci sneakers are at women's or men's; it's advisable to size down your Gucci leather sneakers anytime you buy them.
6. Do Gucci slides run big or small?
Like many sneaker designer brands run small, Gucci is not an exception. It's best to size up your sneaker when purchasing from these brands, but Gucci sneakers are always true to their sizes.
7. Do Gucci trainers come up big?
High-end designer products fit smaller than mainstream brands; Gucci clothing is renowned for fitting true to size.
Conclusion
To know if the Gucci sneakers fit well, running shoes, gym shoes, sneakers, and most other footwear collections should meet the requirements that ensure your foot is safe. The first is that when you flex your foot, walk, or sprint, they should lock in your heel and not fall out.

Also, the mid-foot should be snug but not too tight. Finally, the toes have room to spread out sideways without feeling restricted by the front of the shoe, which should be a thumb's breadth away from your longest toe.
Thank you for reading our helpful Gucci women's sneakers size guide. In case of questions, please ask; we will help you in any way possible.
Picture in this post is by Pinterest
Related to Gucci Women's Sneakers