What Size Gucci Tights am I?
This post was last updated on February 26th, 2023 at 07:08 am
Gucci tights are a textile garment that, as the name suggests, often covers the body. In a tight fit from the waist to the tips of the toes. They are available in completely opaque, opaque, sheer, and fishnet designs. Gucci provides a wide variety of Gucci tights size for women.
Since debuting at the Gucci 2020 Fall Show, Gucci tights have been an instant hit. Alessandro Michele, who also serves as the brand's creative director created the Gucci tights.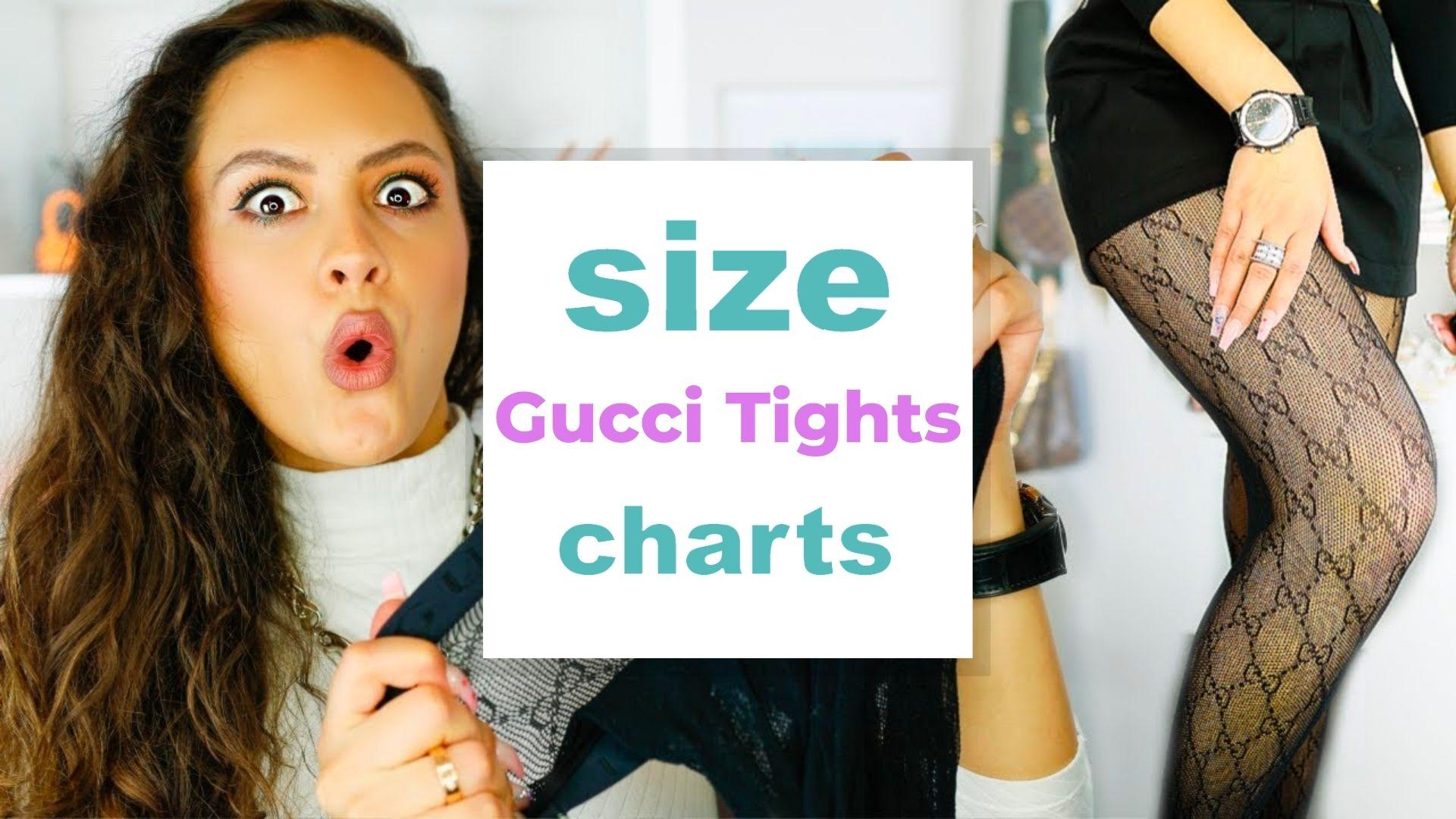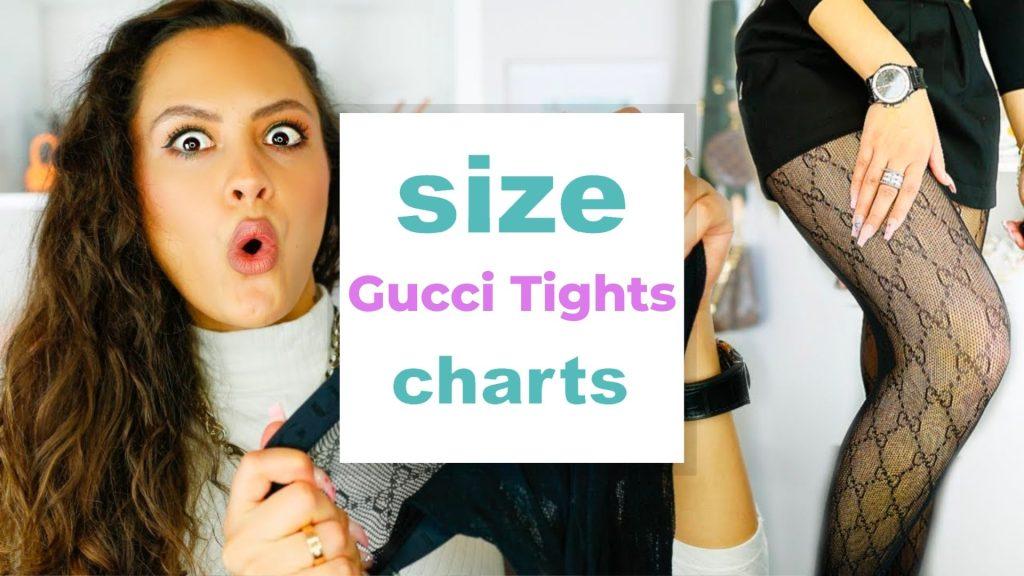 We combed the internet to bring you Gucci designer tights from the upscale boutique Gucci and other retailers' inspired Gucci tights. These tights are offered in traditional black tights and white patterns. But as their demand increased, Gucci added new styles and designs to its hose.
Jump right into the Frequently Asked Questions
Check the Size charts for Gucci Belts, Gucci Shoes, Gucci Slides, Sunglasses, Bracelets, hoodies, tights, socks, and Gucci rings, Gucci Bra sizes. Into a fancy luxury shopping mode, you can discover all luxury size charts here
Gucci Tights Table of Contents
Why is a good Gucci tights size important?
Related: Gucci Hoodies Size Charts
Good Gucci tights size goes a long way in enhancing your outfit. If you have your chunky boots, cute boots, or even cute rain boots, you can match them with your colorful tights, brown tights, or bride.
Classic Designer tights unquestionably hold a special place in the hearts of fashionistas. It established itself as a standout piece of clothing that instantly makes an ensemble look better. Even better, the impending chilly weather is the ideal justification for adding tights to your wardrobe.

Tights go well with skirts, shorts, and all lengths, including mini and maxi dresses. You might even cover it with a coat. There are countless choices for styling.
Gucci Tight Size Chart
Related: Gucci Jeans Size Chart
| | | | | |
| --- | --- | --- | --- | --- |
| Size | Height (cm) | Height (inches) | Weight (kg) | Weight (lbs) |
| S | 145 – 160 cm | 43 – 60 in |  57 – 63 kg | 95 – 132 lbs |
| M | 150 – 165 cm |  43 – 65 in |  59 – 65 kg | 95 – 143 lbs |
| L | 155 – 170 cm |  55 – 70 in |  61 – 67 kg | 131 – 154 lbs |
| XL | 160 – 180 cm | 60 – 85 in |  63 – 71 kg | 132 – 187 lbs |
Gucci GG Tight Body Size Chart
Related: Gucci Cap Size Chart and Fitting
| | | |
| --- | --- | --- |
| Waist | Centimetres | Inches |
| Extra Small (XS) | 65 – 70 | 26 – 28 |
| Small (SM) | 70 – 75 | 28 – 30 |
| Medium (MD) | 75 – 80 | 30 – 32 |
| Large (LG) | 80 – 85 | 32 – 34 |
| Extra Large (XL) | 85 – 90 | 34 – 36 |
| 2 Extra Large (XXL) | 90 – 95 | 36 – 38 |
| Hips | Centimetres | Inches |
| Extra Small (XS) | 85 – 90 | 34 – 36 |
| Small (SM) | 90 – 95 | 36 – 38 |
| Medium (MD) | 95 – 100 | 38 – 40 |
| Large (LG) | 100 – 105 | 40 – 42 |
| Extra Large (XL) | 105 – 110 | 42 – 44 |
| 2 Extra Large (XXL) | 110 – 115 | 44 – 46 |
How to choose the right Gucci tight size
Related: Gucci Double G Ring size charts
The Gucci tights come in three different sizes, Small (S), Medium (M), and Large (L). Gucci has recommended small (S) sizes for people who are 145CM to 160CM tall. Medium (M) for 150 cm to 165 cm, and Large (L) for 155 cm and more.

Given that they are longer than other tights, they were probably made intending to cover legs with the least amount of strain.

In the United States or Italy, Tights outfits are very affordable. You can spare small dollars on tights, one of your Gucci luxury items in your wardrobe.
Gucci tight recommendation
Following the Gucci personalized recommendation, you can buy a pair of medium sizes for 164cm if you are a tall person. They are your perfect fit, especially black pantyhose, Bordelle pantyhose, or designer dupes.

They glide on easily and fit your legs with no special stretching, making them incredibly comfortable to sit in. Unlike stretchy regular tights occasionally, they do not feel like they are about to snap.
They are just a little too loose around the hip area. The tights are not so loose that they can roll down your leg, but they could certainly use a little more hold and support around the hips. According to the label, the size M is suitable for hips measuring 80 to 90 cm in breadth.
There is no doubt that you would feel more at ease if you had a better hold around the hips. If you are worried about the fit, keep in mind that you can still get classic Gucci tight designs to fit you well. If you plan on having your black outfit on, such as a black dress, black tights feature you well. If you are for bright colors, Gucci still has your color for tights.
Best way to style your Gucci Tight
This season, layer an oversized sweater over a plain white oversized shirt while wearing tights. Wear it with a pair of black knee-high boots and some leather shorts underneath. Put on a wool coat for additional warmth.
Add some white GG tights to liven things up. Use a knee-length coat or a minidress with it. Wear some sneakers for a sporty style or loafers for a more formal appearance. The tights make a bold statement, elevating any ensemble we wear them with.
The best Gucci tight for you
You can be able to get your right Gucci tight size on our size chart guide. If you can get your body weight in kg or lbs and also measure your height in inches or centimeters, you can easily check your right fit o our size chart. After getting your right Gucci size, you can comfortably order your tights online or do in-person shopping.
Durability
Gucci tights are very good for durability. They are long-lasting because of the materials used to make these tights. They make Gucci products with carefully selected materials.

Please handle with care for longer product life. It's advisable to handwash your Gucci tights with cold water, and also, if need be, you can iron them at a very low temperature to remove any creases or wrinkles.
Frequently asked questions
1. Are Gucci tights still in?
Yes. Gucci tights are still in and doing well before the fall-winter of 2022. Make sure you get your Gucci tights ready.
2. How do you wear Gucci tights?
I wear Gucci Tights to cover the body from waist to toe. You can wear them when wearing black knee-high boots or a mini dress. There are a variety of Gucci tights you can choose from.
3. How do you fix Gucci tights?
The first and most common method is using nail polish; you can use any color that you like, but I prefer clear, and the reason this works is it acts as glue.
4. Are Gucci tights one size?
Gucci women's tights come in three sizes: small, medium, and large. Small as (S), Medium as (M), and Large as (L).
5. Does Gucci sell white tights?
Yes. Gucci sells white tights. So, if white is your color, you can easily get your white tights for Gucci.
6. How big is Gucci tights size L?
Gucci tights size L size is 155-170cm tall.
7. How do I keep my tights from rolling down?
Put on a pair of knickers, then your tights, and then put on another pair of knickers on top to prevent the tights from sagging. The optimum style will have a strong elastic, ideally high-waisted for added hold.
Conclusion
The Gucci GG tights' color scheme is described as beige and ebony on the brand's website. I don't see the ebony. Instead, I would characterize them as primarily beige with dark brown accents, or as I would refer to them, "the Gucci brown," a color distinctly associated with the company.

Apart from the GG pattern, the only distinctive ornamental features worth highlighting in terms of the overall appearance are the back seams, which extend all the way to the toe.
There aren't any bells and whistles in the structure and style of Gucci GG tights. There are no non-slip patches, reinforced toes, or heels, which are not occasionally found in expensive hosiery. There is no compression in the hip or tight area; therefore, Gucci tights are not possibly used for form-shaping.
A smooth, elastic waistband that is not extremely snug, meaning it does not cut into the skin or feel uncomfortable, holds the tights in place. Gucci GG tights are, therefore, strictly speaking, merely a pair of fairly simple pantyhose with the one exceptional impact of a stunning design.
If you have questions regarding Gucci tights, please ask in the comment section. Thank You.
Picture in this post is by Joshua Rondeau on Unsplash
Related to Gucci tights size