Down Jacket Size for Men
This post was last updated on June 22nd, 2023 at 11:32 am
Choosing the perfect down jacket is easy when you know what to look for! In this blog post, we will review some important factors on how to choose the best Down Jacket size for yourself or someone else this holiday season. Read through our down jacket chart and sizing guide.
All major fashion brands offer down jackets, like Tommy Hilfiger, American eagle, old navy, and much more.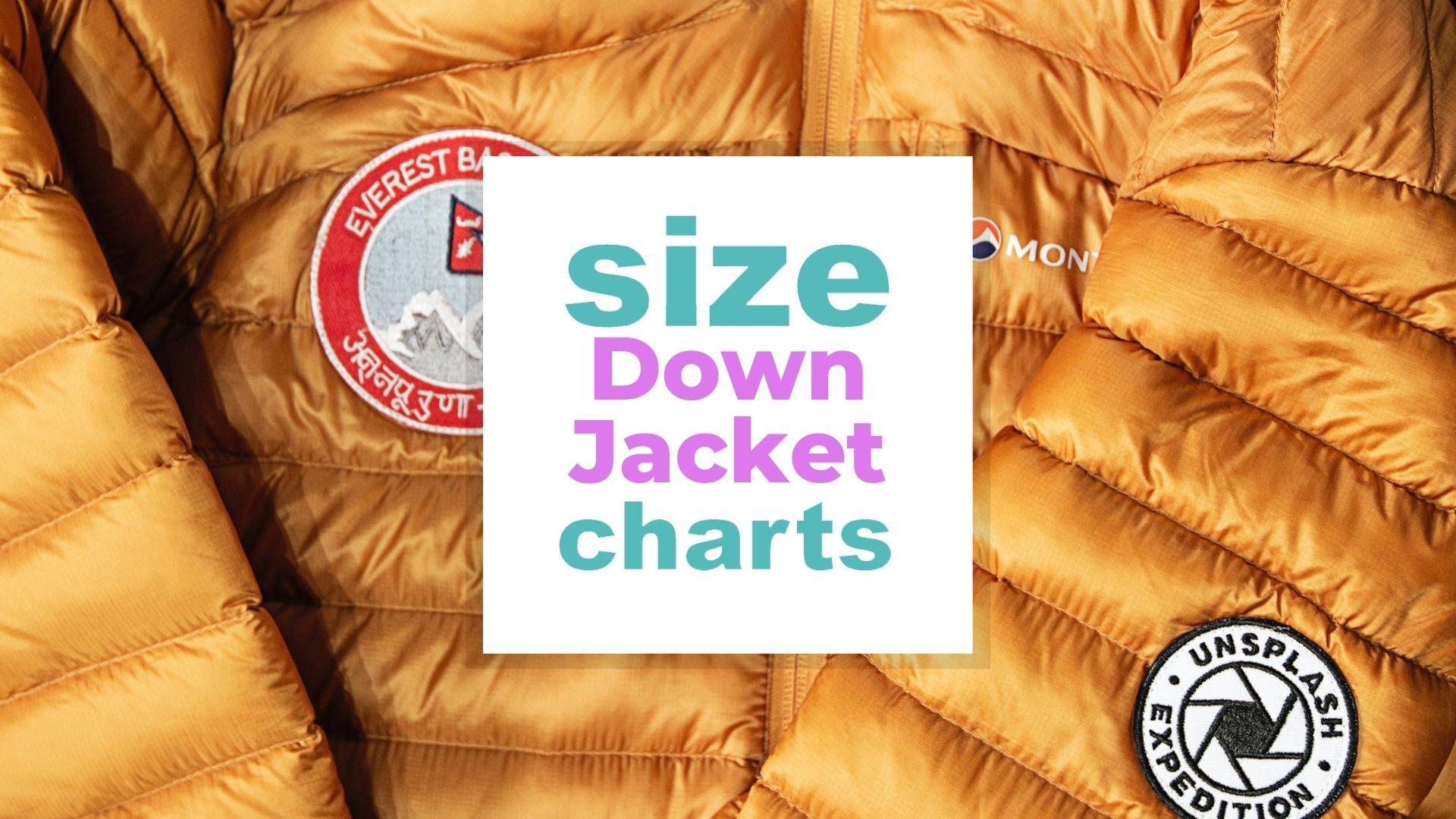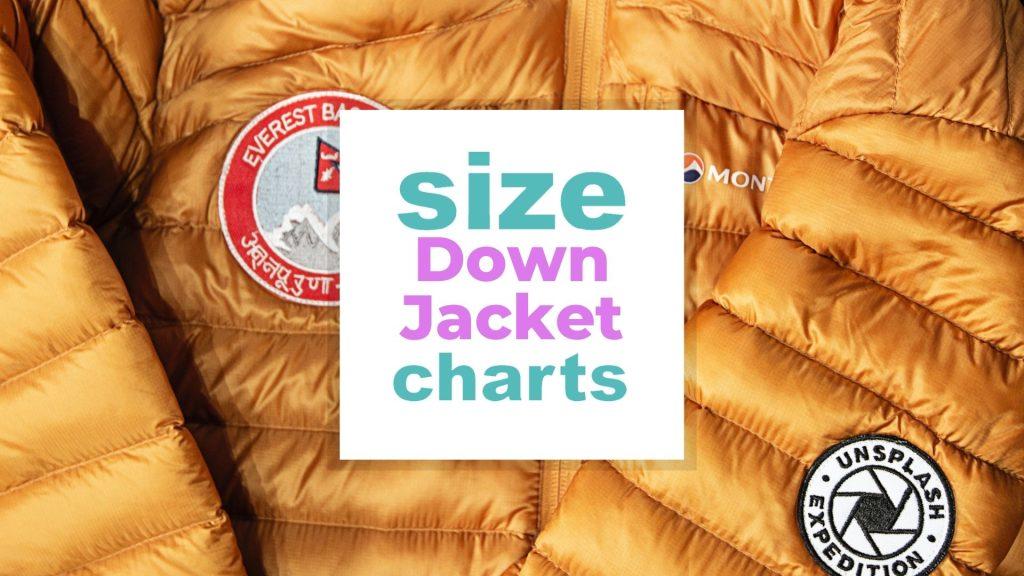 Down jackets are one of the most versatile and dependable pieces of clothing that you can own. Down jackets can be worn in almost any season no matter where you live, and they come in a variety of styles to fit your needs. Down jackets also provide excellent insulation while being lightweight and breathable.
Check the frequently asked questions to find quick answers on down jacket sizing
Table of Content of Down Jacket Sizes
How to Choose the Best Down Jacket size?
When looking for a down jacket, the first thing you need to determine is the size. Various body parts need to be measured. The best way to get your perfect fit is by taking the chest measurement which is also the most important unless you're out of proportion to be considered "standard". For a looser cut, you should add 1-2 inches to the chest size. Besides the chest, sleeve, shoulder, and jacket length should also be measured.
How to Measure the Size of Down Jacket for Men?
To measure the size of a men's jacket, you should measure from chest to waist with arms at your side. Then, you need to bring the tape around the circumference of your belly button. For a full how-to measure your body for clothing review, you can read more here
When taking the measurement, take note of the following body measurements:
Chest Measurement
The best way to measure your chest is if you're wearing an appropriate-sized shirt. You can ask someone else to measure your chest or wrap a tape measure around you with an extra inch.
Waist Measurement
The waist is measured by wrapping the tape measure around your natural waistline to get your waist size.
Jacket Length Measurement
The best length of jacket for you will depend on both the person's height and the type of jacket. Standard sizes are designed for average bodies, so if you're shorter or taller, measure your upper body to figure out which size will be best.
Down Jacket Size Chart
If you have the measurement for men, compare them with the size chart below to find your suitable size. Choose the closest measurements to your actual measurement (make sure to use the measuring tape correctly to get exact measurement). This is a complete size-chart for down jackets from petite sizes (3XS) to Plus sizes (5XL)
| | | | | | | |
| --- | --- | --- | --- | --- | --- | --- |
| Body Height (inch) | Chest Width (inch) | Letter Sizes | EU | US | Body Height (cm) | Chest Width (cm) |
| 63-64 | 30-32 | 3XS | 40 | 30 | 160-164 | 78-81 |
| 64-65 | 32-34 | 2XS | 42 | 32 | 162-166 | 82-85 |
| 65-66 | 34-36 | XS | 44 | 34 | 166-170 | 86-89 |
| 66-67 | 36-38 | S | 46 | 36 | 168-173 | 90-93 |
| 67-68 | 38-40 | M | 48 | 38 | 171-176 | 94-97 |
| 68-69 | 40-42 | L | 50 | 40 | 174-179 | 98-101 |
| 70-71 | 44-45 | XL | 54 | 44 | 180-184 | 106-109 |
| 72-73 | 45-46 | 2XL | 58 | 48 | 184-188 | 114-117 |
| 74-75 | 47-48 | 3XL | 62 | 52 | 187-191 | 122-125 |
| 76-77 | 49-50 | 4XL | 66 | 56 | 191-194 | 130-133 |
| 77-78 | 50-51 | 5XL | 68 | 58 | 193-196 | 134-137 |
Men's sizes are divided according to normal, slim and smaller sizes. Jackets are available for three figure types:
Standard sizes: With a body height of 63-81 inch (160-206 cm) and an evenly proportioned body, jackets in the "Standard sizes" category in European size 40 to 78 should sit correctly.
Smaller sizes: In this category, you will find the matching jacket for smaller and a little bit sturdy built men. The jackets are usually generously cut. Tailored models are rather unusual. For slightly smaller men, the jacket should end at hip height.
Slim sizes: Men with a slightly narrower bust and a body height between 68 and 78 inches (174-197 cm) are best suited with slim models from European size 88 to 114. They also offer a wide range of wearing options for varying weather conditions.
What are the Different Types of Down Jacket?
Down jackets are a popular type of warm winter clothing, and they come in many types. There are types that are marketed for specific types of activities, such as hiking or skiing. Brands are making these different types for great selection of products. Read on to find out what types there are and how you can use them!
Hooded Down Jacket
A Hooded down jacket is a type of outerwear that has a hood and a zipper in the front, usually lined with fur. Hooded jackets are often worn when it's cold outside because they add heavier layer to your outfit. Hoodies can also be worn as part of your workout attire, since they're loose-fitting and lightweight.
Quilted Down Jacket
Quilted down jackets are a type of outerwear that is perfect for the cold winter months. They provide warmth and comfort, while still being lightweight. The quilting creates an insulating layer between the jacket's exterior and its interior to keep you warm all day long.
Fleece Down Jacket
A Fleece down jacket is a type of coat that is made from soft, fluffy material. The outside of the jacket usually consists of fuzzy cotton or wool, and the inside is typically filled with synthetic fibers like polyester to provide insulation. These jackets are often lined with fleece for extra warmth and comfort.
Zip-up Down Jacket
A zip-up down jacket is a type of coat that has a zipper on the front. It can be worn in many different climates, because it provides protection from wind and rain as well as warmth, but is not too hot for warmer temperatures. The zipper allows you to adjust how much heat gets out of the coat, which is an important feature when wearing one in cold weather.
Tracksuit Down Jacket
A Tracksuit down jacket is a type of Jacket that is often worn in cold weather. It can be made from different materials, but it will typically have a hood and two front pockets. They are usually either insulated or waterproof to protect the wearer from the elements. Some people may also use track suit jackets as outerwear during cooler months of the year for fashion purposes.
Faux fur Down Jacket
Faux fur is a type of fabric that looks like real fur, but it's actually made from synthetic materials. Faux fur can be used to make a variety of different products, including jackets and skirts. A faux-fur down jacket is an outerwear garment that features a furry lining on the inside for warmth and comfort. The outside of the jacket usually consists of a thin layer of cotton or nylon with feathers sewn into it to provide added insulation when worn in colder climates. It provides great coverage without sacrificing style.
Hooded full-zip Down Jacket
A hooded full-zip down jacket is a type of coat that has all the benefits of a normal winter coat and more. A hooded full-zip down jacket can be used as an outerwear garment worn during cold weather, but it is also perfect for use as an insulating layer underneath another coat or heavy sweater on colder days.
Shell Down Jacket
These are the most lightweight type of down jacket and are perfect for activities like hiking or running. They usually don't have a lot of insulation, but they do protect you from wind and rain.
Bomber Down Jacket
Bombers is perfect for really cold weather. It has a lot of insulation and can keep you warm in even the harshest conditions, but they usually have a shorter length. They're also not as thick, so they're a good option if you're looking for something that's not too heavy.
How to Style Your Down Jacket?
The best way to make your down jacket work for any occasion is by styling it down. For example, if you're going to formal or exclusive events, pair your down jacket with sleek black pants and heels. But if you want something more casual, throw on some jeans and sneakers! You can also mix and match different colors and textures to create a look that's all your own.
There are so many different ways to style down jackets, so don't be afraid to experiment! You might be surprised at how versatile they can be. Just have fun with it and you'll look great no matter what the occasion.
What are the Pros and Cons of Down Jacket?
Down jackets are a popular item to wear in the winter. They're warm and lightweight, which means that they're great for staying cozy during chilly weather. There are many benefits of wearing a down jacket, but there are also some disadvantages to look out for! Let's take a look at Pros and Cons of Down Jackets:
Pros:
The main pro of wearing down jackets is their warmth factor. They provide more insulation than most other types of jackets because they trap air between feathers or synthetic material inside the coat. This can help you stay warmer on cold days by trapping more heat around your body and warming up faster when you get too cool. Some people enjoy the feeling of being cocooned when they wear them, and find that down jackets help them feel more comfortable in cold weather. Down jackets are also lightweight, which can be a plus if you're traveling or have to carry your coat around all day.
Cons:
One downside of down jackets is that they may not be as water resistant as other types of coats. If it starts raining or snowing, you might find yourself getting soaked faster than usual. They also require special care in order to keep them looking nice and avoid clumps of feathers appearing on the exterior. This means that they may not be as durable or easy-to-care for compared with other types of coats.
Down jackets sizing and fitting tips explained
FAQs
How Do I Know If My Jacket is Too Small?
If you are barely able to raise your arms, the jacket size will be too small. If it feels tight on the elbows or in the shoulders, it would be a good idea to try on one size bigger.
Should Jacket be Tight or Loose?
It should feel comfortable, but not so loose that it bunches. As with most winter coats, expert suggests trying it on with a jumper or any other clothing you'll usually wear underneath.
Should you size down down jackets?
Your down jacket must fit as it won't insulate as effectively if it's too big. When your jacket is too small, the down may become compressed and you lose the air pockets that create warmth.
Can You Wash Your Down Jacket On A Regular Basis?
You should not wet your down jacket after every trek, as long as it doesn't get dirty or smelly during your trek. The more often you wash it, the faster its fluffiness will dissipate and you'll lose its waterproof protection.
Conclusion
Down jackets come in a variety of different styles! You can find Down Jackets that are slim-fit, fitted, or oversized and you can also find Down Jackets with different types of hoods (or no hood at all).
Additionally, Down jackets come in a variety of colors and patterns so you can find the perfect one for your style.
No matter what type of Down Jacket you choose, make sure you know how to take care of it. If you don't, it won't last as long and may not be as effective at keeping you warm.
Picture in this post by Emmanuel Acua on Unsplash
Related clothing size charts