Ivy Copenhagen Size Charts
This post was last updated on September 5th, 2023 at 07:52 am
Ivy Copenhagen is a Danish Denim brand that targets to meet the clothing needs of the young generation. This brand creates premium apparel and footwear by combining aesthetic and comfort factors (skip straight to the Ivy Copenhagen Size charts).
The brand creates timeless and versatile fashion pieces so that you can wear them with almost any outfit when you make an adult sneaker purchase. You don't have to pile up your previous purchases!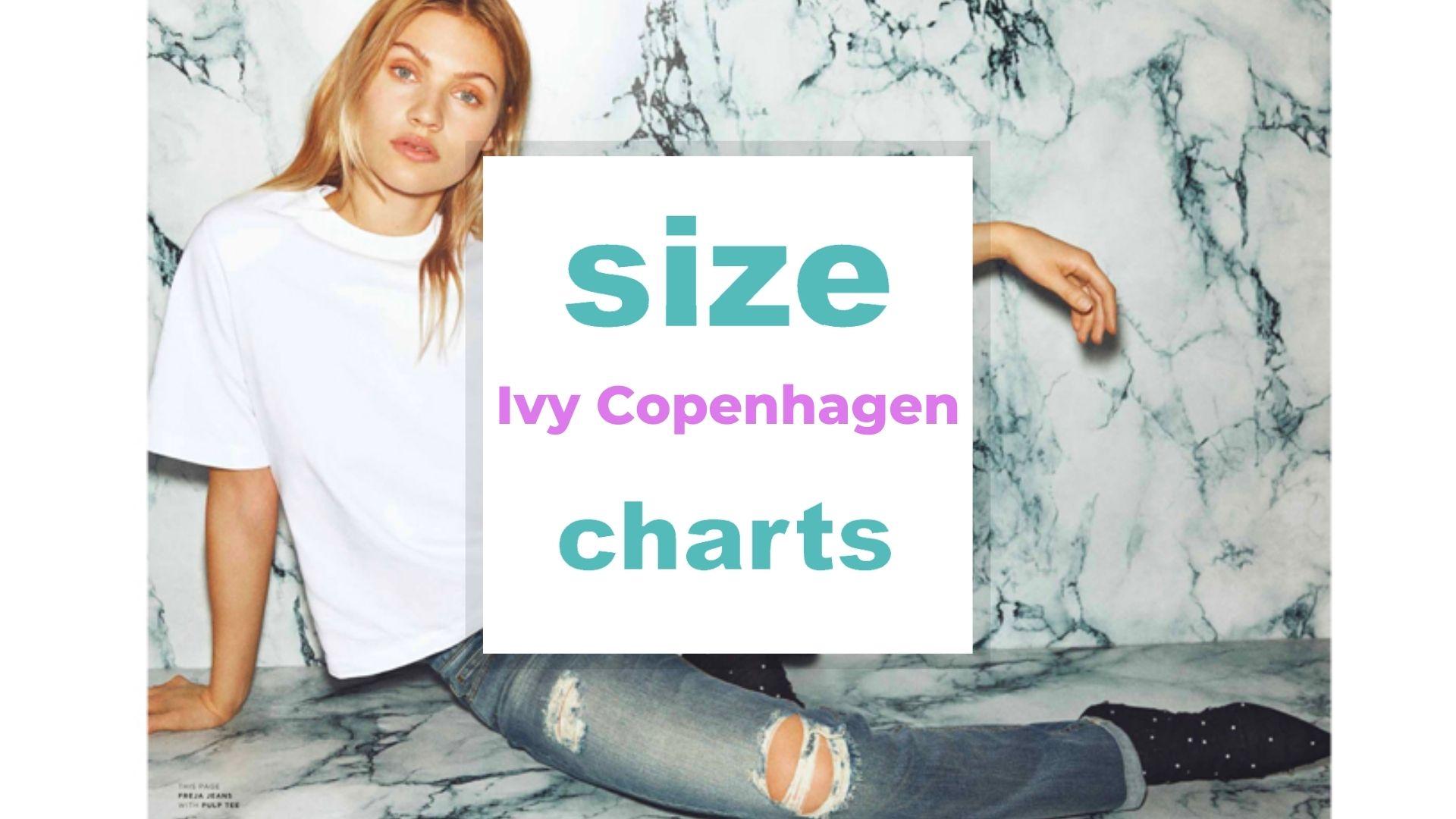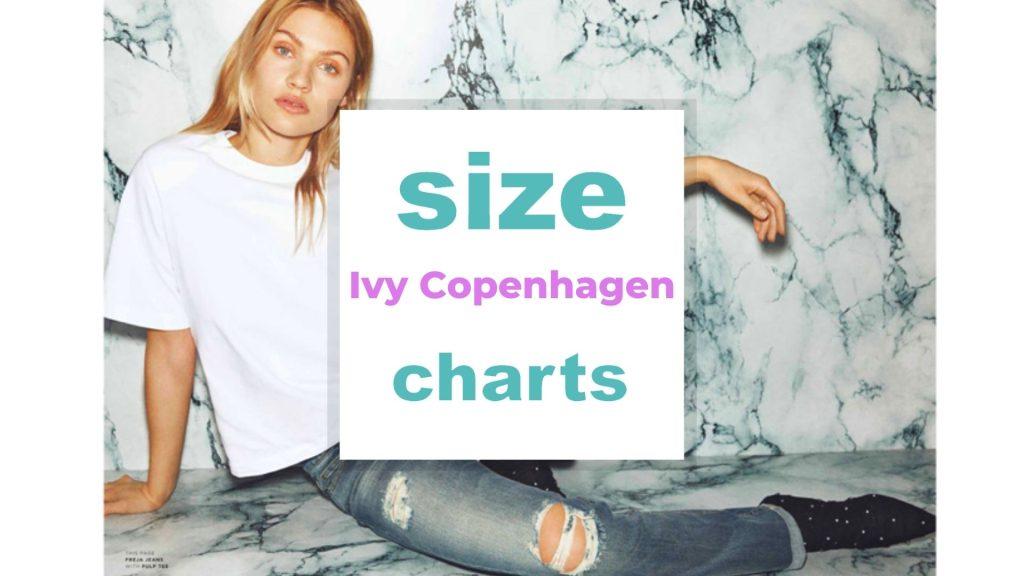 So, why should you get the right Ivy Copenhagen size?
Choosing the wrong Ivy Copenhagen shoe or pant size may mean enduring compression if the specific size is smaller. And suppose you get a larger shoe or pant size, you may have to request for exchange service, which can be costly.
That's why you need to get the right Ivy Copenhagen size. Fortunately, the following size guides can help you choose the ideal size type for you!
Jump right into the Frequently Asked Questions
Related: US to EU Jeans Size for men – Size Conversion, Wrangler Jeans Size Chart, Armani Jeans Size Chart, Guess Jeans Size Chart, Versace Jeans Size Chart, Lee Jeans Size Chart, Miss Me Jeans Size Chart
Ivy Copenhagen Table of Contents
Ivy Copenhagen Size Chart
Ivy Copenhagen Shoe Size Chart
Related: Foot Size Charts for Adults and Kids: What's my shoe size?
| | | | |
| --- | --- | --- | --- |
| Ivylee Size | US | Also equal US | UK |
| EU 36 | 6 | | 3 |
| EU 37 | 7 | 7-7,5 | 4 |
| EU 38 | 8 | 8-8,5 | 5 |
| EU 39 | 9 | 9-9,5 | 6 |
| EU 40 | 10 | 10-10,5 | 7 |
| EU 41 | 11 | | 8 |
| EU 42 | 12 | | 9 |
Ivy Copenhagen Pants Size Chart
Related: The complete International Jeans Size Chart Conversion
| | | |
| --- | --- | --- |
| Size | International Sizing | Waist Measurements |
| 25 | XS | 25 in 63.5 cm |
| 26 | S | 26 in 66 cm |
| 27 | M | 27 in 69 cm |
| 28 | M | 28 in 71 cm |
| 29 | L | 29 in 74 cm |
| 30 | XL | 30 in 76 cm |
Ivy Copenhagen Alice Pants Size Chart
Related: Ariat Jeans Size Chart for men, women and kids
| | | |
| --- | --- | --- |
| UK | EU | Jeans |
| 8 | 34 | 24 |
| 9 | – | 25 |
| 10 | 36 | 26 |
| 11 | – | 27 |
| 12 | 38 | 28 |
| 13 | – | 29 |
| 14 | 40 | 30 |
| 15 | – | 31 |
| 16 | 42 | 32 |
How to Choose the Right Ivy Copenhagen Size
Related: Women's Jeans size chart – denim sizing conversion, Gucci Jeans Size Chart, Levi's Size Chart Jeans
Searching for the best boots for women? Here are some of the best features of the ideal Ivy Copenhagen size for you
1. Precision
Ivy Copenhagen focuses on making every detail count. Hence, the brand creates customized outfits for white and nonwhite women to enjoy their days at work or outdoor events.
Moreover, if you are looking for an outstanding piece that will offer comfort to a pregnant woman, then Ivy Copenhagen pants and shoes are a great way to surprise them. This way, they will get their needed support and easily maneuver their days.
2. Affordability
To ensure that low-income women enjoy premium products, Ivy Copenhagen offers you its products at a pocket-friendly price. So, whether you need a Mia 70's blue pants or an Alexa Ankle Baby Cord color, you can comfortably pay for it.
You don't have to endure financial strain as some online shops offer versatile payment plans. You can gladly plan for the Ivy Copenhagen piece you want and pay in bits until you complete the payment.
3. Comfort
One of the main goals of this brand is to ensure that all American women enjoy wearing their clothing and footwear. The company uses high-quality materials for maximum skin care and support.
Moreover, all boots for women incorporate soft materials and advanced ergonomics to protect your feet from straining. With Ivy Copenhagen, you can enjoy the style and walk all day comfortably!
4. Select Styles
So, how do you select styles?
To get the right Ivy Copenhagen style, examine your previous purchases and try to improve on the details, versatility, or comfort. Consider the regular occasions you attend and whether the styles in the shop match your fashion taste.
5. Body Type
Finding the right Ivy Copenhagen size is vital whether you have an hourglass or plus-size body shape. You can ensure you get fitting apparel by checking the size guides in relation to your body measurements.
And suppose it's your first time shopping for clothing online and you are uncertain about your body measurements; don't be anxious. You can use a measuring tape to find the waist, hip, and pant measurements.
6. Function
Whether you are planning to go for an outdoor or formal event, the right pant style can help you enjoy your day better. For instance, Alice's pant is an excellent addition to your official outfits. Hence, it's a great option when attending official events.
However, if you are looking forward to an informal event, Alexa pant options are ideal for the day. You can always try different Ivy Copenhagen styles to find a versatile option that matches any event's standards.
7. Using the Size Guide
Online clothing purchases can be an uphill struggle, especially if it's your first time. Thanks to sizing guides, they help you select clothing and footwear with less difficulty. However, you may buy an undersized or oversized piece if you are not sure about the measurement units applied.
To avoid this, check the units in inches or centimeters, then compare them with your body measurements. You can also use the international sizing standards, including XS, S, M, L, XL, 2XL, 3XL, etcetera. This way, you will ensure you obtain the accurate measurement for yourself or your loved one!
Frequently Asked Questions
Is Ivy Copenhagen true to size?
Yes, Ivy Copenhagen is true to size. Most of its pants follow the international sizing standard to ensure white and nonwhite women get their ideal size without difficulty.
Should your size up or down in Ivy Copenhagen
When purchasing Ivy Copenhagen pants or shoes, it's best to select your actual size. However, if you want a loose fit, you can choose a larger size.
Do Ivy Copenhagen jeans stretch over time?
Typically, jeans stretch over time after you fit them multiple times. Nevertheless, with 100% cotton material, the stretch is limited compared to pants with elastane. Depending on the proportion of the elastane material, the pant can stretch to different proportions.
Does Ivy Copenhagen have plus-size jeans?
Ivy Copenhagen offers the largest proportion of women comfortable pants and shoes by ensuring inclusivity. Hence, you will find plus-size options when purchasing pants or jeans.
What's the smallest size in Ivy Copenhagen?
The smallest Ivy Copenhagen size is size 23/30 in.
How long are Ivy Copenhagen jeans?
Ivy Copenhagen jeans' length varies depending on your preferences. So, you can grab a Baby Cord Color – Army jeans size of your choice.

Conclusion
Every woman deserves stylish clothing that offers comfort and complements their style. Fortunately, Ivy Copenhagen understands this and goes the extra mile to create exclusive styles with the right material and accessories to ensure you enjoy your day at work.
Whether you are an alpha or plus-size, you can grab the best Ivy Copenhagen Baby Cord Color – Army pants for your event. And if you're wondering how to go about this, all you need is the right sizing guide.
Once you check your body measurements or pant size on the size chart, you will be able to select the right garment. And suppose you get stuck interpreting the sizing details; our professionals can help you obtain the right sizing details.
Just drop the question in the comments below, and they will get back to you!
Picture in this post is from Ivy Copenhagen
Relate to Ivy Copenhagen Charts