Rowing Machine Sizes and Types
There is a wide range of sizes and shapes of machines designed to imitate rowing motion. If you are a shorter person or of average height, almost all of them are comfortable design (skip straight to the Rowing Machine Sizes).
On the other hand, tall people might need additional seat height and length. Getting the physical size right is what matters most. In the world of rowers, a tall person starts at around 6'1″ (185 cm) or more. This is the height at which the user might have trouble properly rowing.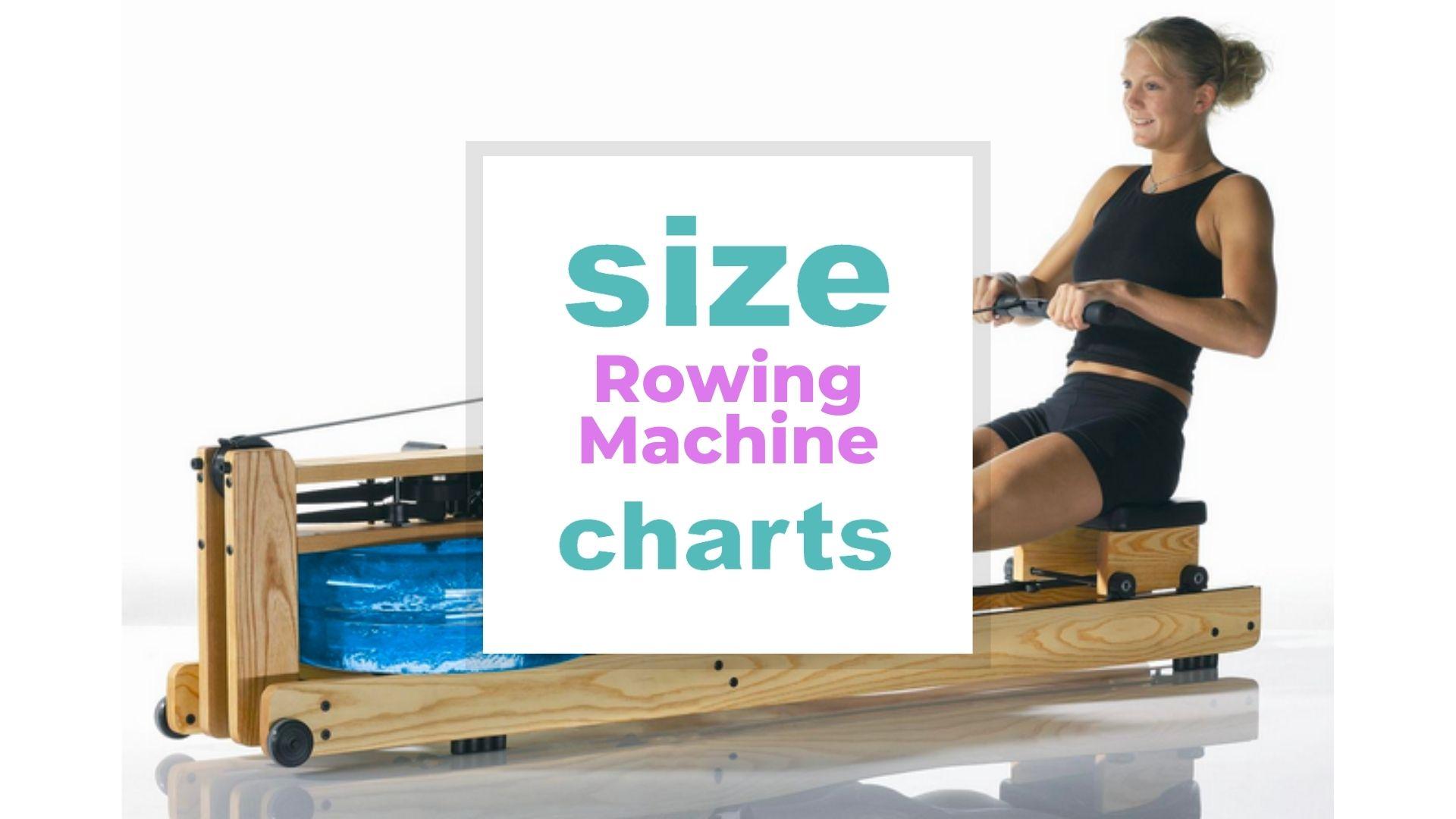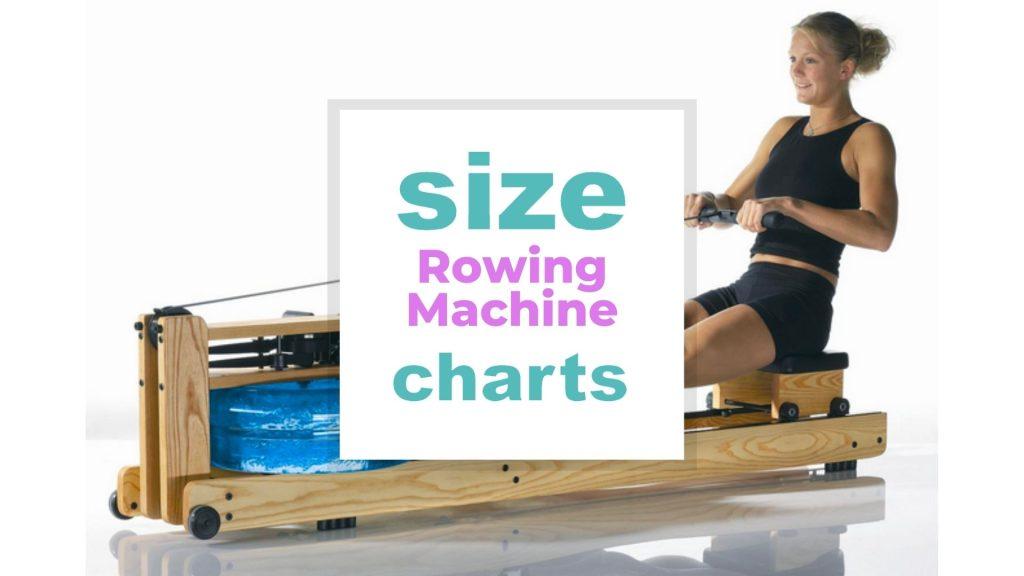 This machine is a strength machine meant for brute strength trainers. Elite rowers have accessories ranging from a simple digital monitor to a sophisticated monitor, while budget rowers are built to last for years.
Any strength trainer will bear witness that using the wrong size is a golden recipe for injuries. 
Jump right into the Frequently Asked Questions
Related: Skateboard helmet size chart and fitting guide, Yoga Ball Size chart for exercising or for your office, Roller Skate Size Chart for Adults and Children, Printable Shoe Size Chart – How do i measure my foot size?
Table of Contents
Rowing Machine Sizes Chart
Related: Steps Calculator: Steps in a km + Distances, Steps Calculator: Steps in a Mile + Distances, Women's road bike size chart – all dimensions and tips for the perfect ride
The overall size of these machines is based on the maximum user weight capacity. Although it is designed for a full-body exercise, there is a range of workouts that allow users to use more parts than others.
The heaviest users are also usually the tallest and I can tell you that leg height options greatly influence weight and comfort. 
When it comes to tailoring size down to the user, it is the length of the "seat" that we have to consider. The word seat is not exactly correct but we choose to keep things simple. Two people of the same height might need different adjustments, so these measurements come in a range.
After adjusting the rower machine sizes to your size, have a short test run and decide if it is okay for you or if you need an adjustment.
| | | | |
| --- | --- | --- | --- |
| User Height (In) | User Height (Cm) | Seat Length (In) | Seat Length (Cm) |
| 4'10"-5'1″ | 116-155 | 25.5-27 | 64-69 |
| 5'0″-5'3″ | 152-160 | 26.5-28 | 67-71 |
| 5'2″-5'5″ | 157-165 | 27.5-29 | 70-74 |
| 5'4″-5'7″ | 162-170 | 28.5-30 | 72-76 |
| 5'6″-5'9″ | 167-175 | 29.5-31 | 75-79 |
| 5'8″-5'11" | 172-180 | 30.5-32 | 77-81 |
| 5'10"-6'1″ | 177-185 | 31.5-33 | 80-84 |
| 6'0″-6'3″ | 182-190 | 32.5-34 | 83-86 |
| 6'2″-6'5″ | 187-195 | 34.5-36 | 87-91 |
What size is a rowing machine?
Related: Find Your Running Shoe Size and Fit, Peloton Bike Size and Dimensions guide
An average rower is usually an average person and the floor space that allows a proper rowing stroke is about 12 feet by 6 feet or about 35 centimeters by 20 centimeters. A larger rowing machine sizes might need more space to use.
No matter the rowing machine sizes, whether a Space Saver2 or a MaxKare Foldable Magnetic Rowing Machine, all rowing machines usually need a small simple storage space. They are among gym equipment that fit in any compact storage.
What does 1/10 mean on a rowing machine?
Related: Yoga Mat Size Guide for all use (easy size charts included), Ski pole size advice with easy to use size charts, Kayak Paddle Size by type and height (size charts included)
Some machines are operated with air resistance. To enhance a full-body workout and seamless rowing experience, the quiet flywheel of a sturdy rower has smart features that allow the user to pick the speed of the fan.
The lower the number, the lesser the air resistance. On the number scale, most of the time 10 is the highest number at which the fan goes, and conceivably, 1 is the least.
An air rower that can go all the way to 1 is quite popular, although there are a few that stops/starts at numbers higher than 1. Rowers that can only go as far as 2/10 or maybe 3/10.
How do I choose a rowing machine?
Related: Hybrid And Fitness Bike Size Chart
If you plan to choose one we will like to recommend a few pointers.
1. A beautiful design. Rowing enthusiasts spend lots of time with their machines. Pick a design that you like.
2. An effective workout works every major muscle and serves as a complete cardiovascular workout. So try getting something with adjustable resistance.
3. If you intend for your rowing workouts to be vigorous workouts, then you definitely need a well-cushioned seat. Consider the seat properly in this case.
The seat will determine how long you can seat in one spot before your rear end starts to get uncomfortable. Plus, the backache and rear pain from an uncomfortable seat are just not worth it for anyone. This is where we will recommend a seat cover.
4. If you prefer interactive workouts with lots of accessories and gadgets, then it's best to get a popular model. However continuous rowing action like an Olympic rower might demand classes.
5. Speaking of gadgets, please try and get one with a monitor. You are just starting out, you can not really eyeball your progress and status.
To know where you are and how far you have gone, it is best to have an actual tool helping out and this is where the monitor comes into play.
6. Still on the matter of gadgets, get the bare minimum. Apart from the monitor, there is really nothing else that is really important.
All the nifty little bits such as a water bottle holder and so on are not really that much of a concern, especially for a beginner.
7. Space is the next concern. You could set up an entire room and let your rower just sit in the middle. But if you have a small space you should consider getting something small.
This is where hydraulic rowers shine. They occupy little space when compared to all other types of rowers.
8. Ease of assembly is also one thing any rower needs to consider. If there is no detailed media (book, website, video, etc) readily available about how to put that particular model together, you should be careful about getting one.
Some of these machines can be quite a puzzle to put together. They can be very complex to assemble. Meanwhile, some other models are so simple to build, it is a job of a few minutes.
Find out how to set up the model you decided to buy even before you make that purchase.
9. Sturdiness is another important factor.
Is everything solid we'll construct? It will be a shame for your machine to wear out and be falling apart in just a few months of use. And very dangerous to your personal health for the machine to not be able to stand its ground during heavy workout sessions.
A failure during a workout can be very detrimental to the health of the user and might even be fatal. This brings us to the next point.
10. User warranty and after-sales service.
The manufacturer must be ready to look after their product in one manner or the other. How much effort is the manufacturer putting into looking after your machine once it enters your home? Are they ready to stand by your side during the journey? Or are they just happy to get it off their shelf and ship it over?
Learn more about the most important things to know before buying a rowing machine (video)
Frequently Asked Questions
What rowing machine is the best for me?
If you are of standard height with a typical stroke rate then any size will give you a proper combination of strength training and cardiovascular exercise.
However, tall rowers, especially advanced users who happen to have some additional height will definitely need an elevated seat height.
The extra height will allow a certain range of motion in its proper form. Also, to work their core muscles, they might need rowing machine sizes with larger caster wheels.
What type of rowing machine is best for beginners?
Adjustable resistance levels are a must. Being able to change the levels of resistance allows the user to grow and demand workouts that are easier to manage especially for shorter rowers.
If the beginner can go up in the price range, then a performance monitor is good to improve the workout. An LCD monitor with an adjustable monitor arm is the crème de la creme.
How big is the packaging of the rowing machine?
A compact machine can have packaging dimensions of 40×25×9 inches (100×65×25 cm). 
An interactive rowing machine with average power and an extra long slide rail might come at an additional cost because its packaging dimensions could be up to 60×30×12 inches (150×75×30 cm)
What is the difference between air, water, and magnetic rower?
All three overlap in both weight and size. Generally speaking, an air rower is the lightest of all three.
Air-resistance rowers don't have the added components of water or magnets, however, this doesn't guarantee that they will be light overall. Only the components are light, not the completely assembled ensemble.
Magnetic-resistance rowers have magnets in the steel rear flywheel. The steel and magnets increase the overall weight of the components, but again upon assembly, the user might add little accessories and the entire setup might not be too heavy.
Water resistance rowers are the largest in physical size mostly because of the glorified water tank that is attached to them. Don't get scared the "flywheel" is not that humongous. Although it adds to the volume of the components, it doesn't necessarily add to the overall space that the rower occupies. 
So how large will your rower get, or which should you get if you want something compact or something more voluminous? There is no specific answer, it depends on the way you set up your mower. 
Conclusion
Shipping costs are the primary concern of every gym equipment and the rowing machine is no different. It is best to buy just the rower and then buy any add-on separately in due time. This saves on the entire weight and size of the package. 
Rowing is fun and satisfying. It may be difficult at the beginning but as you improve, we are sure that you will enjoy it. Just before you get on that rower, please row the article forward by sharing it and leaving comments.
Picture in this post is by Kyle Kranz on Unsplash
Related to Rowing Machine