Yoga Mat Size Guide for All Use (Easy Size Charts Included)
This post was last updated on July 2nd, 2023 at 05:04 am
What is the ideal yoga mat size that you should use? Yoga mats might not be necessary for yoga professionals but to avoid injuries while performing yoga, you definitely do need a stable mat-like material that will help you with your exercises. Experts can exert enough pressure and maintain equilibrium at every stage of their routine regardless of the surface they are in contact with. Even though restorative yoga might be the easiest and most peaceful form of exercise, do not underestimate the importance of a well-sized yoga mat.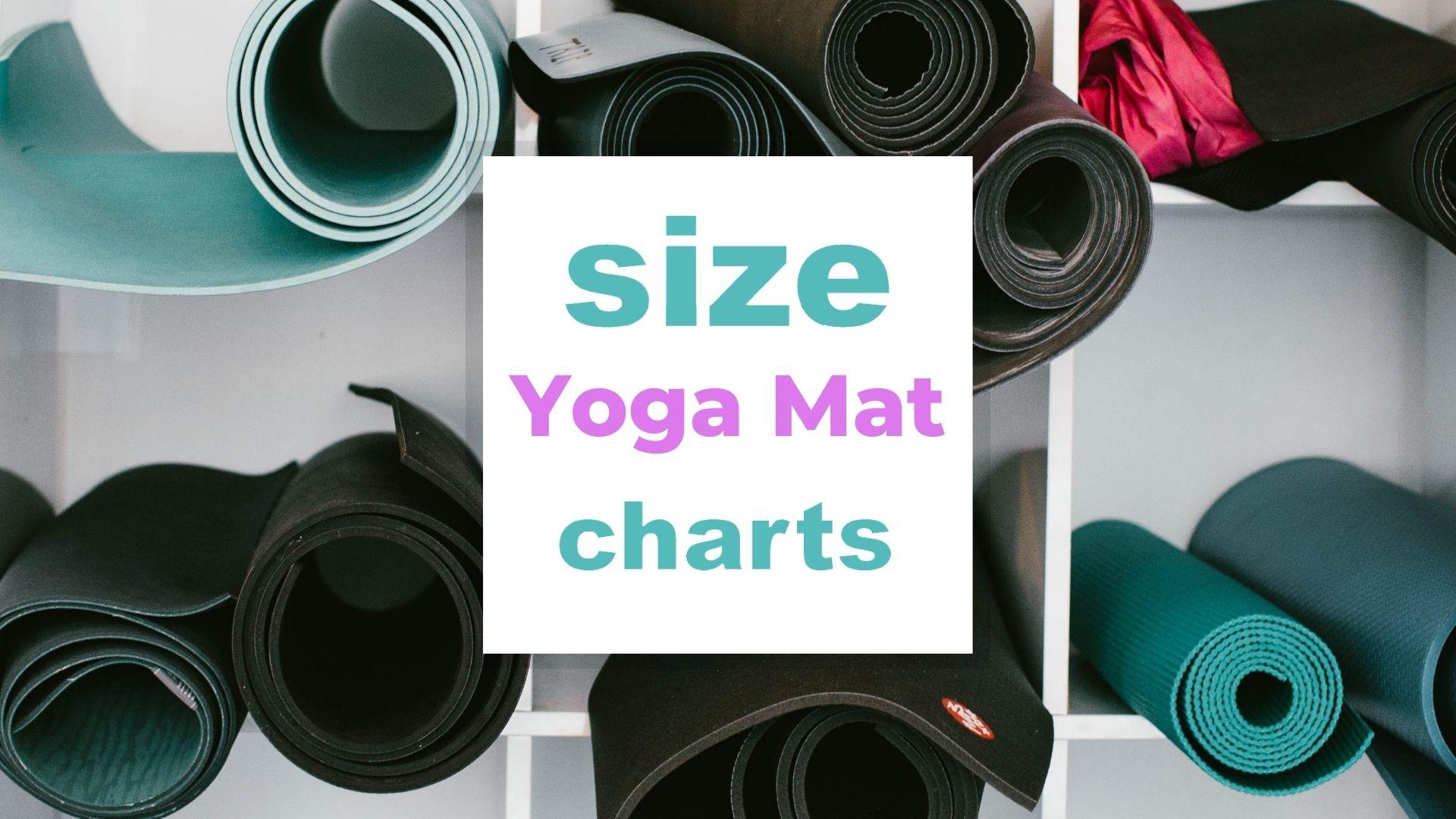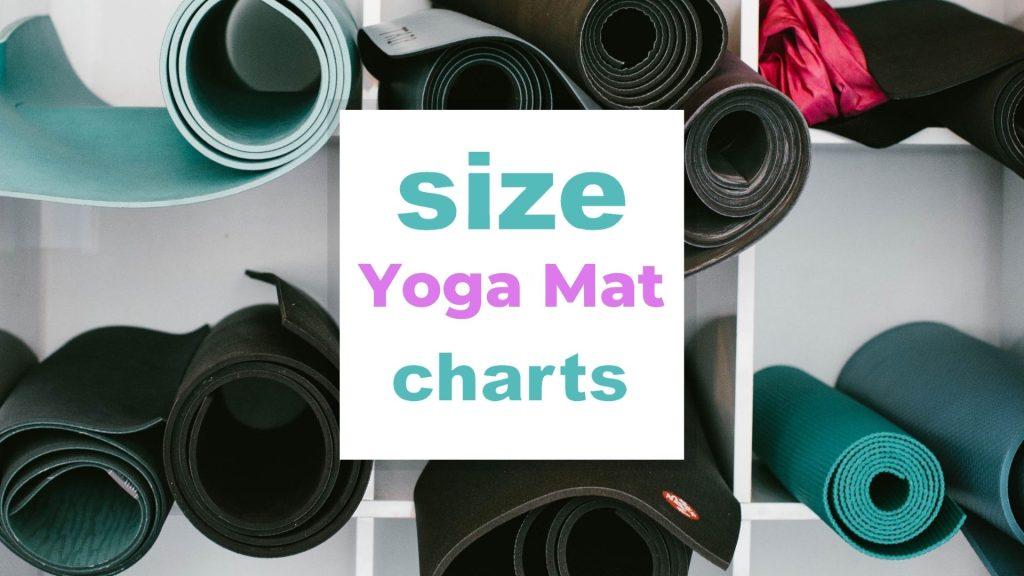 Looking for Yoga ball sizes, Yoga clothing brand sizes like LuluLemon, Gymshark Sizing, Nike yoga sizing, Adidas Yoga clothes size, or Sports bras sizing for yoga, .. check the links or read all about Yoga Clothes sizes here
Yoga Mat size chart table of content
What are Yoga Mats and why do they matter?
Yoga mats are specially fabricated mats used to prevent hands and feet slipping during asana practice in modern yoga and some meditational exercises. Yoga mats (also called sticky mats) are found in most yoga classes. They are used to provide cushioning and grippy traction as you pose. While you can usually rent a mat at a yoga studio, it's a good idea to buy your own. The majority of yoga mats are made with polyvinyl chloride (PVC). Some experts prefer this material and will not recommend any other; because it offers the right level of stickiness and a softer surface texture. Unlike exercise mats, the person is able to exert direct pressure on a smooth surface like a wooden floor and not feel too much pain on the parts of the body that are exerting said pressure. Exercise mats, on the other hand, are designed to be thicker for those who do not want to feel as if they are on the ground.
Size Chart Of Yoga Mat For Adults
| | | |
| --- | --- | --- |
| Mat Description | Dimensions (Cm) | Dimensions (Inches) |
| Professional | 183×122 | 72×48 |
| Long | 183×80 | 72×32 |
| Standard | 183×66 | 72×26 |
| Short | 183×61 | 72×24 |
| Travel | 173×61 | 68×24 |
Size Chart Of Yoga Mat For Children
| | | |
| --- | --- | --- |
| Age Of Child | Dimensions (Cm) | Dimensions (Inches) |
| 3-8 | 91×45 | 36×18 |
| 8-12 | 91×61 | 36×24 |
| 12-17 | 150×61 | 59×24 |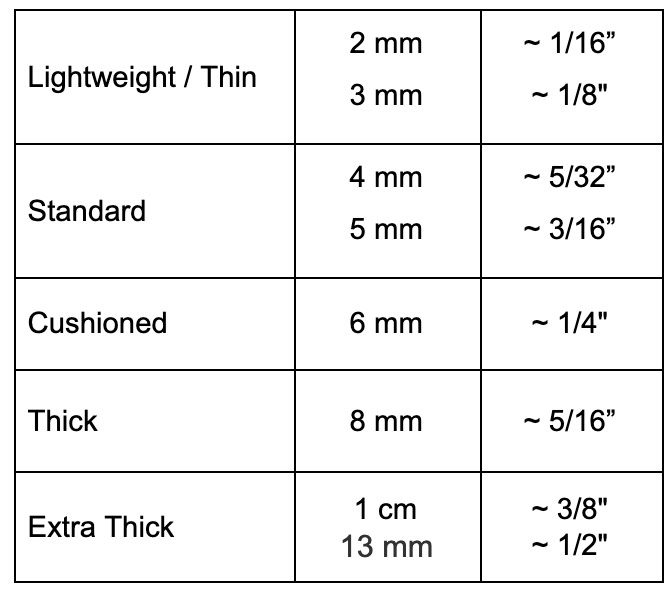 Yoga Mat Thickness size charts
The depth of a yoga mat needs to be just right to provide a comfortable amount of cushioning without being so deep that it can affect your balance.
3mm
Yoga mats start at a thickness of 3mm. This will be a suitable amount of cushioning for people who don't have any joint issues. They're light and easy to carry with you.
4mm
If you have back or knee pain, then a yoga mat with a thickness of 4mm will offer you more comfort. 4mm is considered the standard thickness for yoga mats because it is thick enough to give you comfortable padding, but it won't negatively impact balance.
6mm+
Yoga mats that are 6mm or thicker will be heavier to carry, and they can make balance difficult, as the extra padding can throw balance off, a little like trying to balance on a mattress.
FAQs
What is the standard yoga mat size ?
The standard yoga mat is 24 inches wide (60.96 cm) and 68 to 72 inches long (172,72 cm to 182,88 cm). It has a thickness of 4 millimeters This is the yoga mat size people feel most comfortable practicing on.
What is the biggest size of a yoga mat ?
Measuring 8 feet by 6 feet, RevTime exercise mat is a great choice for those who want tons of space to move around on.
What size yoga mat does 5'10 need ?
The yoga mat should be at least 6 inches (15 cm) longer than your height. This means if you are 5′ 10″ (70 inches), your mat should be at least 76 inches long so that you can comfortably relax on it.
Which mm size yoga mat is best ?
Standard mat thickness of 4mm or 1/8″ offers the best combination between portability and cushioning. Thicker mats (6mm and above) offer better cushioning and thinner mats (2mm and below) offer better portability.
Is 6mm good for a yoga mat ?
6mm is good for it's cushioning effect but if it is a rubber mat then it will be very heavy and quite difficult to deal with. Avoid a 6mm that is purely rubber.
Is 15mm yoga mat good ?
No, you should choose a mat between 5mm and 8 mm thick to help protect your joints and to easily carry to and fro. 15mm is thicker than the typical rug or carpet way too thick to carry around or thoroughly sterilize after personal practice.
Which thickness exercise mat is best ?
The standard mat thickness for yoga mats is 4mm or 1/8″. Thicker mats (6mm or 1/4″) are best for people who need extra cushion.
How do I choose a good mat ?
Choose between comfort or portability. The best thickness that offers both is 4mm and the best surface area that offers both is 24 inches wide and 72 inches long.
Yoga Mat sizes explained
Conclusion
The standard yoga mat is six feet long therefore if you are more than six feet tall, you might have difficulty with poses that need you to stretch. In the world of yoga aim for the long mats. They are the same length but wider and therefore give more diagonal space. The only mats that are shorter than six feet are travel mats.
Leave a comment and share the article as you get in shape for your next session.
Picture in this post by Conscious Design on Unsplash
Related Hobby and sports Size charts
Yoga, Your Inner Self On A Plate
The yoga mat has become one of the definitive symbols of yoga as whenever we make any reference to yoga. The mat has come a long way from tiger skin and deer skin to carpet underlay and finally to the smooth latex mat that we now have.
There are 11 major yoga styles, each with a different yoga practice. The yoga accessories that you should get depends on the type of yoga that you wish to perform. There are other types of yoga that may not fall under the 11 styles. For these styles of yoga, your yoga gears should be determined by your terms of comfort and the yoga poses you will regularly perform. If we were to pick a premium yoga mat for each style of yoga then the list would look something like this
1. Vinyasa Yoga: This is the most athletic style of yoga, you can call it power yoga. This usually the favorite yoga of that hot yoga instructor. Due to its athletism any mat with a textured surface is a bad idea. The standard yoga mat for vinyasa is is usually a cushioned material that is extra inches thick.
2. Hatha Yoga: This is a beginner level slow paced yoga and foam yoga mats are a popular choice for this style. Foam mats provide extra comfort for beginners during poses.
3. Anusara Yoga: This style focuses on spirals and usually need a few inches wider yoga mat. Wide inch mats allows the yogi to better use of extra space and even occupy more floor space.
4. Iyengar Yoga: This is the style for healing injuries like knee pain. You will work carefully and slowly on passive poses. The typical retreat center would prescribe a luxury mat.
5. Kundalini Yoga: This style has a lot of gas moving and invigorating postures. This is style in which you need performance mats.
6. Ashtanga Yoga: This style is ONLY for yoga professionals as its poses are complex and demanding. A wide range of mats are used here, but common variations include alignment mats. These mats make proper alignment easy and complex poses easier to execute.
7. Bikram Yoga: Another name for this style is hot yoga. It is practiced in a sauna-like room—typically set to 105 degrees Fahrenheit and 40% humidity. Many of the poses are focused on proper alignment and alignment mats once again come to the rescue. Especially ones made with thermoplastic elastomer.
8. Yin Yoga: This is another beginner level yoga. It is a slow-paced meditative yoga practice that helps you find inner peace. This style is filled with seated postures that are held for longer periods of time. All the yogi needs is a ritual space and literally any mat would do. Some prefer foam mats for its extra material of cushioning.
9. Restorative Yoga: This style focuses on winding down after a long day and relaxing your mind. Light color cotton yoga mats are popularly used for this style of yoga.
10. Prenatal Yoga: As the name suggests this style is for pregnant women, especially those in their trimester. A large size yoga mat is needed here. Many pregnant women have give positive reccommendations for a wool luxury mat.
11. Jivamukti Yoga: This is vinyasa yoga with an organic twist. This style emphasizes connection to Earth as a living being and therefore eco-friendly materials are used on a regular basis. Cotton yoga mats made with organic cotton is best used by performers of this style