Scott Goggles Sizes and Specifications
This post was last updated on April 26th, 2023 at 08:32 pm
What are the Scott goggles sizes? S, M, and L are the most common sizes for goggles. Small-size goggles are suitable for small faces, while size M is appropriate for young 12+ riders. L is a size for men with average to big faces.
Scott is well-known for making high-quality, functional goggles with plenty of adjustability and a comfortable fit for a variety of face sizes.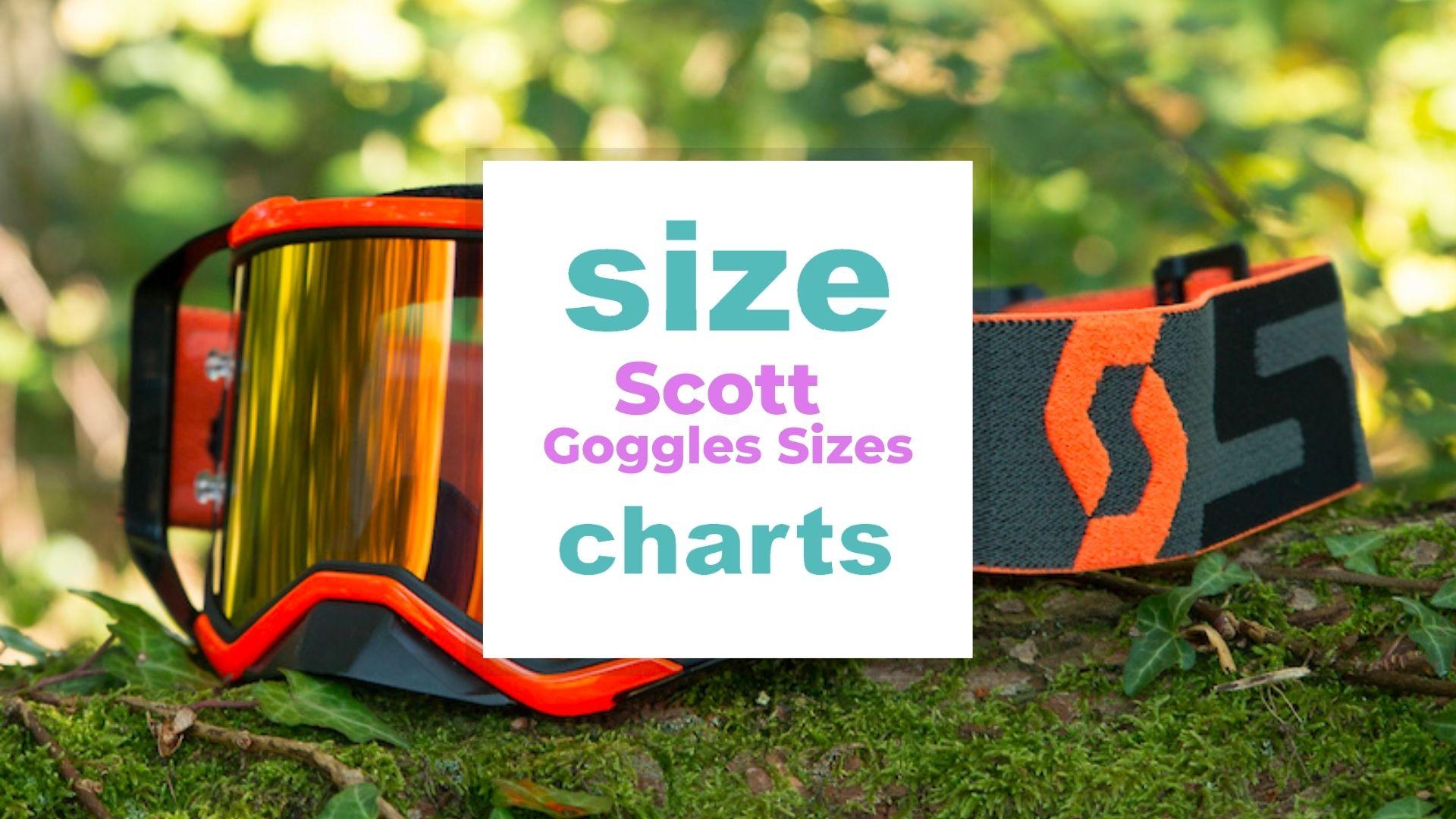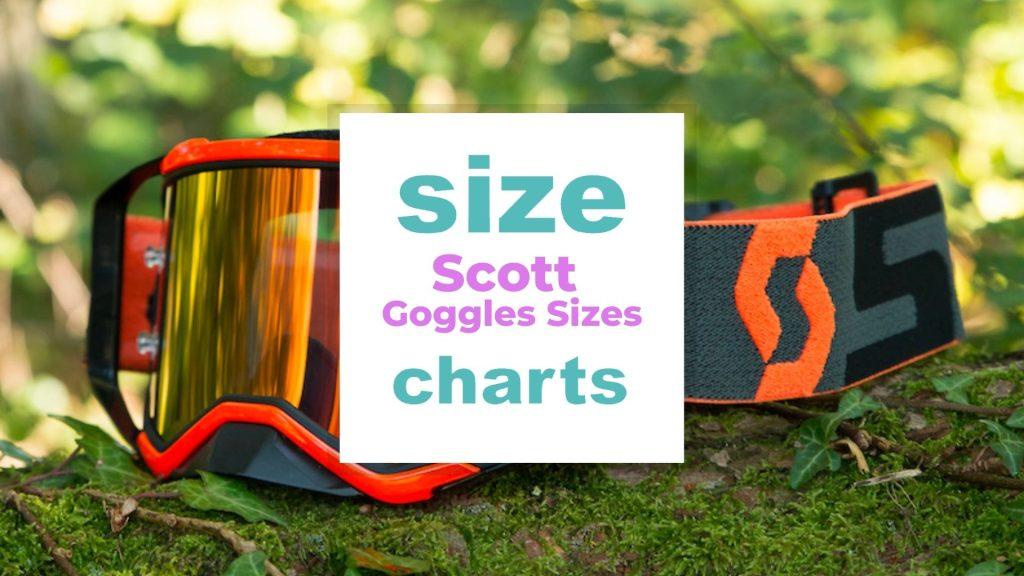 Moreover, although the main purpose of your goggles is clearly to protect your eyes from mud, dirt, dust, and flying pebbles, they have virtually become a fashion element for motocross and bike riders. However, if you utilize the improper fit, you will be uncomfortable.
Continue reading this article, and we will help you choose goggles that are appropriate for your riding style by identifying the Scott goggles sizes for you.
Jump right into the Frequently Asked Questions
Related: Race bike tire size and width for road and racing bikes, Scott Clothing Sizes for Adults and Kids, Men's Bike Clothes Size for All Clothes, Women's Bike Clothes Size Chart – All Cycling clothes sizing
Scott Goggles Sizes Table of Contents
Scott Goggles Sizes Chart
Related: Scott Clothing Sizes for Adults and Kids
It would be best if you had a suitable fit to ensure that your goggles protect and make you feel comfortable. To help you, here is the Scott Goggles sizes chart:
| | | |
| --- | --- | --- |
| Names | Fit | Frame Technologies |
| Muse Goggle | S to M | Single-layer face foam No-slip silicone strap |
| Fix Goggle | M to L | Articulated outriggers 3-layer molded face foam No-slip silicone strap |
| Primal Goggle | Optimized for smaller faces | 2-layer face foam No-slip silicone strap |
| Fact Goggle | M to L | Single-layer face foam No-slip silicone strap |
| Factor Goggle | S to M | Single-layer face foam No-slip silicone strap |
| Linx Goggle | M to L | Skeleton construction Fit System Integrated RAM Air System 3-layer molded face foam No-slip silicone strap |
How To Choose The Right Scott Goggles Sizes
Related: What Scott Bike Size do I need?, Mountain Bike Size Chart – the Complete Guide, Road Bike Size Chart – A Complete Guide, Bike Tire Size Chart And Sizing Guide
The goggle frame has three purposes:
It holds your valuable lens in place.
It keeps your eyes away from the wind, tree branches, snow, or cold air.
It provides as much comfort as possible so you and your goggles may become best friends.
The proper fit of your frame contributes to your comfort. If you want that your goggles fit well, here are some sizes to consider:
Small
Small-fit goggles are often designed for youngsters, youth, or adults who know they have a small head and face. The small goggle may cause undesired gaps between the helmet and the frame when it comes to helmet fitting.
Medium
Most individuals with medium-sized heads and faces should be able to use medium-fit goggles. They will also be the ones with the easiest time finding a helmet that matches.
Large Or Oversized
One of the primary benefits of gigantic goggle frames is that they have more lens area and a wider field of view. This implies that you will be able to view more horizontally and vertically. This is a useful feature for riders or bikers. Or for someone who prefers a more peripheral perspective.
Moreover, individuals who need to wear suggestion glasses while biking or riding but still prefer the convenience of goggles may use these frames.
Note that these frames may make it more difficult to locate a helmet that fits properly.
Over The Glasses
This frame is designed specifically for someone who does not want to compromise between prescription glasses and goggles and wants to have it all while being comfortable.
It implies that the frame is thick enough to keep the lens far away from the face, allowing for glasses and much-needed airflow.
Moreover, finding a fit that does not irritate, scrape, or rub your face may still be challenging. Therefore, we recommend contacting one of the locations for expert advice.
Of course, you must bring your prescription goggles and helmet.
Women's Fit
Women's fit frames are pretty similar to medium-sized frames. They are typically available in more feminine colors and designs and are designed to suit thinner features.
Measuring Scott Goggles
Related: Bell helmet sizing chart – Helmet sizes for youth, women and men
Measure your face before purchasing your first pair of goggles to get an idea of what size you need. Goggles are typically designed for small, medium, or large faces, although they may accommodate various dimensions within each category.
The breadth and depth of your face are measured for goggles. Moreover, measure the space between both temples for the width of your face, and the depth from the center of the cheekbone to just above the forehead for the depth. This will roughly indicate where the foam on the goggles will fit on the face.
Check out this Scott PRIMAL Goggles Review (video)
Frequently Asked Questions
1. Do goggles come in different sizes?
Different sizes of goggles are available to fit various face shapes and sizes. It is important to try on goggles not only to ensure a proper fit but also to choose the best frame size for you.
2. Is Goggle Size Crucial?
Size is crucial and not simply for the fit of the goggles. Many manufacturers provide gigantic goggles to provide better peripheral vision.
3. How Do You Choose the Right Size Goggles?
You may get the optimum fit for your sunglasses by measuring your face. Measure the distance between your left and right temples and the distance from your hairline to the bottom of your chin using a ruler.
Then, measure the breadth of your brow from one side of your hairline to the other.
4. What Do Goggle Sizes Mean?
The lens size determines the size of the lens on the goggle. A larger lens has a larger field of vision, whereas a smaller lens has a narrower field.
5. Are Scott Goggles Good?
Excellent fit with no "nose pinch," no fogging, superb vision, and incredibly simple lens switching (you get two lenses with every pair).
The lens quality is superb, and the protective cover for the replacement lens is a thoughtful addition.
You have a winner when you combine it with a suitable adjustment mechanism that allows you to modify the goggle for maximum comfort.
6. How Do You Choose Goggles?
When selecting the best swimming goggles, you must consider the following factors:
They fit (do not let water in).
They are comfortable (no chafing across the nose or excessive strain on the eye sockets).
They are clear (no fogging or scratching).
7. Do I Need A Nose Guard On My Goggles?
Some manufacturers provide goggles with a tiny guard that protects your nose from UV radiation (sun). This is a touchy subject since some people adore it and would not go without it.
Others have a negative opinion regarding this item. It makes sense for persons who go biking or riding through low and densely forested areas or who want to go on glacier excursions at high heights.
8. What Color Lens Is Best For Bright Days?
Green lenses reduce glare while enhancing shadows, making them ideal for sunny and low-light conditions. These glasses are ideal for biking since they protect and soothe your eyes on foggy, hazy, or bright, sunny days.
9. Are mirrored goggles ideal?
Mirrored lenses are appropriate for brighter days and may be worn outdoors. Mirrored lenses are appropriate for light and minimize brightness, but they may be too dark for less-lit places.
Conclusion
Everyone's face is unique. As a result, the goggle fit is very individual, with the form and right Scott goggles sizes, as well as the padding and straps, all playing a role.
If your budget allows it, it's a good idea to get multiple pairs of goggles after you've found the most suitable ones. Keep one with a clear lens, one with a mirrored or iridium lens, and one with an amber lens. This way, you won't waste time changing lenses on the trail and track, and you can replace goggles as needed to fit the riding circumstances.
Furthermore, a well-equipped rider will have a variety of goggles attachments to fit every occasion. If you stick to one product, you will save money by not having to buy duplicate spares. You only need one pair of spare lenses and components for those specific goggles.
Depending on how often you ride, you may get years of usage out of your goggles if you take good care of them.
Do you have any questions? Write a comment below.
Picture in this post is from Thumper Talk
Related to Scott Goggles Sizes