Musical Ensemble Size and Structure
This post was last updated on December 7th, 2022 at 02:51 pm
A musical ensemble refers to a group of musicians that performs as a unit. Whether it's two musicians or a hundred, the group works as one to produce a cohesive piece. If you are looking to make music with other individuals, it's important to learn the names of different musical groups.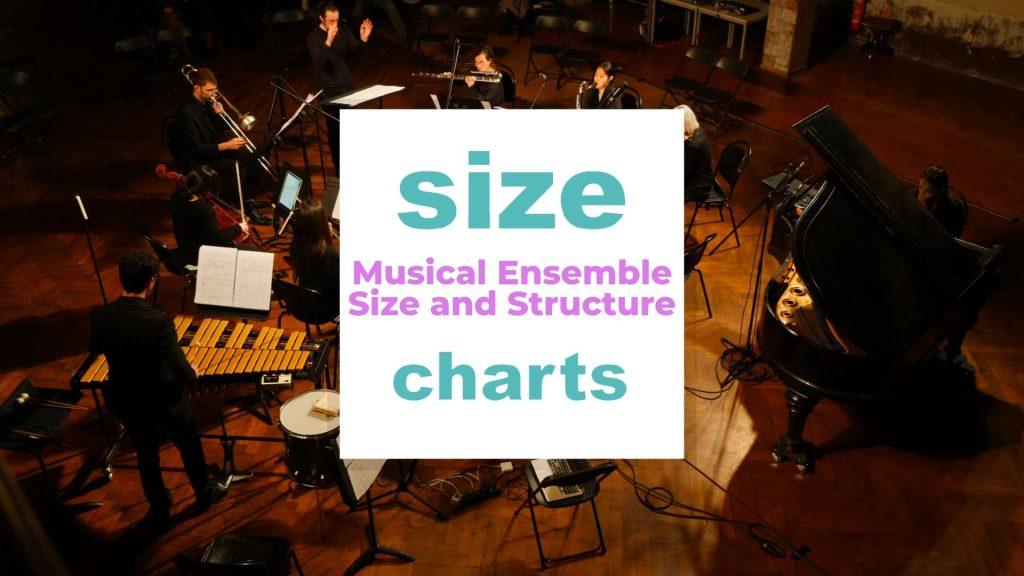 In this post, we'll cover different ensemble sizes to give you a better understanding of the type of group that suits you.
Let's proceed!
Jump right into the Frequently Asked Questions
Related: Violin Size Chart – What size violin do I need?, Crochet Hook Size Chart – A Handy Conversion Guide, Piano Dimensions and size by type
Musical ensemble Table of Contents
Musical Ensemble Size Chart
Related: Guitar Size Chart by Types of Guitars: what size do I need?
| | |
| --- | --- |
| Size of Ensemble | Types of Ensemble |
| Solo: 1 | · Drum solo · Guitar solo · One-man band · Piano solo |
| Duet: 2 | · Piano duet · Piano four hands · Musical duo · Bicinium |
| Trio: 3 | · Clarinet trio o Clarinet-cello-piano o Clarinet-viola-piano o Clarinet-violin-piano · Flute, viola, and harp · Jazz trio · Organ trio · Piano · Piano six hands · Power trio (in rock music and heavy metal music) · String · Reed |
| Quartet: 4 | · Jazz quartet · Piano · Rock or pop quartet · Saxophone · String · Wind · Woodwind |
| Quintet: 5 | · Brass quintet. Clarinet quintet · Piano quintet · Pierrot ensemble · Rock or pop quintet · String quintet · Wind quintet |
| Sextet: 6 | · Piano · String |
| Other | · Septet: 7 · Octet: 8 · Nonet: 9 · Decet: 10 · Duodecet: 12 |
| Large groups | · Brass band · Choir · Concert band · Orchestra · Singakademie · String orchestra |
Musical Ensemble Examples
| | |
| --- | --- |
| Musical Ensemble | Famous Musical Groups |
| Duo or Duet (Two musicians) | 21 Pilots Florida Georgia Line |
| Trio (Three musicians) | Jonas Brothers Destiny's Child Little Mix |
| Quartet (Four musicians) | Big Bang The Beatles Queen |
| Quintet (Five musicians) | The Jackson 5 5th Harmony One Direction |
| Sextet (Six musicians) | Amaranthe The King's Singers Foo Fighters |
| Septet (Seven musicians) | BTS Got7 |
| Octet (Eight musicians) | 7 Seconds of Love Superorganism |
| Nonet (Nine musicians) | Amnesty The Kitchers |
| Decet (Ten musicians) | Vampillia The Funk Ark Lifted Crew |
| Undecet (11 musicians) | The Hatters Five Alarm Funk |
| Duodecet (Twelve musicians) | Phenomena Asonance |
| Orchestra | Vienna Philharmonic Saito Kinen Orchestra |
| Symphony | New York Philharmonic San Francisco Symphony Chicago Symphony Orchestra |
| Marching Band | Ohio State University Marching Band Texas A&M Aggie Band |
| Choir | Saint Louis Chamber Chorus Tabernacle Choir Polyphony Choir |
Types of Musical Ensembles
Related: Cornhole Board Size and dimensions guide
Ensembles can exclusively comprise singers, instrumentalists, or a combination of both. We can categorize musical ensembles into two main groups; small ensembles and large ensembles.
1. Small Ensembles
These are musical groups of two to ten people. We'll define each in detail below.
i. Duet
Also known as a musical duo, this is a group of two musicians performing a piece together. Each of the two musicians offers critical importance to the composition which is why duets usually feature two singers or pianists.
Instead of harmonizing each other's vocals, musicians in a duet each get a solo in the piece. When two pianists are performing on the same piano, the music is called a piano duet. On the other hand, if the pianists are playing on separate instruments, it's called a piano duo.
Duets have classical origins, finding a place in operas as early as the 17th century. However, they also have a place in modern pop music. Duets usually feature a conversation-type of music that shows the perspectives of the first and second musicians.
ii. Trio
When a musical piece requires three people to perform, it's called a trio. It could be three instrumentalists or vocalists performing a common piece. Dating back to the 17th and 18th centuries, trios typically involved two musical instruments and a continuo group. Today, there are different ways to make a trio by combining different instruments.
Here are some common instrumental trios:
Piano trios – comprising a piano, violin, and cello
Organ trio – comprising a Hammond organ, jazz guitar, and drum
Harmonica trio – comprising bass, chord, and chromatic harmonicas.
iii. Quartet
An ensemble of four musicians is called a quartet. You can easily see this type of group in classical music through a combination of four instruments. A good example of this ensemble is a string quartet in chamber music.
This quartet usually has a viola, a cello, and two violins. The musicians play the instruments to mirror four registers of the vocal range including soprano, alto, tenor, and bass.
Piano quartets are another variation of classical music. These usually feature a piano, cello, violin, and viola. Famous composers like Beethoven and Mozart have quartet compositions of this nature.
Wind quartets are another category. They could involve a combination of four wind instruments or a wind instrument, viola, violin, and cello. Instrumentals aside, you can also make a quartet ensemble of vocalists. This ensemble could come in a variety of combinations like the four vocal registers, male groups, female groups, or a mix of male and female voices.
iv. Quintet
If you add an extra instrument to a string quartet, you end up with a quintet. This ensemble features five musicians each playing an instrument in the same musical composition. A wind quintet typically includes a flute, horn, bassoon, oboe, and clarinet.
Another classical variation of this ensemble is the brass quintet which has a tuba, trombone, horn, and two trumpets.
v. Sextet
Also known as a hexad, this ensemble comprises six individuals. It could be a composition for six-string instruments which is called a string sextet. It could also feature a piano and a combination of other instruments, earning the name piano sextet. Rock and jazz bands also have sextets of six instrument players.
vi. Septet
One of the popular jazz ensembles is the septet. This group of seven instrumentalists usually features a string bass, drum set, and several other instruments.
vii. Octet
An octet is a group of eight musicians and it is one of the largest chamber music ensembles. Octets can exist in different forms including string octets, wind octets, or a combination of both. In classical music, octets can be formed by mixing two quartets into a single unit. Octets also exist in jazz and include eight instrumentalists with a variety of instruments.
viii. Nonet
This ensemble comprises nine musicians and it could have a variety of instruments for a classical music setting. Nonets could also feature the same type of instrument which is how we have string nonets and wind nonets.
ix. Decet
A decet or decimette is a musical group of ten people. This ensemble doesn't have a defined standard for musical instruments.
x. Undecet
This is a group of eleven musicians. It's not a common ensemble that you can easily find today.
xi. Duodecet
A duodenal is a musical ensemble of 12 members. A jazz band of twelve is called a twelvetet.
2. Large Ensembles
Now that we've covered small ensembles, let's take a look at musical groupings that fall under large ensembles.
i. Chamber Orchestra
A chamber orchestra is an ensemble of about 12 to 40 classical-playing musicians. The instruments will come in groups but each will be used in a specific part of the composition. Usually, this ensemble can do without a conductor which is why the musicians need to be highly skilled and dynamic to play a piece in unison.
In the 17th century, European royalty and members of the upper classes of society used to hire musicians to play classical music in a chamber. This was a means of entertaining house guests who were the audience of the performers. That is how the term "chamber music" came to be.
ii. Symphony Orchestra
Symphony orchestras are much larger than chamber orchestras. With up to 100 musicians, symphony orchestras feature many types of instruments including brass, bass, string, wind, and percussion instruments. Usually, there'll be more than one instrument playing each part of the composition.
Another way to differentiate a chamber orchestra and a symphony are how it's led. A symphony orchestra usually features a conductor who directs the music with body language and gestures.
iii. Concert Bands
This ensemble features about 80 to 100 musicians playing percussion, woodwind, and brass instruments. They differ from marching bands because they perform in a concert hall rather than on the move. Unlike orchestras, this ensemble doesn't feature string instruments.
There are many names for concert bands including wind orchestras, wind ensembles, and symphonic bands. The band leaders of concert bands are called concertmasters.
iv. Marching Bands
Similar to concert bands, marching bands also use brass, percussion, and woodwind instruments. These musicians perform while marching during parades in a professional setting, sports events, and band-marching competitions.
v. Choir
This ensemble is a body of singers that perform together. A choir can handle anything from classical songs to modern pop music. In most cases, this ensemble will have a conductor who leads the group.
Learn more about music ensembles in this video
Frequently Asked Questions
1. What is considered a large musical ensemble?
A large ensemble has between 40 and 100 or more musicians.
2. How big is a small musical ensemble?
A small ensemble can have 12 musicians at most.
3. What are 5 different types of the musical ensemble?
The different types of ensembles include chamber orchestras, symphony orchestras, concert bands, marching bands, and choirs.
4. What is the musical ensemble of 8?
An ensemble of eight is called an octet.
5. What is a group of 10 musicians called?
An ensemble of ten musicians is called a decent.
6. What is a group of 12 musicians called?
An ensemble of 12 is called a duodenal.
7. What is a group of six called?
A musical group of six is called a sextet.
Conclusion
There is a wide range of musical ensembles you can take part in. These musical groups have a different number of individuals that contribute to the performance. Whether you love classical music or pop, there's a suitable group for you. With an understanding of how many people your group should have, you'll have a better chance of success.
If you have questions about musical ensemble sizes, leave them below.
Picture in this post is from America House Kyiv
Related to Musical ensemble size