Crochet Hook Size Chart – A Handy Conversion Guide
This post was last updated on July 10th, 2022 at 09:36 am
Whether as a hobby or hustle, crocheting is a stress-free and fun activity as long as you know what you are doing. During a project, you will be required to decide the type of yarn to use and choose the right crochet hook size for each pattern. So, if you want to know all about how to choose the right size crochet hook or about what are all the sizes of a crochet hook, our expert crochet needle sizing page will help you out.
Knowing the correct hook size can save you a whole lot of stress while giving you the perfect result you want. In this article, you will find all information regarding crochet hook sizes and how to choose the right one.
Discover all dimensions for clothes sizes here when you have a specific project in mind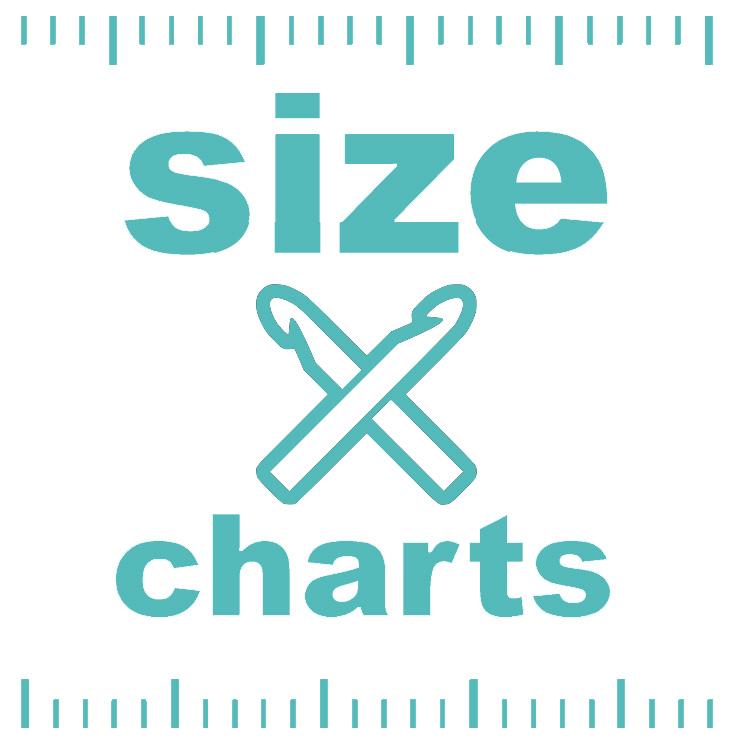 Crochet Hook Sizing table of content – quick menu
What is a Crochet Hook?
A crochet hook (also known as a crochet needle) is a tool used to make loops in thread or wool and then interlocks them into crochet stitches. A circular shaft with a lateral groove on one end and a pointed end makes up this tool.
Crochet hooks are commonly available in diameters ranging from 0.35 mm to 25 mm in millimeters. Steel, lace, and thread hooks are defined as hooks with a diameter less than 2.00mm. Yarn hooks, also known as standard hooks, have a diameter of 2.00 mm or more, whereas aluminum hooks have a diameter of 2.0mm to 6.0mm.
Anatomy of a Crochet Hook
Most people never think about the anatomy of the crochet hook as It's not the first thing people learn when they learn to crochet. That being said, it is good knowledge to have. Different parts of the crochet hook affect the size of your projects and the ease with which you make them.
Head
Crochet hooks can have pointy or rounded heads. They might be highly sharp  or incredibly dull. When adding a crochet border, the sharper hooks are preferable for pushing through various textiles. It may be easier to get through stitches with pointed hooks than rounded ones. The sharper the tip, the more likely it is to split yarn.
Parts of the Head
The Point/Tip: The first part of the hook pushes through the stitches. It is also referred to as the tip of the crotchet needle.
The Lip: The lip is the part of your crochet needle that resembles a hook.
Throat
The part of a crochet hook that catches and holds your yarn is the groove. In a nutshell, it's the actual hook. Grooves can also be circular or pointed in shape. The groove's shape determines the lip's shape.
Shaft
The section of the hook between the throat and the grip is known as the shaft or shank The size of the hook and, as a result, the shaft/shank determines the size of your project. Thus, a crochet hook designated 4.0 mm has a shaft of 4.0 mm in length.
The shafts of hooks can be short or long. More extensive and longer stitches, such as treble crochets and bobble stitches, require longer shafts. The shaft length varies depending on the brand of the crochet hook.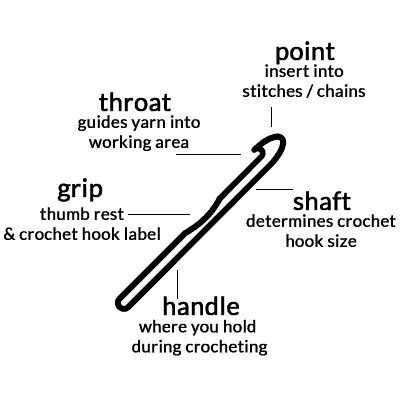 Crochet Hook Sizes
Each size crochet hook from the small hook to the larger hook is designed to give a specific pattern result. Hook sizes tend to vary depending on the country where it was manufactured. However, hooks are generally measured with millimeter markings. Knowing how to use the crochet hook sizes and conversion chart and knitting needle size conversion table for crochet hooks is essential to understanding crochet hook sizes.
Standard Crochet hook size conversion chart
Discover the below standard knitting needle size and crochet hook sizes in Metric, US sizes converted into the crochet hook size.
Standard Crochet hook size conversion chart
Yarn Hook Size chart
Thread hooks size chart
US to UK Crochet Hook Size Conversion
What Size of Crochet needle do I Need?
The size of the crochet needle required depends on the project to be done and the yarn weight. The table below gives an overview of the different sizes of crochet hooks available and examples of projects best suited for each size.
| | | |
| --- | --- | --- |
| Weight Yarn | Crochet Hook Sizes (US) | Project Idea |
| Lace | Steel 6,7,8 – B/1 | Baby Clothes, Socks, & Lace |
| Superfine | B/1 – E/4 | Baby Clothes, Socks & Lace |
| Fine | E/4 – 7 | Baby Clothes, Socks & Lace |
| Light | 7 – I/9 | Sweaters, Afghans, & Tank Top |
| Medium | I/9 – K/10.5 | Afghans, Sweaters, & Accessories |
| Bulky | K/10.5 – M/13 | Hats, Scarves, Rugs, & Afghans |
| Super Bulky | M/13 – Q | Afghans, Winter Accessories, & Sweaters |
| Jumbo | Q+ | Afghans, Sweaters, & Rugs |
Size chart for Socks, Size charts for hats, Size charts for gloves, … click the links to get expert info on sizing
Crochet Hook Types, Materials, Designs, and Brands
Different brands, the shape and style of the hook, the material used in production, and the design all contribute to the vast range of crochet hooks on the market.
Types of Crochet Hooks
Crochet hook types are identified by their different hook heads. Round-headed crochet hooks are preferable when working with yarn prone to splitting, whereas point-headed crochet hooks are preferred when working with super bulky wool.
Material Used
Metal, wood, and plastic are common materials for crochet hooks, and steel crochet hooks and aluminum crochet hooks are the two types of metal crochet hooks. Steel hooks are typically used for thread crocheting, although aluminum hooks are lightweight and preferred by most professionals.
Wooden crochet hooks are the most expensive on the market. Wood hooks are preferred because they are easier to work with and have enough texture to keep yarn from falling off during crocheting. On the other hand, plastic hooks are the most cost-effective and ideal for bulky yarn or chunky wool.
Design of crochet hooks
The two most common hook styles are the regular hook, also known as the American crochet hook and the Afghan or Tunisian crochet hook. The Tunisian hook is substantially longer and includes a stopper on one end; as a result, the Tunisian crochet pattern is sometimes compared to both knitting and crocheting.
Popular Crochet Hook Brands
There are many sorts of crochet hook manufacturers on the market, each with its own set of benefits and drawbacks. For example, the Susan Bates lightweight crochet hook is best hook for beginners due to its durability. The Tulip Etimo crochet hook is a favorite crochet hook among experts due to its elastic thumb grip feature.
Different Crochet Hook Sizes explained (video)
Crochet Hook Questions for Beginners
What is The Best Crochet Hook For Beginners?
The best crochet hooks for beginners are usually size H/8 5 mm, I/9 5.5 mm and the J/10 6 mm crochet needle hooks. These hook sizes are the perfect size to crochet for beginners.
How Do You Know What Size Crochet Hook To Use?
Look into the pattern you plan to make. Most crochet patterns will tell you what crochet hook size to use in the pattern. Search for the materials used or the note section to figure out which crochet hook you need
What Is The Most Commonly Used Crochet Hook Size?
The most common size is an H/8 5 mm crochet hook. Perfect size to make blankets, scarves, and more as it is a medium-size crochet needle.
Conclusion
A lot goes into getting the desired result for a particular crotchet project. Choosing the correct type of hook is essential when crocheting. Therefore, it is essential to take note of hook sizes as it relates to countries and brands. Also, ensure you take note of other important factors such as yarn weight and gauge when working on any project.
If you have any questions, let us know in the comment section. Do not forget to share with other crotchet aficionados. 
Picture in this post by Karina L on Unsplash
Related Hobbies Size Charts