Quilt Size Charts and Dimensions Guide
This post was last updated on June 22nd, 2023 at 07:36 am
Quilt is another word for "duvet". A quilt is a warm bed covering made of padding enclosed between layers of fabric and kept in place by lines of stitching. It is usually applied in decorative designs. A quilt size corresponds most of the time with the bed or mattress it's used upon. The quilt design of a handmade quilt is good enough that sometimes they are used as "wall quilts". Most of the time the word "duvet" is used for a quilt that is filled with downs, feathers, or wool.
All bed dimensions or mattress sizes you can discover in the links. Skip the charts and go directly to the frequently asked questions range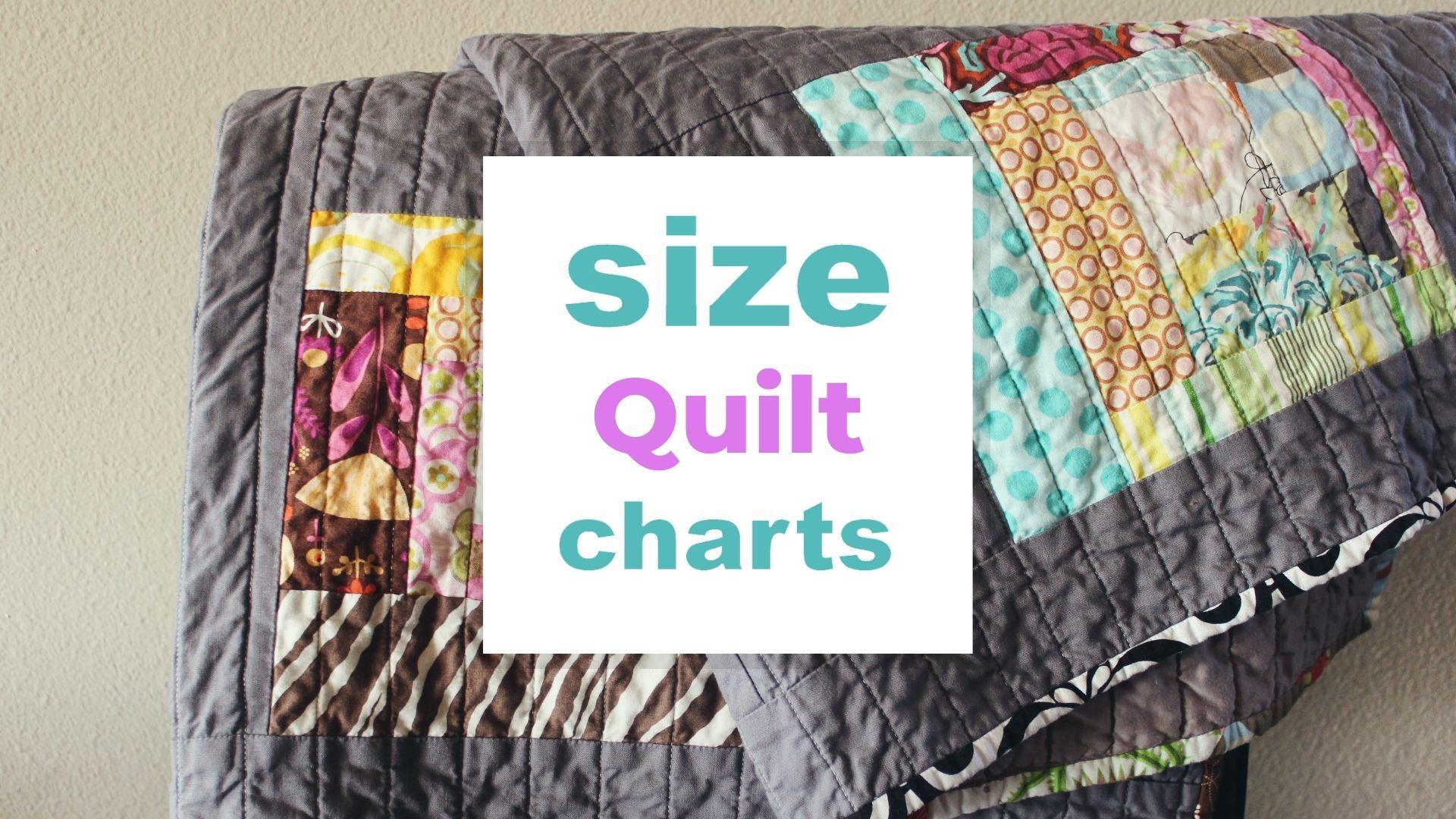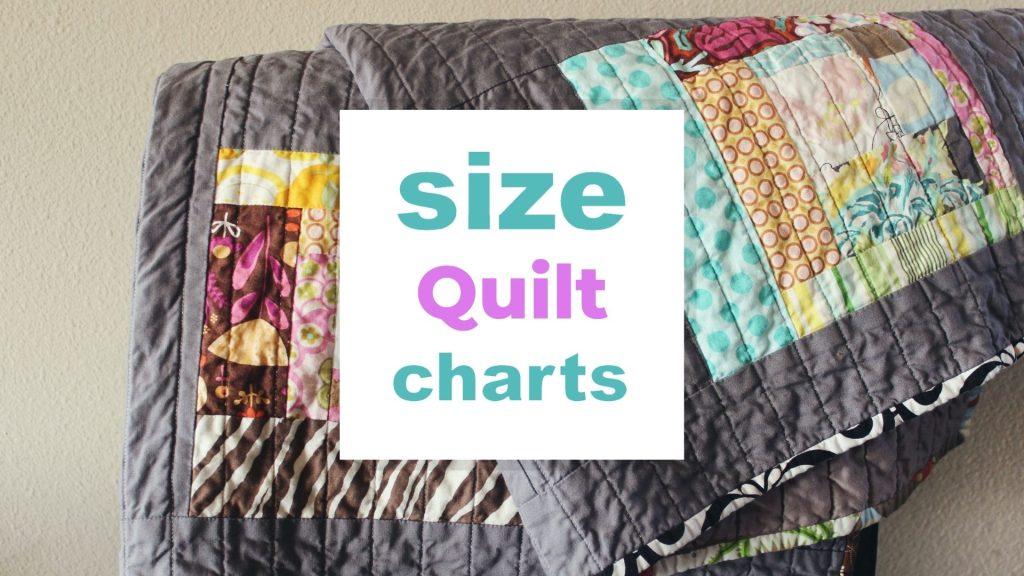 Quilts are thinner than comforters and are rarely as warm as comforters, they also differ from weighted blankets sizes
Many people crochet their quilts, so an appropriate sized crochet hook is needed
Table of Content of Quilt Size Chart
Quilt Size Chart
Make sure that the quilt should be one size bigger than the size of your mattress. Choosing one size bigger makes your comfort level higher and also it gives an aesthetic appeal overall. Quilts end at the head end of the bed; however, you may want to add 24 to 40 inches ( 60 to 100 cm) to the desired length so as to create a tuck for pillows. For example, a double bed — 54 by 75 inches — needs a quilt 88 inches wide and at most 116 to132 inches long. Check out the standard quilt size chart below.
| | | |
| --- | --- | --- |
| Quilt Label | Dimensions (In) | Dimensions (Cm) |
| Baby | 30×40 | 76×102 |
| Crib | 36×52 | 91×132 |
| Lap | 52×52 | 132×132 |
| Throw | 50×65 | 127×165 |
| Twin | 70×90 | 178×229 |
| Double/Full | 85×108 | 216×274 |
| Queen | 90×108 | 229×274 |
| King | 110×108 | 280×274 |
Measuring Your Quilt size
Sometimes you may need to know your exact mattress size. When measuring, have the blankets, sheets, and bed pillows on the bed that will be used with the quilt. "Drop" is the part of the quilt that extends over the edge of the mattress. "Pillow tuck" or just "Tuck" is the part of the quilt that folds under the pillow. It can be shallow (10″) or deep (20″). Washing and/or drying the finished quilt can cause shrinkage, those extra inches for overhang do more than give you a beautiful quilt.
1. First we will worry about the width. Using a tape measure, measure the mattress width and add twice the drop length. For a comforter-size finished quilt measure from the top of standard mattress size. For a coverlet, measure from the top of the mattress to slightly past the bottom of the bed rail.
2. Now we have to take care of the length. If you want the quilt to cover your pillows, measure the mattress length, then add one drop length plus 10″ to 20″ for the pillow tuck. The exact amount to add will depend on the size and fullness of your pillows and the depth of your tuck. If you do not want your quilt to go over your pillows, measure the mattress length and add one drop length.
The Best Quilt For You
When choosing the quilt types, you must consider your needs. There are various types of quilts. Based on the material they are made of the major types of quilt are as follows.
1. Wool quilts help to regulate body temperature and are found breathable. Wool is a natural fiber that is warmer in winter and cooler in summer. Wool quilts are comfortable for all types of sleepers, it gives comfort. Usually, wool quilts give warmth year-round. It is also suitable for asthma patients and skin allergy sufferers.
2. Feather and down quilts are made of natural fiber and it is suitable for cold sleepers. It is usually harvested from the duck and geese. The higher fill of natural fibers keeps you warmer all the time. Feather and down quilts retain heat and insulate with a lofty fill providing warmth and light. These quilts are fluffy and softer than other natural fibers.
3. Microfibre quilts are made of modern synthetic fiber. The fibers are ultra-thin and are super soft, long-lasting, lightweight and easy to care for. The fiber filling gives softness and it promotes good loft. It is recommended for allergy sufferers and children since it is dust mites resistant.
4. Cotton quilts are made of all-natural fabric and is breathable. The properties of cotton make it suitable all year around. High-quality extra-soft cotton fabric quilts are suitable for hot sleepers.
5. Bamboo quilts have bamboo casing and blend filling. The high-quality natural filling provides moderate warmth. It is also breathable and provides a perfect combination of comfort. Usually, bamboo fibers have the properties of antibacterial function and are hypoallergenic. It naturally helps to regulate body temperature while sleeping.
Mattress size measurements are also good enough to guess the standard sizes of a proper size quilt for you. In this case you can treat your quilt like a larger blanket. If we are to pick out types of quilts based on size and purpose, the list of quilt sizes will be as follows.
Baby – Baby quilts are those intended for the use of babies and small children. They are generally around 37″ x 52″ for use with crib or baby size batting at 45″ x 60″. Baby quilt size is generally made in artistic designs of the quilt patterns. They are made to be used and laundered frequently. Standard baby quilt sizes are typically square in shape.
Crib — Crib quilts typically measure between 30″ × 46″ (76× 117cm) and 36″ × 50″ (91×127cm). They're rectangular in shape and will fit most crib mattresses when made to fall within these measurements.
Toddler Bed — Quilts for toddler beds are rectangular and should measure about 46 by 70 inches (117 by 178 cm) to fit a standard-size toddler mattress. The average toddler blanket fits well under a toddler quilt.
Lap — Lap quilts can be square or rectangular, depending on how you decide to make them. A good start for lap quilt sizes is around 52 by 52 inches (132 by 132 cm) and can go up to 52 by 78 (132 by 198cm). It all depends on whether you just want a light coverlet to go over your lap or if you want a cozy quilt with a couple of extra inches so as to snuggle up with a favorite someone on the couch.
Twin — A twin-size quilt usually begins around 64 by 86 inches (163 by 218cm), but measurements can go as high as 72 by 96 inches (183 by 244cm) if you want a nice drape over the sides of the bed. A twin quilt is the beginning of bed-size quilts with a standard measurement based on the popular size of standard bed sizes.
Full-size quilts— The finished size of traditional quilts based on common measurements of mattress measurements is always bigger than the actual mattress. A good place to start for a full-size quilt is 70 by 88 inches (178 by 224cm) and sizes can go up to 88 by 100 inches (224 by 254cm). Any double or full-size bed quilt in this range will comfortably cover your mattress.
Queen — This is a larger quilt with a generous overhang. The extra overhangs of queen-size quilts usually have a maximum measurement of around 99 by 108 inches (252 by 274cm).
King — For your king-size bed, you'll want a coverlet that measures at least 108 by 108 inches (274 by 274cm) for nice coverage all around.
Quilt sizes and dimensions explained
Quilt Size FAQ
What are standard Quilt sizes?
Pre-cut, packaged batting come in standard sizes:
Crib 45″x60″
Twin size 72″x90″
Double/Full sizes 81″x96″
Queen size 90″x108″
King-size 120″x120″
What is the most common Quilt size?
The standard quilt size is 90″ x 108″, and pre-cut batting is the same measurement.
What size are lap quilts?
45-inch by 45-inch square. The Standard Size of a Lap Quilt is usually a 45-inch by 45-inch square. This is considered to be the traditional shape and size.
Conclusion
Choosing a quilt is equally important as choosing your clothes. If you know the size of your mattress, just choose accordingly.
We wish you a beautiful journey into quilts. Share your experience or thoughts by leaving a comment behind.
Picture in this post by Erik Mclean on Unsplash
Related beds and mattress size charts