Headboard Size: What Dimensions Needed for King, Queen,… Beds?
This post was last updated on April 27th, 2023 at 03:16 pm
A headboard is a furniture piece you attach to your bed's head. Originally headboards were made to help separate beds from walls to reduce cold drafts at night. This ensures sleepers stay warm and cozy without the beds conducting cold from the walls (skip straight to the Headboard Size Chart). The width of a headboard is not predetermined, however, it is normally 0 to 3 inches (7.6 cm) wider than the bed frame. For instance, a queen bed is 60 inches wide (152 cm), so the headboard should be between 60 and 63 inches in size (152-160 cm). The width for a king bed headboard would be between 76 and 79 inches (193-201 cm).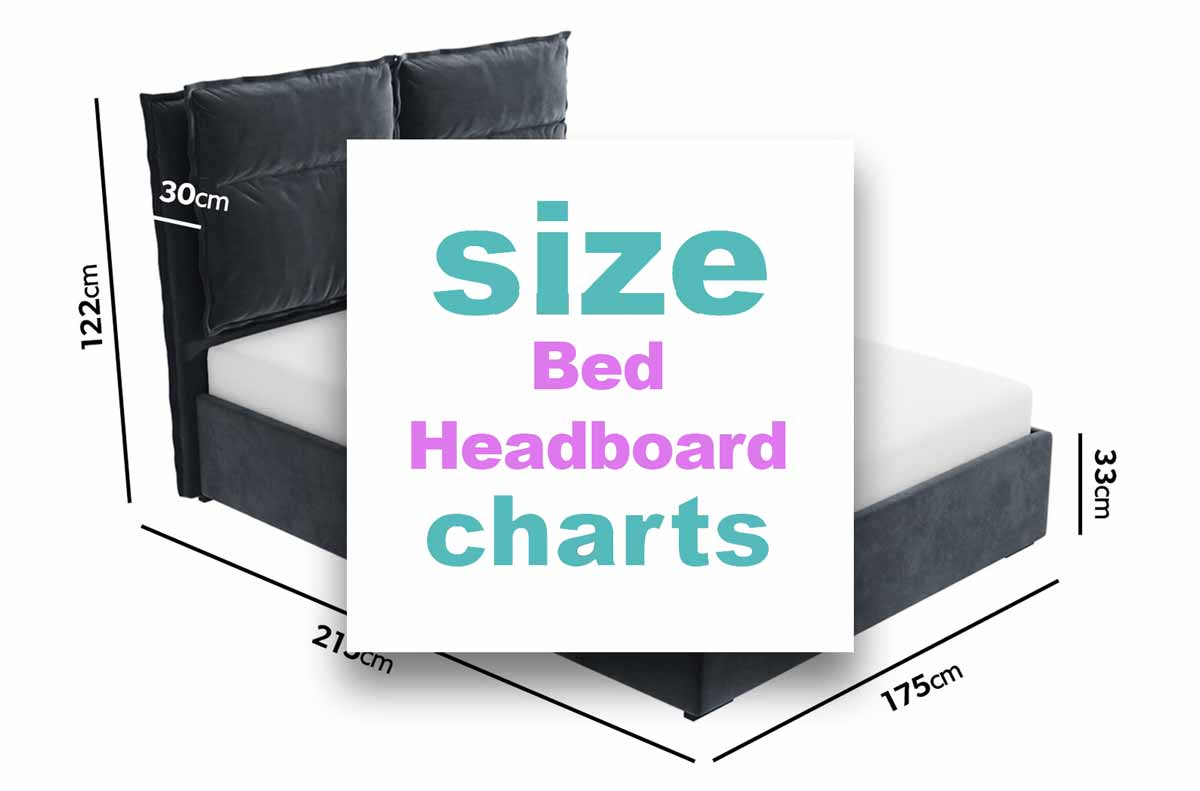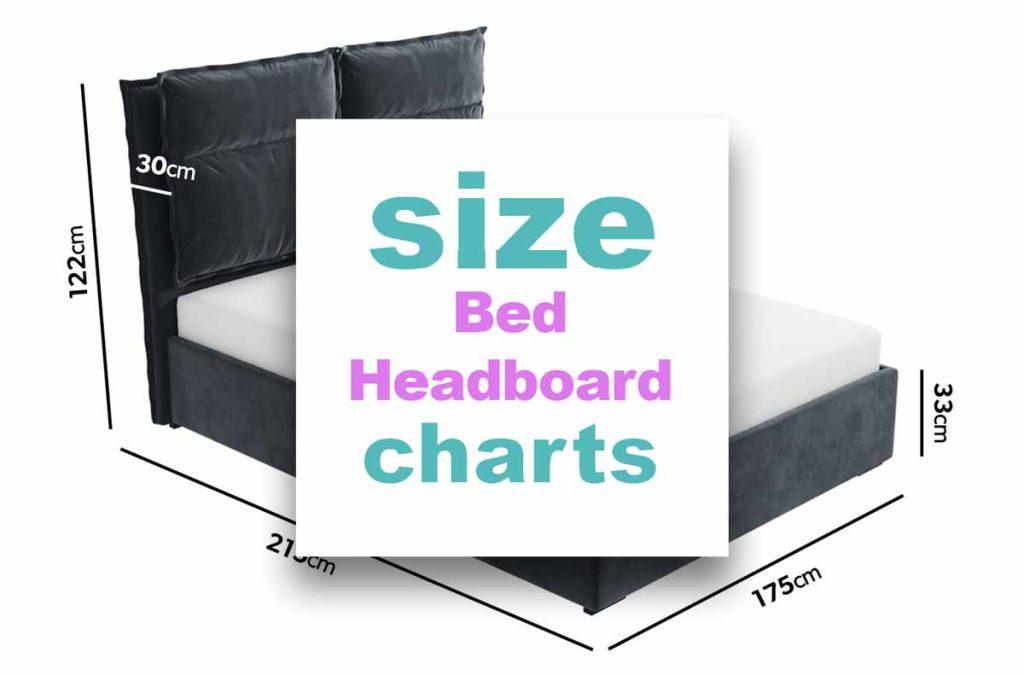 Nowadays, headboards are great for adding interest to the bedroom, providing a resting platform, and keeping your walls from abrasion.
It can be hard to determine whether a headboard is a right size for your bed type. The wrong size will waste time and money and affect your bedroom decor. Here, we'll cover the ideal size headboard for a king, queen, or any other bed size and how to make the best choice.
Let's get to business!
Jump right into the Frequently Asked Questions
Related: Room Size for beds and mattresses, Bed Size Chart – Measurements And Dimension for king, queen,… beds; Rug sizes for bedrooms – all rug dimensions for all sizes of beds, Weighted Blanket size charts for Adults and children
Headboard Size Chart Table of Content
Headboard Size Chart – Comparison
Related: Queen Bed Size Chart and dimensions guide, King Bed Size Chart and dimensions guide, Average Master Bedroom Size: How Big Is A Master Bedroom?
Bed Size
Headboard Width (in)
Headboard Width (cm)
Mattress Dimensions
Recommended Room Size
Twin & Twin XL
41 inches
104 cm
38 x 75 inches
96.5 x 190.5 cm
7 x 10 ft
2.13 x 3.05 m
Full bed
56 inches
142 cm
53 x 75 inches
134.5 x 190.5 cm
10 x 10 ft
3.05 x 3.05 m
Queen bed
62 inches
157 cm
60 x 80 inches
152.5 x 203 cm
10 x 10 ft
3.05 x 3.05 m
King bed
80 inches
203 cm
76 x 80 inches
193 x 203 cm
12 x 12 ft
3.65 x 3.65 m
California King bed
74 inches
188 cm
72 x 84 inches
183 x 213 cm
12 x 12 ft
3.65 x 3.65 m
How to Choose the Right Headboard Size
Related: Twin Bed Size Chart: Single bed dimensions guide, Bed sheet size and dimensions by type of bed (with size chart),Blanket sizes chart, a complete blanket dimensions guide
Standard headboards come in different sizes and it's not easy to choose the best option without guidance. This section will discuss the headboard dimensions for various bed sizes.
The right headboard size should match your bedroom design scheme and add interest to the room. So, let's see what you need to achieve that.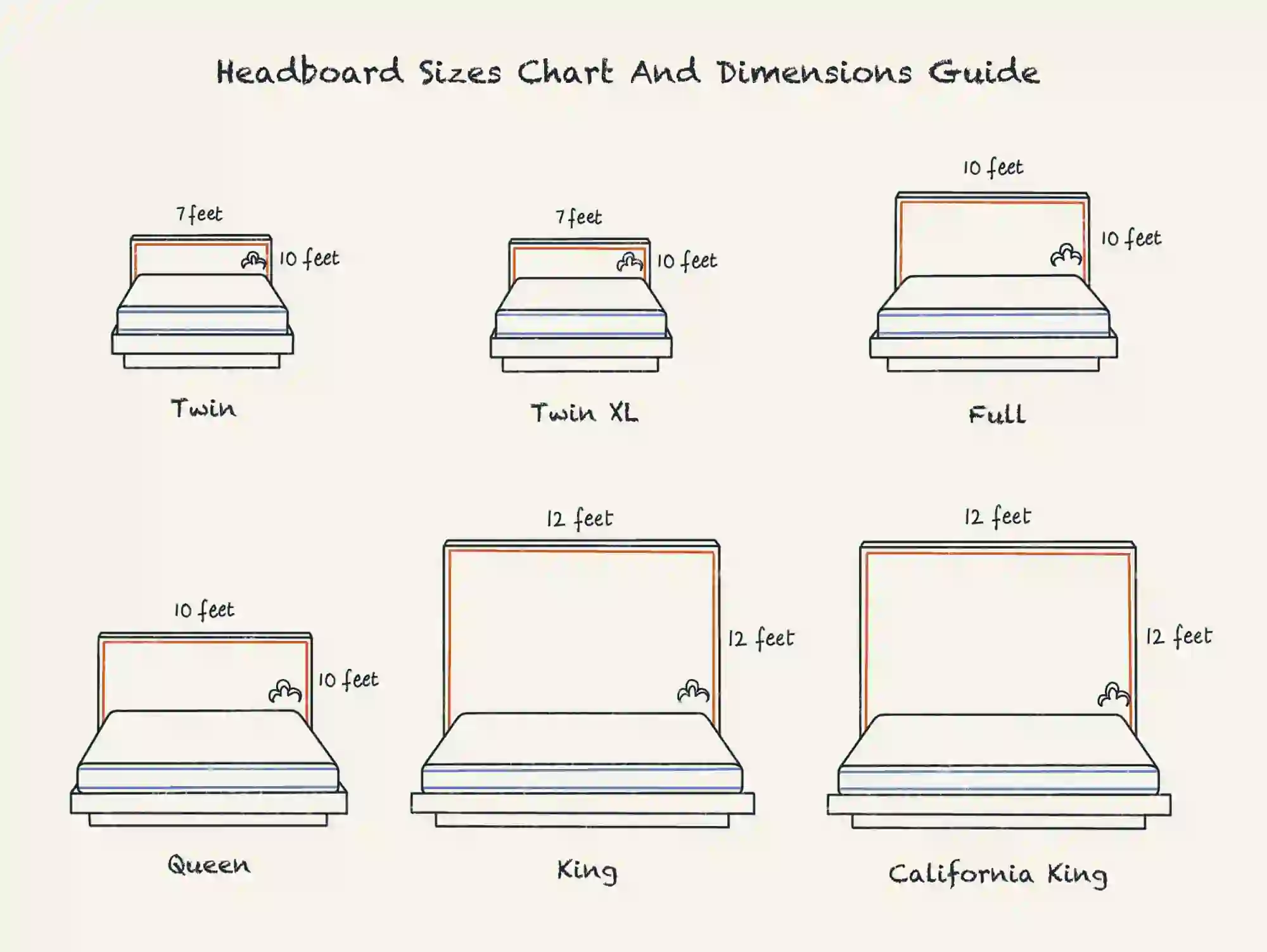 1. Headboard Width Comparison vs bed-size
The width of your headboard is perhaps the more important dimension. Headboards come in varying widths according to different bed sizes. Here are the approximate headboard widths for every bed size.
The ideal headboard width for a twin-size bed is 41 inches or 104 cm. This width can work for twin and twin XL beds, but the headboard is rather short. This bed type is great for rooms 7 by 10 feet or 2.1 by 3.1 meters.
Full-size headboard width
The width of a full-size headboard is 56 inches (142 cm). These headboards are also shorter and don't take the attention away from the full-size bed. It's suitable for a room measuring 10 by 10 feet or 3.1 x 3.1 meters.
Queen-size headboard width
If you have a queen-size bed frame, the best width for your headboard is 62 inches, equivalent to 157 cm.
You don't have to use a queen mattress with this headboard since a full-size mattress could do. Unfortunately, the bed frame will be a few inches wider than the mattress, but this won't be visible once you add sheets and pillows.
This headboard works well in a room that measures 10 by 10 feet or 3.1 by 3.1 meters.
King-size headboard width
You need a headboard 80 inches wide (or 203 cm) for a king-size bed. Since this bed is larger than usual, you should ensure the room is at least 12 by 12 feet or 3.65 by 3.65 meters.
California king-size headboard width
As one of the largest beds, California king beds require extra-wide headboards. A Cal king headboard has a width of 74 inches or 188 cm. It's a great choice if your bedroom is about 12 feet by 12 feet (3.7 by 3.7 meters) to ensure you can also add bedroom furniture.
Check out how to fit a bed headboard in this post.
2. Headboard Height
Now that you know the ideal width for your headboard, the next dimension is the height. Your standard headboard height will vary depending on your bed type and your stylistic preferences. Generally, here are the standard heights for different headboards;
Twin bed headboard height – 14 inches or 36 cm
Full bed headboard height – 28 inches or 71 cm
Queen bed headboard height – 28 inches or 71 cm
King bed headboard height – 58 inches or 147 cm
Now, let's consider them in detail.
Tall Headboards
These headboards reach as high as 70 inches above the bed base. They cover a considerable portion of the wall and are a great choice for people who like to sit up in bed.
They can support your head and neck as you sit on your California king, king, or queen-size bed. Tall headboard beds are the ideal choice for bedrooms with high ceilings.
Short/Low Headboard
A low headboard measures about 10 – 12 inches tall. A shorter headboard is an excellent option for twin, twin XL, and full-size beds because they take up minimal wall space. They leave a lot of space, making them ideal for the guest bedroom.
Adjustable Height Headboard
If it's hard to choose between a tall and short headboard, adjustable headboards could be the solution you need. Thanks to the adjustability feature, you can raise them higher or lower depending on preference. However, you shouldn't make them taller than the length of your bed to ensure your design remains proportional.
The Best Type of Headboard for You
Related: Rug sizes for bedrooms – all rug dimensions for all sizes of beds, Standard Size of Bedroom: All You Need to Know
There are many headboard types and headboard designs. The best choice for you will depend on the headboard materials and configuration. Let's cover these details below.
1. Headboard Materials
The headboards on the market are wooden, metal, upholstered, and storage headboards.
Also called wood headboards, these are made of wood and are the most popular choice. They could come in a natural wood finish to match your interior color scheme. If you'd like a classic or traditional look, wooden headboards are what you need.
Pine, oak, and maple headboards look great but expensive. If you want affordable options consider those made from materials like plywood.
An upholstered headboard features soft padding with some type of fabric. They are great for active sleepers since they are plush and reduce the impact when you bump your head against them. You should also go for these if you want a cozy backrest to relax on as you sit in bed.
They are ideal for any type of bed frame and could feature decorative or plain designs, depending on your liking.
A metal headboard is a perfect option when you don't want a hardwood headboard. These headboards come in varying designs but have a minimalist feel, and you can choose from a wide variety of colors.
They are made from materials like stainless steel, iron, brushed aluminum, or brass. The types of beds suitable for metal headboards are platform and bunk beds. 
These headboards are made of wood but usually feature storage shelves or cabinets on either side. This allows you to store your essentials within reach. You can keep your books, alarm clock, and other items inside and a lamp on top. These headboards require extra space on the sides and are pretty thick so you'll need additional space in your bedroom.
2. Headboard Configurations
The configuration of your headboard is the place you'll install it. Headboards can be installed on the walls, the bed frame, or stand on their own.
These headboards are meant for mounting on walls. They have a floating appearance since they don't seem to stand from the ground. This headboard doesn't have to be the same size as your bed and allows you to change beds without replacing it.
Wall-mounted headboards require strong wall brackets where you'll attach them. They add a decorative feel to your bedroom and tend to be tall.
When buying a bed separate from your headboard, you should ensure it has bed brackets. The type of bed frame will determine if your bed is compatible with the headboard. For instance, queen bed frames require queen-size headboards. A frame-mounted headboard provides a great way to enhance your bed for watching videos and shows in the bedroom as a backrest.
Unlike the other headboards, these don't require mounting on the walls or the bed. They don't feature any mounting holes or attachment parts. Since they don't need installation, they are the most convenient choice for most people. Plus, you can place them behind any bed to create a custom look for your bedroom.
Check out this video for more inspiration for your headboard size and type
Frequently Asked Questions
1. Can you put a headboard on any bed frame?
Yes, you can. A headboard could work for any bed frame as long as they are the same size.
2. What size headboard fits a queen?
A 62-inch headboard, equal to 157 cm, is the ideal size for a queen bed.
3. Are queen and full headboards the same?
No, they aren't. A queen headboard is a bit larger than a full headboard. However, you can use a queen headboard for a full-size bed.
4. Should a headboard be wider than the bed?
Yes, it should. Headboards should be about two inches wider than the bed to create a proportional appearance.
5. What is the best height for a headboard?
This will vary from person to person. However, a general rule is to ensure the height is shorter than the length of the headboard.
6. How to close the gap between a headboard and the mattress?
You can use extenders or mattress wedges to reduce the mattress gap size.
7. How to measure a headboard?
The width of your headboard is the distance from one side to another across the board, and the length is measured from the base of the bed to the top.
8. How big should a headboard be for a king-size bed?
The ideal width for a king headboard is 80 inches or 203 cm. The height will depend on preference. 
9. Can you use a queen headboard on a King bed?
No, you can't. Unless you increase the width of the queen headboard since it'll be smaller than the frame of your King bed. 
Conclusion
A headboard is a great piece of furniture to have in the bedroom. It keeps the bed away from the wall, preventing abrasion and conduction of cold at night. As a result, you can sleep warm all night without any chills.
Additionally, headboards can make your bedroom more interesting and complement the general design of your space. It's essential to choose a headboard size that matches your mattress size to ensure it looks proportional.
Leave any questions about this topic in the comment section below.
Picture in this post is by Anastasiia Chepinska on Unsplash
Related to Headboard Size