IKEA Hemnes Daybed Size and Measurements
IKEA Hemnes Daybed is 209 cm (82 1/4″) long, 86 cm (33 7/8″) wide and 83 cm (32 5/8″) tall. If you pull out the double bed base it becomes 162 cm (63 3/4″) wide which means bed dimensions are 200×160 cm.
Made with solid pine and fiberwood, the IKEA Hemnes daybed is a piece of furniture designed to offer a comfy space for your day's sleeping needs. The bed comes with storage space (two or three drawers) and classy finishes (skip straight to the IKEA Hemnes Daybed Size Chart).
This allows you to place your linens and other guests' essentials. IKEA also offers you timeless finishing, including lacquered white finish to enhance the look of your space.
So, why do you need the right IKEA Hemnes daybed size?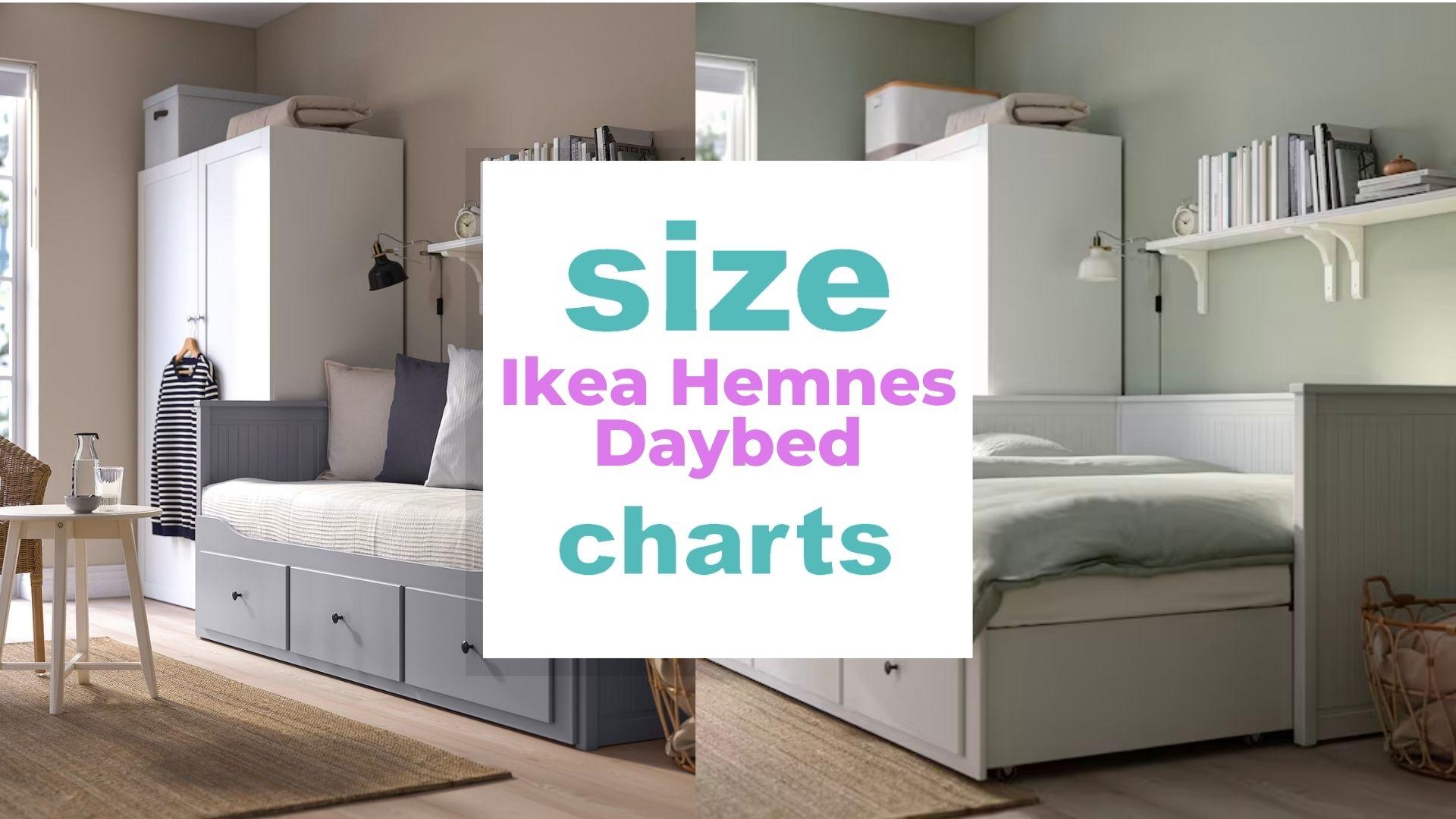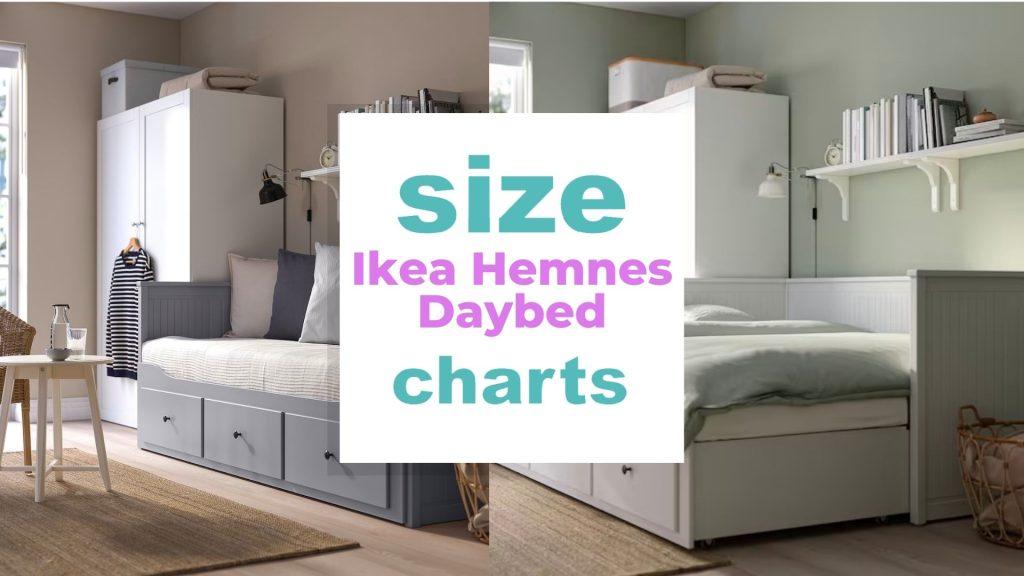 Purchasing a smaller IKEA daybed may mean squeezing yourself to fit into this piece of furniture which can be uncomfortable and tiring. On the contrary, ordering a larger daybed may demand you move some of the items.
Want to learn more about the IKEA Hemnes daybed size?
Let's delve in!
Jump right into the Frequently Asked Questions
Related: Bed sheet size and dimensions by type of bed (with size chart), Bed Size Chart – Measurements And Dimension for king, queen,… beds, Room Size for beds and mattresses, IKEA Mydal Bunk Bed Size Guide
Table Of Content
IKEA Hemnes Daybed Size Chart
Related: Queen Bed Size Chart and dimensions guide, King Bed Size Chart and dimensions guide, Twin Bed Size Chart: Single bed dimensions guide
IKEA Hemnes Daybed – 2 Drawer Size Chart
| | |
| --- | --- |
| Daybed Part | Measurement |
| Height | 35.875 in 91 cm |
| Width | 78.75 in 200 cm |
| Depth | 41 in 104 cm |
| Seat height | 20.875 in 53 cm |
| Open size | 78.75 in x 79.25 in 200 cm x 201 cm |
IKEA Hemnes Daybed – 3 Drawer
| | |
| --- | --- |
| Daybed Part | Measurement |
| Height | 32.625 in 83 cm |
| Width | 78.375 in 199 cm |
| Depth | 42.5 in 108 cm |
| Seat height | 20.875 in 53 cm |
| Open size | 78.375 in x 76.375 in 199 cm x 194 cm |
How To Choose the Right IKEA Hemnes Daybed Size
Related: Bed Size Chart – Measurements And Dimension for king, queen,… beds, Rug sizes for bedrooms – all rug dimensions for all sizes of beds
With both IKEA daybed options offering exclusive features, you may be in a dilemma. You don't have to get stuck purchasing the right IKEA daybed; below are some of the factors that will help you secure the best option
1. Flexibility
Do you prefer a daybed with much storage or a large sleeping area?
Depending on your needs and preferences, you should get an IKEA daybed size that meets all your requirements satisfactorily. Whether you need a comfortable sofa or extra sleeping space for your overnight guests, it should serve the purpose.
Moreover, the piece of furniture should be easy and fast to adjust. You don't want to spend half or one hour adjusting the sofa to a bed.
Thanks to IKEA, designs the two daybeds for the easy switch so you can easily doze off and enjoy the cozy cocoon feeling within a few minutes.  
2. Affordable Price
Are you looking for a suitable daybed but working on a tight budget?
If yes, then you need an inexpensive furniture piece. This will prevent financial strain, giving you an easy time fulfilling other responsibilities. If not, you can go for affordable options where you are allowed to pay over a period of time.
You can also consider pocket-friendly delivery options as some transport costs can be so high, exaggerating the furniture price. For instance, if getting the IKEA Hemnes daybed with your track gives you the lowest price, this may be the best way to secure it.
3. Appearance
The right daybed size should enhance the look of your space. Thanks to IKEA's design, this daybed comes in different elegant finishes, including lacquered – white solid pine wood finish.
This affordable daybed is quite suitable for a modern house. Moreover, this furniture piece usually functions as a classy sofa by day, improving your living space functionality and look!
4. Durability
Daybeds are not purchased daily; hence it's crucial for you to find a sturdy and long-lasting piece of furniture. Whether you are purchasing a new daybed frame or storage drawers, you should evaluate the wood fiber used to manufacture them. This will help you identify any faults that may need repair or replacement.
With the IKEA Hemnes daybed, the company leverages solid pine and fiberwood. They also add particle board on the outer layer to ensure you receive a sturdy item of furniture.
So, whether you prefer the IKEA Hemnes daybed – 2 or 3 drawers, you are assured of long-lasting service. All you need to do is get the right mattresses to have an awesome dream bed!
5. Space Requirements
IKEA offers you an exclusive daybed design with a base model that provides a balance of comfort and space needs. You can easily switch the bed base into a traditional sofa or a bed.
As a result, it allows you to maximize your floor space, making it ideal for small living units. So, once you've had a quality nap, you can adjust it to fit on half the open bed space. That's why you have 32 by 78 in dimensions when latched and 78 by 76 in measurements when it's open.
6. Storage
Having limited space in your house? Getting a wood storage daybed can help you save space. Depending on your needs, IKEA offers you 2 or 3-drawer items of furniture, ensuring you have enough space for placing your bed linens.
The flexible space allows you to store fluffy pillows for extra comfort, enjoying the sweetest dreams!
Learn more about IKEA Hemnes daybed
Frequently Asked Questions
Does Hemnes daybed fit a twin mattress?
Yes, the Hemnes daybed can fit a twin mattress when fully extended to accommodate even two adults.
What mattress goes with Ikea Hemnes's daybed?
The IKEA Hemnes daybed style must be combined with a twin mattress for the best results.
Is a daybed the same size as a single bed?
Most daybeds are designed to match the single twin bed dimensions. This provides you with adequate space to sit or relax.
How do I make Hemnes daybed comfortable?
To make your Hemnes daybed comfortable, you should follow the assembly instructions. Then get the right daybed twin-size mattress that will offer you enough support. This will fit perfectly in the daybed extendable design, providing full cushioning.
In addition, enhancing your daybed with pillows and top-quality linen fabric will let your guest enjoy a couple of nights.
How big is the hemnes daybed pulled out?
The IKEA Hemnes daybed – 2 drawer is usually 78.75 in x 79.25 in
or 200 cm x 201 cm when extended fully while the 3 drawer measures 78.375 in x 76.375 in or 199 cm x 194 cm.
How do you make a daybed look like a couch?
Once you adjust the fully extended daybed to a traditional sofa, you can leverage the foam layer to cover the outer layer. This will produce a couch-like type of furniture.
Alternatively, you can line up large-sized pillows to have a comfortable back, then use some ottomans or end tables for storage or comfort.
Conclusion
Looking for a top-quality daybed that can function as a bed at night? IKEA Hemnes daybed offers you the ultimate solution for your needs. This daybed style offers you 2 and 3-drawer designs with exclusive finishes.
Whether you want to add a simple or classy look, this furniture piece can help you accomplish that. All you need to do is follow all the bed assembly guidelines to get a sturdy daybed for your space.
In case you get stuck choosing the right IKEA Hemnes daybed dimensions, don't hesitate to ask for help in the comments below. Our professionals will help you find the ideal full-size options for your space!
Picture in this post is from IKEA.com
Related to IKEA Hemnes Daybed