IKEA Mydal Bunk Bed Size Guide
This post was last updated on September 3rd, 2023 at 05:23 pm
Made of solid pine, the IKEA Mydal bunk bed is a twin size with a maximum weight capacity of 220 pounds. This timeless material makes the bed durable, offering long-lasting service (skip straight to the IKEA Mydal Bunk Bed size chart).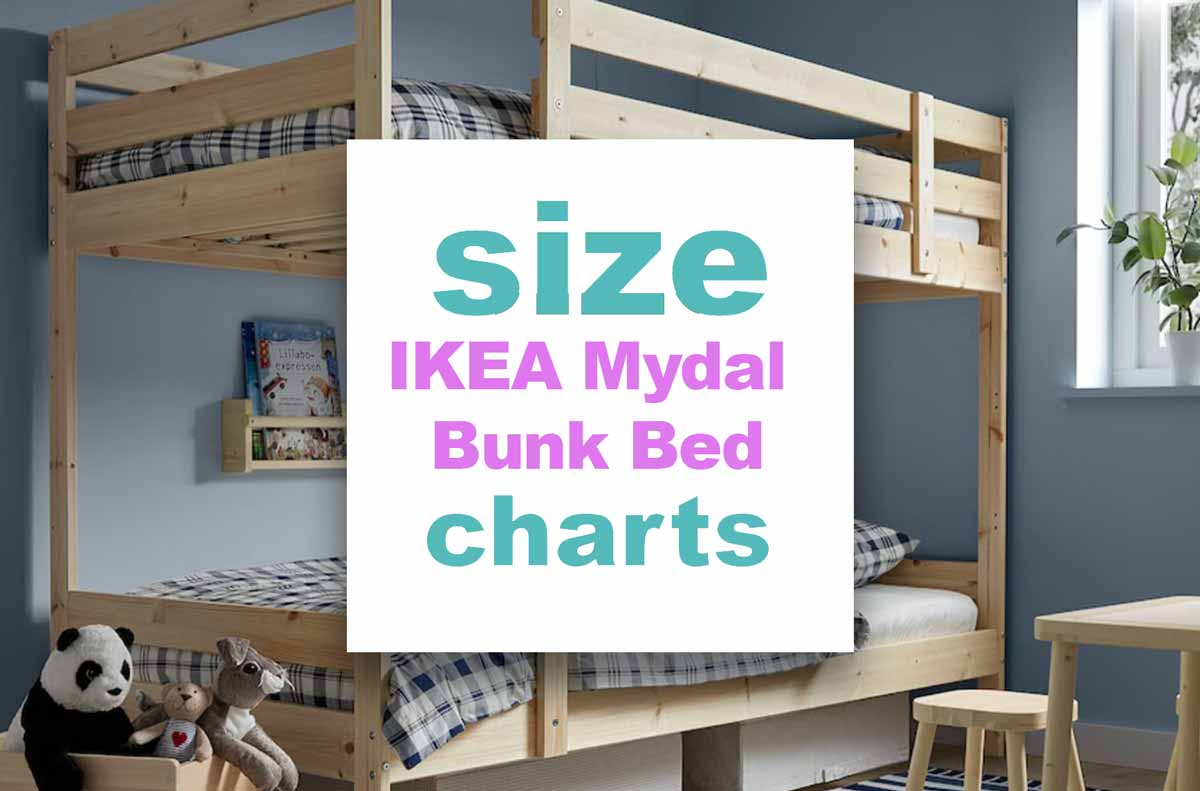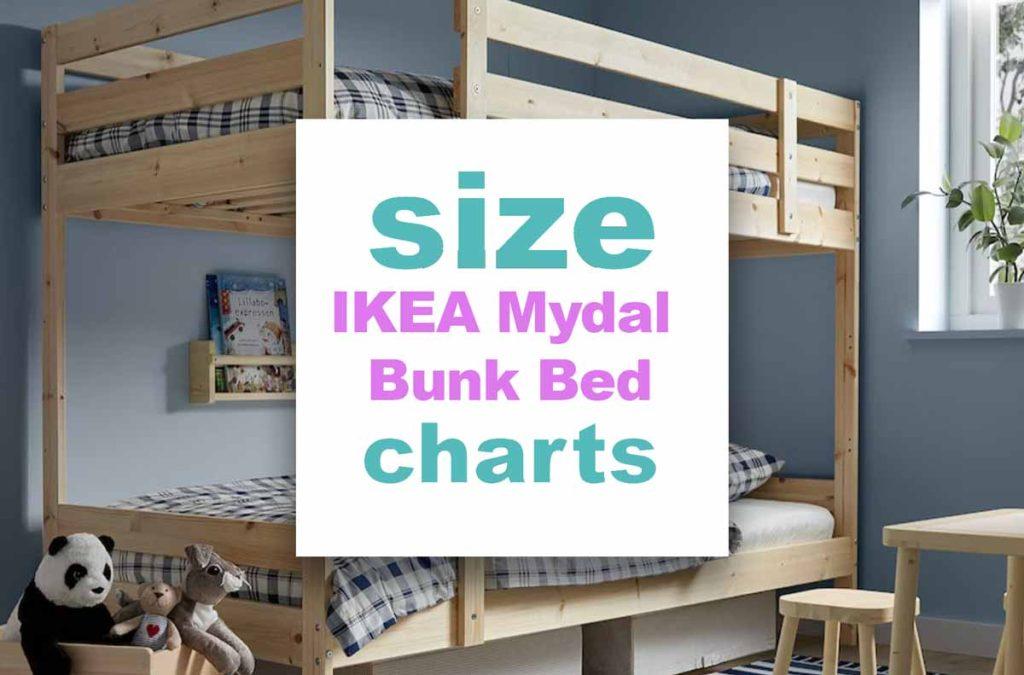 Mydal Bunk Bed Dimensions summary in inches and Cms
Height: 61.75" – 157 cm
Width: 41" – 104 cm
Length: 77.125" – 196 cm
Clearance Below: 28.5" – 72 cm
Area: 21.5 ft2 – 2 m2
Max Weight Load: 220 lb – 100 kg
Bed Size: Twin
Mattress length: 77.125" – 200 cm
Mattress width: 78″ – 90 cm
Max. thickness, mattress: 4″ – 19 cm
Moreover, depending on your preferences, it comes in different colors, making it a great addition to any space. So, whether you are looking for a classy or simple bunk bed for your kids, the Mydal bunk bed is the ideal piece of furniture.
Why is the correct Mydal bunk bed size important?
The right IKEA Mydal bunk bed usually fits in your space without moving any item. It also accommodates the right number of people and provides enough storage for your items.
Below is the chart size and a guide to help you identify the right IKEA Mydal bed size for you or your loved ones!
Jump right into the Frequently Asked Questions
Related: Bed sheet size and dimensions by type of bed (with size chart), Bed Size Chart – Measurements And Dimension for king, queen,… beds, Room Size for beds and mattresses
Table of content on IKEA Mydal Bunk Bed
IKEA Mydal Bunk Bed size chart
Related: Queen Bed Size Chart and dimensions guide, King Bed Size Chart and dimensions guide, Twin Bed Size Chart: Single bed dimensions guide
| | |
| --- | --- |
| Bed Part | Measurement |
| Height | 61.75 in 157 cm |
| Width | 41 in 104 cm |
| Length | 77.125 in 196 cm |
| Clearance measurement | 28.5 in 72 cm |
| Area | 21.5 ft2 2 m2 |
| Max Weight Load | 220 ls 100 kgs |
How To Choose the Right IKEA Mydal Bunk Bed size
Related: Bed Size Chart – Measurements And Dimension for king, queen,… beds, Rug sizes for bedrooms – all rug dimensions for all sizes of beds
So, how do you choose the right IKEA Mydal bunk bed size for yourself or your loved ones?
Here are some factors that will help you secure the right Mydal bunk bed size for your family
1. Durability
Pine is a durable material that can withstand weather and heavy weight for a long time. This makes it ideal for your space if you plan to use it for a prolonged period. Thanks to the IKEA Mydal bunk bed, it is made and reinforced with this finite material.
So, whether you need a bunk bed that will serve your kids till they transition to several growth spurts or till they hit a certain age, the IKEA Mydal bunk bed size is a great addition to their space.
2. Room Size or Space
The IKEA Mydal bunk bed you select should fit your room's space comfortably. Hence, with a 196 by 157 by 104 cm bed, you may need a floor space that is larger than this by around 1m.
This will allow for easy movement and performing tasks without much strain. With this adequate space, you can add other furniture pieces to enhance your interior look or improve the room's functionality.
Are looking for a piece that will provide an extra sleeping option without occupying much floor space? The IKEA Mydal bunk bed is a great solution as it leverages upper bunks, offering extra sleeping space.
Related: Average Master Bedroom Size: How Big Is A Master Bedroom?
3. Storage
Do you have any storage needs that require a bunk bed with some storage space?
If yes, the best IKEA Mydal bunk bed should offer you an under or side space for placing your items. Thanks to the Mydal IKEA bunk bed, it allows for customization, offering you extra space for storage units. You can easily extend or fix the storage drawer at the bed base.
The pine wood bunk bed also provides bunk bed designs such as fancy finish or grayish finish, making it the ideal contemporary piece for your modern home. You don't have to put up with a substandard bed storage solution!
4. Affordable Piece
According to the eBay shop, the IKEA Mydal bunk bed will cost you $375.18. The entire piece is pocket-friendly, considering it's made from solid pine and offers extra sleeping space; hence it gives you value for your hard-earned money.
Moreover, this excellent bunk bed comes with extra accessories such as bed storage boxes and flexible payment options. As a result, it gives you an easy time as you don't have to break the bank to acquire one.
5. Spare Parts
Moving involves much activity, which may mean losing some parts of your bunk bed. The right IKEA Mydal bed size should have spare parts that are easily accessible. This will allow you to assemble or repair your entire piece anytime you lose or damage bed base slats or acrylic Lacquer bed base.
6. Sustainability
If you are passionate about preserving the environment, getting items made with renewable materials helps you contribute to the conservation of forest ecosystems. Therefore, you should consider purchasing a bunk bed that leverages natural materials that are renewable or recyclable.
IKEA Forest Positive agenda drives responsible forest management and wood sourcing, preventing forest degradation. As a result, the company produces affordable bunk beds and other pieces of furniture while ensuring sustainability.
In addition, the company utilizes FSC-certified or recycled wood in its manufacturing processes to avoid illegal logging. You can secure the Mydal bunk bed as it is a sustainable and elegant option!
7. Safety
Every piece of furniture should minimize the risk of injury, especially if you use a twin bed for young kids. IKEA provides you with bunk bed guidelines to help you minimize bunk injuries. The company also offers you a sturdy bunk bed ladder, for safe movement to the upper bunk.
Learn more about IKEA Mydal Bunk Beds (video)
Frequently Asked Questions
What is the standard size of a bunk bed?
The standard size of a bunk bed is usually 75 in. x 39 in. x 65 in. (LxWxH). Nevertheless, the dimensions differ depending on the style, whether it's a double or triple loft or bunk bed.
How tall is the Mydal bunk bed?
61.75" or 156 cm
The IKEA Mydal Bunk Bed measures 77.125″ (196 cm), 41″ (104 cm), and 61.75″ (156 cm) in height and is intended for twin mattresses (157 cm).
What size bedroom does a Mydal Bunk bed fit in?
Single bedrooms should have floor plans measuring no less than 81 square feet (7.75 square meters) or 15.6 square meters for shared bedrooms with twin or single beds.
How big is the packaging for an Ikea Mydal Bunk Bed?
The Mydal bunk bed comes in 2 packages:
Package 1
Width: 41 cm
Height: 8 cm
Length: 187 cm
Weight: 28.22 kg
Package 2:
Width: 46 cm
Height: 8 cm
Length: 204 cm
Weight: 28.60 kg
Is IKEA Mydal Bunk Bed sturdy?
Yes, the IKEA Mydal bunk bed is sturdy and made from solid wood. This pine solid is usually untreated, making it tough enough to withstand heavy weight and movements without getting damaged. It can last for years!
Does the IKEA Mydal Bunk Bed come with slats?
Yes, the IKEA Mydal bunk bed usually comes with bed base slats. However, you have to acquire mattresses and bed linens separately.
Can adults sleep on IKEA bunk beds?
Adults can sleep on IKEA bunk beds as they have high maximum weight requirements. For instance, the IKEA Mydal bunk bed can accommodate up to 100 kg or 220 lbs. Hence, it's suitable if you live in a small space.
Are top bunks safe?
While no age bracket defines bunk bed safety, children under the age of six are generally advised not to sleep on the upper bunk of a bed. Parents allowing younger kids than this to sleep on top bunks do this at their own discretion.
Can a 5-year-old sleep on the top bunk?
According to professionals, a 5-year-old kid shouldn't sleep on the top bunk.
How Do I Enhance My Child's Safety in a Bunk Bed?
According to the Nationwide Children's Organization, you can improve your child's bunk bed safety by implementing the following practices:
Use 3.5 inches or smaller guardrails on both sides of the bed to avoid strangulation.
Have the guardrails extend 5 inches above the mattress top.
Ensure the mattress foundation is strong and use the right mattress type.
Warn your kids not to play on the ladder or top bunk.
Install a night light on the ladder to help them see at night.
Do not use broken or damaged bunk or ladder parts.
Train your kids on how to climb the ladder safely.
Don't allow your kids to tie items such as scarves or belts on the bunk bed.
Place the bunk bed away from the ceiling fans or ceiling lamps. Suppose the spot you want to put your bed has any ceiling items, ceiling clearance is a must.

Conclusion
Finding the right bunk bed size can be challenging, especially when looking for a long-lasting option. But thanks to IKEA it offers you a supreme option that accommodates heavyweight and is made of solid wood, ensuring you enjoy the service for many years.
Whether you are looking for a bunk bed that will fit your small space or to enhance your classy style, the IKEA bunk bed got you covered. This piece of furniture is affordable, comes in different color finishes, and exclusive bed storage hack. You can always rely on it for extra storage space and to enhance your creative space.
Moreover, the company gives you sustainable options, ensuring responsible forestry to conserve the environment. Hence, it's a great buy for any small or large family. And suppose you get stuck selecting the right Mydal bed size, don't hesitate to ask for help in the comments below. We will help you find the ideal style and size for you!
Picture in this post is from IKEA.com
Related to IKEA Mydal Bunk Bed dimensions