Shower Size Chart: What are the Standard shower sizes?
This post was last updated on November 16th, 2022 at 05:19 am
The dimensions of the typical shower enclosures are 36 inches wide by 60 inches long. But just in the US, there are roughly a dozen "common shower sizes." But showers wider than 48 inches or longer than 60 inches are uncommon. (skip straight to the shower size chart).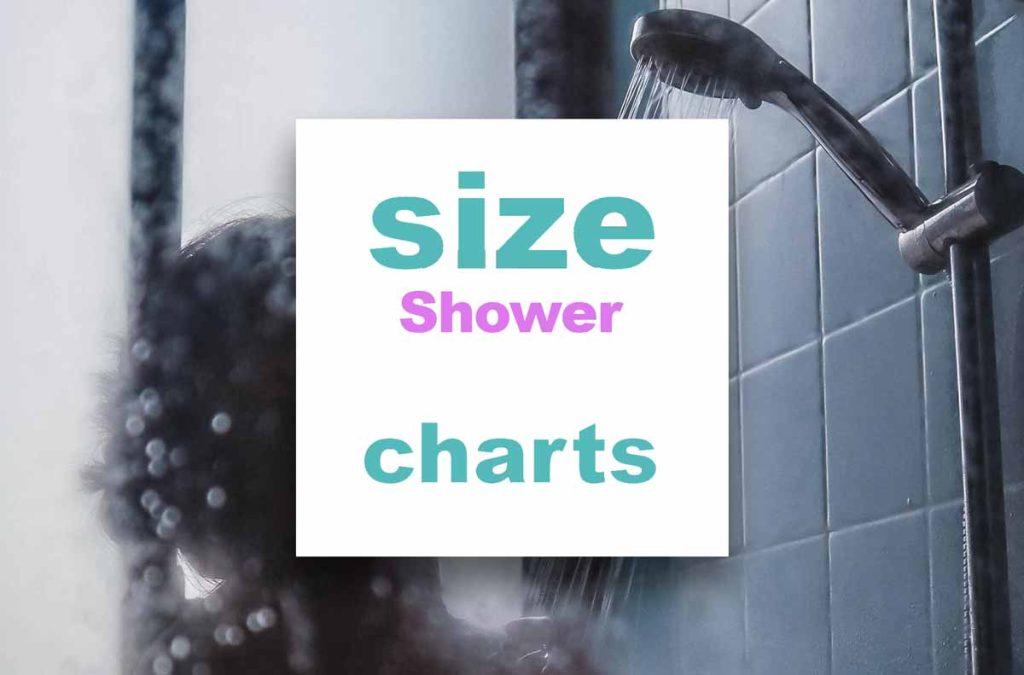 You'll attest to the fact that well-sized showers have the 'habit' of giving you a sense of relaxation, and if we didn't care about our water bills, we could spend the whole day in there without realizing it
Having the perfect shower measurements goes a long way in helping you cleanse all the dirt off your skin with ease, reducing the amount of time you would need to spend under the running water. This way, your shower experience will improve without digging deep into your pocket. 
How do you get the shower dimensions that perfectly fits your puzzle?
Take a read!
Jump right into the Frequently Asked Questions
Related: Bathtub Size and Different Types: What are bathtub dimensions?
Table of Contents
Shower Dimensions summary
Shower Heights, dimensions and Clearances
Shower Head Height (Standard): 80" – 203 cm
Shower Head Height (Minimum): 72" – 183 cm
Shower Control Height: 40"-50" – 102-127 cm
Grab Bar Height: 33"-36" – 84-91 cm
Shower Width (Minimum): 36" – 91 cm
Shower Depth (Minimum): 42" – 107 cm
Shower Ceiling Height: 84"-120" – 213-305 cm
Shower Depth (Seat): 54" – 137 cm
Seat Depth (Minimum): 12" – 31 cm
Seat Height: 15" – 38 cm
What is the standard size of a shower?
Related: Sink Base Cabinet Size Chart – Your Guide to the Standard Sizes, Boiler Size Chart – What size boiler do I need? Bathtub Size and Different Types: What are bathtub dimensions?
The standard shower size is 36 x 36 inches (91cm x 91cm). With appropriate planning, this size is enough to put your bathroom over the top.
However, the size of your bathroom will determine the dimensions of the shower. A bathroom that's too narrow to allow you to stretch your arms may not accommodate a 36" x 36" shower.
Moreover, many prefer a 48" x 36" (122cm x 91cm) shower. In this case, their bathroom could either be big enough to accommodate this shower size or they may have a bathtub.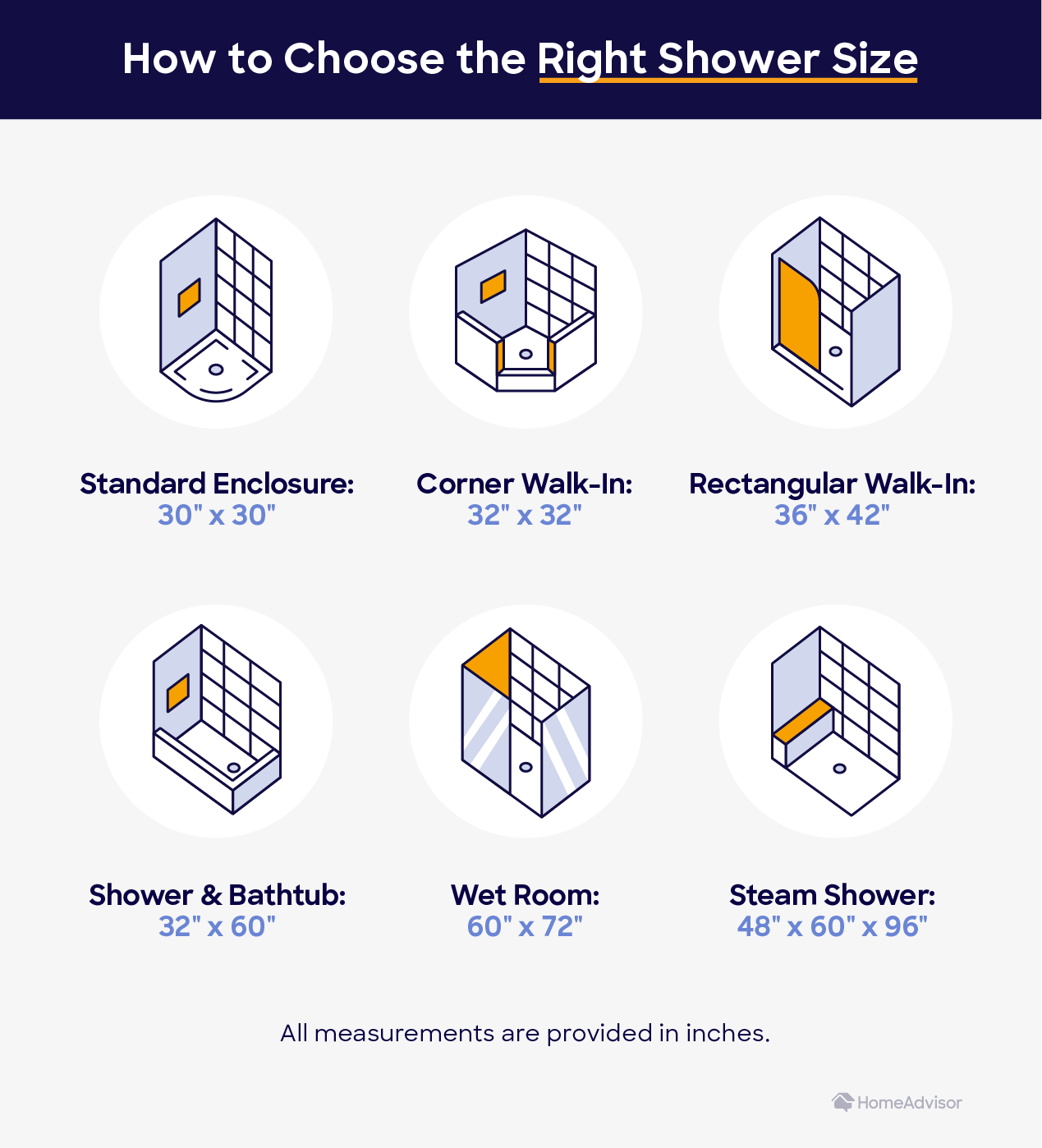 Shower size chart (by type)
Related: Beach towel size chart for all occasions, couples, adults and kids , Boiler Size Chart – What size boiler do I need?
 
Standard Sizes
 
Shower Type
inched
cm
Standard Enclosure
32 x 32
81.2 x 81.2
36 x 36
91.4 x 91.4
Bathtub Combination
36 x 48
91.4 x 121.9
36 x 60
91.4 x 152.4
Walk-In
36 x 42
91.4 x 106.6
48 x 48
121.9 x 121.9
Shower size chart (standard sizes for quadrant shower enclosures)
Related: Interior Doors Sizes: Minimum & standard dimensions , Bath Size Chart and Sizing Guide
standard
dimensions ( W x L )
 
standard available heights
inches
cm
inches
cm
5 x 27.5
12.7 x 69.85
73″&
77″
185 cm &
195.5 cm
5 x 31.5
12.7 x 80.01
73″&
77″
185 cm &
195.5 cm
5 x 35.5
12.7 x 90.17
73″&
77″
185 cm &
195.5 cm
4 x 39.4
10.16 x 100
73″&
77″
185 cm &
195.5 cm
The bigger the shower, the bigger the floor required.
If you are a shower curtain lover, consider working with a size guide for shower curtain sizes that feature size charts that will show you different curtain sizes.
Learn more about the size of Walk-In Shower in this video
Frequently Asked Questions
What size should a walk-in shower be?
A walk-in shower cannot be smaller than 36" x 36", according to the Americans with Disabilities Act (ADA). The agency recommends a shower size of 30" x 60" for showers that accommodate roll-in shower chairs.
This size is bigger than the standard size and demands a bigger footprint space for mobility purposes. Since these bathrooms are doorless, the layout of your bathroom matters so much more as you would have to protect areas that may get wet. 
If you are looking forward to a big shower area, you have the leeway to increase the size of your walk-in shower to a size that keeps other bathroom areas safe from wetting.
What is a good size for a custom shower?
While there are 32 square-inch showers for petite bathroom spaces, a custom shower should be at least 36" x 36". However, there are 30" x 30" showers, the smallest size a shower can be.
A 36-square-inch shower allows enough room for comfortable bathing, allowing you to stretch your arms. While this site may not be big enough for some people, it is mostly preferred by people working on a budget.
For those working on a generous budget and looking for a luxurious shower experience, showers of size 48" x 48" and above would perfectly do the job.
Consider taking out a shower that's not too big for your width or length for rectangular shower areas.
Is a 30-inch wide shower too small?
This size is considered small, but may not be too small for many people. This width goes along with bigger lengths of 60 inches or thereabout. In such a case, the width plays its role very well.
However, this size may not make showering comfortable when working with an equally small length. 
A 30-inch shower will not hold a sizable shower niche. Hence, many of your showering materials will not fit in. The average shower niche size is 48 – 60 inches high and about 16 inches wide.
How big does the shower need to be for no door?
A doorless shower should be at least 36" x 36", owing to the space demand that this type of shower comes with. Besides space, doorless showers are costly and would require you to be prepared for some of the cons they come with.
While they add luxury to your bathing time, they may give you a heck of a time when some areas you always need dry get wet. 
A shower that's 36 square inches requires a bigger shower area to prevent the water from splashing into other areas of the bathroom. You also want to have a shower area of about 7 ft x 4 ft.
If your shower area is small, you can only have a smaller shower size or go for another shower type. 
How narrow can a walk-in shower be?
A walk-in shower should have a minimum width of 36 inches. Many walk-in showers have a bench and require much more space for ease of mobility.
Hence, be sure to have a bigger width that meets all your showering needs including having a good shower niche size. Smaller widths than 36 inches only work well with other shower types.
What is the minimum opening for a walk-in shower?
A walk-in shower is a perfect walk-in shower when it has an opening that is at least 36 inches wide. This is different from shower doors which are normally 22 inches wide.
Persons with disabilities often use walk-in showers, hence their big size. 
Conclusion
If you are wondering how to determine a shower size for your unique shower area, here's how to. Use a tape measure to take the walls' height, width, and length.
Use a size chart to get the shower with the length and width closest to your measurements.
If you're also planning to get a shower curtain, a shower curtain size chart would be fundamental to help you determine your best-fit size.
That's it for now, but of course, feel free to ask questions and we'll be more than happy to help you by all means. May you enjoy your shower experience!
Picture in this post is by Curology on Unsplash
Related to Shower Sizes Chart