Beach Towel Size Chart for all Occasions, Couples, Adults and Kids
This post was last updated on May 24th, 2023 at 07:46 am
What size should a beach towel be? Finding the right beach towel size is also necessary as it gives you some quality time; you don't have to coil to fit in one. The standard beach towel size ranges from 30 by 60 inches (76 by 152 cm) to 35 by 70 inches (89 by 178 cm). Jump to the frequently asked questions section below if you have a specific question about beach towels.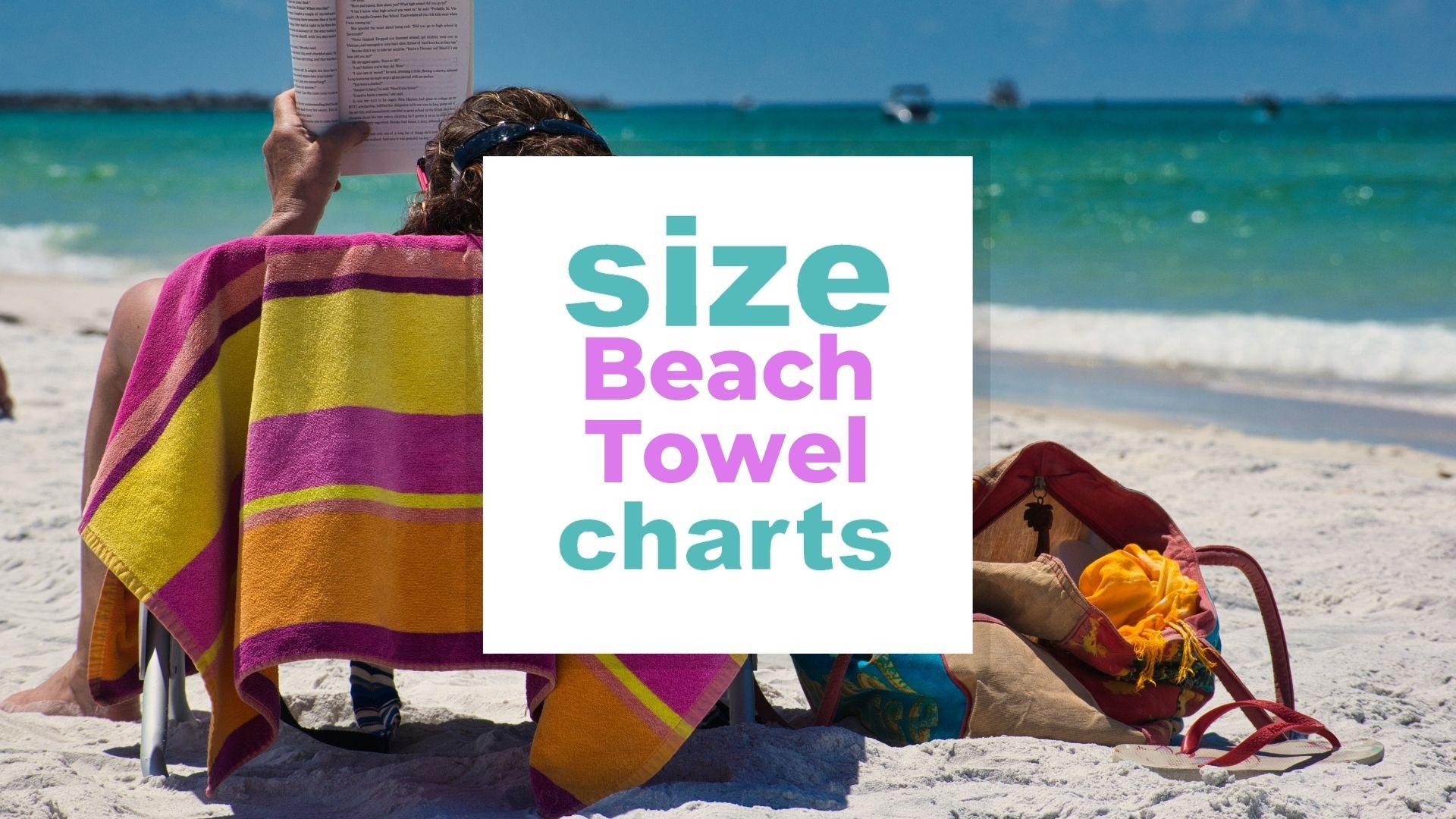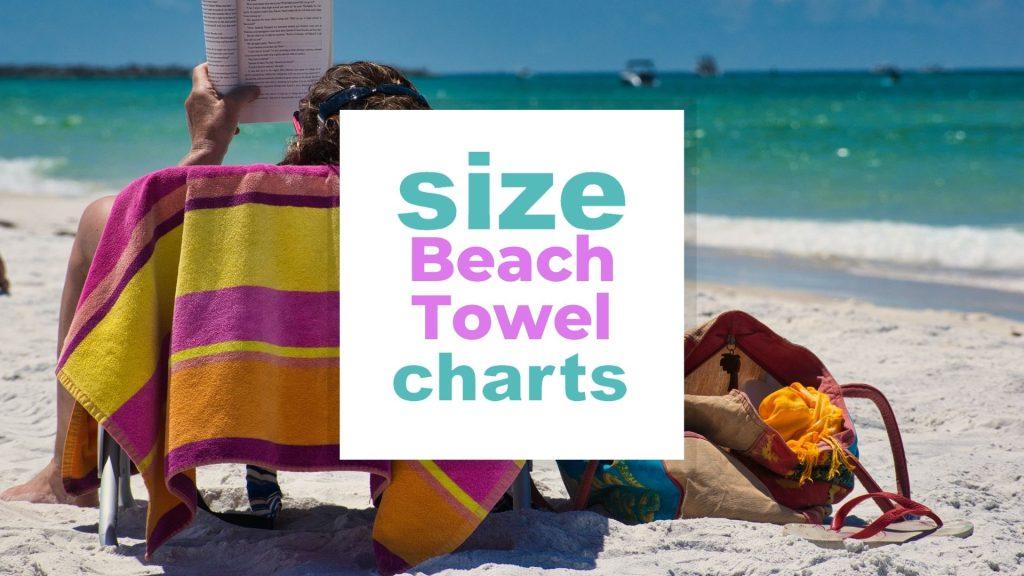 Wondering why you need a beach towel instead of fixing your bath sheet in the travel suitcase for your vacation? Beach towels have exclusive features to give you a great beach time, for instance, the size, fabrics, and GSM. All these are designed to dry you and dry themselves off. In addition, it feels cozy on the skin compared to bath towels.
Looking bikini sizes? check our expert review here
Table of Content of Beach Towel Sizes
What are beach towels, and why is a good size important?
Beach towels are specially made to cover your whole body, shielding you from sand, heat, and stones on the beach. Typically, they allow you to lay comfortably on the sunbed and are more patterned and colored, unlike regular towels. They are also feathery for light travel and quick-drying, so you don't have to wait for a long duration before using them again.
Beach Towel Size Chart
Beach Towel Size Chart by format
| | |
| --- | --- |
| Standard Individual Beach Towel | 60 by 30 inch 152 by 76 cm |
| Couples Beach Towel (Small ) | 70 by 35 inch 178 by 90 cm |
| Couples Beach Towel (Large ) | 78 by 35 inch 198 by 90 cm |
| Oversized Beach Towel (Small) | 70 by 38 inch 178 by 96.5 cm |
| Oversized Beach Towel (Medium) | 70 by 40 inch 178 by 102 cm |
| Oversized Towel (Large) | 75 by 45 inch 190 by 114 cm |
| Oversized Beach Towel (Large Square) | 74 by 74 inch 188 by 188 cm |
| Supersize Square Beach Towel | 120 by 120 inch 304. 8 by 304.8 cm |
Bath Sheet Vs. Beach Towel Chart
Towel Type
Face Towel
Guest Towel
Hand Towel
Beach Towel
Bath Towel
Hamman Towel
Bath Seet
Measurements
12 x 12″
30 x 30 cm
16 x 14″
40 x 60 cm
20 x 36″
50 x 90 cm
30 x 60″
90 x 175 cm
27 x 47″
70 x 120 cm
40 x 70 "
100 x 180 cm
36 x 59″
90 x 150 cm
Kid Beach Towel Size Chart
If you're looking for a baby beach towel, this chart shows beach towel sizes in inches and centimeters. How big are my kids at what age you can learn in the growth chart for boys and growth chart for girls
Hooded Kids Beach Towel Size Chart
| | | | |
| --- | --- | --- | --- |
| Size by age | Width | Length | Side-Pockets |
| 12 – 24 months | 37 cm 14.6 inch | 50 cm 19.7 inch | No pockets |
| 3 – 5 years | 41 cm 16.1 inch | 58 cm 22.8 inch | 2 side pockets |
| 5 -7 years | 46 cm 18.1 inch | 70 cm 27.6 inch | 2 side pockets |
| 7 – 11 years | 56 cm 22.0 inch | 82 cm 32.2 inch | 2 side pockets |
| S – M(Size 10 -12) | 59 cm 23.2 inch | 103 cm 40.6 inch | 2 side pockets |
| M – L(Size 12 – 16) | 69 cm 27.1 inch | 105 cm 41.3 inch | 2 side pockets |
| L – XL(Size 18 – 22) | 78 cm 30.7 inch | 118 cm 46.5 inch | 2 side pockets |
How To Choose the Right Beach Towel Size
The Best Beach Towel for You
Besides evaluating whether a kid's or adult's entire body measurements match the bath towel, you need to consider the following factors when buying the right beach towel size for you or your loved one.
As with many of our size-charts, it starts with taking the measurements of your body, or your children's body (length or height will do, if you're on the plus size, you could a waist size as well
1. Thickness
Unlike other types of towels, the beach towel encounters a lot of wear and tear from the sand and stones. It also comes in touch with Chroline and salt water and dries several times before having a proper rinse. While we like the cozy feeling of standard bath towel materials, the best beach towel size is usually light and strong.
So, how do you measure the thickness of a beach towel?
Your towel's density, thickness, and plushness are usually in grams per square meter(g/m2). So, if you are looking for a lightweight beach towel, you can grab one between 300 to 400 GSM. The medium-weight average beach towel size ranges between 400 to 600 GSM, while the heavier towel is 600 to 900 GSM.
2. Appearance
Unlike an average bath towel, beach towels are designed to complement the relevant environment. Hence, this type of towel uses rich colors and prints to express your personality and make the beach trip worthwhile. You can choose towels with classic stripes, tropical designs, graphics, animal print motifs, or solid colors that match your taste.
3. Function
Every beach item has a unique function, which applies to different beach towels. Suppose you need Vue beach towel size for your child; you can grab hooded baby beach towels with cotton fabric. This will keep them cozy and warm while protecting their heads from the sun and breeze.
You can also grab a Baby Shark-themed design or your choice of customization options online to make it more fun. A towel for couples should be larger than the regular towel size for full cover and relaxing on the beach.
4. Material
Towel fibers determine the absorbency of towels, whether bath sheet towel sets or packable camp towels. You can choose from a soft or breathable fabric such as an average cotton towel or Terry cloth for your beach needs.
Beach towel sizes explained (video)
Frequently Asked Questions
How big should a beach towel be?
The perfect beach towel size should cover your entire body regardless of your body type. You can confirm this by comparing the beach towel size in inches or centimeters to your body measurements, for instance, waist, chest, and hips.
What size is an oversized beach towel?
An oversized beach towel ranges from 70 by 40 to 74 by 74 inches in dimension. Depending on your needs, you can also grab a supersize Norwex beach towel size measuring 120 by 120 inches.
How many different shapes of beach towels are there?
Designers create many beach towels. For instance, you can purchase a leaf, round, square, or rectangular beach towel, depending on your style or taste.
What is the largest size beach towel?
The Monster towel is the largest beach towel size, measuring 10 feet by 10 feet. It's big enough to allow the whole family and friends to lounge near the beach as you enjoy your summer vacation.
Conclusion
Are you looking for a great beach towel for your next trip? Beach towels are a great buy, especially when going for a boat trip, beach vacation, or swimming. To get the right beach towel size, you should compare the above size charts with your loved one's body measurements.
Having any uncertainties about your beach towel measurements? Drop your question in the comments below, and we will help you get the right towel size for you!
Picture in this post by Scott Young on Unsplash
Related Size charts