Men's Belt Size Conversion
Looking to buy a belt but not sure what size to get? This guide will show you how to convert men's belt sizes so that you can find the perfect fit (skip straight to the Men's belt size).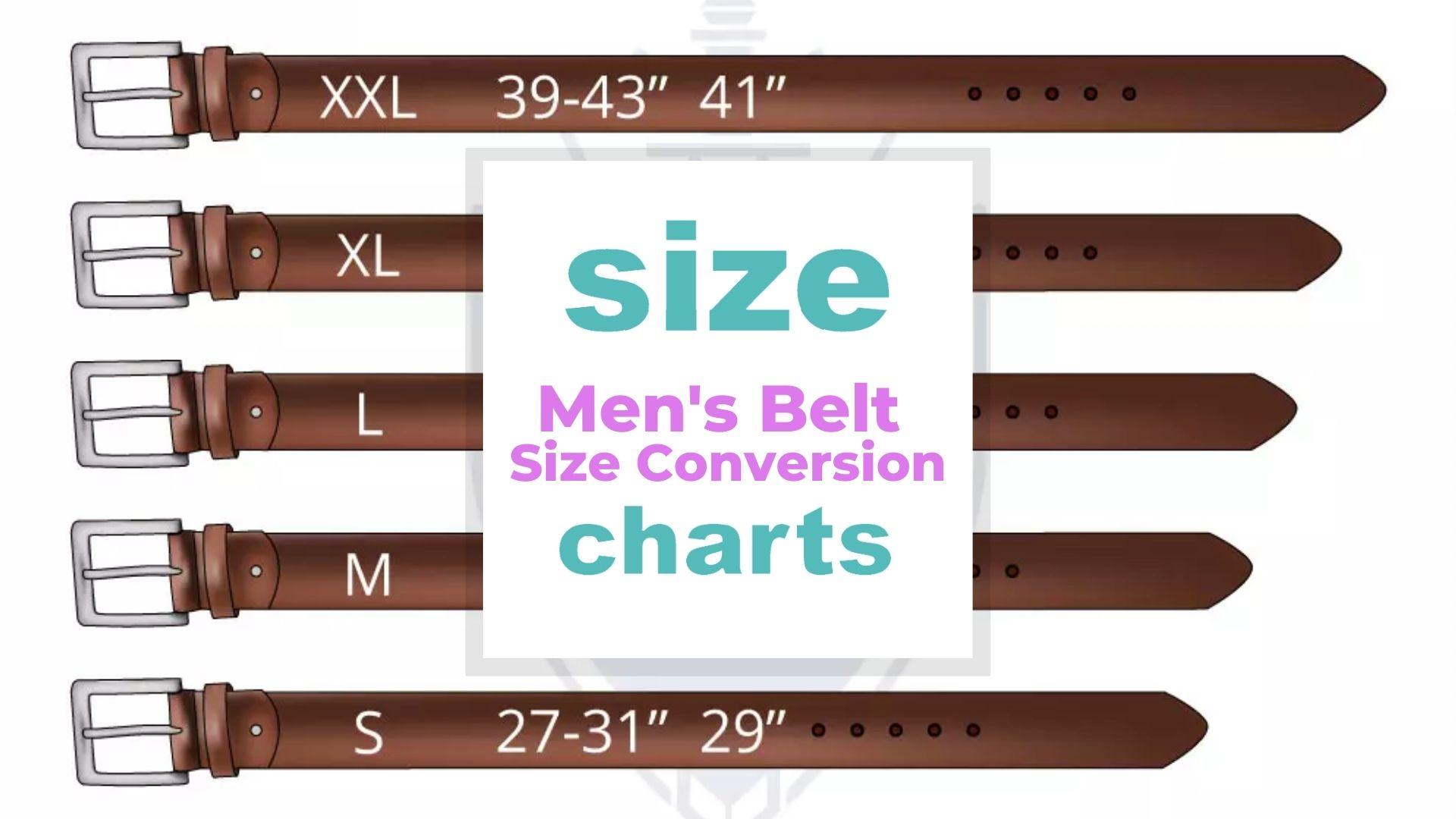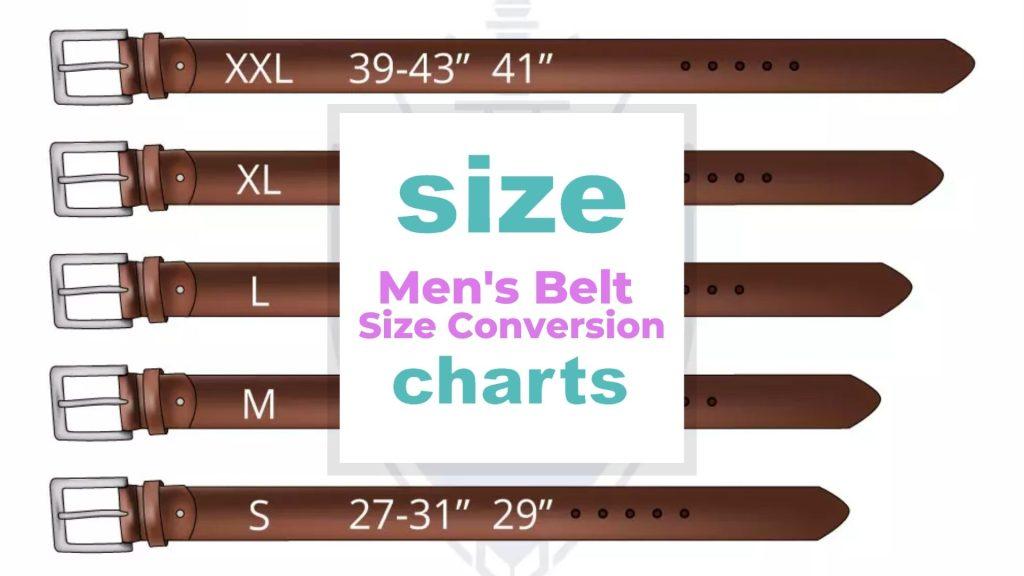 Whether you're looking for a new belt or just want to know your current belt size, read on for tips and get it right.
Jump right into the Frequently Asked Questions
Related: Waist Size Chart for men, women and kids, Women's Belt Size Chart
Table of Content:
Men's belt size
Related: Levi's Belt Size Chart, How to measure a belt
The most common men's belts typically come in two size categories: small and medium. Small belts are usually designed for men with a waist size of 30 inches or less, while medium belts are meant for men with a waist size of 32 inches or more.
However, there is some overlap between the two sizes, so it's important to try on a belt before making a purchase.
In general, belts should be worn on the hip bone or lower waist, and they should be tight enough that they don't slip down when sitting or standing.
When choosing a belt, it's also important to consider the width of the buckle and the length of the strap. A wider buckle will provide more support, while a longer strap will give you more adjustability.
Ultimately, the best belt is the one that fits both your body and your personal style.
So, "How do I get a rough idea of my size before going to buy a belt?" you might ask. Well, continue reading so we can help you learn more about belt sizes.
Men's belt size chart – standard
Click here for a general belt size conversion chart.
general belt size
numerical
belt size
waist measurement
length of belt
inch
cm
inch
cm
XS
30
26.5-28
67.31 – 71.12
28-30
71.12 – 76.2
S
32
28.5-30
72.39 – 76.2
31-32
78.74 – 81.28
M
34
30.5-32
77.47 – 81.28
33-34
83.82 – 86.36
M
36
32.5-34
82.55 – 86.36
35-36
88.9 – 91.44
L
38
34.5-36
87.63 – 91.44
37-38
93.98 – 96.52
L
40
36.5-38
92.71 – 96.52
39-40
99.06 – 101.6
XL
42
38.5-40
97.79 – 101.6
41-42
104.14 – 106.68
XL
44
40.5-42
102.87 – 106.68
43-44
109.22 – 111.76
2XL
46
42.5-44
107.95 – 111.76
45-46
114.3 – 116.84
3XL
48
44.5-46
113.03 – 116.84
47-48
119.38 – 121.92
4XL
50
46.5-48
118.11 – 121.92
49-50
124.46 – 127
Men's belt size conversion chart (US/EU)
Related: Dior Belt Size Chart, European Belt Size Conversion Chart
| | |
| --- | --- |
| US belt size (inches) | European belt size (centimeters) |
| 32″ | 81 cm |
| 34″ | 86 cm |
| 36″ | 91 cm |
| 38″ | 97 cm |
| 40″ | 102 cm |
| 42″ | 107 cm |
| 44″ | 112 cm |
| 46″ | 117 cm |
| 48″ | 122 cm |
| 50″ | 127 cm |
Men's belt size chart for casual/formal trousers
Related: Fendi Belt Size Chart, Salvatore Ferragamo Belt Size Chart
| | | |
| --- | --- | --- |
| Belt size | Casual/formal trouser | |
| | in | cm |
| xxs-xs | 26″ | 66.04 cm |
| 28″ | 71.12 cm | 71.12 cm |
| 29″ | 73.66 cm | 73.66 cm |
| 30″ | 76.20 cm | 76.20 cm |
| s-m | 31″ | 76.20 cm |
| 32″ | 81.28 cm | 81.28 cm |
| 33″ | 83.82 cm | 83.82 cm |
| 34″ | 86.36 cm | 86.36 cm |
| l-xxl | 36″ | 91.44 cm |
| 38″ | 96.52 cm | 96.52 cm |
| 40″ | 101.60 cm | 101.60 cm |
Read all about it on the international Belt Size Chart and guide page
Learn more about how to choose the correct belt size (video)
Frequently Asked Questions
What size belt should I buy for a 32 waist man?
Men's belt sizes are usually determined by the pants' size. That means for a man whose pants' size is 32 inches, the right belt size for him will be 34 inches. This is according to the belt size conversion chart men would need.
Why not 32? Won't it look bigger when he wears it?
Fashion designers are very forward-looking, and they make sizes that are flexible in case a man's weight changes. Otherwise, you may have to buy a belt every few weeks because your previous size does not fit anymore.
What size belt do I need for a 33 waist?
Belt sizes measurements are gauged by pants sizes. If your waist size is 33 inches, you are likely to wear pants size 34. You can check the size tag on one of your pants to be sure.
If none of them has a tag, you could select one and ask a tailor to measure it for you. Your belt size is for 34-inch trousers, which is 36.
You can also go to a store where they use men's belt size conversion so they can convert size 33 to the right one, which should translate to 36.
A 32-inch belt is a standard size for men's belts. The measurement is taken from the buckle to the hole that is most often used. For women, a 32-inch belt would be considered extra small or petite.
Many stores in the US, with the understanding that the US is a country of diversity, use European men's belt size conversion charts in addition to local ones. Rest assured that various stores want to meet the needs of a variety of customers, and belts are no exception.
Please keep in mind that belt sizes can vary depending on the brand, so it is always best to try on the belt before purchasing it.
What size belt do I need for a 34 waist?
If you have a 34 waist, you'll need a belt that measures at least 36 inches in length. That should give you enough room to fit comfortably around your waist without having too much excess belt hanging off the side.
How long is a size 34 belt?
A size 34 belt is typically 36 inches long. However, this measurement can vary depending on the brand and the style of the belt.
Will a size 36 belt fit a 32 waist?
A belt size 36 would be too big for a waist size 32. However, several factors could come into play to determine if this is possible.
If for instance, you are matching the belt with casual wear which does not need to fit snugly, then size 36 would be okay.
Again, people are not the same in shape, and what is a perfect fit for one might not be for another. The best thing, in this case, is to use a tape measure and take your measurements.
What size belt should I get for a 36 waist?
The right belt size for a 36″ waist is 38″, which is generally associated with a medium belt size.
There are, of course, variations depending on the brand – some run large, some small – but generally speaking, a 36″ waist will take a medium belt.
How do I choose a belt if I'm between sizes?
The general rule is to choose the larger belt size. This will ensure that the belt fits comfortably around your waist and is not too tight.
However, if you prefer a tighter fit, you can choose the smaller belt size. Just keep in mind that it may be a bit uncomfortable if you're not used to wearing belts that are this snug.
Wearing a belt that's too small means the buckle will dig into your skin and be uncomfortable. A belt that's too large will hang loosely and not look very polished. Ideally, you want your belt to fit comfortably snug without being too tight or too loose.
Conclusion
As you can now see there are a few simple rules of thumb you can follow to make sure you're getting the right belt sizing. First, it's important to measure your waist accurately.
The best way to do this is to use a flexible tape measure, and wrap it around the smallest part of your waist – typically just above the hipbones. Once you have your measurement, you can consult a sizing chart to find the right size.
There are conversion charts of many kinds – men's Gucci belt size conversion chart, Louis Vuitton belt size conversion chart, men's European belt size conversion chart, and more depending on a brand's preference. Another easy tip is to simply try the belt on before purchasing.
Hopefully, this guide will be valuable when you want to find that men's belt size that fits perfectly. Please ask any questions in the comments and we'll definitely assist.
Picture in this post is by Nordwood Themes on Unsplash