Hermès Belt Size Chart
The need for a Hermès size chart and conversion table
Finding the right Hermes belt size looks simple, but the reality is the opposite. Many think it's as simple as using the same size as the waist, although it's not. Let us help you first understand how Hermès belt sizes work with a page about the Hermes Belt Size chart on this page you will find all about the size in cms, inches, and a conversion between US, EU and alfa sizes.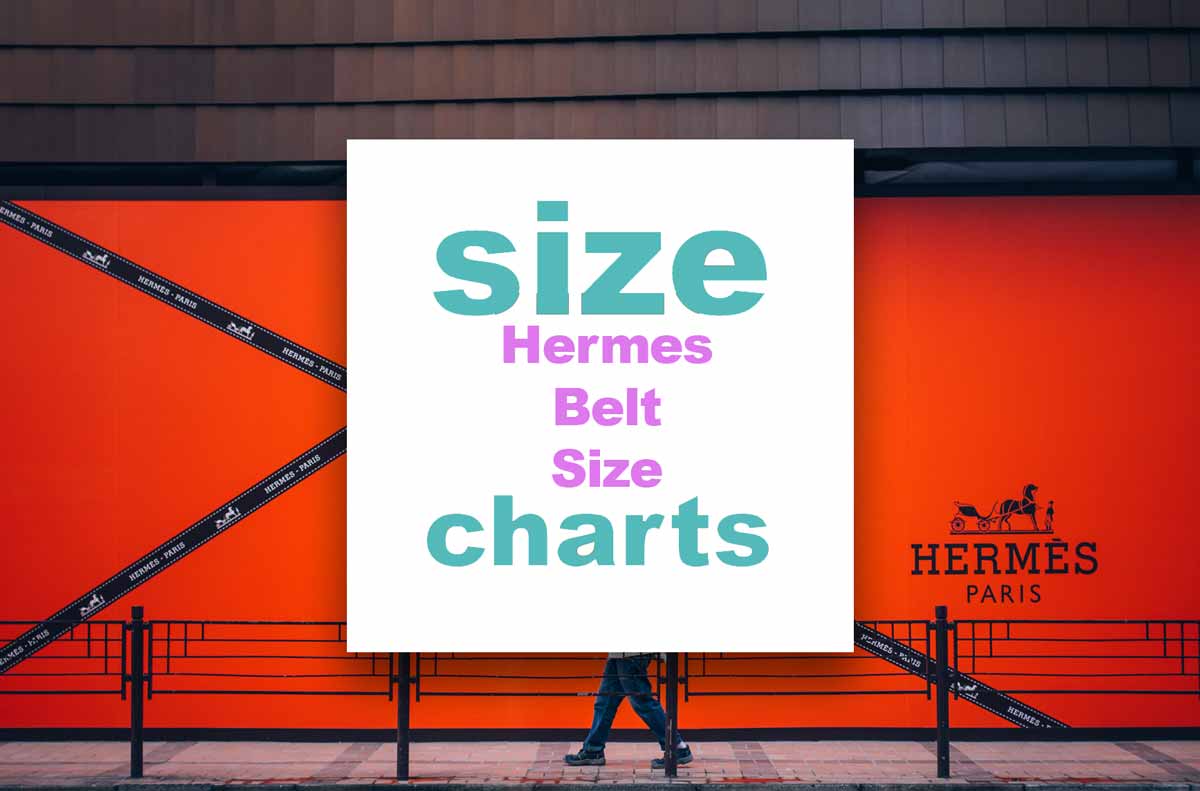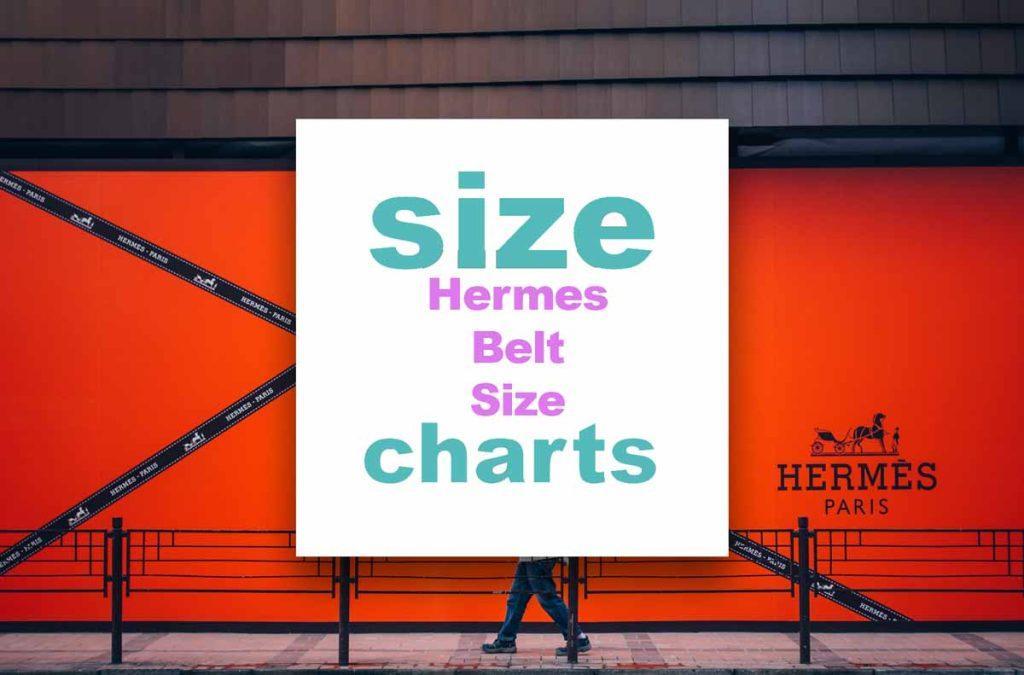 The most popular Hermès belt is the well-known "H"-buckle belt, also known as the "Constance" belt. The "Constance" belt comes in three sizes: 42 mm, 32 mm, and 24 mm. The largest size, 42 mm, is primarily worn by men and is too large for women. The intermediate size is highly popular among both genders; but still, it is quite large. The smallest Hermes Belt size of 24mm is most famous for women.
Table of content
Your belt size is not the same as your trousers' size. The size of belts is indicated by the length of the belt in cms or inches.
Related: Click here for a general belt size conversion chart., Off-White Belt Size Chart, Dior Belt Size Chart, Salvatore Ferragamo Belt Size Chart, Fendi Belt Size Chart
Get yourself a great H Hermes Belt
Fashionistas everywhere adore Hermès designer belts as they add a pop of creativity to an outfit. Hermès belts embody a mixture of classic elegance and contemporary trends. It is easy to find a variety of belts by Hermes on Theluxurycloset.com, or stockx.com select now a Hermes belt that fits your personality and style. 
The Hermès Belt Size Chart: Women's and Men's sizes
Belts are sized in centimeters. To determine your Hermès belt size, we recommend measuring your favorite belt from the buckle to the hole you use most (for example, if you measure 85cm from these 2 points your Hermès size is 85. Noting that 85cm is from the buckle hole to the middle hole on the Hermès belt strap, not the total length of the belt strap). Or, determine where you wear your belt most comfortably and measure. The Hermes Belt Size Chart counts for the three sizes of Belts of 24, 32 and 42mm width
US Belt Size
(inches)
European Belt Size
(centimeters)
International Size
Women
International Size
Men
26″
65
XS
–
28″
70
XS/S
–
30″
75
S
XS
32″
80
S/M
S
34″
85
M
M
36″
90
M/L
M
38″
95
L
L
40″
100
L/XL
L
42″
105
XL
XL
44″
110
2XL
XL
46″
115
3XL
2XL
48″
120
–
3XL
50″
125
–
4XL
International Hermès belt size chart
Related: Men's Belt Size Conversion, European Belt Size Conversion Chart
About Hermès Belts
Hermes is a fashion house steeped in history and tradition. Family-owned for five generations, the label is a symbol of class worldwide. From beginnings in saddlery and fine equestrian leather goods, Hermes today are best known for their handbags and various other superior items. They have certainly come a long way in the last two centuries and today, we dig a little deeper into the story of this iconic brand.
A MYTHICAL ACCESSORY: THE HERMES WOMAN'S BELT.
Let's start with a quick history of the French House of Hermès. The creation date of the latter dates back to 1837. When we think of Hermès, we immediately think of the silk squares that elegantly adorn women's necks. However, originally, the French House was more specialized in the field of saddlery and equipment for horses. Since then, its fields of action in luxury and haute couture have diversified, ranging from perfumes to clothing and leather goods. In addition to bags, the Hermès brand has also distinguished itself in belts.
A CREATION THAT SYMBOLIZES THE HIGH-END EXPERTISE OF THE FRENCH HOUSE.
The women's belt made by Hermès is no ordinary accessory. Indeed, it reflects the high quality demonstrated since its creation by the French House. Each piece is made in the tradition of the workshop, that is to say with the saddle stitching, dear to the brand. It is this ancestral and unique know-how that makes these belts unique. The materials are also carefully chosen with regard to the leathers but also the metal buckles that adorn these refined creations. The Hermès belt is made in different widths and colors to adapt to women, their style and their desires.
MODELS FOR SECOND HAND WOMEN ON COLLECTIVE WARDROBE.
The Hermès women's belt is one of the luxurious creations offered by the brand. It is more of a craftsmanship and that has a price. Fortunately, Vestiaire Collective reduces the final cost and makes it more accessible to all women.
The House of Hermès is prestigious. The brand's workshop has made many belts, each more feminine and refined than the last, to highlight women and their anatomy.
Hermès Belt Review
Check out this cristal clear review about Hermès belt by Gentleman's Gazette
In a world of luxury brands, Hermes is one of those iconic ones that boots prices to match. For men, they're famous for their neckties which can be seen on Wall Street bankers and Russian Oligarchs alike. While Hermes ties are known for their vibrant colors and printed patterns, the Hermes belt is even bolder because of the big H buckle logo. It is an instantly recognizable product with retail prices of $800 and more – it has become a very popular status symbol. So if you Google the term Hermes belt, one of the first questions that will pop up is "are Hermes belts tacky?" By the way, it's pronounced air-mez because of the accon, not her-mis or anything else.
General Belt Information
Over time, leather belts tend to stretch. Braided belts or belts made out of synthetic or Vegan leathers even more so. It's good to remember that a belt that feels a little tight initially will likely wear more comfortably over time.
How to clean your belts
Next to choosing the right size in the detailed Hermes Belt Size Chart, performing regular cleaning with a wet cloth is important.
Time needed: 7 minutes
How to clean your HERMES belts
Wipe the belt down with a damp cloth.

For most cleaning, start with a soft cloth dampened with warm water. Wipe down the belt, focusing on any dirty areas. You can also just try a dry cloth if the belt isn't too dirty.


Purchase saddle soap or another leather cleaner.

Using a cleaner designed for leather is always the best choice. Saddle soap is a traditional leather cleaner, and it will suffice. However, you can also use another cleaner specifically designed for leather, as well.

Add a little cleaner to a clean cloth.

It can help to start with a very slightly damp cloth. Add a little cleaner. If the cleaner is in a tub, like saddle soap usually is, you may need to rub the cloth in the cleaner to work up a light lather.

Rub the cleaner into the leather.

Try to follow the grain, and don't rub too hard. Once you've rubbed it in, use a clean part of the cloth or another lightly damp cloth to wipe up the excess.

Let it dry overnight.

It's best to leave the belt overnight so it has time to absorb all of the polish or cleaner. That way, it will stay on the belt instead of transferring to your hands or clothes, damaging them.
How to Measure your Hermes Belt Size in 4 easy steps
Read all about it on the international Belt Size Chart and guide page
Measure your waist or the place you plan to wear the belt
The best way is to measure around where you wear the belt.
Use a Measuring tape on top of your clothes
On the desired place where you plan to wear the belt, go around your waist with a simple measuring tape. When You measure in Inches, If it is an odd number, round up to the next even number.
Measure an existing belt you're wearing
Alternatively, you can measure at the fold, or where the buckle and the leather starts, to the hole you currently use. Note that belt sizes always work to the middle hole of 5 holes. Do not include the buckle length in your measurement. When You measure in Inches, If it is an odd number, round up to the next even number. Don't measure the length from end to end. You will not get the correct size that way.
Convert the waist size measurement into the desired international Belt Size
The waist size is not the same as the belt size. Check above Waist size to EU belt size to US belt size conversion chart to get the correct size. When measuring in inches, go 2 inches up as a rule of thumb.


Hermes belt size how to measure it explained
International Hermes Belt Size Chart FAQ
How do I know my size in Hermes belt?
To determine your Hermès belt size, Check your jeans size or HERMES Pants size as a reference. Alternatively, measure around your waistline or hips to determine your Hermes belt size (in cm or inches). Hermes belts are measured from the end of the buckle to the center hole.
What size is a 90 36 Hermes Belt?
A 90 36 size belt, is 90 cm or 36 inches long, so the perfect Hermès belt size would be 100 (CM) fitting 36 Jeans. Check the above conversion charts.
Why should I buy a Hermes Belt?
The signature H-logo hardware and timeless leather make it a classic in terms of designer accessories. A Hermes belt is definitely still worth buying because it's a classic in your wardrobe and maintains its value when well treated.
Which hole I should use to wear my Hermes Belt?
Hermes belts mainly come with 5 holes (pretty standard) and the length in centimeters indicates the measurement from the tip of the buckle to about the third, or middle, hole. It's in the third or the middle hole where you should wear the buckle.
What size is a Hermes belt 95?
A Hermes belt size 95 (cm) will fit a waist measurement 34 inches / 81 cms, size 10 US Pants, 30 Jeans size, 46 Italian pants size, 34 Hermes Pants size or an XL
What are the most popular Hermes Belts?
Hermes made many classic belts, but the H buckle Belt out beats them all. It's the one you need in your garderobe.
Picture by Chi Lok TSANG on Unsplash