Comforter Size Chart and Different Types by Bed Size
This post was last updated on April 27th, 2023 at 03:03 pm
A comforter is a type of bedding made from two layers of fabric that cover fill material in the middle. They are better than blankets in providing more warmth during cold winter nights since they can trap air between the fabric layers. This makes them insulate your body heat, keeping you nice and cozy till morning (skip straight to the Comforter Size Chart).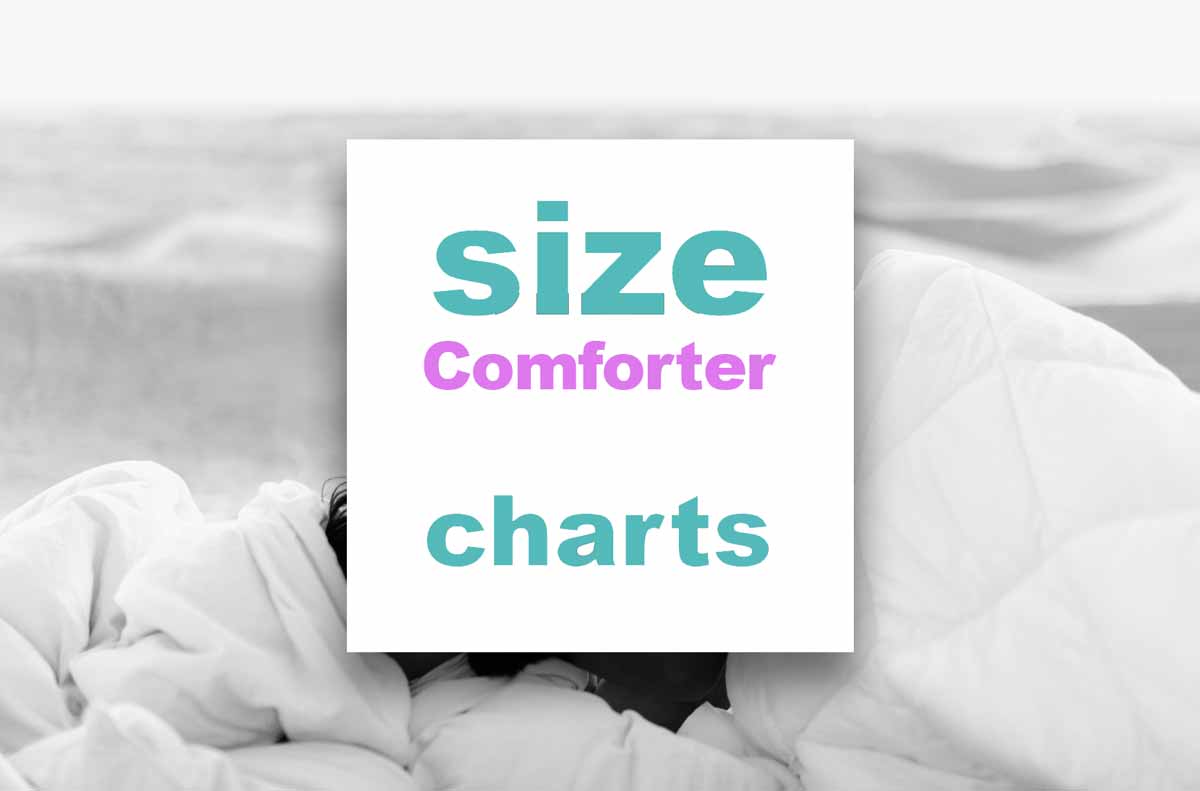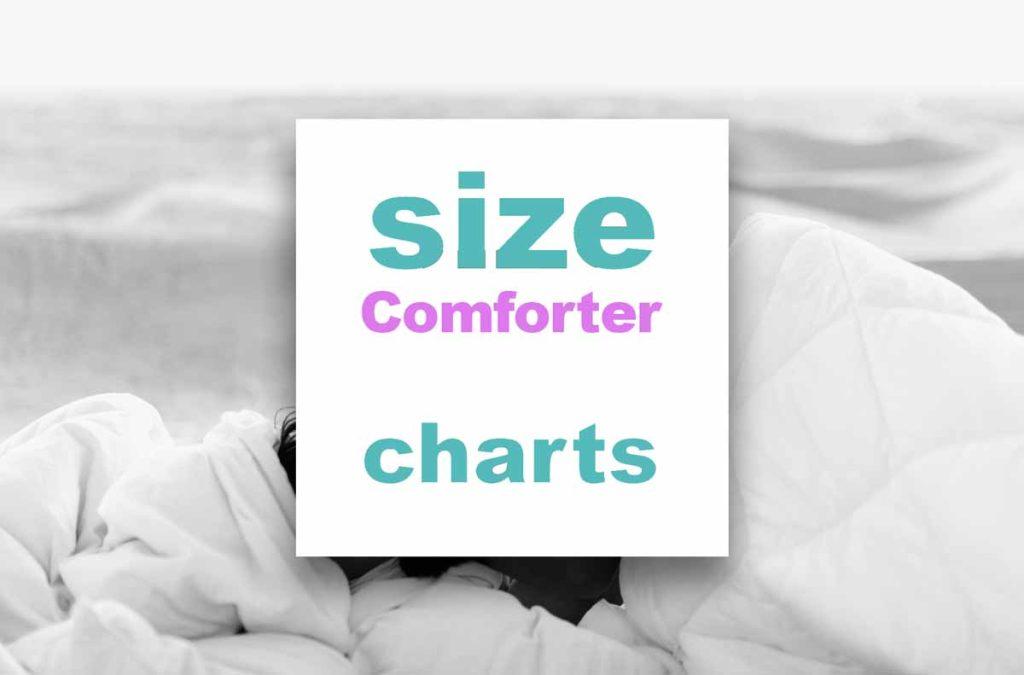 Different bedding manufacturers sell comforters. With the hundreds of options available, it can be overwhelming to identify the right comforter size. This post will cover the standard comforter sizes and how you can make the best choice.
Let's begin!
Jump right into the Frequently Asked Questions
Related: Room Size for beds and mattresses, Bed Size Chart – Measurements And Dimension for king, queen,… beds
Table of Content of Comforter Size
Comforter Size Charts
Related: Queen Bed Size Chart and dimensions guide, King Bed Size Chart and dimensions guide, Average Master Bedroom Size: How Big Is A Master Bedroom?
| | | | |
| --- | --- | --- | --- |
| Bed Size | Mattress Dimensions | Ideal Comforter Width | Ideal Comforter Length |
| Crib | 28 inches by 52 inches 71.1 cm by 132.1 cm | 28 to 36 inches 71.2 to 91.4 cm | 48 to 52 inches 121.9 to 132.1 cm |
| Twin bed | 38 inches by 75 inches 96.5 cm by 190.5 cm | 66 to 68 inches 167.6 to 172.7 cm | 86 to 88 inches 218.4 to 223.5 cm |
| Twin XL bed | 38 inches by 80 inches 96.5 cm by 203.2 cm | 68 inches 172.7 cm | 90 inches 228.6 cm |
| Full bed | 54 inches by 75 inches 137.2 cm by 190.5 cm | 81 to 84 inches 205.7 to 213.4 cm | 86 to 88 inches 218.4 to 223.5 cm |
| Queen bed | 60 inches by 80 inches 152.4 cm by 203.2 cm | 86 to 88 inches 218.4 to 223.5 cm | 96 to 100 inches 243.8 to 254 cm |
| King bed | 76 inches by 80 inches 193 cm by 203.2 cm | 102 inches 259.1 cm | 86 to 88 inches 218.4 to 223.5 cm |
| California king bed | 72 inches by 84 inches 182.9 cm by 213.7 cm | 107 to 110 inches 271.8 to 279.4 cm | 96 to 98 inches 243.8 to 248.9 cm |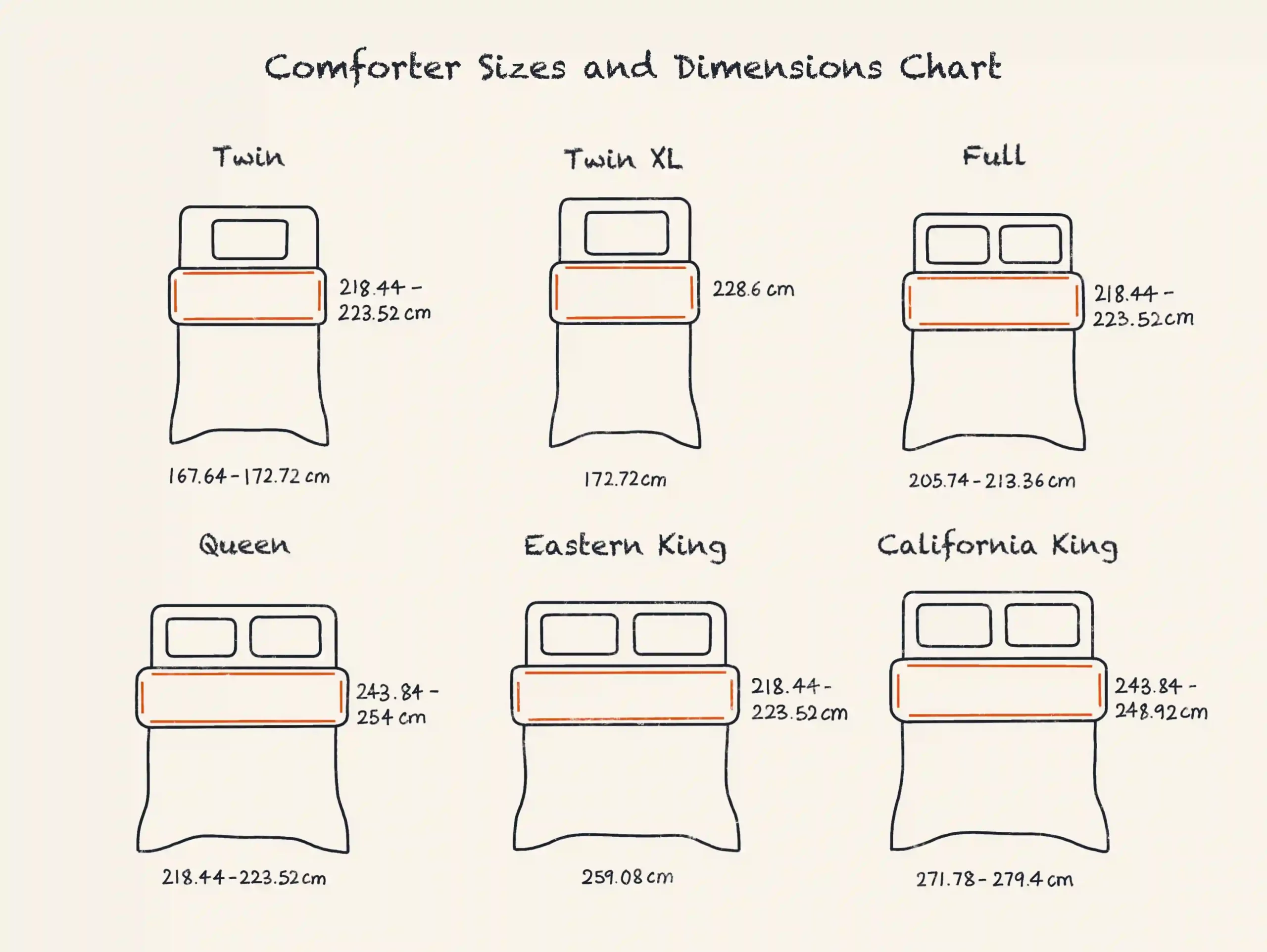 How to Choose the Right Comforter Size
Related: Twin Bed Size Chart: Single bed dimensions guide, Bed sheet size and dimensions by type of bed (with size chart) , Quilt size charts and dimensions guide
Selecting the right size of comforter can feel daunting. Luckily, there are only a few considerations to make in order to find the best comforter size. Let's discuss them below.
1. Size of Your Mattress
There is a wide range of mattress sizes on the market. The size of your mattress will determine the ideal comforter dimensions for your bed. Here are the standard comforter sizes according to the type of mattress.
Are you looking to buy a comforter for your baby? The best comforter size for a crib is 36 by 54 inches or just about. The exact size could vary depending on the brand of comforter you choose.
It's also important to know that the American Academy of Pediatrics recommends against using soft bedding materials like comforters. This is because they could block the baby's face, nose, and mouth, increasing the risk of suffocation.
Related: Baby crib size chart for the best sleeping experience of your newborn
As you've probably guessed, a twin comforter perfectly matches a twin mattress. This bed size is typical for toddlers and pre-teens and requires a comforter measuring 66 by 86 inches. A twin-size comforter is narrow and ideal for covering one individual rather than two.
This comforter size is a great choice for teens, young men, women, or college students. These comforters are the same width as their twin-size counterparts but are longer by about 5 inches for better coverage.
A full-sized comforter is designed for a full bed and measures between 81 to 84 inches in width and 86 to 88 inches in length. Some brands manufacture full/queen comforters that are meant to fit either, but they could end up smaller or larger than you expect.
This one is the perfect fit for a queen-size mattress. A comforter for a queen-size bed should measure 86 to 88 inches in width and 96 to 100 inches in length. This will provide plenty of cover for two people without the need to pull it to one side.
Related: Queen Box Spring Size Guide with mattress and bed comparison
If you want the comforter to cover the sides of your bed, then oversized queen comforters are what you need.
The best comforter size for a standard king-size mattress should be about 102 inches wide by 88 inches long. This will be enough for you to enjoy some space from your partner while in bed since it's pretty large.
Related: King Bed Size Chart and dimensions guide
Regarding a Cal king mattress, the perfect size comforter measures about 110 inches by 98 inches. If you like to huddle up in bed with your spouse and kids, this comforter has you all covered.
2. Mattress Thickness
The next thing to consider is the mattress depth. How thick is your mattress? Thicker mattresses require wider comforters if you want to keep the sides of your bed covered. On the other hand, a thinner mattress doesn't need the extra width because it'll probably drape over the sides.
A few extra inches of width will be necessary if you are using a really thick mattress.
3. Drape Length
This factor mostly rests on personal preference but can be affected by the bed frame height. If you are a fan of bed skirts, you could take a wider comforter that will fall off the edges of the bed. But a narrower comforter will do if you don't want your bedding to drape off the sides.
The length of the drape could vary between longer and shorter bed frames. Shorter frames will require less drape than longer bed frames.
Learn more about different Comforter Sizes (video)
The Best Comforter for You
Related: Rug sizes for bedrooms – all rug dimensions for all sizes of beds, Standard Size of Bedroom: All You Need to Know
Apart from size, other considerations can help you choose the best comforter for your bed.
1. Type of Comforter Fabric
Comforters can have a shell made from different fabrics, whether natural or synthetic. Some of the common types of fabrics used for constructing comforters include:
Cotton
Bamboo
Flannel
Microfiber
Polyester
Fleece
Satin
Faux fur
Wool
Linen
For most people, a cotton is an excellent option since it's gentle on the skin, hypoallergenic, and easy to clean. It's versatile enough for both cold and hot seasons and provides great breathability.
Bamboo fabric has similar characteristics to cotton but is more lightweight. It also has moisture-wicking properties making it excellent for keeping you cool and dry during night sweats.
If you want something more affordable, polyester makes great comforters. Unfortunately, since it's a manmade fabric, it's less absorbent than cotton.
2. Comforter Fill Materials
The comforter fill is the layer of material sandwiched between the top and bottom layers of fabric. This material could be a down or down alternative, and your choice will depend on your preferences.
Down material comes from the soft feathers of the underbellies of geese and ducks. Down comforters can easily trap air inside to create an insulating layer that keeps you warm all night without additional weight.
On the other hand, the down alternative is made from natural or synthetic fibers like cotton and polyester. The main upside to the down alternative is that it's cruelty-free and hypoallergenic.
3. Maintenance and Care
The steps you take when cleaning your comforter should be specified according to the type of fabric it's made from. Some comforters can be machine washed, and others are dry cleaned only.
You should wash your comforter separately from the rest of your laundry. Plus, don't use bleach on the comforter during washing or iron it after it dries.
4. Comforter Construction
The type of stitching used to put your comforter together can determine the level of comfort you feel. Box stitching is a type that uses a square pattern and delivers equal heat distribution.
Channel stitching features rows of parallel stitches that are usually a different color from the comforter fabric. It's great if you love an organized aesthetic design.
Baffle box construction involves making square pockets that you can stuff with fill materials. It leaves a form of honeycomb pattern that is long-lasting.
Quilt-stitched comforters are quite decorative and could come in a variety of designs. Quilt stitches will get it done if you want an out-of-the-box style for your comforter.
5. Fill Power
This refers to the number of fill materials in a particular comforter, measured in ounces. It determines the level of warmth the comforter can provide and how heavy it feels.
The higher the fill power of a comforter, the more warmth it'll provide at night.
You should strongly consider fill power, especially when there's extreme weather and you need a lot or a little warmth.
Frequently Asked Questions
1. What size should a comforter be for a king-size bed?
The best size comforter for a king-size bed is about 102 x 88 inches (259.1 x 223.5 cm).
2. What size comforter do I need for a queen bed?
An ideal comforter size for a queen bed is 88 inches by 100 inches (223.5 x 254 cm)
3. Is a full and queen comforter the same size?
No, they aren't the same size. A queen comforter is larger than a full-size comforter.
4. Is a queen or king comforter bigger?
A king-bed comforter is larger than a queen-size comforter.
5. How to wash a king-size comforter?
You can either wash your comforter in the washer or hire professional dry cleaners to wash it for you.
6. What size washer for a king-size comforter?
A 3.8 cubic foot washer is larger enough for cleaning a king comforter.
7. Can I use a king-size comforter on a queen bed?
Yes, you can. However, there is no guarantee that it'll be a perfect match since it could be larger than you expect.
Conclusion
Comforters are an upgrade from blankets since they provide more warmth and are more attractive. Finding the right size is crucial because you can end up with a comforter that's longer or wider than you need.
Ideally, you should get a comforter just a few inches wider than your mattress size to ensure the sides are covered.
If you have any questions about this topic, please leave them below.
Picture in this post is by Eniola B. on Unsplash
Related to Comforter Size