Ikea Billy Size Guide and Measurements
This post was last updated on November 12th, 2022 at 08:00 pm
Ikea Billy size ranges in height from tall 93.25″ (237 cm) to short 41.75″ (106 cm). From large designs at 31.5″ (80 cm) to narrow designs at 15.75″, widths differ widely (40 cm). Every bookcase is 11″ deep (28 cm).
What is IKEA Billy? IKEA's Billy bookcase collection features a timeless design that places a strong focus on adaptability and practicality. The Billy system is made to fit a variety of settings and purposes (skip straight to the IKEA Billy Size Chart).
This particle board construction system's numerous parts may be quickly and easily connected to create a seamlessly combined bookshelf wall or extended lower unit.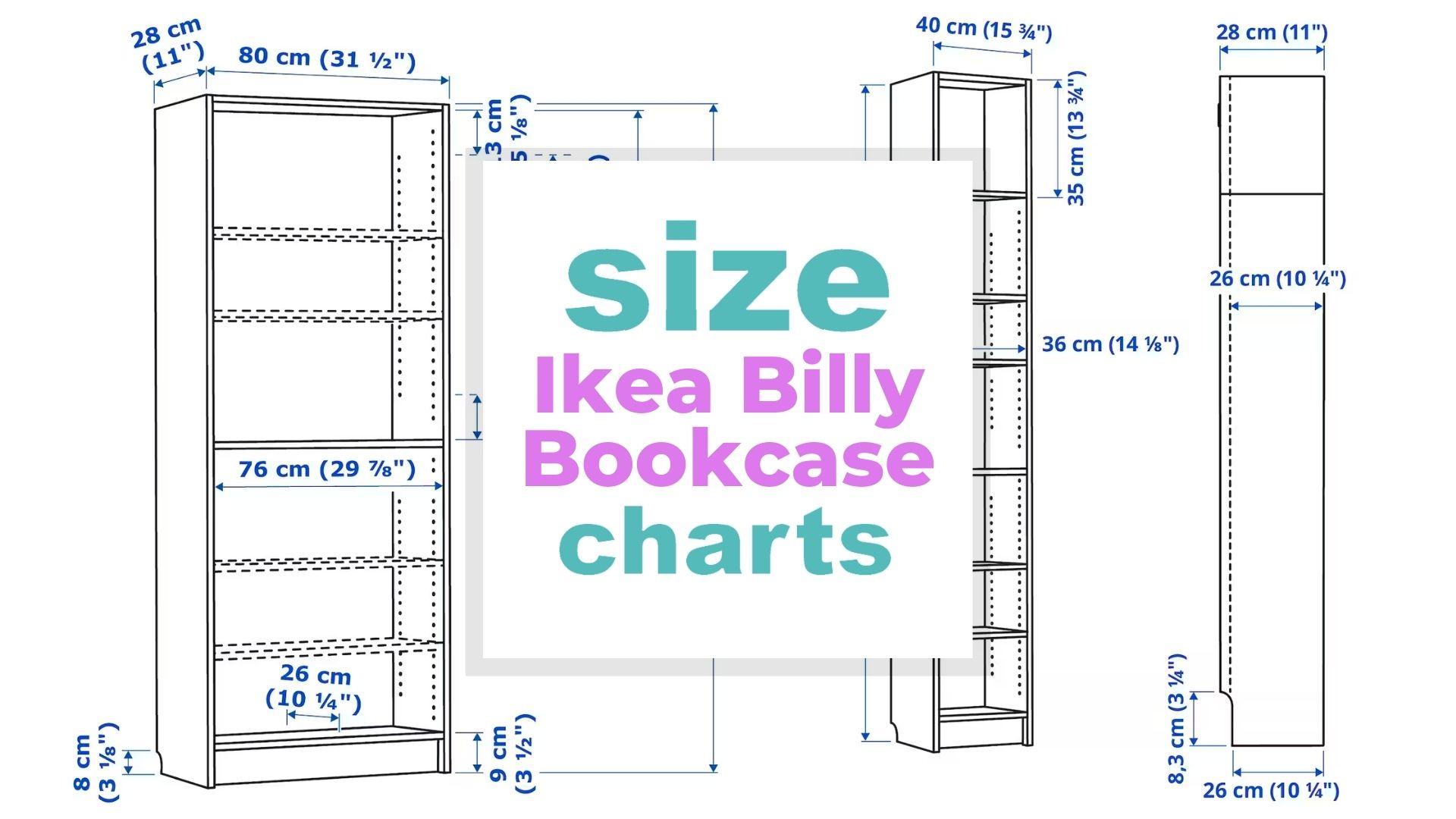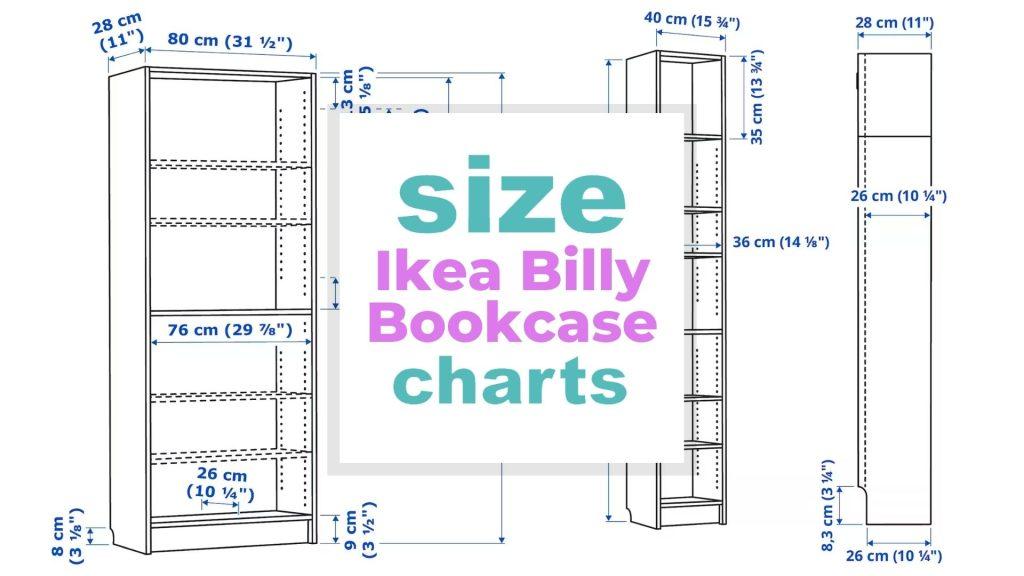 For safety, use the anchoring fasteners that are included to fix the bookshelf firmly to the wall. With glass doors, a height extension unit, and a variety of plastic-coated or veneered surface treatments, the IKEA Billy bookshelf may be further customized.
Jump right into the Frequently Asked Questions
Related: Bed sheet size and dimensions by type of bed (with size chart), Bed Size Chart – Measurements And Dimension for king, queen,… beds, Room Size for beds and mattresses, IKEA Mydal Bunk Bed Size Guide , Storage Unit Size Chart – Guide To Comparing Spaces
Table of Content
Ikea Billy Size Chart
Related: Queen Bed Size Chart and dimensions guide, King Bed Size Chart and dimensions guide, Twin Bed Size Chart: Single bed dimensions guide
| | | |
| --- | --- | --- |
| Width | Height | Depth |
| 15.75"-31.5″ | 40-80 cm | 41.75"- 93.25″ | 106 – 237 cm | 11.0" | 28 cm |
| | |
| --- | --- |
| Height (Tall) | 93 ¼" | 237 cm |
| Height (Standard) | 79 ½" | 202 cm |
| Height (Short) | 41 ¾" | 106 cm |
| Width (Wide) | 31 ½" | 80 cm |
| Width (Thin) | 15 ¾" | 40 cm |
IKEA Billy Size: Black Brown
| | | | |
| --- | --- | --- | --- |
| Width | Height | Depth | Max Load |
| 31½" | 80.01 cm | 79 ½" | 201.93 cm | 11" | 27.94 cm | 66 lb | 29.937 kg |
IKEA Billy Size: High Extension Birch Veneer
| | | |
| --- | --- | --- |
| Width | Height | Depth |
| 31½" | 80.01 cm | 13 ⅝" | 34.61 cm | 11" | 27.94 cm |
IKEA Billy Size: Bookcase White
| | | | |
| --- | --- | --- | --- |
| Width | Height | Depth | Max Load |
| 31½" | 80.01 cm | 79 ½" | 201.93 cm | 11" | 27.94 cm | 66 lb | 29.937 kg |
Clever IKEA Billy Bookcases Ideas if You Choose The Right IKEA Billy Size Bookcase
Related: Bed Size Chart – Measurements And Dimension for king, queen,… beds, Rug sizes for bedrooms – all rug dimensions for all sizes of beds
It should come as no surprise that the Billy bookshelf is one of IKEA's most popular pieces of furniture overall. It's simple to put together, useful, classic, and unquestionably one of the most adaptable. Therefore, IKEA Billy is unquestionably your go-to man if you're searching for a new bookshelf that you can upcycle or just create yourself.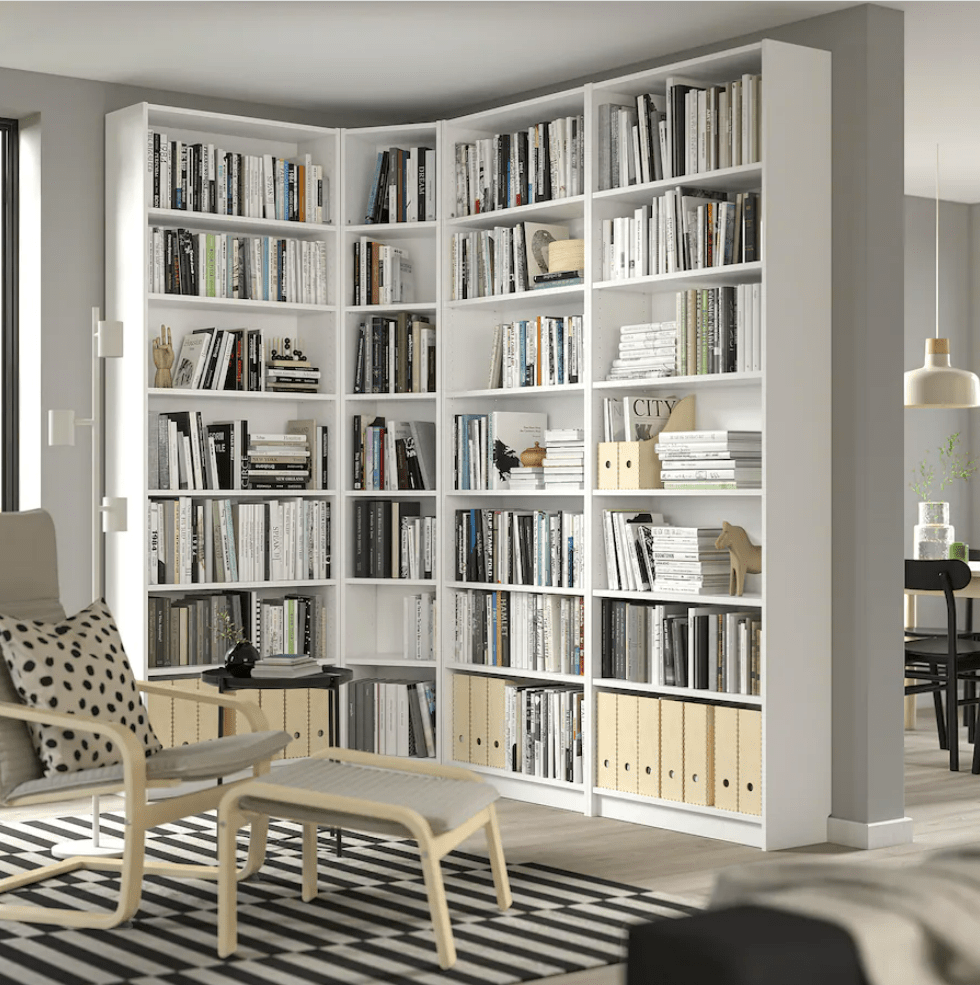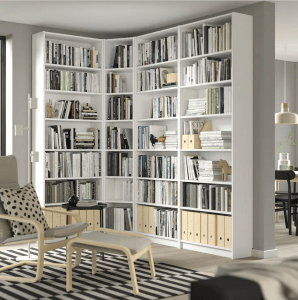 A Top-notch Entertainment Hub
Billy Bookcases may be converted into a large entertainment center with plenty of storage. The shelves offer plenty of space for media storage and trinkets, while the covered cupboards help keep cords and wires hidden and out of sight.
Modern Texture
Cane and rattan are still having a big moment right now, and DIY projects frequently use them as a material. A Billy bookshelf with braided cane doors and slick dark green paint can be an elegant improvement.
Statement Maker
Built-ins might be the solution if you are at a loss for what to put on each side of the mantelpiece of your fireplace. When it came to updating the living area, the Billy bookcase came to the rescue once again and saved the day.
This particular do-it-yourselfer decided to caulk the shelves to the wall in order to reduce the visibility of any gaps.
Independent Research
Isn't it true that your workplace needs all the storage it can get? You won't have to worry about running out of room for any of your essential documents or supplies if you use this Billy bookshelf hack.
The ideal desk configuration consists of two bookshelves placed in such a way that they protrude from the wall and a surface placed in the space in between them.
Entertainment Center
Everyone who has small children understands how important it is to have appropriate storage in the playroom.

This entertainment center is perfect for families with young children because it is made up of Billy bookcases, which are bright and cheery thanks to the addition of bright storage baskets that are easy for children to access.
These baskets may encourage younger children to clean up after themselves.
Family-Friendly Playhouse
Are your children or grandkids still quite young? They will be completely smitten with the charming Billy bookshelf that has been transformed into a playhouse. Young children will have a great time constructing their own ideal home and decorating each of the roomy "rooms" in the house.
Elegant and Extraordinary Space
These Billy bookcases have a color that is reminiscent of a robin's egg blue. This arrangement demonstrates that this piece of furniture may appear just as attractive in more formal living areas, such as offices and family rooms, as it can in those other types of places.
The Joyous Hutches
It's possible that you've been searching high and low for a cheap and fashionable hutch that would look great in your living room, playroom, or dining room, but you simply haven't been able to locate the right piece.
It is certainly not impossible to go the do-it-yourself route by utilizing a Billy bookshelf as a starting point; all it takes is some expert woodworking and a dash of paint to make a significant difference. This hacked piece of furniture is actually also an IKEA dresser, making it a two-for-one deal.
Clever Corner
The advantage of modifying a Billy bookcase is that it enables you to create a final product that is tailored specifically to your requirements, even if this necessitates adjusting certain aspects in order to accommodate a difficult corner location.
Stunning Pantry
It takes a lot of effort to keep a pantry tidy. By installing more shelving in the shape of Billy bookcases, you may make it much simpler to maintain a neat and ordered appearance for the boxes and cans you store.
Innovative and Discreet Storage
These Billy bookcases are likewise put to give the impression that they were built-in, and they were spruced up with a deft touch by adding storage bins in a color that matches the bookshelves.
Toys for children, art materials, exercise equipment, and anything else that requires a storage spot in the family room may be easily hidden away in containers such as these. The upper shelves still have plenty of room for real books to be placed on them.
Learn more about IKEA Billy Size and Assembly Guide (video)
Frequently Asked Questions\
1. What are the dimensions of a Ikea Billy bookcase?okcase?
The dimensions of a Billy Bookcase are:
Height: 41.75"-93.25″ – 106-237 cm
Width: 15.75"-31.5″ – 40-80 cm
Depth: 11.0" – 28 cm
Height (Tall): 93 1/4" – 237 cm
Height (Standard): 79 1/2" – 202 cm
Height (Short): 41 3/4" – 106 cm
Width (Wide): 31 1/2" | 80 cm
Width (Thin): 15 3/4" | 40 cm
2. Would It Be Possible to Add a Door to the Corner Billy Bookcase?
If by "new style of corner units" you mean the ones that are joined by "Billy corner hardware" (pictured below), then you will need to add a spacer on both sides of the corner unit, as MechaWrecka discovered in this forum.

This is the case because the new style of corner units is joined by Billy corner hardware. Because of this clearance, the doors will be able to be opened.
3. How Come White Billy Bookcases Are So Affordable?
The use of inexpensive materials in the construction of Ikea products such as the Billy bookshelf is the third factor that contributes to the low cost of these items when compared to hand-crafted furniture.

The Billy bookshelf is not constructed of solid wood like other bookcases; rather, it is composed of particle board, a low-cost substitute for solid wood that is manufactured from wood chips and resin.
4. Do the Shelves of the Billy Bookcase Sag?
The Billy bookcases are built of particle board, which causes them to droop over time. Although it is inexpensive, this material is not as long-lasting as shelves made of solid wood or other materials.
5. How Big Is The Ikea Bookcase Box?
The size of the bookcase box is 1/2x11x79 1/2″.
6. What is The Height of The Billy Bookcase Shelves?
There are several different height options available for the IKEA Billy Bookcase, ranging from a lofty 93.25 inches (237 cm) to a low 41.75 inches (106 cm). Designs might be as large as 31.5″ (80 cm) or as narrow as 15.75″ (40 cm), depending on their width (40 cm)
7. Do you think the Billy Bookcase Will Fit in My Car?
The flat pack makes it much easier to transport items in vehicles with limited space; nevertheless, in the event that the item cannot be transported inside your vehicle, they will offer you more cardboard in order to secure it to the roof of your vehicle.
What are your plans for making a purchase? All of the goods' measurements are published on the website for your convenience. On the information page for the item, you should look for a link that reads "packaging measures and weight."
8. Which Doors are Compatible with The Billy Bookcase Size?
One door will fit the Billy bookshelf that is 15 3/8 inches wide, and two doors will suit the Billy bookcase that is 31 1/8 inches wide.
9. Are you Able to Stack Two Billy Bookcases that are Short?
The Billy bookcases are constructed with a stackable design that enables you to attach new units whenever you need additional storage; all you need to do is decide on the height that works best for your space.
Conclusion on Ikea Billy Size
The IKEA's Billy bookshelf collection is now a treasured classic throughout the globe, thanks to its smooth customization choices, which enable it to be the ideal accent to interiors of any size. These Billy bookcases are also created with a stackable layout that enables you to add more units anytime you want more storage.
Each model in the Billy series has movable shelves, allowing you to store everything from trophies to books and everything you want.
Moreover, the IKEA Billy bookcases come in a variety of sizes and are a very popular purchase. In point of fact, it's possible that you already have one or two of these shelving units installed in your home.
Nevertheless, what makes this piece of furniture so appealing is not only the fact that it has a sizable capacity for storage and a cost that is easy on the wallet but also the fact that it is filled with so many opportunities.
Leave a comment below if you have trouble finding the right IKEA Billy for you. We are ready to sort out your problem!
Picture is from IKEA.com
Related to Ikea Billy Size Guide