Curtain Size Guide
When it comes to curtain size, there are a few things to keep in mind. First, you'll want to measure the width of your window. This will give you a good idea of how wide your curtain should be.
Second, you'll want to consider the height of your window. If you have a tall window, you may want to go with a taller curtain. Finally, you'll want to take into account the style of your curtain. If you're looking for a more formal look, you may want to go with a longer curtain.
However, if you're going for a more casual look, a shorter curtain may be just what you need. With these factors in mind, choosing the right curtain size should be a breeze.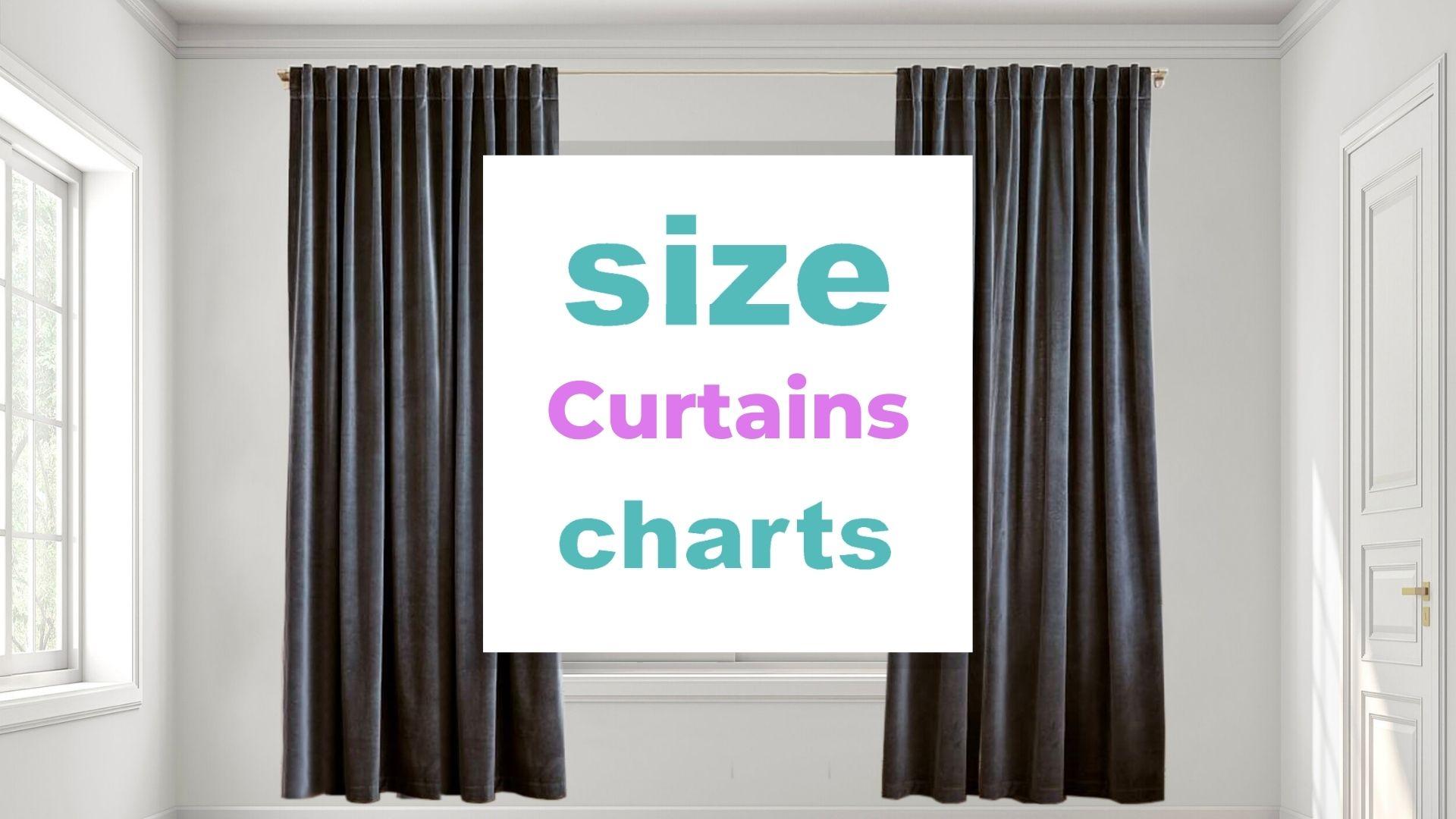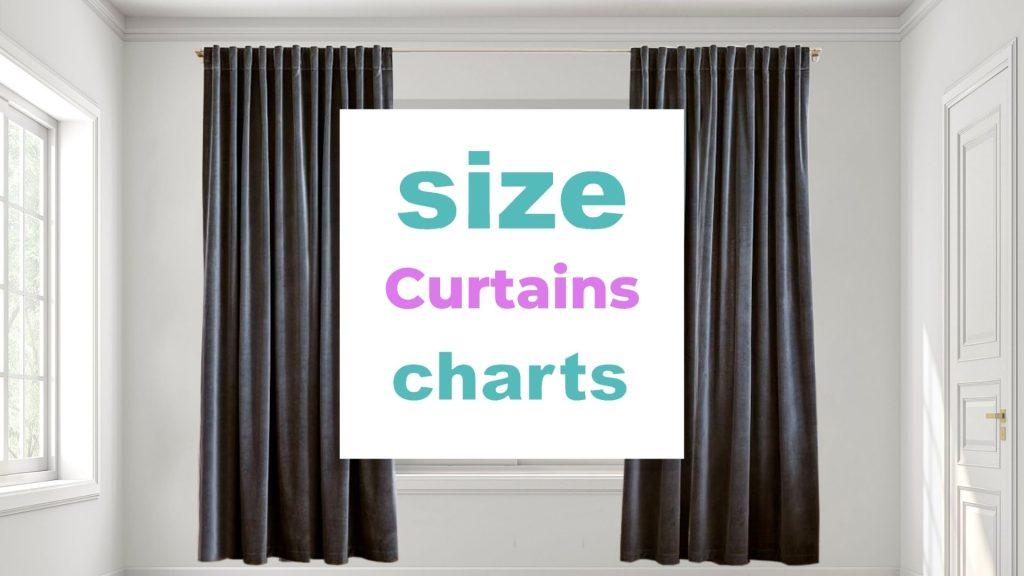 The size of the curtains depends on the dimensions of the panel, in order for the curtains to look good, it is necessary to take the right dimensions for curtains for each panel individually.
Buying the right curtains for your windows can be quite a difficult task if you are not informed about the right curtain size for your window. However, there are some things that if you know, the whole process of choosing curtain sizes will be easier and more pleasant.
Jump right into the Frequently Asked Questions
Related: Room Size for beds and mattresses, Bed Size Chart – Measurements And Dimension for king, queen,… beds; Rug sizes for bedrooms – all rug dimensions for all sizes of beds, Weighted Blanket size charts for Adults and children
Curtain Size Table of Contents
How to decide on curtain size?
Related: Queen Bed Size Chart and dimensions guide, King Bed Size Chart and dimensions guide, Average Master Bedroom Size: How Big Is A Master Bedroom?
The choice of curtain size across the room depends on the type of curtain itself.
For example, with pleated curtains, a pair of 48-inch-wide curtains can cover a 48-inch-wide window. Realistically if we factor in overlaps and returns, about 12 inches, a pair of pleated curtains should cover about 36 inches of window area.
If you are using pocket curtains, you should know that you cannot cover a 60-inch window with a 60-inch curtain because it will not look good. If you want it to look good, you need to ensure completeness, which will require several pieces.
Learn more about curtain size charts (video)
Curtain size charts
Related: Bed Size Chart – Measurements And Dimension for king, queen beds, Rug sizes and dimensions (with easy to use size-charts), Picture Frame Size for photos or art – standard and special sizes
Standard dimensions
| | | | | | |
| --- | --- | --- | --- | --- | --- |
| Width | | Drop | | Pole Width | |
| in | cm | in | cm | in | cm |
| 46 | 117 | 54 | 137 | 60 | 152 |
| 46 | 117 | 72 | 183 | 60 | 152 |
| 46 | 117 | 90 | 229 | 60 | 152 |
| 66 | 168 | 54 | 137 | 90 | 229 |
| 66 | 168 | 72 | 183 | 90 | 229 |
| 66 | 168 | 90 | 229 | 90 | 229 |
| 90 | 229 | 72 | 183 | 120 | 305 |
| 90 | 229 | 90 | 229 | 120 | 305 |
Gathers
Curtain Pair Pack x Width
Relaxed gather Approximate
pole or track length
inch
cm
inch
cm
inch
cm
112 inches
284 cm
157 inches
400 cm
112 inches
284 cm
90 inches
228 cm
112 inches
284 cm
90 inches
228 cm
66 inches
168 cm
90 inches
228 cm
66 inches
168 cm
46 inches
117 cm
66 inches
168 cm
46 inches
117 cm
What are the most common curtain sizes?
Related: Interior Doors Sizes: Minimum & standard dimensions, Window Sizes Chart and How to Measure window dimensions?
The most common curtains come in three basic sizes: 84 inches, 96 inches, or 108 inches.
If your ceilings are low then it is advisable to use 84-inch curtains but if your ceilings are high then 84 inches will not look good.
Unlike the 84-inch curtains which are only suitable for low ceilings, the 96-inch and 108-inch sizes are commonly used curtain sizes across the room, but still, it all depends on your taste and sense of comfort. If you are in doubt about whether to choose long or short curtains in different brands, always choose the long and not the short.
Frequently Asked Questions
What is the longest curtain size?
The longest curtains are called draperies, their size is generally 108 inches, 120 inches, or more. This is a suitable curtain size alongside a wall because the curtain will cover the entire wall from floor to ceiling.
These types of curtains are usually made of materials such as damask, velvet, or silk and are best suited for rooms with high ceilings such as living rooms or offices.
How are curtain sizes given?
The dimensions of the curtains are related to the width of the post and the track. The most important thing is to be able to measure your pole or track correctly so that you can choose the right curtain.
To find the size of curtain you need, the total width of the curtains should be one and a half times the width of your window.
How much bigger should curtains be than a window?
Each window needs a custom-sized curtain to look good. It depends of course on your personal preferences. Some people prefer long and elegant curtains and others prefer simple ones.
You need to measure the width and length of your window to know what size curtain to use.
The rule states that the width of the curtain should be 2 times the width of the window or even more. And there are no rules or requirements regarding the length.
What size curtains do I need for a 36-inch window?
Curtains should be twice as wide, meaning that for a 36-inch wide window you need a curtain that is at least 72 inches wide. It is recommended that the curtains are even wider to ensure that the curtains will fit the size of the window.
Regarding the length of the curtain with a width of 36 inches, there is no special rule, you can adjust it according to your personal choice. If you want the curtain to reach the length of the skirting board, then you have to hang the curtain under the skirting board.
There are quite a few other hanging styles as well.
What do 84 panels mean for curtains?
An 84-inch panel is a standard size panel and it is recommended that this size be used primarily in rooms with lower ceilings. When purchasing curtains, the curtain rod should be 84 inches if you are not using rings. Keep in mind that there are several ways to install curtains.
The first is called a float, this is when the curtain is about an inch off the floor. The second way is called a puddle and this is when you add 15 inches to the length so that there is enough fabric to make a join. Thus, the hems of the curtains will rest on the floor.
You need to buy the right size moldings, but when choosing moldings remember that the molding should extend at least 6 inches past the window. It is recommended that you install the cornice before purchasing the curtains.
If you do not have the necessary experience with installing curtains, you can contact a professional, but this will certainly cost you extra.
Conclusion
Curtains are a great way to add personality and style to your home, but it can be tricky to know where to start. The rule of thumb is that once you've determined your style, focus on the size of the curtains you need. Too small or too large will definitely diminish the effect you're going for.
If you are a fan of long curtains, you should know that it is more appropriate for them to rest on the floor, otherwise, their elegance is lost, but for this, we must be sure that we have the right size to look for the right curtains.
If you use curtains for a children's room, you should know that short curtains are much more suitable to reduce the likelihood of accidents. You should also be careful with the curtain size above ground. The curtain must be above the water so that it does not get wet or dirty.
And it's a wrap for now. We hope that this guide will always help you and that you find the perfect curtains for whatever need. Don't forget to ask any questions you might have in the comments area.
Picture in this post is by Jon Tyson on Unsplash
Related to Curtain Size