Picture Frame Size for Photos or Art – Standard and Special Sizes
This post was last updated on June 21st, 2023 at 06:00 pm
Placing photos of yourself, your family, or memorable occasions on your walls or other places indoors is an American tradition. Instead of placing these photos in book albums, you can have them on the walls or on your desk to ensure it stays at the forefront of your mind. All paper sizes you can learn about here
All Posters sizes and paper sizes you can find on the links. Poster board sizes you can discover here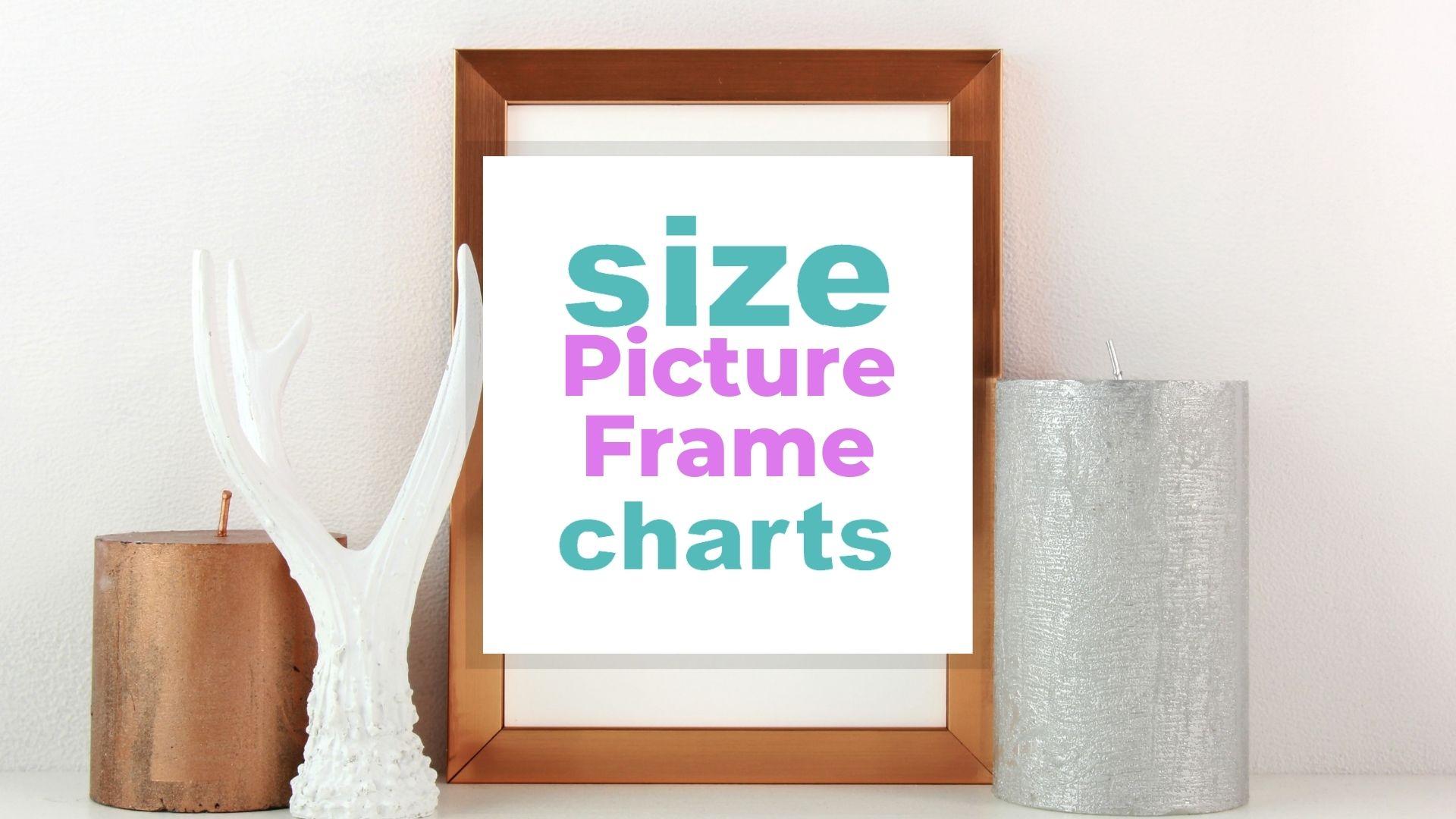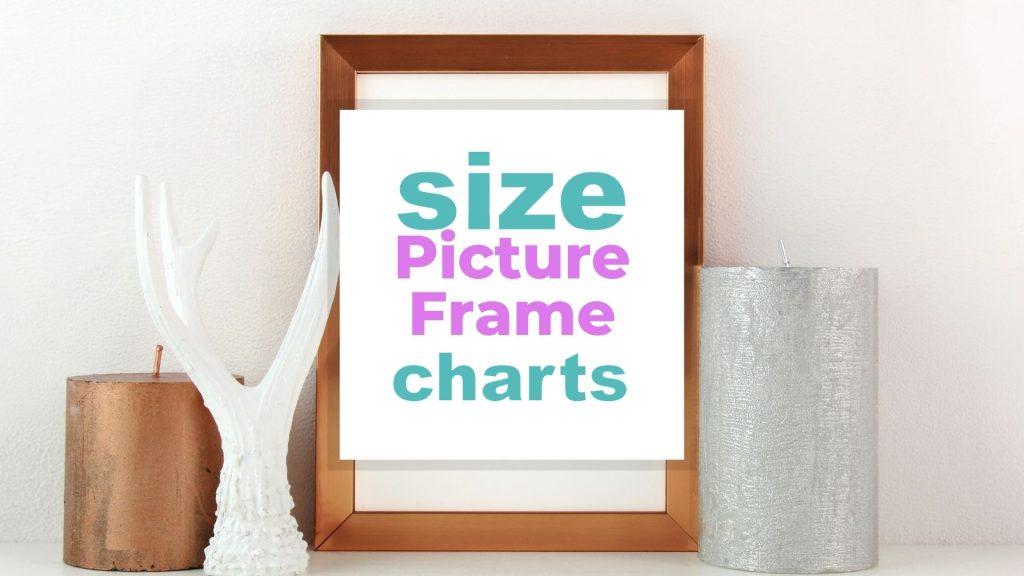 Photos aren't the only thing you can hang in your house. Alternatively, you can distribute art pieces in different areas to make your home more interesting. This could help you bring out the harmony as the colors and textures inside work together to deliver aesthetic appeal.
Additionally, framing photos is the best way to ensure they last as long as possible. Having them behind a glass keeps them free from dust, moisture, and other elements that could damage the picture. That's why finding the right picture frame size is essential. We'll discuss the common photo frame sizes and dimensions in this post. If you have a specific question you can directly check the FAQ section below this page
Table of Content of Picture Frame Size for Photos or Art
Picture Frame Size Guide
In the table below, we've matched picture sizes to standard frame sizes depending on whether you are using a mat.
| | | |
| --- | --- | --- |
| Image Size in Inches | Mat Opening in inches | Frame Size in inches |
| 4 x 6 in | 3.75 x 5.75 in | 8 x 10 in |
| 5 x 7 in | No Mat | 5 x 7 in |
| 5 x 7 in | 3.75 x 5.75 in | 8 x 10 in |
| 8 x 10 in | No Mat | 8 x 10 in |
| 8 x 10 in | 3.75 x 5.75 in | 11 x 14 in |
| 8.5 x 11 in | No Mat | 8.5 x 11 in |
| 8.5 x 11in | 3.75 x 5.75 in | 11 x 14 in |
| 11 x 14 in | No Mat | 11 x 14 in |
| 11 x 14 in | 3.75 x 5.75 in | 16 x 20 in |
| 16 x 20 in | No Mat | 16 x 20 in |
| 16 x 20 in | 3.75 x 5.75 in | 20 x 24 in |
A Format Picture Frame size chart
You might want to know common photo sizes in A format. So here's a quick guide on that.
| | | |
| --- | --- | --- |
| A format | Print size in Inches | Print size in Cm |
| A0 | 46.8 x 33.1 in | 118.9 x 84.1 cm |
| A1 | 33.1 x 23.4 in | 84.1 x 59.4 cm |
| A2 | 23.4 x 16.5 in | 59.4 x 42 cm |
| A3 | 16.5 x 11.7 in | 42 x 29.7 cm |
| A4 | 11.7 x 8.3 in | 29.7 x 21 cm |
| A5 | 8.3 x 5.8 in | 21 x 14.8 cm |
| A6 | 5.8 x 4.1 in | 14.8 x 10.5 cm |
| A7 | 4.1 x. 2.9 in | 10.5 x 7.4 cm |
| A8 | 2.9 x 2.0 in | 7.4 x 5.2 cm |
| A9 | 2.0 x 1.5 in | 5.2 x 3.7 cm |
| A10 | 1.5 x 1.0 in | 3.7 x 2.6 cm |
Standard square frame sizes
| | |
| --- | --- |
| Frame Size (inch) | Frame Size (cm) |
| 5 x 5 in | 12.7 x 12.7 cm |
| 6 x 6 in | 15.24 x 15.24 cm |
| 8 x 8 in | 20.32 x 20.32 cm |
| 10 x 10 in | 25.4 x 25.4 cm |
| 12 x 12 in | 30.48 x 30.48 cm |
| 14 x 14 in | 35.56 x 35.56 cm |
| 16 x 16 in | 40.64 x 40.64 cm |
| 18 x 18 in | 45.72 x 45.72 cm |
| 20 x 20 in | 50.8 x 50.8 cm |
| 24 x 24 in | 60.96 x 60.96 cm |
| 28 x 28 in | 71.12 x 71.12 cm |
| 30 x 30 in | 76.2 x 76.2 cm |
Picture Frame size explained by an expert (video)
How to Choose the Right Picture Frame Size
Whether you select custom frames or standard ones, deciding the ideal size for your photos or art pieces can feel hectic. Fortunately, we'll summarize everything you need to know about choosing the perfect picture frame size below. So here's what to consider when picking from common picture frame sizes.
1. Size of the photo or art piece
When looking for the perfect frame size for your picture, the first consideration to make is the dimensions of your photo. You'll need to measure your print or photograph and note the width and length. If the image has borders you don't want to appear once you frame it trim them out first, then measure them. You want your frame to be equivalent to your piece.
You can determine the best size for your frame in this online picture frame size calculator.
A picture of your entire family will naturally be larger than an image of two people to ensure you can see everybody well. If it's just a picture of fewer individuals, you can choose a custom-size frame that keeps everyone in the foreground.
2. Matting size
Keeping your picture in place behind the glass of the picture frame is important. Matting is an easy way to achieve this. It involves placing a thin piece of paper on your art piece or photo, which provides a place to tape on while adding color.
When using a mat, you'll need to match the frame to the outer dimensions of the mat instead of the photo. If you want the mat border to appear in the picture, go for larger frame size.
Learn how to build a picture frame in this post.
3. Frame destination
You'll also need to think about where you'll display the picture. There are some pictures that are best placed on your desk or a table, while others are suitable for wall mounting. The location you reserve for the picture will determine how big or small the frame should be.
4. Available space
Adding a framed photo to an area that contains other items could make your interior appear cluttered. The amount of space you have on the wall or table will determine the print and frame size. If you have a large art piece or photo, you should place it centrally where it can draw attention.
A small-sized frame will fit well on a desk allowing you to keep a picture of your loved ones or favorite moments even in the office.
5. Number of framed photos
The next thing is to determine the number of photos you want to hang on your wall or place on your desk. If you have small or medium picture frames, you can display several of them on the gallery wall. You can even have a collage of photos of common sizes in a particular location.
If you have a larger picture that you want to draw attention to, you can surround it with smaller pictures. The essential thing is to ensure you arrange them so that it doesn't make your space seem disorganized. Fortunately, you don't have to use the same photo size to achieve harmony in your display.
6. Picture frame style
The type of frame you choose primarily depends on the subject of the photos. If you are hanging a formal portrait that you want others to take an interest in, you should use a simple frame. This is because using a decorative frame could draw the focus of the viewers from the picture to the frame itself.
On the other hand, if you have a single piece of art, you could opt for custom framing that highlights or complements the beauty of the piece. There's a wide range of frame styles available for art and photos. Let's list them below.
Gallery frames – these are the ones you normally see on museum pieces. If you want a gallery section in your home where you can display a collection of different photos, this frame is the one you need.
Metal frames – great for formal pictures with a subject you want viewers to focus on. They are thin and don't draw any attention from the piece, making them great when you want a minimalist feel.
Wood frames – these offer a traditional picture frame appearance and can complement your furniture, floors, or ceiling in an alluring way.
Floating frames – if you want your art print to appear standing on its own, as if floating on the wall, these frames will do that. You can use them for attention-grabbing artwork that can turn a blank wall into the center of focus.
Deep-set frames – finally, you can add depth and dimension to a landscape photo using a deep frame. These frames aren't designed for hanging, so you'll place the piece on a desk or table.
7. Frame color
The last consideration to make when choosing an ideal-sized picture frame is the color. You'll need to match the color of the frame to your home's color palette to ensure you achieve a consistent feel. If you have a single highlight piece, you can use a contrasting color frame to set it apart from other decorations in the house.
A family photo or similar piece should have a neutral color like black or white, which won't direct the eyes from the subject of your piece. Art prints can use a variety of color options since their primary function is to decorate your space.
How to Measure Picture Frame Size
You can choose between a standard picture frame size or a custom picture frame size. Nevertheless, the first step in both cases is finding your art print sizes so that you match them to a fitting frame.
Measuring a picture for a frame and mount
To find the perfect size for your picture frame, you'll need to measure the dimensions of your photo. The part you measure is what you want to see when the picture is displayed. The frame and mount will extend from the perimeter of your photo. However, you'll need to overlap the image by about 2.5 mm with the mount to ensure it stays in place.
The mount will need to be a bit larger than the photo, allowing you to tape it securely so it won't fall through the opening. If your picture has white borders, don't include these areas in the measurements. You can even cut them out before taking the measurements.
Measuring the frame without a mount
If you aren't using a mount, you can keep the white borders on the picture you want to frame. The borders will sit within the frame and won't appear in the image unless you want them. About 6-8mm of your photo will end up inside the frame, so you should use an exact size for your picture since some areas could be covered.
Measuring your picture for a mount
When you already have a popular size picture frame and are wondering about the ideal image size to fit in your picture mount, here's what you can do. Determine the internal size of the frame and measure your piece. You should place the picture on a flat surface like a table to ensure you take note of the dimensions accurately.
You'll need to add about 5 mm to the width and height of the picture to ensure you have the room you need to attach the mount to the picture. This will help prevent the picture from falling through the opening.
Lastly, you should calculate the border size for your picture. You can do this by subtracting the width of your picture from the width of the frame and dividing the value by 2. Do this for the height of your photo as well, and you'll have the ideal border size for your piece.
Frequently Asked Questions on Picture frame sizes
What picture frame size do I need?
There are several factors that determine the ideal picture size for your photos. These include the actual size of the picture, the size of the matting, border style, and the amount of space you have. The color and style of the frame are also essential, but they don't affect the size.
What are the standard picture frame sizes?
Here's a list of the popular frame sizes for pictures and art.
4 x 6 inches
5 x 7 inches
8 x 10 inches
16 x 20 inches
20 x 30 inches
22 x 30 inches
What are the standard photo frame sizes UK?
Popular picture frame sizes can differ from one country to another. Let's look at the standard sizes in the UK.
4 x 6 inches
5 x 7 inches
6 x 8 inches
7 x 9 inches
8 x 8 inches
8 x 10 inches
10 x 10 inches
10 x 12 inches
10 x 15 inches
11 x 14 inches
12 x 15
What size frame do I need for a 10×8 picture?
Your answer will depend on whether you'll use matting or not. If the frame comes with a mat, you'll need it to cover 11 x 14 inches. Other things to think about include the borders and whether you want the mat to be visible.
What is a 6×4 photo size?
A 6 x 4 photo measures 6 inches in length and 4 inches in height. The image will be in landscape form since the photo is wider than tall. In centimeters, the dimensions translate to 15 x 10 inches.
Is 8×10 the same as 10×8?
In terms of measurements, both have equal sides. However, the main difference is the orientation of the picture. An 8 x 10 picture will be in landscape form, while a 10 x 8 will be in portrait. So, it just depends on how you'll display the picture.
Is 10×8 the same as A4?
An ISO standard A4 measures 210 x 297 mm, which roughly translates to 12 x 8 inches. As such, it's slightly longer than a 10 x 8-inch poster size.
What size frame do I need for an 8×12 photo?
An 8 x 12-inch photo is equivalent to 20 x 30 centimeters and will fit in a frame of the same dimensions if you don't use matting. You can take an A4 size standard frame.
What size frame do I need for an 11×14 print?
You can use a 16 x 20 inches frame for an 11 x 14 print. You can opt for thicker frame borders and go for a 17 x 20 inches frame as well.
What size frame do I need for a 16×24 print?
If you are framing your picture without a mat, you can use the same dimensions for the frame. But for a matted photo, you'll need to add 4 inches to the height and width measurements. This brings the frame to about 20 x 28 inches.
Conclusion
Hanging your favorite pictures on the walls or mounting them on your desk beats storing them anywhere else any day. Arranging them in your house can bring an inviting feel as visitors see images of your family tree or your best moments. Wall arts are also worth framing and hanging if you have a larger space on your walls.
The ideal size for your frame will depend on the size of the picture, the location you'll set it, and the number of items in that area. With an ideal frame size, you can carry a memory of your loved ones to the office, keeping you motivated at work. The internal size of the frame should match the dimensions of your photo. If you are using a mat, you might need a larger frame.
If you've found this post useful, feel free to leave a comment below. Plus, we'll answer any questions you have ASAP to ensure you choose an ideal frame for your favorite photo.
Picture in this post by Martin Péchy on Unsplash
Related Home, Paper and Poster size charts