Poster Board Size by Type, Dimensions and Usage (Size-Charts Included)
This post was last updated on May 21st, 2023 at 06:17 am
22×28 inches or 56×71 cm is considered the standard poster board size and is widely available. Additionally, tri-fold poster boards are popular for presentations and roadside signage since they are able to stand on their own. These are typically 36×48 inches or 121×91,5 cm.
When you have a specific question, please check the FAQ section on this page
A posterboard is not the same as picture frames, read all about picture frame sizes here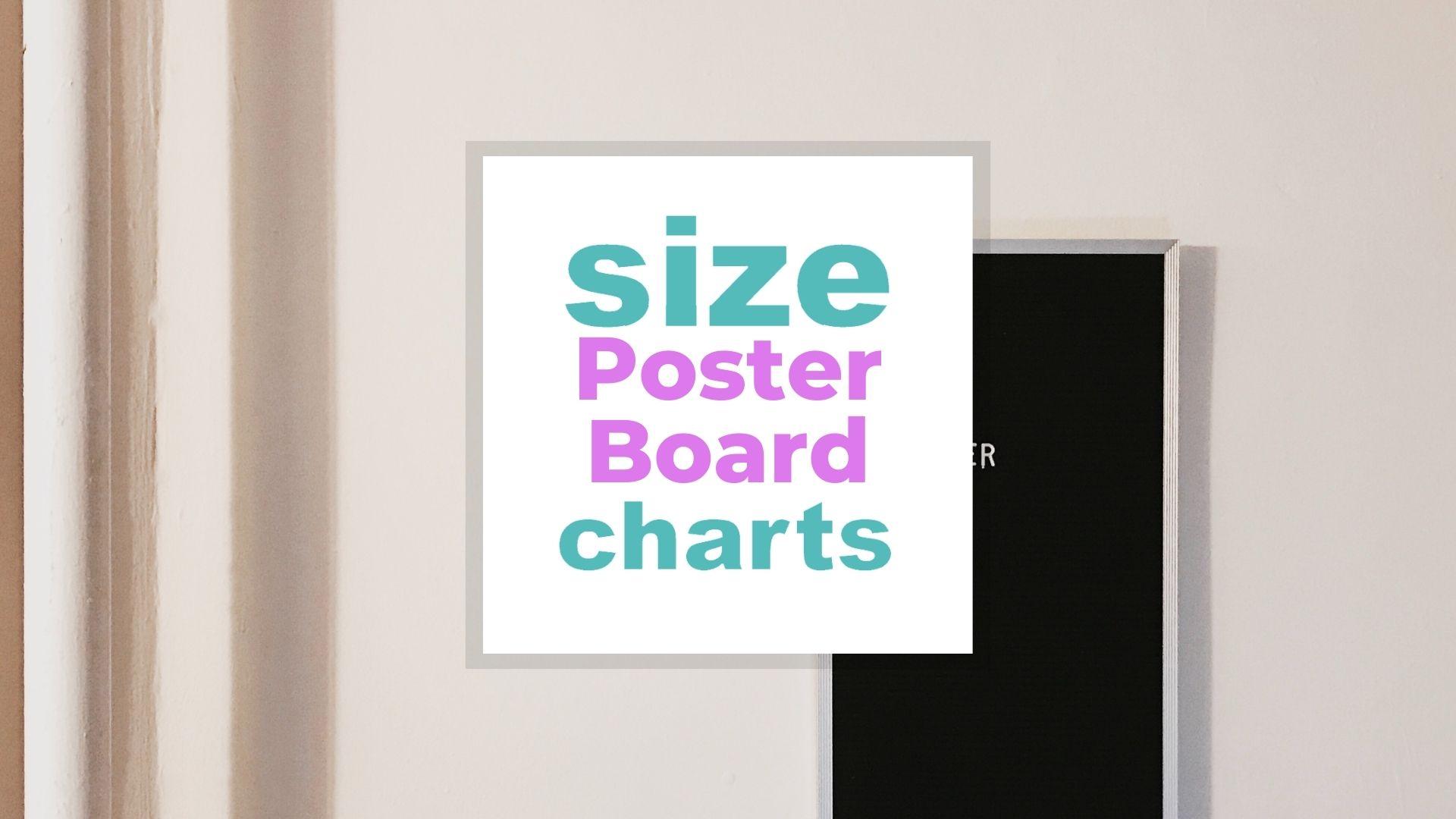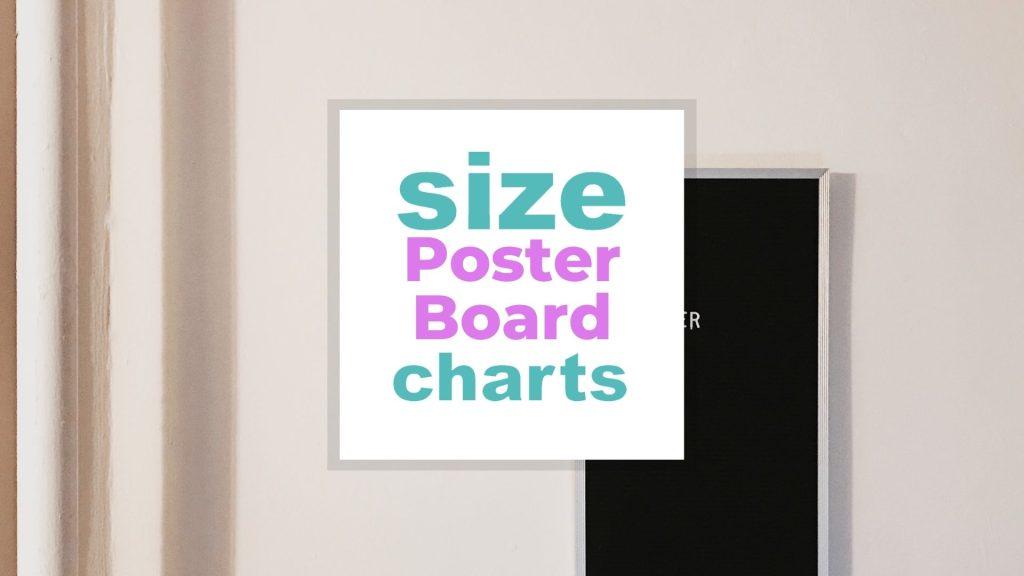 Table of Content of Poster Board Sizes
What is a poster board, and why is a poster board size important?
A poster board is a thick, solid cardboard made from layers of paper with a foam core in between the sheets. It's a durable type of printing surface that you can use to make displays for presentations. You can use it to communicate to your audience with visuals alongside sections of text.
Paper size will determine the posterboard size, or vice-versa: learn all about paper sizes here
The size of the poster board you choose will determine how effective you'll be in promoting your ideas, brand, or products. That's why it's crucial to learn about the best poster board size in this post.
Poster Board Size Comparison in Inches and Centimeters
| | | |
| --- | --- | --- |
| Poster Board Sizes in inches | Poster Board Size in cm | Other names for the poster size |
| 8.3 x 11.7 inches | 21 x 29.7 cm | A4-size poster board |
| 11 x 16.5 inches | 27.9 x 43.1 cm | ANSI-B, Tabloid, Ledger |
| 12 x 18 inches | 30.5 x 45.7 cm | Mini-Poster |
| 16 x 20 inches | 40.64 x 50.8 cm | Portrait Pictures (digital camera picture) |
| 18 x 24 inches | 45.7 x 61.0 cm | Architectural C, Medium Poster, ½ size |
| 22 x 28 inches | 56 x 71 cm | Standard academic poster board |
| 24 x 36 inches | 61 x 91.4 cm | Architectural D, Large Poster |
| 27 x 39 inches | 68.6 x 99 cm | One Sheet Movie Poster |
| 27 x 40 inches | 68.8 x 101.6 cm | One Sheet Movie Poster |
| 48 x 36 inches | 121.9 x 91.4 cm | Research Poster, Academic Poster |
| 40 x 60 inches | 101.6 x 152.4 cm | Bus Stop, Subway Poster |
| 46 x 67 inches | 116.8 x 170.2 cm | Bus Stop, Subway Poster |
| 48 x 96 inches | 244 x 122 cm | Large poster board |
A-series poster board size chart
All poster sizes are handled in this in-depth poster size review
| | | |
| --- | --- | --- |
| A series size | Poster board size (cm) | Poster board size (inches) |
| A0 | 84.1 cm x 118.9 | 33.1 in x 46.8 in |
| A1 | 59.4 cm x 84.1 cm | 23.4 in x 33.1 in |
| A2 | 42 cm x 59.4 cm | 16.5 in x 23.4 in |
| A3 | 29.7 cm x 42 cm | 11.7 in x 16.5 in |
| A4 | 21 cm x 29.7 cm | 8.3 in x 11.7 in |
Poster foam boards explained
How to Choose the Right Poster Board Size
Poster boards come in a wide variety of sizes to meet different needs. The size you'd use for art projects will differ from movie posters and school presentations. They even come in white color or black allowing you to select the best background for your art prints, school projects, or advertisements.
Without guidance, it'll feel challenging to pick the best size. Luckily, we'll discuss the different poster board sizes and their functions in this section.
1. A4 Poster Boards 8.5″ x 11″
This is the smallest option among standard poster sizes. A poster board of this size is a great option for providing announcements in areas with limited space. Since it's small, it can easily fit on street posts, bulletin boards, and other places to provide important information.
When using this poster size, you should avoid using small texts in your space since it could make the poster hard to read.
2. Bulletin Poster Boards 11″ x 27″
These are also small posters but are better suited for providing announcements and crucial information indoors. They are more noticeable than A4-size poster boards, and they don't require too much space. You should place this type of poster in places where lots of people pass or congregate for maximum reach.
3. Mini Poster Boards 12″ x 18″
If you are looking for a convenient size of poster boards that you can use for creative applications like advertising, film posters, or wall art, this is a good size. Mini posters are effective for promoting artistic pieces, exhibiting portraits, and printing photographs.
4. 16″ x 20″ Poster Boards
This poster size is the best if you want to display highlight photos like a picture of your family, vacation moments, or memorable events. You can easily find these posters in stores and galleries for advertising upcoming products and events.
5. Medium Poster Boards 18″ x 24″
18 by 24-inch posters are the most popular size out there. You can easily fit images and texts into this poster board without making the information hard to read. You'll enjoy more creative flexibility with these poster boards since you can use eye-catching graphics and large texts to get the attention of your audience.
6. 19″ x 27″ Poster Boards
This standard poster size is ideal for announcing events, sports games, and festivals. It's a great size for indoor and outdoor applications. You'll have enough room to fit images and other details to ensure your viewers get a full picture of what you are offering.
7. Retail Poster Boards 22″ x 34″
If you want a normal poster size for creating wall posters of celebrities, your favorite movies, or even video game characters. It'll have a huge impact on those who see it since it's large enough to see without straining your eyes.
8. Large Poster Boards 24″ x 36″
This is a large-format poster that will prove effective in outdoor advertising scenes. You can place it along construction walkways and other places with high foot traffic to reach a larger audience. At this size, your posters can feature high-resolution images, lots of texts, and other details that can make the advertisement more alluring to passers-by.
9. Movie Poster Boards 27″ x 40″
Are you looking for the standard movie poster size? The 27″x 40″ poster is the official movie poster size provided by the film industry. It's the perfect size for advertising and promoting upcoming films. The dimensions for movie posters can sometimes vary, but this is the size you'll find in movie theatres.
10. Bus Stop Poster Boards 40″ x 60″
This one also counts as an average movie poster size. Nevertheless, it's a great poster size for advertising more than just movies. You'll easily see these posters at bus stops and the outside of buildings.
11. Subway Poster Boards 46″ x 67″
These are among the larger sizes of poster boards, and you can find them in places like subway stations or in the streets where lots of people can notice them.
12. Academic/Research Poster Boards 48″ x 36″
For those creating research posters, this is the poster board size you need. Foam board projects provide a visual way to communicate your ideas to your audience. You'll have enough space to display images and add text to ensure your message isn't lost to your viewers. This size of board is also used for trip-pod standalone usage, outside restaurants, shops, or to use during a presentation in group
Frequently Asked Questions
1. What is the largest size poster board?
Different companies offer different poster board sizes. However, the largest you can find is the 40″ x 60″ poster board.
2. What is the normal size of a poster board?
The standard poster board size is 22″ x 28″.
3. What is a traditional poster board size?
The 22″ x 28″ poster board is the classic choice among poster paper sizes.
4. What is the size of a foam poster board?
24″ x 36″ is the average size of a foam poster board.
5. What size is half a poster board?
The dimensions of half a poster board are 14″ x 22″.
Conclusion
Poster boards are made from sheets of paper with foam in the middle. It's much stronger than regular printing paper allowing you to use it for presentations and other formal applications. They are also more durable, making them a long-term solution for your advertising and promotion needs.
The standard size of poster boards will vary according to different companies. However, 24″ x 36″ is a popular size. Feel free to leave any questions you have in the comment section below.
Want to ship your poster? check out the shipping box dimensions here
Picture in this post by Simon Maage on Unsplash
Related Paper Size Charts