Toilet Dimensions
Is it necessary to know the right toilet dimensions before buying a toilet? You must first understand its dimensions to make the most of your toilet. Choosing new toilet dimensions may be daunting for even the most expert homeowners. You'll be well on your way to having a fashionable and functional bathroom in no time if you know which toilet size to choose.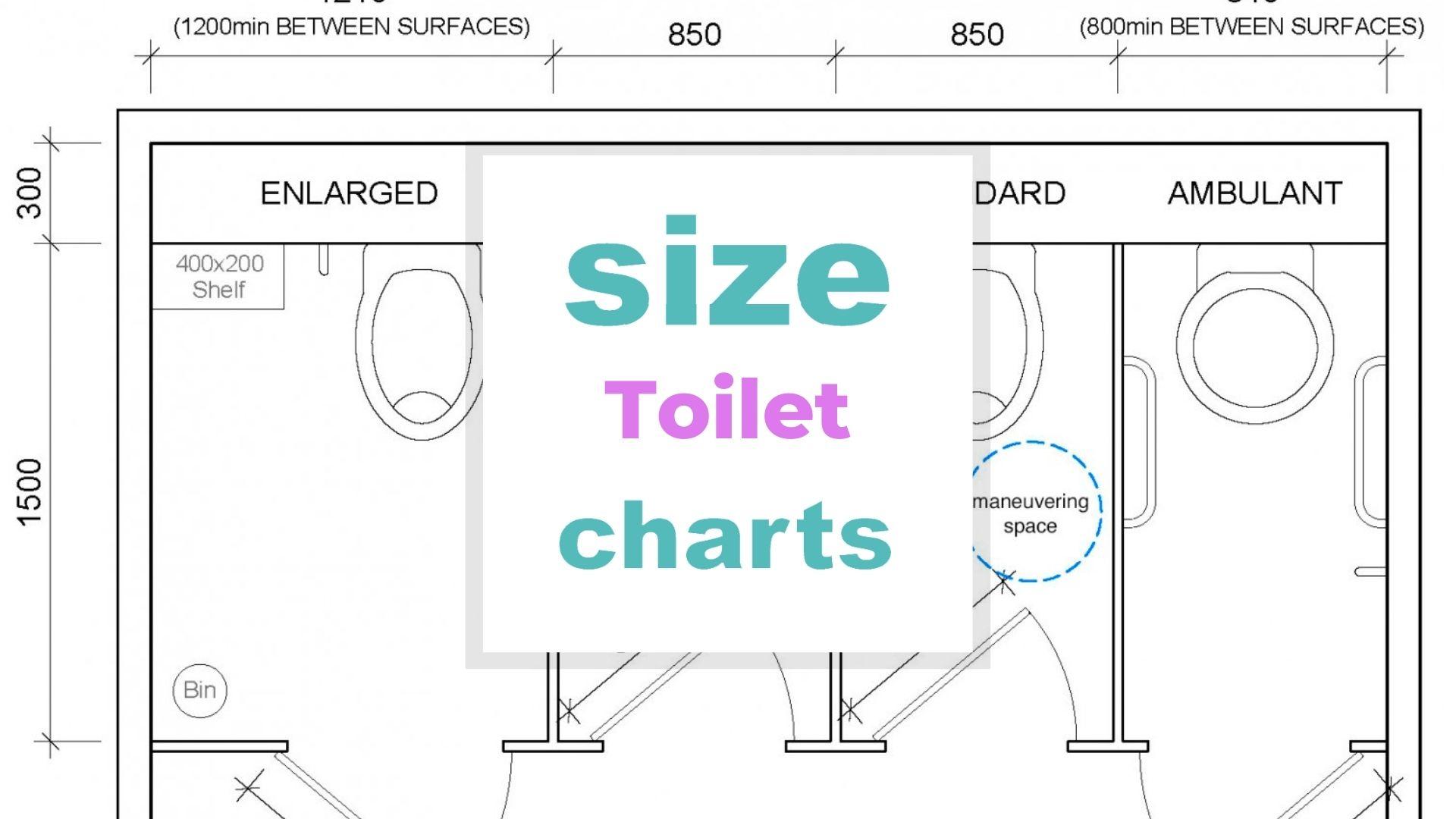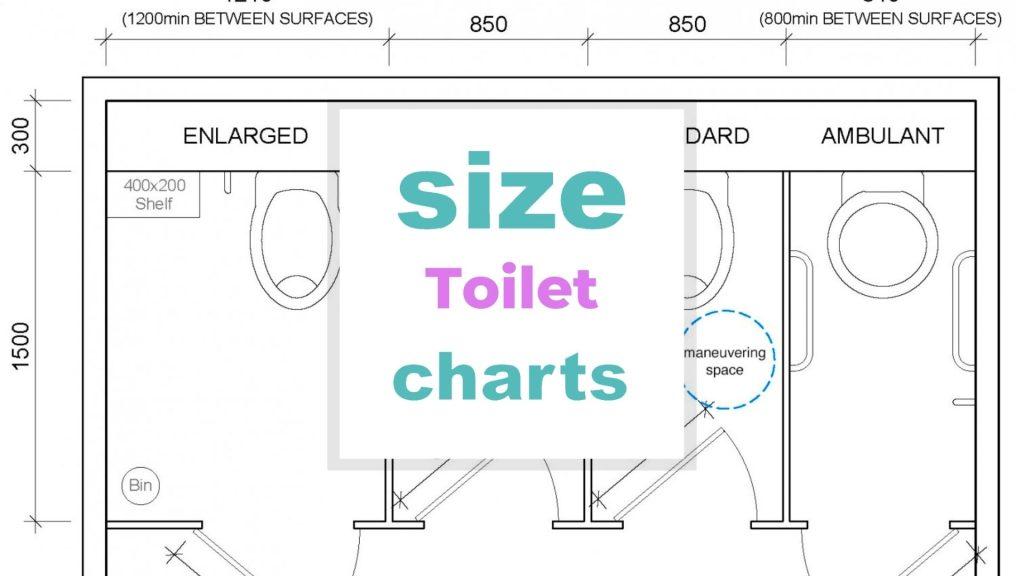 Getting a new toilet might seem like a simple investment, and you may believe that "it's just a toilet," but there are some key factors to consider before making your decision. Because the toilet is one of the most frequently used items in anyone's home, particularly in big homes, selecting the proper one is critical.
Aside from color and pricing, there are other aspects to consider; dimensions, bowl shape, and height. Being acquainted with the factors can help you make the best decision.
Continue reading for guidelines on finding the appropriate toilet dimensions.
Jump right into the Frequently Asked Questions
Related: Shower Size Chart: What are the Standard shower sizes?, Bathtub Size and Different Types: What are bathtub dimensions?
Toilet Dimensions Table of Contents
Toilet Dimensions
Related: Sink Base Cabinet Size Chart – Your Guide to the Standard Sizes
While other features are exciting and necessary, the most vital factor is toilet dimensions. If you choose a taller toilet, make sure it blends in with the rest of the bathroom – if it's considerably higher than the sink, it may appear out of place!
When getting a new one, let us check below the dimensions of which toilet is best for you.
| | | |
| --- | --- | --- |
| Toilet Dimension | Inch | CM |
| Depth | 28 – 30 | 71.1 – 76.2 |
| Width | 20 | 50.8 |
| Height | 27 – 32 | 68.5 – 81.2 |
| Rough-In | 10 – 14 | 25.4 – 35.5 |
Back-to-Wall Elongated 2-Piece Toilet Dimensions
| | | |
| --- | --- | --- |
| Toilet Dimension | Inch | CM |
| Depth | 28 – 30 | 71.1 – 76.2 |
| Width | 14 | 35.5 |
| Height | 30.5 | 77.4 |
| Rough-In | 15 | 38.1 |
Standard Small Toilet
| | | |
| --- | --- | --- |
| Toilet Dimension | Inch | CM |
| Depth | 16.5 | 41.9 |
| Width | 27.75 | 70.4 |
| Height | 30 | 76.2 |
| Rough-In | 15 | 38.1 |
Wall-hung Toilet
| | | |
| --- | --- | --- |
| Toilet Dimension | Inch | CM |
| Depth | 21.1 | 53.5 |
| Width | 14.2 | 36 |
| Height | 18-22 | 45.7-55.9 |
How To Choose The Right Toilet Dimensions
Related: Boiler Size Chart – What size boiler do I need? Bathtub Size and Different Types: What are bathtub dimensions?
You may believe that a toilet is a simple item that does not need much thinking. However, there are hundreds of possibilities when selecting a toilet for your bathroom. To prevent you from going insane, we'll list the factors you should consider while selecting a toilet.
Measure Your Rough-in
First and foremost, you must determine the dimensions of your present rough-in. This is the measurement from the bathroom wall to the center of your toilet's flange bolts.
Rough-ins are typically 12 inches long (30.4 cm), although 10- and 16.5-inch (25.5 – 41.9cm) types are available. It's usually simpler to choose a toilet with the same rough-in you currently have (unless you're planning substantial renovation).
How should a standard toilet rough-in be measured?
Here's how:
Determine where the toilet is secured to the floor. Look around the base of your toilet for small caps or bolts. These are typically found in the trapway on the fixture's back left and right sides. Look for any indication of where the toilet is bolted on the side of the toilet or where the toilet meets the floor if your toilet has a skirted design. Consider using painter's tape to mark the location of the bolts.
Measure the distance between the wall and the center of the toilet's base bolts. This will give you the rough-in distance for the toilet.
Measurements should not be taken from baseboards or other moldings. If your wall has a baseboard or other moldings, position your measuring tape, so it begins just above the baseboard. If necessary, measure the width of the baseboard (from the edge to the wall) and add it to the total measurement to ensure accuracy.
Examine your work. If your dimension is different from the standard 10″ (25.4 cm), 12″ (30.4 cm), or 14″ (35.5 cm), double-check your work! You don't want to make the costly error of ordering the incorrect rough-in toilet.
Toilet Fit
For most individuals, the extended toilet bowl is the most comfortable form. So it's a simple option. Not so quickly. A circular toilet bowl may be the best option if you have a tiny bathroom or a tight budget.
Round toilet bowls take up less area and are less expensive than elongated bowls. In a small bathroom, this might be the difference between being able to open doors and drawers completely.
Moreover, toilets have a standard height of 15 inches (38.1cm). On the other hand, taller toilets may be more comfortable for taller people. 17 or 19-inch (43.1 cm or 48.2 cm) toilets are healthier for backs and knees and are also a better option for persons with mobility difficulties. However, the disadvantage is that they are more difficult for kids and shorter for people to utilize.
Other Important Toilet Dimensions
Aside from the toilet rough-in dimension, toilet height (or rim height) is another dimension to consider when trying to replace your toilet to ensure a suitable fit in your bathroom and your comfort needs.
To determine toilet height, take a vertical measurement from the floor to the rim of the toilet. The standard toilet height is 15″ (38.1 cm), but for comfort or accessibility, some toilets are as high as 18″ – 19″ (45.72 – 48.2 cm). Toilet height excludes the lid and seat.
Bowl width and length may also be useful because they affect space and comfort. Most toilet bowls are 14 to 14.5 inches wide (35.5 – 36.8 cm), with a few exceptions reaching up to 16.5 inches (41.9 cm).
Proper clearance around your toilet is also required for comfort and compliance with plumbing codes. For instance, you should measure the distance from other characteristics from the center of the toilet flange (the same point from which you measure the rough-in to the wall) to the surrounding furnishings, such as your tub, cabinets, vanity, or shower.
The standard measurement for space around the toilet is approximately 15 inches (38.1 cm), with 18 inches (45.7 cm) more spacious for added comfort.
Learn more about toilet dimensions in this video
The Right Toilet Dimensions For You
Related: Beach towel size chart for all occasions, couples, adults and kids , Boiler Size Chart – What size boiler do I need?
There are hundreds of toilets on the market, but a rough-in distance, which measures the distance between the completed wall and the center of the toilet's sewage drain, will help to restrict the field. The usual rough-in is 12 inches (30.4cm), and most toilets are available in this size.
If a bathroom redesign uses an existing rough-in that is a different size, such as 10 or 14 inches (25.4 or 35.5 cm), options may be more limited.
Additionally, most individuals like elongated toilet bowls, but in a tiny bathroom, a circular bowl might save space. Elongated toilet bowls can extend up to 31 inches (78.7 cm) from the wall, whereas round fixtures may only extend up to 28 inches (71.1 cm). They also save money since circular bowls are less costly than elongated bowls.
Toilet heights are also influenced by comfort. Many manufacturers now produce toilets a few inches above normal 14 inches (35.5 cm) fittings. It is more comfortable for taller people. Taller toilets are also an important aspect of universal design, making a restroom accessible to all users, regardless of mobility, by simplifying sitting and standing.
How To Measure Toilet Dimensions?
Related: Bath Size Chart and Sizing Guide
The most crucial step in purchasing a new toilet is ensuring it will fit. Grab a tape measure and note some key measures to the right toilet dimensions.
Toilet Height
Measure the distance between the floor and the top of your toilet seat.
Next, estimate from the floor to the top of your toilet's tank to ensure that your new toilet will fit in the same place or under any over-the-toilet storage racks you do not want to remove.
Toilet Depth
Measure the distance between the front of the toilet rim and the rear of the toilet. We suggest you leave at least 24 inches (60.9 cm) of space in front of the toilet.
This guarantees that you will have enough space to walk about in front of your toilet and that your bathroom will not crash with it if the toilet is positioned close to the door.
Toilet Width
To verify that it fits in your area, estimate from the left edge to the right edge of the toilet tank or seat (whichever is wider).
No matter where you put your toilet in your bathroom, it should have at least 30 inches (76.2 cm) of space.
Rough-In
The rough-in size, and the gap between the center of the closet bolts and the wall behind the toilet, is the most significant dimension to consider when purchasing a new toilet.
Using a tape measure, measure from the back wall (not the baseboard) to the middle of one of the back closet bolts. The normal toilet rough-in size is 12 inches (30.4 cm) (; however, in rare cases, it may be 10 or 14 inches (25.4 – 35.5 cm).
Frequently Asked Questions
1. What is the average size of a toilet?
Toilets are developed and produced in a variety of sizes and designs, with common depths ranging from 28″ to 30″ (71.1-76.2 cm), widths ranging from 20″ (50.8 cm), and back heights ranging from 27″ to 32″. (68.5-81.52 cm).
2. What is the standard rough-in size toilet?
The distance from the back wall to the center of the drainpipe at the base of a standard toilet is referred to as the Rough-In measurement. A standard toilet rough-in measurement is ranging from 10" to 12″ (25.4-35.5 cm).
3. What is the smallest kind of toilet available?
Compact toilets are the smallest form of toilet available. Some of the smallest ones are just 24 inches (60.9 cm) deep and 15 inches (38.1 cm) broad.
4. How is the depth of a toilet measured?
Measure from the toilet bowl's front edge to the tank's rear to determine the depth of your existing toilet. If the depth of your existing toilet is comfortable for you, choose a new toilet with a comparable depth.
5. What is the depth of a back-to-wall elongated 2-piece toilet?
This is the distance between the elongated seat bolt holes and the bowl's tip. A circular front bowl ranging from 28" to 30" (71.1-76.2cm).
6. Do all toilet seats fit the same?
In general, an elongated toilet seat will not fit the toilet seat. Fortunately, most modern toilet seats are flexible and can accommodate types of toilets.
7. Why are toilet dimensions important?
Toilet dimensions are not only important in terms of space but also in terms of making your toilet experience pleasant and safe. Spend the time and effort to precisely measure your bathroom and new toilet, and you'll save yourself a headache.
8. Are all toilets the same size?
The straightforward response to the question "Are toilet seats of standard size?" " is no. Unfortunately, toilet seats are not manufactured in conventional sizes; nevertheless, this does not preclude you from readily finding a replacement for your toilet.
Conclusion
The toilet is a basic home item, yet many of us can't imagine life without it. Even basic toilet fixtures may have intricate features.
So, regardless of whatever toilet dimensions you want, your new throne must be placed with care. Your toilet should allow you to sit and stand while resting your feet on the ground. Many variables influence whether a toilet is a regular height, comfortable height, or extremely tall.
We hope what we have mentioned above about the toilet dimensions helps determine the right size for your toilet.
Do you have questions on your mind? Please leave a comment below.
Picture in this post is by 99Films on Unsplash
Related to Toilet Dimensions