EasyJet Sizes: Luggage, Seats…
EasyJet plus usually referred to as EasyJet is a British low-cost airline company with its headquarters in London Luton Airport. Its affiliate airlines, EasyJet UK, EasyJet Switzerland, and EasyJet Europe, operate domestic and international scheduled services on 927 routes in over 34 countries (skip straight to the EasyJet Sizes).
EasyJet has grown through a combination of acquisitions and base openings since its inception in 1995, driven by consumer demand for low-cost air travel. The group operates 308 aircraft along with affiliated firms EasyJet UK, EasyJet Europe, and EasyJet Switzerland. It has 29 bases in Europe, with Gatwick being the biggest.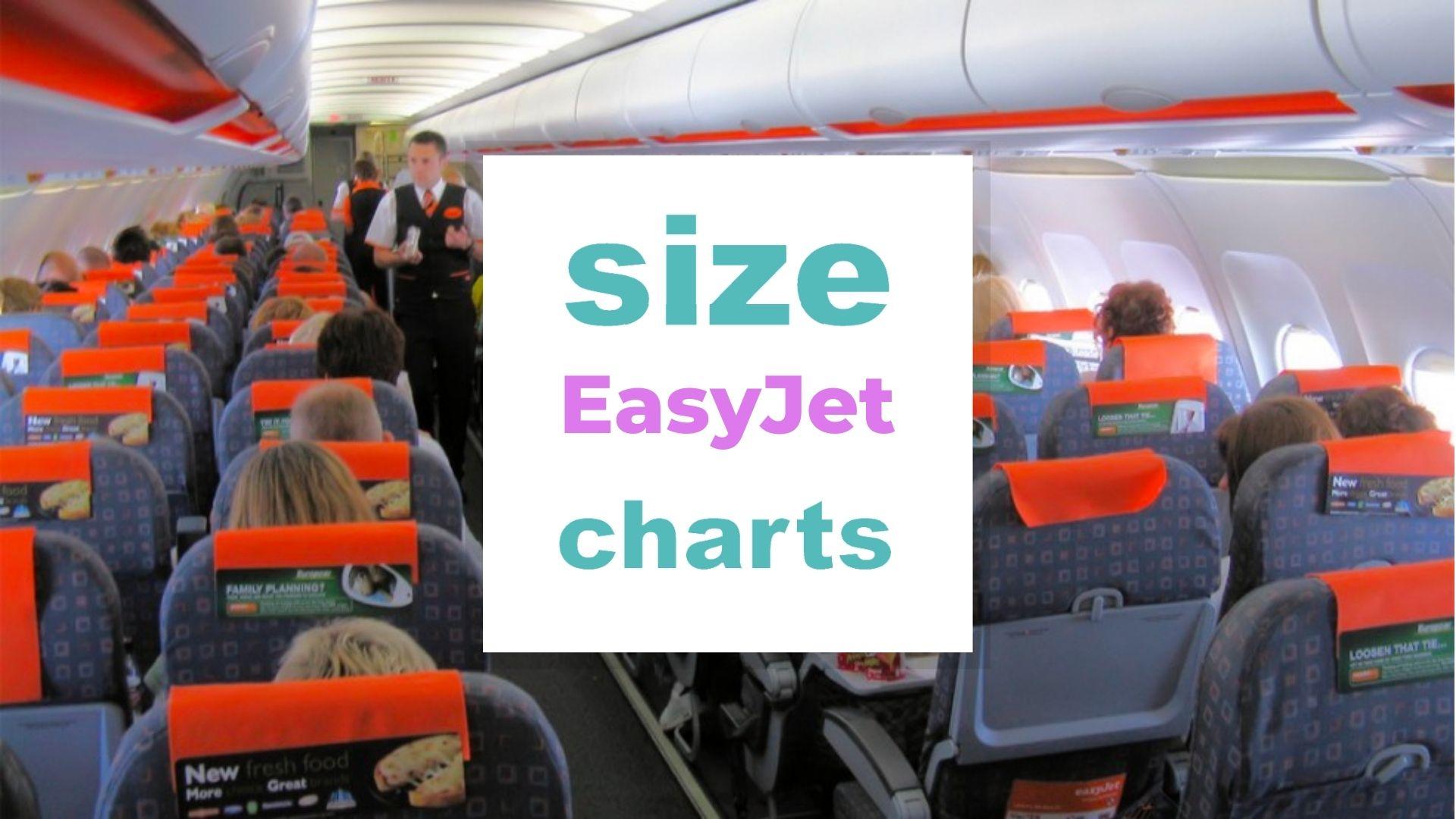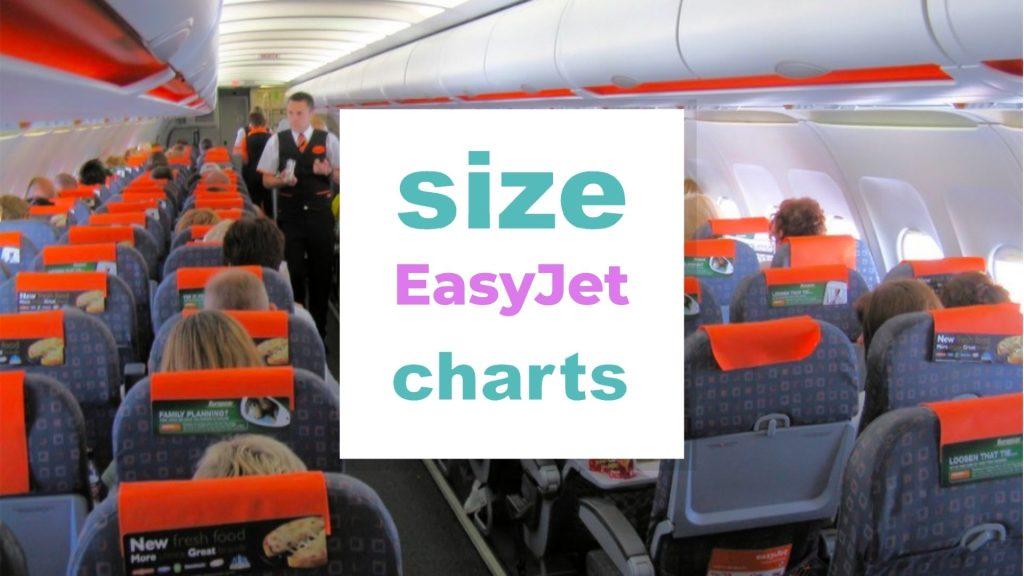 Why is a good Easyjet plc size important?
Good Easyjet sizes will guarantee a comfortable flight from the onset of boarding till the arrival at your destination. A good Easyjet size provides an overhead locker, weight allowance, cabin bag allowance, and Extra legroom seat. Thus during seat selection, ensure you get a standard seat for you, and where need be consult with the customer services team.
EasyJet strives to make travel simple, pleasurable, and economical for both leisure and business travelers. With 318 Airbus A320 family aircraft, they have one of the industry's youngest fleets.
They have designated EasyJet airline as a 4-Star Low-Cost Airline because of the high quality of its airport, onboard product, and personnel service.
Cabin comfort, luggage/seat charges, buying onboard food & beverages, cabin cleanliness, and service rating are all included in the product rating. EasyJet is convinced that its strategy of capitalizing on its competitive advantages–an unrivaled network and market position, an efficient low-cost model, a well-known brand, and a solid financial sheet–will position it to provide sustained and disciplined growth and returns to shareholders.
Jump right into the Frequently Asked Questions
Related: All Nippon Airways Sizes: Luggage, Seats…
EasyJet Sizes Table of Contents
EasyJet Sizes Chart for Seats
Related: Air Asia Airline Sizes: Luggage, Seats…, Aegean Airlines Sizes: Luggage, Seats… , JetBlue Airline Sizes: Luggage, Seats…
| | | | | | | | |
| --- | --- | --- | --- | --- | --- | --- | --- |
| Aircraft with seat map | Seat Pitch | Seat Width | Seat Type | Video Type | Laptop Power | Power Type | Wi-Fi |
| Airbus A319 (319) | 29 in 74 cm | 18 in 46 cm | Standard | None | None | None | No |
| Airbus A320 (320) Layout 1 | 29 in 74 cm | 18 in 46 cm | Standard | None | None | None | No |
| Airbus A320 (320) Layout 2 | 29 in 74 cm | 18 in 46 cm | Standard | None | None | None | No |
| Airbus A321neo | 29 in 74 cm | 18 in 46 cm | Standard | None | None | None | No |
Easyjet Baggage allowance size chart
Related: Spirit Airlines Sizes: Luggage, Seats… , China Southern Airlines Sizes: Luggage, Seats…
| | | | | |
| --- | --- | --- | --- | --- |
| Baggage type | size restrictions | maximum weight allowance | fees | additional fees |
| Cabin Baggage | 45 cm x 36 cm x 20 cm 17.7 in x 14.2 in x 7.9 in | 23 kg 50.7 lbs | N/A | Airport fees apply if oversized or overweight |
| Checked Baggage | 45 cm x 36 cm x 20 cm 17.7 in x 14.2 in x 7.9 in | 23 kg – 32 kg (50.7 – 70.5 lbs) depending on route/ticket type | £20 – £65 depending on route/ticket type | x |
| Excess Baggage | 56 cm x 45 cm x 25 cm 22 in x 17.7 in x 9.8 in | 32 kg weight limit 70.5 lbs weight limit | £65 per bag | N/A |
How to Choose the Right EasyJet Size
Related: SAS Airlines Sizes: Luggage, Seats… Air Canada Sizes: Luggage, Seats…
EasyJet Cabin Baggage
All passengers are allowed to bring one piece of carry-on luggage that will travel with them in the cabin. This luggage has no weight restrictions, however, it must measure 45cm x 36cm x 20cm (with handles and wheels) and fit underneath the seat in front of you. Customers who have reserved an Up Front or Extra Leg space seat may carry an additional large cabin bag that is no larger than 56cm x 45cm x 25cm and fits in the overhead locker.
Easyjet Plus cards and FLEXI ticket customers can additionally bring this second large cabin bag for free or at a reduced fee. You can also choose Hands-Free, which will store your cabin bag in the hold. Simply leave your standard cabin bag at the Easyjet Plus Bag Drop and your baggage will be the first off the carousel. This costs £7 per person or £16 for a family bundle of up to six passengers.
This carry-on bag has a maximum size of 56cm x 45cm x 25cm. Hand luggage is free. If the bag exceeds the size constraints, the Bag Drop desk will charge you £45 to check it into the aircraft hold. If you proceed directly to the boarding gate with enormous luggage, they will extra charge you £48.
EasyJet Checked Baggage
Passengers have the option of purchasing up to three hold baggage. A normal carry bag weighs 23kg and can hold up to 32kg. No one object can weigh more than 32kg or be larger than 275cm in total. You can purchase carry-on baggage online, by phone, or at the airport, with prices varying according to the route, season, flight, and time of booking. Prices range from £6.99 to £42.49 when purchased online. They will charge you £45 per hold item weighing up to 23kg at the airport luggage drop.
If you are traveling off-season with only a little quantity of luggage allowance, EasyJet is unquestionably an economical option. However, you can incur significant additional costs if you go during busy times, book luggage at the airport, or exceed the weight allowance. Thankfully, My Baggage steps in at this point.
EasyJet Sporting Equipment and Musical Instruments
They can check sports Equipment in as hold luggage but you must pay an additional fee either online or at the airport. They limit each customer to purchasing one item of sporting goods. You must contact customer care if you need to purchase over six pieces of sporting equipment per booking. The maximum weight of a single piece of equipment is 32 kg.
EasyJet Excess Baggage
If your hold luggage weighs more than the 23kg allowance, you can pay to have it increased to the maximum allowable weight of 32kg. This is purchased at the time of booking in increments of 3kgs and up to the maximum weight of 32kg at the cost of £12 (approx. €14). For baggage exceeding the pre-booked weight, EasyJet Airlines will apply a charge of £12 (approx. €14) per kg.
Always be keen to avoid last-minute disappointment when using Easyjet. Get everything right in terms of sizes and the weight allowed on the flight.
Learn more about EasyJet sizes (video)
Choose the best seats on a flight
Related: Copa Airlines Sizes: Luggage, Seats…
Seat Pitch is the distance between one seat and the same location directly in front or behind it. It is frequently mistaken for "legroom," but they are not the same thing. The space allowed for people to spread their legs while seated is referred to as legroom. You should look for the seats with the greatest pitch.
Seat Width is the distance between the armrests. This is normally roughly 17 inches in economy class, however, it varies widely between airline operators and aircraft types. If a seat lacks an armrest, the seat cushion will serve as your guide. You should look for the seats with the greatest breadth.
Make sure you compare in-flight amenities
A personal video screen, or one near your seat with decent visibility, can help. It will keep you entertained with movies and shows, and it will help you relax with music from all genres.
Power ports are essential during flights because they allow you to use your laptop computer, DVD player, or game console continuously. This is something to be aware of for both children and business travelers.
Try to select your seat at the time of booking
To enhance your chances of getting a good seat, make your reservation as soon as possible. Whether you purchase your tickets through a travel agent or an Internet booking engine, attempt to reserve your seat as soon as possible.
For a price, you can choose where you want to sit. We can choose seats at the time of booking or before check-in by visiting Manage bookings on our website or mobile app. We must select allocated seats for all passengers on a booking with over one person; otherwise, no allocated seats can be bought.
It may take some additional time, but it will undoubtedly pay off when flying. If you book through a travel agent, request the seat of your choice. If you book online and seat selection is not available, call the airline immediately after making your reservation to make your seat selection with a phone representative and double-check you still have that seat a few days before travel.
Airlines may change the aircraft type before departure dates, pre-reserved seats are reassigned, and you may lose the seat you choose. Easyjet allows you to enter your flight details (travel code and last name) and examine your whole itinerary, which includes all of your flights and the aircraft in which you will be flying. You simply need to click on the aircraft type to access the seat map.
You are only permitted to bring one compact cabin bag (maximum dimensions: 45x36x20cm), and it must fit under the seat in front of you. You may carry one large cabin bag on board if you purchased an Up Front or Extra Legroom seat or large cabin bag for your journey, but it must fit in an overhead locker and be only 56 x 45 x 25 cm.
Types of seat
There are three options:
Standard seats- Holders of EasyJet Plus cards and clients who have paid a FLEXI fare are exempt. You can choose between an aisle, center, or window seat.
Up front seats- Customers who have paid a FLEXI fare and EasyJet Plus cardholders are exempt from paying. A place in rows 2–6 (rows 2-5 on some aircraft). besides your tiny under-seat cabin bag, a second large cabin bag. Use their exclusive EasyJet Plus Bag to drop. Swift boarding for passengers who have paid a FLEXI fee. You can choose between an aisle, center, or window seat.
Extra legroom seat- Customers who have booked a FLEXI fare will receive a free ticket, while EasyJet Plus cardholders will receive a discounted ticket. A seat with more legroom, as well as all the other advantages of Up Front.
To sit in the plane's overwing and some of our Extra legroom seats, you must be able to assist in an emergency, and there are some safety requirements.
Passengers are not permitted to sit in the Exit or Emergency rows if they are:
an infant
sat with an infant on their lap
pregnant
under 16 years of age
deaf or blind
mobility impaired
requiring a seat belt extension
If you choose this seat for a passenger in one of the above categories, they will allocate another seat on boarding. Infants (children under the age of 2) must sit on an adult's lap or on a neighboring seat. On any of our planes, we can accommodate up to one newborn per row of three seats.
Frequently Asked Questions
1. What is EasyJet's cabin size?
They permit all Passengers to bring one piece of hand luggage as a carry-on that will travel with them in the cabin. There are no weight restrictions on this baggage, however, it must be 45cm x 36cm x 20cm including handles and wheels, and must fit underneath the seat in front of you.
2. Are large cabin bags permitted by Easyjet Sizes?
Customers can book one large cabin bag per person per flight.
3. What size is a large overhead bag in EasyJet Sizes?
One bag of max size 56 x 45 x 25 cm, needs to fit in our baggage gauge and an overhead locker.
4. What is the maximum size of hold luggage for EasyJet?
The combined total of both pieces of luggage for Economy travelers traveling with two bags should not be larger than 273 cm (107 inches). Each piece's linear dimension should not be greater than 62 inches. Each bag cannot weigh over 23 kilograms (50 pounds).
5. What size are the seats in EasyJet Sizes?
The seat pitch is 29 inches and the seat width is 18 inches for EasyJet cabin seats.
6. How many planes does EasyJet have?
EasyJet's fleet comprises 308 aircraft.
7. Is my bag going to be close to me?
They will keep your luggage in an overhead bin close to your seat and you'll be among the first passengers to board the aircraft. With a large cabin bag, you might need to locate the room in the overhead bins a little farther from your seat on flights that are unusually crowded.
Conclusion
Prior to your trip, it's crucial that you comprehend the Easyjet sizes policies about cabin bags and holding luggage. They only permitted you to bring one cabin bag per passenger, including handbags and laptop bags, on our regular fares. Your bag will be put on the hold and they will charge you the airport bag fee if it exceeds the allowance for your flight.
You may bring one sizable cabin bag on board if you have an EasyJet Plus card or a FLEXI fare (max 56 x 45 x 25cm). To take advantage of this benefit, choose a seat with extra legroom or upfront; otherwise, the benefit depends on the amount of space on board.
Leave questions you may have in the comment section. Thank You!
Picture in this post is by Call Me Fred on Unsplash
Related to EasyJet Sizes